When I started dipping my toes into the world of makeup, there was one concealer that came highly raved – the Cle de Peau Beaute Concealer. It took me a while to get round to trying it, but years later, I think I understand why it is so popular!
I must note that it has been reformulated fairly recently, with a slight change in packaging. But I tested the formula in the boutique, and noticed that it felt similar to the one I have, so my view on it is maintained 🙂
Is it worthy of the raves though? That's what you'd like to know right? 😉
Cle de Peau Beaute Concealer
What is so great about the Cle de Peau Beaute Concealer is that it comes in a stick form. This makes it very portable and very easy to use as well. It isn't goopy or creamy, and it doesn't travel on your skin.
The texture is a little drier than a creamy concealer, so it doesn't move around or travel so much.
RELATED READING: What's my favourite concealer? It's really still this one READ HERE
I was concerned about this drier texture, because I have drier skin, and I had read about the concealer settling into fine lines, especially around the eyes.
Happily however, I did not find this a problem 🙂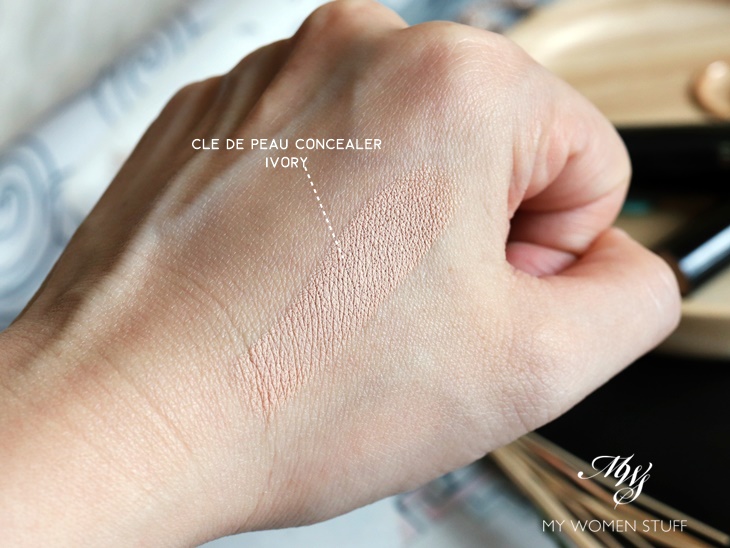 I wear the shade Ivory, which is a perfect match for my skin tone. It does come in a few shades, so I expect that most people will be able to find a shade to suit their skin tone.
In fact, you can even use different shades to draw subtle contours on your face, if you are so minded. A slightly deeper shade can be used to enhance the hollows of your cheekbones, or to create the illusion of a sharper nose etc. I'm not any good at any of this, so I'll just live with what God gave me LOL! 😛
Creamy texture that sets semi-matte
On my skin, I usually just draw a line over where I want the concealer to go. This is usually around my cheekbones, to even out slightly the pigmentation, and a tiny dab under my eyes to mask dark circles caused by poor sleeping patterns.
I then blend it out with a brush, or with fingers. While I like using a brush to blend my concealer, I do find that the Cle de Peau Beaute Concealer blends and sets better when I use my fingers. I think it is to do with the drier texture, and the warmth of my fingers.
Sometimes, I use any residue to diffuse any redness I see around my nose too.
RELATED READING: Want a more diffused application of concealer? This is probably the best brush to use READ HERE
The opacity is medium, and easily sheered out depending on your preferences. I don't recommend using a thick layer, as it can then crease and settle into lines. Instead, use a light dab, and blend it in. Then, top up if necessary. Thin layers is ALWAYS the way to go!
I personally find that when it's set, the concealer does not settle into my skin. Might it be because I prep my skin very well prior to applying my makeup? I think it plays a part, as it gives the product a more hydrated base to sit on.
But if you don't, and you have dry skin and/or fine lines, I expect that it may potentially settle into fine lines. For this reason, I think it best to manage your expectations.
Multi-use concealer stick
While the Cle de Peau Beaute Concealer is marketed as a concealer, I find that I can use it as a foundation in a pinch. It is practically like a stick foundation!
In a pinch therefore, I can draw some quick lines on my face, blend it in, and go on my merry way. These days, I don't set my base, except with Guerlain Meteorites, and I find the barely there look perfect for my lifestyle.
What this means is that I can travel very easily with this product, because it serves all my base makeup needs in one tiny little portable stick!
I've recently run out of my Nars Radiant Creamy Concealer, so I have been using this Cle de Peau Beaute Concealer exclusively, and I've been enjoying it. I understand why it is so popular. It conceals, it blends easily, and it is easy to use.
However, it is also luxuriously priced. Everything has a down side LOL! 😛
IN A NUTSHELL

The Cle de Peau Beaute Concealer is a stick type formula, that is creamy, but sets to a semi-matte finish. The coverage is medium, and I recommend that you start off with just a little dab, blend and then layer, depending on how much you need. Using too much can make it crease and settle into lines. Using just a little, and blending it out with your fingers allows it to work for even dry skin, like mine, without it enhancing or settling into fine lines. I even use it as a very light foundation/base in a pinch, because it serves its purpose. A good, high quality concealer but comes in at a high price too! Do note that the reformulated version has a gold inner packaging, and comes with SPF25 but the texture feels similar to the one I have.

PROS:
Portable and convenient
Can be used as concealer and foundation
Blends easily and melts into skin
Does not feel dry on dry skin
Does not settle into fine lines if you don't use too much

CONS:
Pricey
May feel drying to some
May settle into fine lines

WHO WILL LIKE THIS: Anyone who wants an easy to blend cream stick type concealer that is portable

PRICE: RM264 | US$70

WHERE TO BUY: Cle de Peau boutique (Pavilion KL) and counters
Have you tried the Cle de Peau Beaute Concealer? What's your favourite concealer?
It took me ages to get round to trying this, but I totally understand the hype. It worked well for me, even though I know it doesn't work for everyone. I recommend managing expectations, especially if you have a drier/more lined eye area 🙂
Paris B