About 4 years ago, I was introduced to, and found my photoshop in a bottle. I raved about it to everyone who'd listen; and who wouldn't faint dead away at the price tag LOL!
I was, and still am, very happy using it.
But a new contender stepped into the ring earlier this year, and quite quickly claimed the top spot.
The new King of the Hill in my books is the Chanel Sublimage Le Teint foundation. A beautifully formulated, creamy foundation that not only gives me the photoshop in a bottle, but leaves my skin feeling BETTER for wearing it.
What is this sorcery! 😀
Chanel Sublimage Le Teint – foundation with skincare benefits
The name is a bit of dead give away. The Chanel Sublimage Le Teint sits within the premium Sublimage skincare range of Chanel.
Sublimage uses extracts of the vanilla planifolia plant within their range of products, and basically is the creme de la creme of the Chanel range of skincare.
When they introduced the Sublimage Le Teint, they added encapsulated diamond powder into the foundation for radiance, as well as Vanilla Planifolia water for strength, vitality and hydration to the skin.
The Chanel Sublimage Le Teint foundation is positioned as a mid-full coverage foundation, with skincare benefits to protect and nourish skin, even while it offers radiance and coverage.
To be honest, I wasn't sold on the copy 😛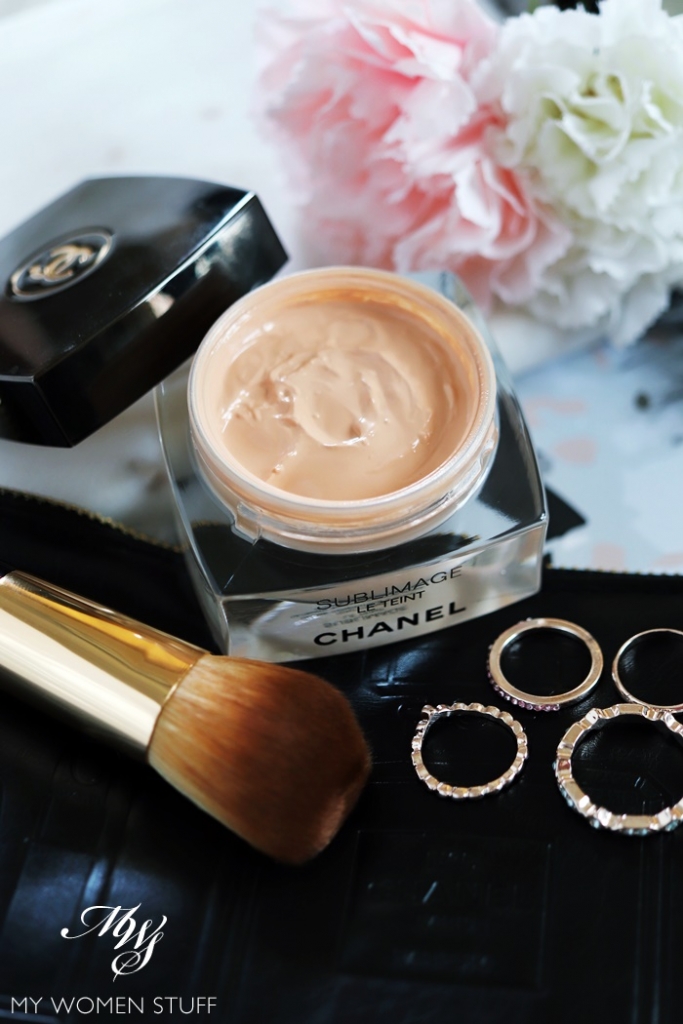 It just sounded too perfect to be true, and I don't like that.
Instead, I decided to judge the product not from the approach of a skincare-cum-makeup product, but purely as a foundation.
As a foundation, the performance is stellar!
Cream textured foundation suits drier skin better
The first thing to note is that the Sublimage Le Teint is a cream textured foundation. It comes housed in a heavy glass tub that looks like that of the Sublimage cream.
There is a plastic cover that sits over the opening. However, I find that when the tub is full (and it will remain full for a long time – I'll explain why) it can create a bit of a mess as the product sticks to it.
The plastic cap can also becomes stuck to the cover, as mine has. If it happens to drop out onto your dresser or onto the floor, it will cause quite a mess (and waste a lot of product). I have only been using the product that is stuck to the plastic cover, because you need so little product!
The texture is that of a cream, which I will suggest, will suit those with drier or more matured skin better. This will not be one for the young ones, or for those with oily or combination skin types. You will likely find it heavy, unless you live where it is very dry, in which case you might be able to wear it comfortably.
For those who live in the tropics, as I do, only consider the Sublimage Le Teint foundation IF your skin tends to be dry.
And if it is, boy! Are you in for a treat! 😀
Mid-High luminous coverage looks like skin
Here's what I love about the Chanel Sublimage Le Teint foundation. How it looks on skin.
Rather, how it does NOT look on skin. It looks just like skin.
But better!
The foundation comes packaged with a mini foundation brush that is very serviceable. It has a dense head of bristles that is very soft and comfortable on skin. It blends the product into skin beautifully, leaving a diffused, even finish.
Use your fingers for a very natural 'no-foundation' effect
But my preferred way to use it with my fingers.
Due to the cream texture of the product, I found that applying it as I would a skincare cream on my skin gave it a very nice, natural effect.
I employ a modification of the 13-dot technique, using about 7-8 dots on my face, instead of 13. Then, I rub it into my skin, as I would a cream.
For some reason, I find that doing this helps the foundation meld with my skin better. It almost becomes part of my skin, instead of sitting on top of my skin. Yet, better than a mere cream, it offers some coverage.
I also found that when I used this dotting technique, I used very very little product. This is why after months of use, I am still only working off the residue on the plastic cover, not even touching the actual product in the tub! It turned out to be very economical LOL! 😀
Do note however, that my preference lies with a very light base product. I use foundation primarily to simply even out my skin tone. If I feel that certain areas need more coverage, I use concealer.
The product comes with a spatula, for those who might want to use a little more product. But I feel that more product in this case, does you a disservice, as it will potentially be too heavy. Instead, go with light, thin layers and build it up where you need it, for best results.
Real life filter for skin!
For reference, I wear the shade 10 Beige in Sublimage Le Teint, which is the lightest shade available, and is consistent with all Chanel foundations shades for me. I am consistently a 10. Here is how it looks on me (I don't edit these photos).
I am wearing only a very light layer of foundation in the picture on the right, and nothing else. You will notice how the coverage is high enough to cover up the dark circles under my eyes (thanks insomnia!) and perhaps to even out parts of my skin. It also just about covers the pigmentation on my cheeks. If I wanted more coverage, I'd brush on a little concealer there.
Don't you agree that it is pretty much a photoshop blur tool in a tub? 😀 Or a real life Instagram filter? 😀
Here's a tip: Don't apply any loose or setting powder over the Sublimage Le Teint foundation. I find that as the day wears on, and a little natural oil comes through, it really makes your skin look luminous and pretty amazing.
Sometimes, if I want a little more oomph, I dust a little Guerlain Meteorites over. That will give me a flawless luminosity that will fool anyone into thinking you have wonderful, glowing skin, even if you don't LOL!
You can use the brush if you want to. I find that using the brush makes the coverage higher, so if that's something you like, then that is the option. But for me, my preferred way to apply is using my fingers.
On my skin, it lasts all day, looking perfect. No fading, no slipping, no sliding. I do have drier skin, and it does not settle into, nor accentuate lines, does not oil up, and does not look anything less than perfect. Believe me, I was stunned.
Skin feels hydrated after foundation is removed
But what is even more interesting is this. When I remove my makeup at the end of the day, my skin does not feel dry nor uncomfortable despite the hours with makeup on.
It feels hydrated, smooth and comfortable. I feels like how my skin feels after I use the Sublimage l'Extrait de Creme cream, which is wonderful.
Perhaps it could be attributed to the composition of ingredients, which are supposed to be similar to that of skincare. Or that mysterious Vanilla Planifolia water.
Either way, my skin feels great, which isn't always how it feels after you remove your makeup at the end of the day.
My primary gripe with the Sublimage Le Teint, aside from the pricetag of course, is the fragrance. It has the signature floral-vanilla scent of Sublimage products, and it is fairly strong. It will dissipate, but it is there.
Hence, using just a little, as I do, is perfect. But if you are a Sublimage skincare user, I can imagine that piling on all those layers of the fragrance can make it more noticeable.
I absolutely LOVE this. It's the one I reach for when I just want to look perfect. I told a friend about it, and told her that it might have even dethroned our mutual favourite – Cle de Peau Radiant Fluid Foundation – and she was sceptical. But got a sample she did, and I think she's eventually going to get herself a tub 😉
The price of both this Chanel Sublimage Le Teint and the CdP Radiant Fluid Foundation is very close. Faced with a choice of either, at this point today, I'll pick the Chanel. But if you don't like the Chanel, for whatever reason, go with the Cle de Peau. You won't regret either 🙂
Less is truly more with the Sublimage Le Teint, and a tub will last you a long long while. There's no justifying the price tag, but damn! This is a cracker! 😀
IN A NUTSHELL

The Chanel Sublimage Le Teint foundation is now my No. 1 foundation in my arsenal. The cream texture melds beautifully into my skin, giving it a very natural skin-like effect. You only need very little product, and less is truly more in this instance. I find that using fingers to apply helps it look more natural and gives a lighter, more natural coverage. I do not set with any powder, and it gives skin a beautiful luminous glow that is terribly flattering! It makes you want to stare into every mirror that you walk by, simply because you look so damn good! 🙂 It's not for everyone, but if you can try it, do. I'm in love!

PROS:
Very little product is required each use
Mid-high coverage
Very natural appearance when applied on skin
Does not settle into lines nor accentuate lines
Gives skin a very natural, luminous glow
Blur and masks imperfections so skin looks perfect in tone
Lightweight creamy texture feels very comfortable on drier skin types
Skin feels hydrated and comfortable even after makeup is removed

CONS:
Very pricey
Fragranced

WHO WILL LIKE THIS: Anyone who has drier skin and wants a very natural mid-high coverage foundation that looks just like skin, Anyone who will not faint dead away at the price tag 😛

PRICE: Approx RM500 | US$135 for 30ml

WHERE TO BUY: Chanel beauty boutiques and counters, Chanel website, Harrod's
For those interested, this is the ingredients list for the Chanel Sublimage Le Teint foundation.
Ingredients: Aqua (water), Dimethicone, Squalane, Hydrogenated Polyisobutene, Glycerin, Alcohol, PEG-9 Polydimethylsiloxyethl Dimethicone, Polymethylsilsesquioxane, Vanilla Planifolia Fruit Water, Synthetic Fluorphlogopite, Dimethicone/PEG-10/15 Crosspolymer, Sodium Chloride, Phenoxyethanol, Dimethicone Crosspolymer, Disteardimonium Hectorite, Sorbitan Laurate, Disodium Stearoyl Glutamate, Parfum (fragrance), Tocopheryl Acetate, Propylene Carbonate, Biosaccharide Gum-1, Aluminium Hydroxide, Adenosine, Dipropylene Glycol, Triethoxycaprylylsilane, Tocopherol, Diamond Powder, [+/- May contain CI77007 (Ultramarines), CI 77491, CI 77492, CI77499 (Iron Oxides), CI77891 (Titanium Dioxide), Mica
Have you tried or tested the Chanel Sublimage Le Teint foundation?
It isn't new, but new to me. And what an introduction I've had! 😀
Paris B