After my rant about the retractable (but not) brush from Guerlain a few days ago, I was reminded of a reader request. Someone had requested my thoughts on the Chanel Les Pinceaux de Chanel Retractable Highlighter Brush as compared to the Hakuhodo Retractable Brush that I bought as a souvenir from Japan last year.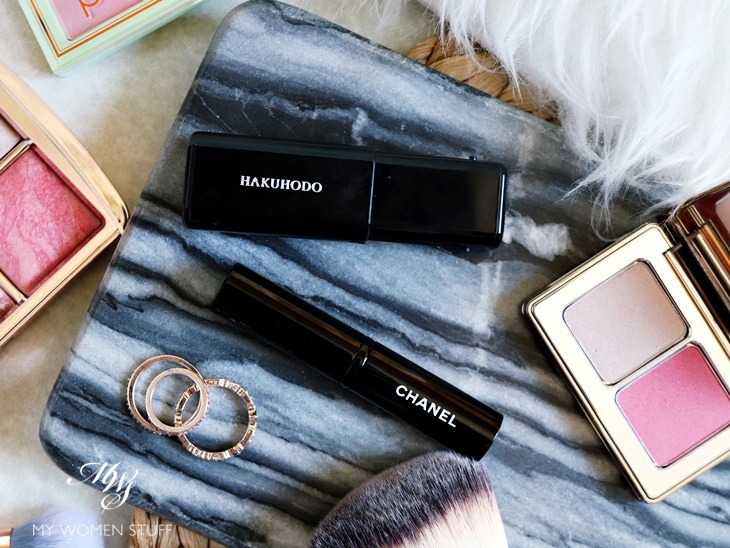 I'd kept the post at the back of my mind, intending to write about it, but never quite getting round to it for various reasons. Well, let us remedy that today! 😀
As these brushes also make good travel brushes, I will also show you a few other small/mini brushes that I use for travel purposes, or that are portable. They are affordable so stop cringing! LOL! 😀
But first, a quick comparison between the Chanel and Hakuhodo brushes. I've talked about the Chanel Retractable Highlighter Brush before, so I'll link to my earlier thoughts, and update them, now that I've used the brush.
Hakuhodo Retractable Brush
I bought the Hakuhodo Retractable Brush as a souvenir from Kyoto, where the Hakuhodo flagship store is. To be honest, I wasn't expecting to buy anything. I'd told myself that I had enough makeup brushes (I do!), considering I don't use very much makeup these days, and I'm not a makeup artist (I'm not!).
Yet, because Hakuhodo still isn't a brand easily available in Malaysia, I felt the need to browse, and then to buy something. I couldn't remember what Hakuhodo brushes I'd already owned, so I decided to get something that was different. A brush that I knew I didn't own.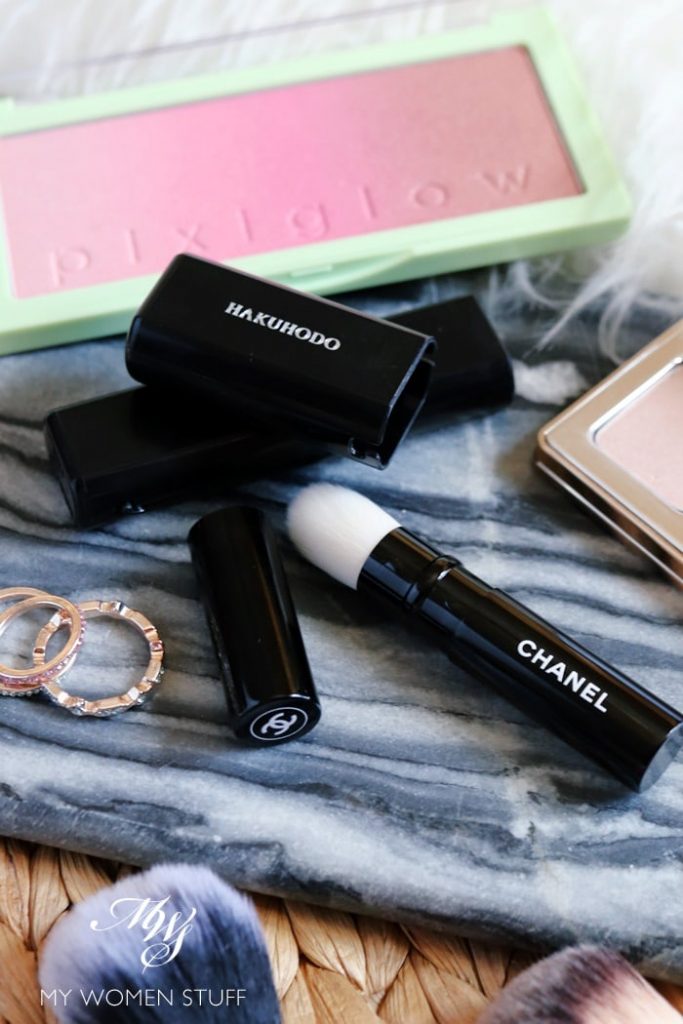 The Hakuhodo Retractable Brush comes housed in a sturdy plastic case. This is a brush that truly retracts, for the bristles will slide down into the body of the brush.
To expose the bristles, you remove the brush cover, push it into the bottom of the brush handle, and it pushes up the bristles. This actually makes it safer for the bristles, for there is no way that you will accidentally damage the bristles of your brush.
Contrast this with the Chanel Retractable Highlighter Brush, which retracts by way of a sleeve that you slide up to cover the bristles, before capping it and pushing it back down. If you didn't realize this was the mechanism, you may damage the bristles by forcibly capping the brush over the exposed brush head.
The Hakuhodo Retractable Brush comes with different brush heads. I bought a more multi-purpose style of brush head, where the brush is large enough, so I can use it as a powder brush, yet small enough that I can use it for blush.
Mine is in the white goat hair, for a practical reason. It's cheaper than the dark squirrel hair 😛 From experience, Hakuhodo brushes in the white goat hair are easy to clean, not scratchy and pick up colour well. I had no qualms about picking goat over squirrel.
I like how the brush compacts itself to a comfortable size, that makes it very portable. You can easily slip it into your daily makeup kit (if you carry one about) or, toss it into your travel makeup pouch, without worrying about using a brush roll, or damaging its bristles.
While the body is sturdy, it is plastic, and that does detract a little from the joy of using such a well-made brush. But I forgive them that. The Hakuhodo Retractable Brush is an excellent brush for powder and blush, and a perfect travel partner. If you have the opportunity to get it, it is worth the investment.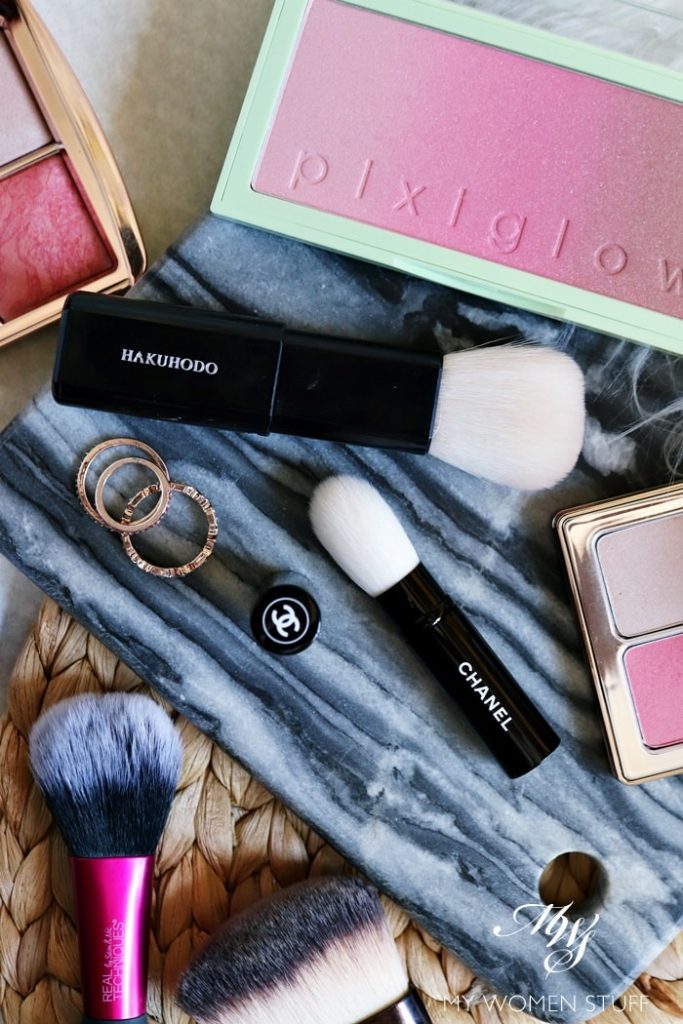 Chanel Retractable Highlighter Brush
The buzz about the Chanel Retractable Highlighter Brush came about when it was launched with Chanel's Spring Makeup collection this year (2019). I was, by and large, rather underwhelmed with the whole collection, but for some reason, the little brush stood out for me.
The Chanel Retractable Highlighter Brush was really made to be used with the balm highlighter (that I still cannot understand 😛 ) but I realized after experimenting, that it makes for quite a decent blush and highligher brush too.
The primary difference between the Chanel and Hakuhodo brushes, as you can see from the pictures above, is the size. The Chanel Retractable Highlighter Brush is small and is just a little longer and perhaps a touch larger than their lipstick.
While the brush may therefore appear tiny (It is rather small), it does perform its function well. The bristles are white goat hair, and very lovely and soft.
Soft brushes like these work well with pigmented blushes, highlighter, and the small head works well for precise product placement.
However, I don't use highlighter very much, so for me, the Chanel Retractable Highlighter Brush operates more as a blush brush. The soft, long brush head gives a very soft, diffused colour on skin, and you can quite easily build up colour if you prefer something stronger.
I like that it is small, because it is actually easier to control, and if you have to work in a confined space e.g. a car, airplane seat, airplane toilet, discreetly, it is very useful. With longer handled brushes, your arm movements will be correspondingly wider.
I also like that the body and cap are metal. A lightweight metal, that feels sturdy and with a luxurious heft and feel. It quite befits the luxury name attached to it.
You may notice that this brush does not retract in the same way that the Hakuhodo brush retracts. So, why am I kinder on this Chanel than on the Guerlain L'Essential Retractable Foundation Brush?
The reason is this: While the Chanel brush uses the sleeve to protect the bristles before you put the cap on, the whole contraption then withdraws once you press the cap down. It goes back down to its lipstick size. It therefore "retracts". By contrast, the Guerlain brush is capped off with a thin piece of plastic, leaving the sleeve exposed. Nothing retracts, and that's why I'm harsh on it 😛
Hakuhodo vs Chanel – Which Retractable Brush to pick?
Tricky question!
I'd say it depends. The body of my Hakuhodo Retractable Brush is a little bashed up, because it is plastic. So, if you don't like that happening, you will not like it after a while. The brush itself is absolutely lovely, and the quality is top notch.
The Chanel brush is significantly smaller, both in brush head and body size. If that suits your needs, then it is a good brush as well. Chanel also makes other retractable brushes for different purposes, if you want to check them out. I believe there is a kabuki brush, face brush, eye brushes and a synthetic foundation brush as well.
Price-wise, I don't think there is much difference between the two brushes. Hakuhodo brushes aren't available in Malaysia (yet except at beauty expos) but can be bought online I believe. Chanel brushes are easier to get hold of.
Ultimately however, it comes down to how you want to use the brush, and whether the size and function suits your lifestyle. If you don't do your makeup on the go, don't do your makeup when you travel, or only use makeup brushes at home, you're better off buying a regular makeup brush with a handle.
Other Good Quality Travel-sized Makeup Brushes
I'm no makeup artist, as I've told you before, but I went through a phase quite a few years ago, where I was obsessed about buying makeup brushes. I've stopped since, eschewing most new releases.
I was also quite a bit of a makeup brush snob 😛 I'd only go for the Japanese-made natural hair brushes and I spent a mint on them! But over time, I've mellowed and realised that I only have 1 face, and don't wear makeup enough to justify all my expensive makeup brushes. So, I stopped cold turkey! The Hakuhodo Retractable Brush was the first makeup brush I'd bought in a few years, and I haven't bought any others since!
But that isn't to say that I haven't been experimenting, and while I love my high-end natural squirrel hair makeup brushes, I also do not like bringing those along when I travel. I fear damaging them, and I don't put on that much makeup anyway. So, I amassed a few others, that are travel-friendly and wallet-friendly 😀
I included the Hourglass Ambient Powder Brush, because I love it both for powder and for bronzer. I love it so much, I have 2 so I'm never without, when one is in the wash 😛 It is also a very handy travel brush, due to the short handle and flat construction, so it barely takes up any space at all.
The Real Techniques Mini Expert Face Brush and the Mini Multitask Brush are both very good brushes. The brush head is basically full-sized, with just a shorter handle to make it more portable.
If you use liquid foundation, and prefer using a brush to blend as opposed to your fingers, then the Real Techniques Expert Face Brush is actually a very good, very affordable brush. The head is dense but super soft, and it blends foundation very well and quickly without streaking. I buy mine on iHerb (5-10% discount with code MPW213), and the mini sizes sometimes come in different packaging. But it is essentially the same brush.
I bought the Real Techniques Mini Multitask Brush because it looks like a good powder brush, and I wasn't mistaken. The soft fluffy bristles do apply powder nicely without being too thick, and in a pinch, you can also use it to apply blush. It is very handy to have in your travel pouch.
I bought the Ecotools Mini Sheer Powder Brush and the Mini Precision Brush out of curiousity. I must say I wasn't too disappointed. If you didn't know, Ecotools and Real Techniques are made by the same people, so that's why I didn't have any qualms buying Ecotools. I also owned Ecotools brushes long before Real Techniques came on the scene!
Like the Real Techniques brushes, the brush-head of the Ecotools brushes are full-sized. They are just mounted on shorted handles to make it more portable.
I like that they do this, because so often, travel or mini-sized brushes are just ridiculous. They are small, flimsy and don't serve much function except to be tossed into the bin. I've bought enough "travel-sized brushes" over the years to say so. For these very affordable brands to therefore provide us full-sized brushes, except with short handles, it's a God-send for all travellers!
The Ecotools Mini Sheer Powder Brush has a fairly large head, with very soft, loose bristles. This works best to apply powder, and they are right. It offers a sheer application of powder, which is basically what you really need.
The Ecotools Mini Precision Brush is more of a blush brush. It is more dense than the Sheer Powder Brush, but looser than the Real Techniques Mini Multitask Brush.
In a pinch, I'd say any of the brushes here can serve a dual or even triple function of applying powder, blush and even bronzing powder/highlight. It comes down really, to how precise you want it to be.
RELATED READING: Here are some of my favourite full-sized makeup brushes I use for blush and for foundation
Do you have a favourite travel-sized brush? Do you carry brushes when you travel?
I personally carry any 2 of these when I travel. One for powder, and one for blush. If I use a liquid foundation or base, I usually apply using my fingers, or I carry a cushion foundation so it's easier. You? 🙂
Paris B