If these PixiGlow Cake Blush Highlighter pans were cakes, they would be the largest cakes you've ever seen. These are to regular blushes, what a 3-tier, 3-foot tall frosted confection is to a mini cupcake.
I unfortunately did not show them in all their full glory, for which I must apologise.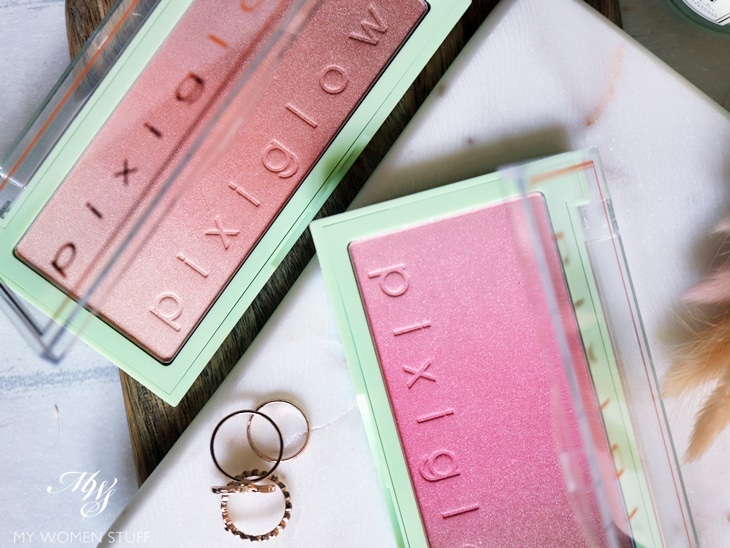 But these PixiGlow Cake pans are so large, they are bigger than my hand, and will practically, last you forever and a day. Your grandchildren would likely be cooing over these as well 😀
These are excellent value, and quite pretty on skin to boot! So really, there is no excuse not to get them. Is there?
What is the PixiGlow Cake?
Well, they are a large pan comprising a blush colour, highlight and a deeper contrast colour, for those who want to build definition. It is an all-in-one blush palette, with pretty gradient colours instead of a separate pan for each shade.
While not a new concept (there are other brands that make similar products), what makes the PixiGlow Cake stand out is the size, the price and the quality for the price.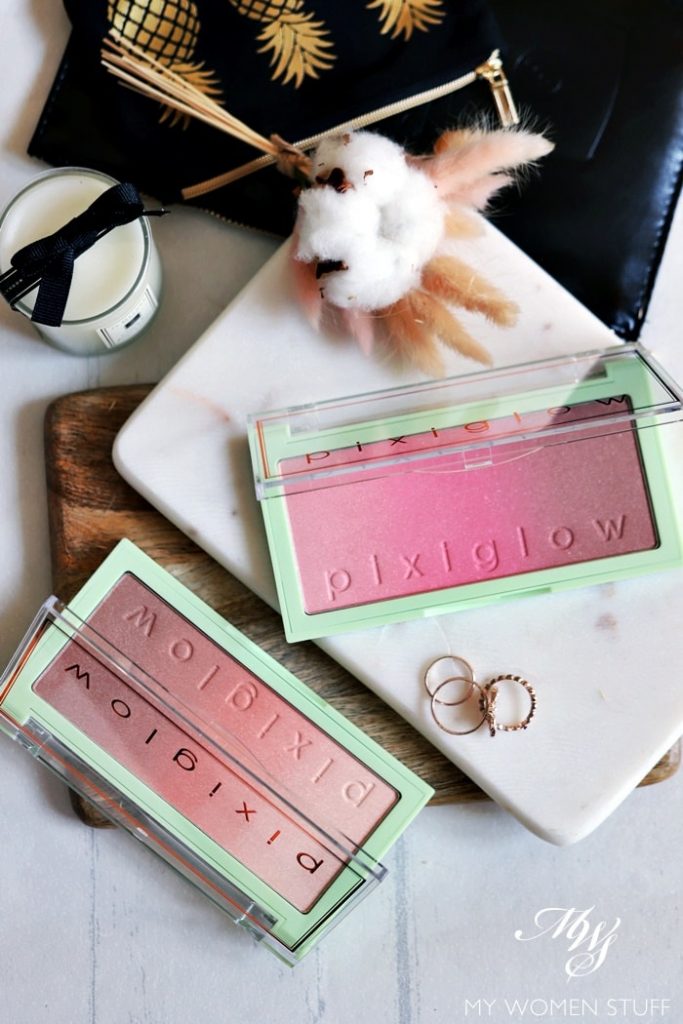 You get a whopping 24g of product in each pan, which is significant. By contrast, a Chanel Joues Contraste blush is approximately 4g of product. So, what you get in the PixiGlow Cake is 6 TIMES what you get in a Chanel blush, for approximately half the price!
But do you get 6x the quality? 😀
Well, you can't quite measure it that way, but you do get a pretty decent quality product that I think is worth the money you pay.
The PixiGlow Cake promises a silky soft, light diffusing glow on your cheeks, and more than that, the formula is supposed to be infused with peptides, ceramides and antioxidants. The latter is nice, but not something that particularly sways me when I look at makeup.
I tried swatching these for you, but the swatches do not show up very well, so I abandoned the effort. While the promise of a silky-soft powder is there, it isn't soft to the touch.
I do find that fingers do not pick up product as easily or as readily, and the colour comes off a little sheer. That is not a bad thing with a blush or cheek colour product. A sheer texture usually works better, because mistakes are minimized.
That said, when you use a brush to pick up product, colour transfers easily onto the brush and onto the skin. So it is sheer, but pigmented when worn. If that makes any sense 😛
It is also quite shimmery, which translates here to "glowy". If you don't like having shimmer on your skin, then you probably may not like this very much. Granted, the shimmer is fine-milled and isn't chunky or obnoxious, but it is present.
There are, at present, 2 shades available in the Pixi PixiGlow Cake range.
PixiGlow Cake Gilded Bare Glow
Gilded Bare Glow is the more neutral (brown) looking palette of the two. It comprises 3 shades of champagne highlighter, a neutral brown blush, and a deeper bronzed contour shade.
I can manage to get this to work on me, as a glowy, natural/neutral barely there blush, but the deeper half can look a bit dirty if I'm not careful. Barely there, brown blushes are quite modern, so this rather suits that purpose.
If you are feeling adventurous, you can also use these on the eyes, for a cohesive look, with dark liner. Again, a modern sort of look.
While I'm now quite comfortable using a bronzing or face-warming powder, I prefer not to use something so shimmery, as it can look too much, when applied all over the face. So I use it more as a blush, or blush topper, as the colour is fairly sheer.
For this reason, I don't get much use out of the Gilded Bare Glow PixiGlow Cake, even though I know many people love it. For those with deeper skin tones, I think Gilded Bare Glow is best used as a highlighting powder, because the colour does not show up as much.
PixiGlow Cake Pink Champagne Glow
The Pink Champagne Glow PixiGlow Cake on the other hand, is very pretty, and to my mind, will suit most skin tones quite nicely.
If you have a light skintone as I do, then I recommend using a light hand. Because the texture is soft when a brush is applied to the surface, you can risk picking up too much product.
The distinction between the highlight and blush colour in the Pink Champagne Glow palette is more blurred, with a more pink tone. It is a fairly neutral pink tone, without noticeable warm or cool tones. The deeper end is a bronze.
What is fun about a palette the size of the PixiGlow Cake pans is that you can pick up the different shades quite easily. You can opt for a light pink for the tops of your cheeks, the middle pink for your blush, and then go with the deepest shade, for a gentle contour in the hollows of your cheeks.
Most brushes will pick up product quite easily. I also find that you can pick up the "middle shades", that are the colours at the boundary of each section, where they blend together. Because the pan is so large, you can easily pick up that blended shade as well. You can rarely do so in most similar products, as the pans are smaller.
As the name implies, it is a product that does impart a glow to your skin. What this translates to is shimmer. So, this is really a blush for someone who does not mind wearing product with shimmer, and potentially, quite a lot of it.
I'll show you how it looks when I wear the Pink Champagne Glow PixiGlow Cake.
I applied this using a large, fluffy brush, and by dabbing on each of the sections of the pan, so I get a more well-rounded colour.
It is quite strong if you don't dab/tap off excess, so I had to hastily tone it down LOL! But it is pretty! 😀
RELATED READING: What sorts of brushes do I use to apply blush? READ HERE
Pink Champagne Glow on my skin looks like a warmed pink glow that is quite refreshing. There is no obvious chunky shimmer or glitter, but in person, you can definitely see the shine/glow on my skin.
I also find that it lasts quite well, and for me, did not settle into pores the way some shimmer powders do.
I do recommend using a light hand, as I find it quite pigmented, especially on lighter skin tones. But what I like is how this can easily be worn by anyone of any skin tone, because it will look pretty any way!
Is there anything to take note of?
Well, the packaging, for me. I find that the plastic is a little brittle, and I'm not sure how it will hold up to travel, if you intend to travel with it or bash it about.
To have an idea of the size of the pan, here is an image from this post which I think, gives you an idea of how big the PixiGlow Cake is! It's about as big as the Hourglass Ambient Lighting 6-pan palette!
It's also shimmery, which you may or may not like. I think some shimmer is nice, but not if you use it all over your face. For this reason, I prefer Pink Champagne Glow, as it is more of a blush, and I'd not as likely use it all over my face.
I'd also be careful not to drop it, for I think it will shatter quite easily due to the texture, size and how it's packaged. But if you are careful, I don't see why this PixiGlow Cake will not last you till your grandkids LOL! 😀
IN A NUTSHELL

The Pixi PixiGlow Cake is a very large pan of gradient blush, highlight and bronzing powder, that is sheer in texture, but pigmented in colour. The product has shimmer, to mimic a 'glow' on skin. I find that buffing the product into the skin tones down the shine, if you don't like too much shine. I also think that the shades works well for most skin tones from light to dark, warm or cool. The colours are flattering and the formula is easy to work with. You also get a ton of product, which is great value for money!

PROS:
Good value for money
Sheer texture is easy to build up if needed
Pigmented colour if you use a denser blush brush
Very large pan of product
Easy to work with to give skin a nice glow

CONS:
Shimmery
Packaging feels brittle

WHO WILL LIKE THIS: Anyone who wants a good value shimmery/glow blush

PRICE: RM124 | US$28 | ?£24

WHERE TO BUY: Cult Beauty, iHerb, Pixi Beauty, Sephora, LookFantastic, Selfridges
Have you tried these PixiGlow Cake blushes? Do they fascinate you?
I'm a big big fan of blush, if you didn't know, so naturally, I was very intrigued to try them. My pick is Pink Champagne Glow for a more versatile palette. Do you reckon you'd have a go? 😀
Paris B