Last week, I showed you a tint that got everyone very excited. This week, let's talk about the more conventional liquid foundation recently launched by Guerlain – the Guerlain L'Essential Natural Glow Foundation 16H wear SPF20.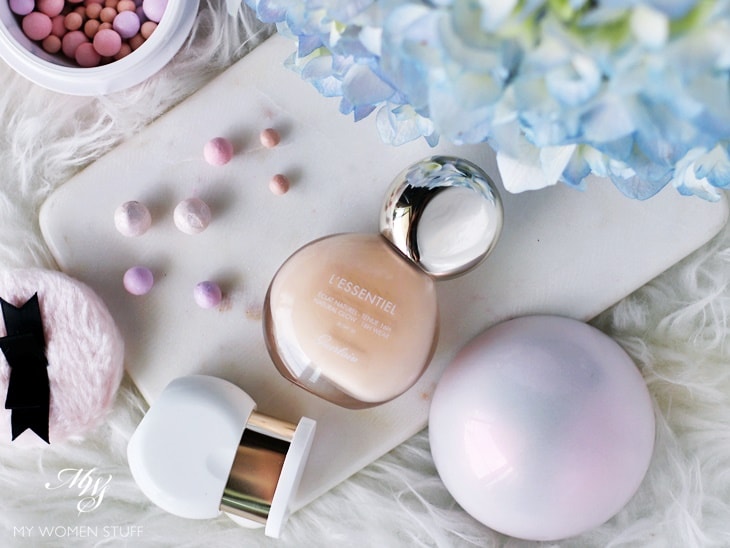 I remember that many people were quite interested in the Guerlain L'Essential Foundation, when I shared it on Instagram. But perhaps that euphoria has died down, now that there are shinier, newer things out there LOL! 😀
But I've finally put the foundation through its paces, and have formed an opinion about it. I also got the Guerlain L'Essential Retractable Foundation Brush, which was launched alongside the foundation, so I'll be able to share some thoughts on that too!
The bggest question of course is this – are they worth the big bucks?
Guerlain L'Essential Natural Glow Foundation 16 hour wear
Guerlain has a funny way of describing this new foundation. They say this "Naturalness & make-up performance come together for the first time at Guerlain." I had to pause for a bit.
'Naturalness'? That isn't a word that quite rolls off your tongue does it? But I looked it up, and apparently, the word exists – so we learn something new everyday!
'Naturalness' basically refers to the state of being natural, and that is what Guerlain promises in this new offering.
The Guerlain L'Essential Foundation is made with 97% naturally derived ingredients, and gives skin a glowy finish, yet lasts for up to 16 hours. The effect is supposed to be luminous and fresh, with a light to medium coverage that you can build up.
Not only that, it also promises to hydrate and protect skin from pollution. That latter bit is reaching a little. It's always been my view that wearing foundation can be a good thing for those of us living and working in cities, as it protects our skin. It seems that a makeup brand is finally bringing that out to the open!
RELATED READING: Wearing foundation or a base makeup can be good for your skin READ HERE
Texture, coverage and longevity
I like the texture. It is creamy, so I find that a little goes a long way. I have to be careful to use only about half a pump each time, and even then, I have excess.
The coverage is supposed to be light to medium, although I'd say that it errs on the side of medium coverage. If you use very very little, you can get a light coverage, but this is more of a foundation for those who want a little more coverage than a tint of colour.
It hides redness, evens out complexion and makes skin look porcelain smooth. The coverage is such that it is rather transparent, so I do need help from concealer with areas of pigmentation, but otherwise, it is a very flattering foundation.
The effect on skin is very natural, that much I'd agree. It also does make your skin look healthy, and gives off a glow, yet doesn't look heavy or oily. I do not find it to be heavy, and is comfortable. However, do note that I have dry skin. I'm not certain how it'd perform on oily skin.
But it doesn't settle into lines or pores either. If anything, it does make your skin look very good. And I like that in a foundation. It gives me a good base to work from, for days when I want to put a good face forward.
Unlike most glowy foundations, I don't find this to make my skin look oily as the day wears on. If anything, I swear that it looks better as the day goes on, and it does last quite well. Most long-lasting foundations tend to be matte or mattifying. But this one holds its glow without turning into an oily, greasy mess after a few hours, and that is very flattering.
Here's to give you an idea of what the Guerlain L'Essential foundation looks like on me.
There are 30 shades available, which is impressive. There are the basic shades depths, and then they have warm, cool and neutral tones available for most, so you can find the exact shade match. I like that brands are doing this more these days.
I wear shade 00N Porcelain in neutral undertone. It is the exact shade match for my skin, and in my experience, does not oxidize.
You may see from the above, that it seems to almost smooth out my skin quite perceptibly. This is with a fairly thin layer. Redness is neutralized, and skin tone is evened out. The pigmentation on my cheeks aren't covered fully, but I can live with it. If I can't, there's concealer 🙂
I do like how it looks, how it wears and how it feels. I do sometimes apply a very thin layer of powder on my nose and forehead, just to set, but not otherwise on the rest of my skin.
Cutest packaging ever!
If there's one thing I have to say the Guerlain L'Essential Foundation has going for it, is its packaging. It is adorable!
The bottle is so dinky, and sits in the palm of your hand like a cool piece of marble. The rounded edges are very tactile and easy to hold, and the slightly off-kilter dimensions make for an interesting bottle.
It looks more like a bottle of perfume than it does a bottle of foundation, which I think makes this quite special.
However, this dinky little bottle does hold 30ml of product, which is what's found in most foundation bottles, even those larger than this. I'm not kidding. It's dinky! Here's me holding it so you have an idea – why not follow me on Instagram while you're at it? 😉
One grouse. The cap of the pump fell off on mine. I can put it back, and it still dispenses product properly, but I wondered if it was defective. I hardly expect something this luxurious to be so flimsy.
The second thing is that the pump tends to pump out too much product. Perhaps it might be suitable for those who like to pile it on, or as we will see below, like to put their product directly on the brush (that's far too much product, by the way). But for someone like me, who prefers a much lighter finish, there's too much wastage.
Gah! Fragrance!
Like all French luxury brands, and bearing in mind that Guerlain is also a fragrance house, the L'Essential Foundation does contain a fairly strong fragrance. It is reminiscent of the scent you get in all Guerlain products.
They say it is a blend of white almond, white tea, sandalwood, white musk and tonka bean. To me, it is just a musky, powdery floral scent that tickles my nose, and that I wish was not there.
If you can get past that, it is a very nice foundation. Something different, in the sense that you rarely get a long-lasting glowy foundation that will not turn greasy.
Guerlain does make very good foundations. I have used their foundations over the years, and have often been impressed. This time is no exception.
Ingredients: Water, C9-12 Alkane, Glycerin, Propanediol, Polyglyceryl-6 Polyricinoleate, Silica, Titanium Dioxide [Nano], C15-19 Alkane, Vp/Eicosene Copolymer, Dicaprylyl Carbonate, Polyglyceryl-2 Isostearate, Coco-Caprylate/Caprate, Disteardimonium Hectorite, Sorbitan Sesquiisostearate, Fragrance, Caesalpinia Spinosa Fruit Extract, Alpha-Glucan Oligosaccharide, Sodium Myristoyl Glutamate, Stearic Acid, Sodium Citrate, Xanthan Gum, Alumina, Polyhydroxystearic Acid, Cellulose, Potassium Sorbate, Kappaphycus Alvarezii Extract, Polymnia Sonchifolia Root Juice, Citric Acid, Butylene Glycol, Aluminum Hydroxide, Maltodextrin, Lactobacillus, Tocopherol, Theobroma Cacao (Cocoa) Seed Extract. May Contain (+/-): Iron Oxides (Ci 77491, Ci 77492, Ci 77499), Titanium Dioxide (Ci 77891), Zinc Oxide (Ci 77947).
IN A NUTSHELL

The Guerlain L'Essential Natural Glow Foundation is a creamy but lightweight liquid foundation. It has a light to medium coverage that is easily built up, and has a lovely breatheable finish on skin. I like how it blurs imperfections and makes your skin look smooth natural, almost immediately. It is also very comfortable to wear, and does last for ages (I did not test it for 16 hours), looking better as the day wears on. I do however, use a light base only, as that is my preference. Half a pump suffices for me. I'd suggest you start with 1 pump and adjust accordingly. I have also found that it applies well whether with fingers or a brush. It does not settle in lines or pores, and generally is a very well formulated product. If you can get over the scent, that is.

PROS:
Lightweight creamy texture and finish
Skin looks naturally smooth and less textured
Comfortable on skin
Does not turn greasy
Does not settle into lines or pores
Good colour selection to suit most skin tones
Cute packaging

CONS:
Pricey
Strong fragrance
May not be suitable for those with oily skin

WHO WILL LIKE THIS: Anyone who wants a long lasting glowy foundation base, Anyone with drier skin types as I don't think it'll suit oily skin as well

PRICE: RM264 | US$60 | £44 for 30ml

WHERE TO BUY: Guerlain counters, Sephora, Escentual, Selfridges
Guerlain L'Essential Retractable Foundation Brush – Does not retract!
Alongside their new foundation, Guerlain debuted their new L'Essential Retractable Foundation Brush. I saw it at the product launch, and was quite taken by it, because it is so adorable!
I mean, firstly, it's white and that is already a winner. Second, it's so curved and round. Anything curved and round is so cute!
Third, the dense bristles are made of bamboo and so incredibly soft on the skin.
So, I bought it to see if I'd like it. I liked the idea of a retractable foundation brush too, as it would be easy to tote about, as it's so small. Right?
But I'm going to tell you this right now – SAVE YOUR MONEY! 😛
While I won't label this a piece of turd, there are better foundation brushes you can spend less money on.
RELATED READING: Take a look at some of my favourite foundation brushes in different shapes READ HERE
When they said it was a retractable brush, I expected something that could retract into a sleek package. This one does not. I thought the bristles would retract into the round body. It does not.
Instead, there is a 'sleeve' that slides up to protect the bristles. Then, you cover it with a thin, flimsy cap. You can see how it looks in some of the other pictures above.
Hello Guerlain. THIS IS NOT A RETRACTABLE BRUSH! This is just a brush that is covered! Retract implies that it can be drawn in, which is why I expected it to retreat within the round plastic handle. It does not, and the resulting package is still a bulky, odd shaped mess. The cap can easily disappear too if you're not careful.
How to use the Guerlain L'Essential Retractable Foundation Brush
To use, Guerlain suggests that you pump the foundation directly on the surface of the brush, before applying to your face. This reminds me of what I see YouTube people doing, and in reality, it means you waste a lot of product, and end up putting too much foundation on your face.
Instead, what I do is pump half a pump on the back of my hand (one pump if I'm feeling wasteful) spread it out, use my finger to apply to my skin and then use the brush to spread and buff it in.
You can also use the brush to pick up the foundation from the back of your hand, and then apply to your skin before blending it in.
As a foundation brush, I'd say it's a pretty decent brush. It performs just like any other flat-top foundation brush in the market. Dab on the product if you want more coverage, buff if you want a smoother finish. The soft bamboo bristles are comfortable on skin, and it blends well to a smooth finish, without looking streaky.
The smooth bristles do not make it look streaky, and it isn't scratchy at all, which is very nice.
But really, you can do this with any brush. The effect is just as lovely using just fingers. There is absolutely NO NEED to buy this L'Essential Retractable Foundation Brush that does not retract.
There, I just saved you money 😛
PRICE: RM230 | £38.00

WHERE TO BUY: Selfridges, Escentual
Have you been intrigued by the Guerlain L'Essential Foundation or the accompanying brush?
Price-wise, it is quite similar to the Chanel Les Beiges Water-Fresh Tint, but it could not be more different. So, if you aren't sold on the super sheer tint of Chanel for the price, and want something with more coverage, but still with an elegant glow, then this one's the one to look to 🙂
Paris B