The Chance by Chanel fragrance is not new to fans of the brand. I remember when the brand first launched it back in 2002 (many many moons ago). The round bottle was considered quite revolutionary back then.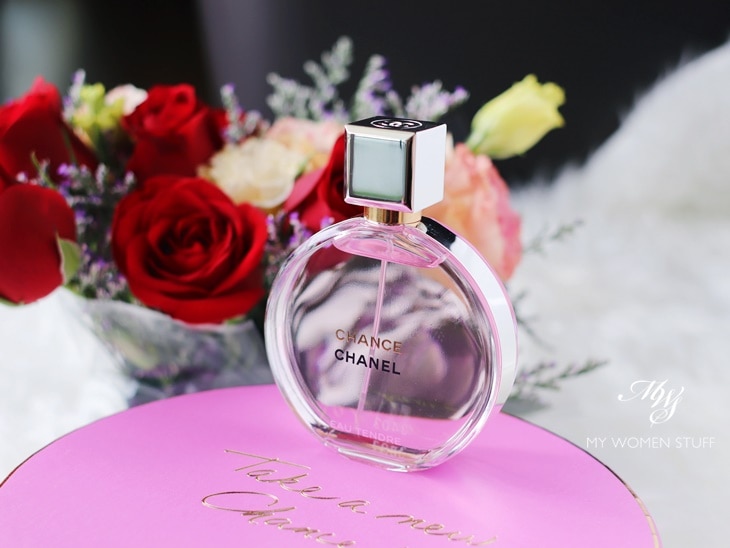 I remember also that unlike the stiffer, more staid appearance of their classic scents like No. 5, Chance was targeted at a younger crowd. I would have formed that "younger crowd" back then, But being contrary, the scent didn't appeal to me as it was a fruity-floral – not something I gravitate towards.
In between, there have been different iterations of Chance, all of which I've sniffed at some point or another. You may remember the different coloured liquids in the round bottles – green, yellow, and pink.
Might I then take another chance on the Chanel Chance Eau Tendre?
Chance Eau Tendre Eau de Parfum – new 2019
Chance Eau Tendre is an existing item within the Chance family. The upgrade, or new interpretation, as it were, comes with the Chance Eau Tendre Eau de Parfum.
Chanel says that the Chance Eau Tendre Eau de Parfum is a more feminine and floral take on the original fruity-floral scent. It is supposed to evoke a woman's inner joy and and charm.
I don't normally show off the press gifts that sometimes accompany new releases, but this one was such a fun item! What you see in the picture (and which you can see in action on Instagram) is a fun toy with dancing girls on a magnet base, whirling around to some (quite frankly) irritating music LOL! 😀 But without the music, it was so much fun watching them. It was almost like a music box.
And it is that joie de vivre that Chanel seeks to evoke in this new perfume. You can see the energy embodied in their video ad campaign, which perfectly sums up the notion of taking a chance, at a dance audition. If you didn't take a chance, how would you be selected? 🙂
The joy of a floral perfume
The Chance Eau Tendre EdP is quite boldly a floral.
It opens up with some fresh citrus notes that, like using acid in cooking, makes the sweet florals more palatable. It then rounds down to a more robust floral – jasmine and rose taking centrestage.
Do note that I am not familiar with the EdT version, so I cannot compare them. I can only base my impressions on the one I have before me.
Truthfully, my inexpert nose stops at the floral note. I read that there is a white musk in there, but I don't detect it.
I'd say that the Chance Eau Tendre EdP is a fairly safe floral perfume that is easy on the nose and on the noses of those around you. It does smell rather unmemorable, in a floral way. It unfortunately, does not make me sit up and go "Ooh, what a lovely scent that is! I wonder what it might be?"
Rather, it evokes a reaction of "Oh you smell lovely!" but doesn't quite make me ask what it might be.
It could well be that it's because I'm not a big fan of floral scents. But the upside to it, is that it does not smell terribly synthetic or cheap.
It smells softly luxurious, and it makes you feel rather pretty. I think of it like a plush velvet cushion – not quite my taste, but has a lovely tactile feel and a lush addition to a room 😀
I have tried wearing this, and it does not give me a headache, but I do have to spray just a little or it can feel a little overwhelming (again, because I'm not big on floral scents).
I wear this one when I feel a little girly. When I put on a pretty dress or when I feel a little frivolous. I like it after the top notes have all gone away, and I'm left with a very soft, floral note that isn't heavy, sticky or powdery. It makes me feel fresh, which I think is great in our weather.
In some ways, it's grown on me so I'm glad I took a chance on the Chance Eau Tendre EdP – but in small doses, like giving it mini chances LOL! 😀
Have you smelled the Chance Eau Tendre EdP yet? Are you a fan of the original Chance fragrances?
Paris B
PRICE: RM415 for 50ml, RM589 for 100ml

WHERE TO BUY: Chanel beauty boutiques and counters