Last year, we were all about the Vitamin C – serums, moisturisers, cleansers even. This year, it looks like it will be all about retinol. One of the products that popped up on my radar late last year was the Elizabeth Arden Retinol Ceramide Capsule Line Erasing Night Serum. Quite a mouthful!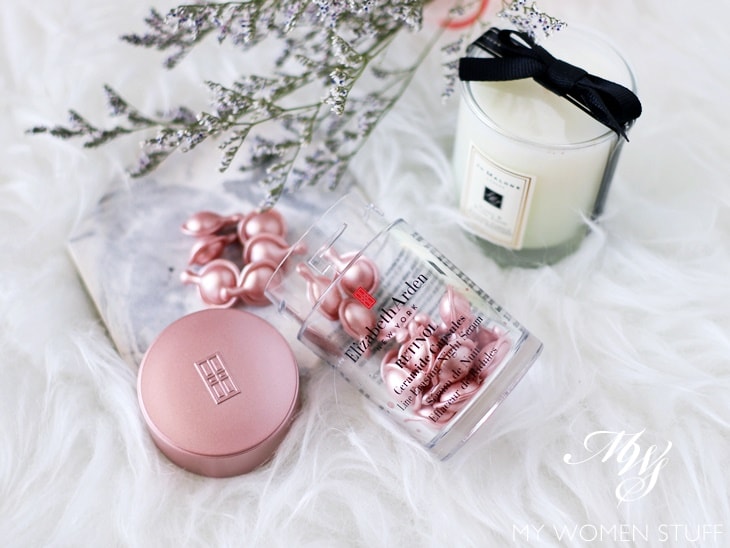 These are eye-catching, as they come in pink, cute single-use capsules, much like the usual Elizabeth Arden Ceramide Capsules. This not only ensures freshness of product each time you use it, but also keeps it hygienic and makes it very portable.
But what is it and how do you use this?
Why should I use retinol serums?
I do not profess to be an expert in this field. I am only just learning myself. There is a lot of literature out there that you can easily search for (as I have and still do). But as a quick introduction and overview to this active ingredient, I suggest reading this post from Caroline Hirons, and to watch the accompanying video.
In gist, Retinol is an active ingredient that is also known as Vitamin A. There are many derivatives these days, so it will only get complicated over time.
But generally, what retinol does or can do is help skin look and feel firmer by improving collagen production, reduce lines and wrinkles, improve uneven skintone, and smooth and refine the surface of the skin. It is what you would use if you are worried and concerned about aging and want something that works.
Because it helps encourage skin cell turnover, it is also an ingredient recommended for those with acne. For this reason also, many products to fight acne that contain retinol/retinoids e.g. Tretonoin or Differin, are also used by people for lines and wrinkles. Not saying they're the same or that they're different, but they are primarily intended for acne, and that's all I'd say on the subject 🙂
Retinol comes in different strengths, from prescription strength available only at doctors to milder over-the-counter versions. Which you should go for depends on what your skin can tolerate, whether you are comfortable with down time (retinol can sometimes cause skin to react or flake or peel) and what you want to use, really.
NOTE: Retinol serums must only be used at night. It breaks down in sunlight, and can cause photo-sensitivity in skin. Always use a good, high SPF sunscreen with broad-spectrum UV protection in the day to protect skin. But aren't you already? 😉
Is the Elizabeth Arden Retinol Ceramide Capsule worth trying?
Much to my surprise, although I was initially unsure about it, I'd say yes.
The primary reason I wasn't too sold on the idea of these Elizabeth Arden Retinol Ceramide Capsules was because I felt the texture and read the ingredient list (below), and scrunched up my face after feeling and sighting silicone in it.
I have nothing against silicone as an ingredient. It helps make a product feel smoother and comfortable on skin. Most people take well to it, the odd person may break out. I have nothing against it, but I'm not a fan of the texture.
That said however, I quite like this because it's not terribly strong as far as a retinol product goes, which makes it good for a starter retinol product.
To use it is very simple. Take a capsule, twist or use your nail to 'cut' at the neck of the capsule, then squeeze out the product.
If you look at the amount of product on the spoon, that is basically how much product there is in each capsule. It is a generous amount, but for hygiene purposes, and for proper efficacy, it's recommended to use it all in one go.
You just literally smooth it all over your face (that's what I do). The texture is fairly light silicone-based. From what I can tell, this is a water-free formula. It is fragrance-free which I appreciate, and it feels comfortable.
We aren't told what the percentage of retinol there is in the Elizabeth Arden Retinol Ceramide Capsules, but because it is low on the list of ingredients, I'd say it's quite low.
It isn't necessarily a bad thing. We all want everything to be of the highest percentage because we perceive that it's the only way to see results. But it isn't always the way to go. Some people cannot tolerate high percentages of an active ingredient and if you're new to the active ingredient, you'd want to start low.
For this reason, I take the view that the Elizabeth Arden Retinol Ceramide Capsule makes for a good starter retinol product.
What is nice to see in this product aside from the retinol, is the inclusion of ceramides, pepties and antioxidants. So to me, this makes this less of a retinol product, and more of an all-in-one "anti-aging" serum.
What does it do?
I started out using it about 3 times a week. Then, I went on to almost every night, just to see if my face would fall off. Happy news, it didn't 😛
But I also found that it was a little superfluous because I don't have a big problem with lines and wrinkles. Do note that this is labeled a "Line-Erasing Night Serum" and while retinol can help, this wasn't a key problem for me. I'm just lucky, what can I say 😛
Instead, what I noticed most was smoother skin the next morning. It feels like nothing when you apply it on, and I wasn't sure what to expect the first few times. But what I did notice was how my skin looked and felt the next morning.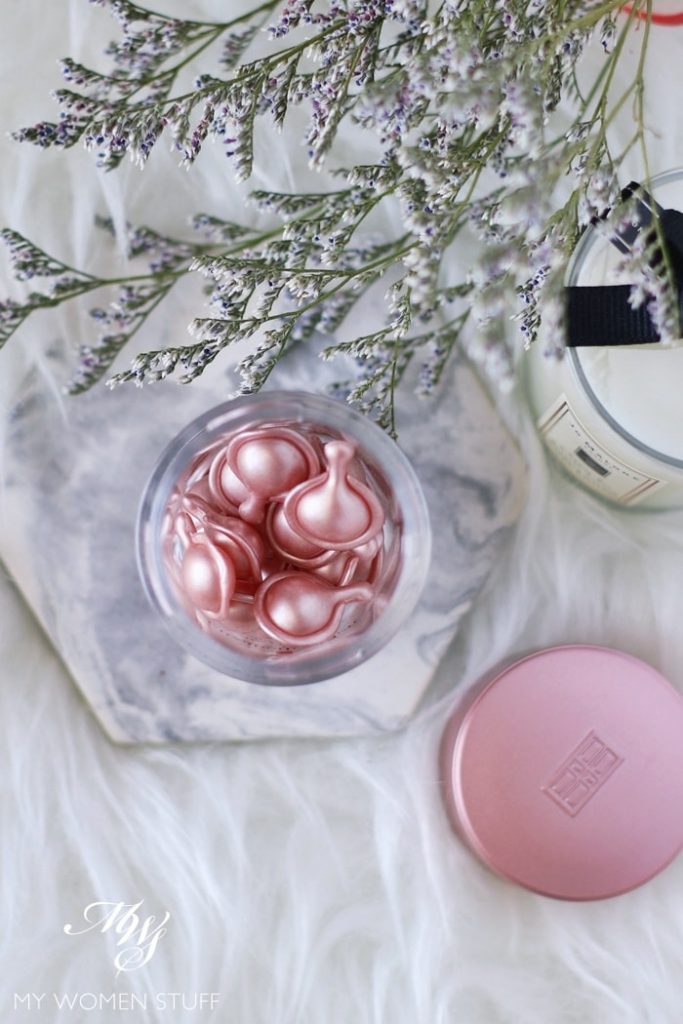 My skin felt noticeably smoother. Makeup went on much more smoothly, and my skin felt lovely and soft and wonderful. Could it be my cream? Yeah, why not. It could well be a combination of products that work.
But I do try to introduce new products one at a time, so I know what to eliminate if I run into trouble. And this wasn't trouble. This made my skin look and feel good.
Did I experience a "glow"? I have come to hate that word LOL! 😛 I will rant about it another day, but no, there was no "glow" per se. My skin looked good. It looked even in tone (pigmentation aside), it felt smooth, and it looked smooth and reflects skin health better (commonly referred to as "glow").
Did it feel firmer? It's hard to tell. I dislike testing products that promise "firmer" skin. You can never tell, unless you look like a bloodhound to begin with 😛 But my skin looked and felt nice, and for me, that is most important of all.
Elizabeth Arden claims that their Retinol capsules are 76% more potent than their rivals – because it comes in these single-use capsules that protect the product from light and air. A little bit of a stretch, if you ask me, but these capsules are handy, that much I'd say.
Must you use each capsule in one go?
I'd say yes. Otherwise, that puts paid to all the hard work putting it in a capsule in the first place doesn't it? 😛 To be honest, it isn't too much product at all. For me, it is about right for the face and neck. (And this is why you don't need a neck cream, folks!)
But I am generous with my skincare use while I know many people prefer to use just a dab of product. In this instance, I'd say to please just follow instructions. Otherwise, if you REALLY want to space out your use into 2 uses, keep the balance in the capsule, inside an air-tight bag or box, in the fridge.
All that said, it is expensive. Granted, if you use it 2-3 times a week, you can stretch it out for quite a long time, which is great. It really does perk up your skin overnight, which I like. But the initial cost outlay is high, and that can be off-putting especially if you're in the market for a true retinol serum.
IN A NUTSHELL

The Elizabeth Arden Retinol Ceramide Capsule Line Erasing Night Serum is less of a full-on retinol serum and more of an "anti-aging" serum that contains retinol. The retinol percentage should be fairly low, so unless you have very sensitive skin, I hazard a guess that you will not experience redness or discomfort. The texture is quite silicone-y, which some like and some don't. The single-use capsules are perfect for travel and to keep it fresh for each use. I find that it makes my skin feel and look smoother and more even in tone. I do not have significant lines and wrinkles (a God-send at my age) so I cannot attest to that aspect. But my skin feels nice, it looks nice, and I think it makes a good starter product for someone who wants to try a retinol serum or a pretty decent anti-aging serum.

PROS:
Hygienic
Portable
Not irritating to skin
Skin feels and looks smoother with regular use
May help lighten lines and wrinkles with regular use
No fragrance

CONS:
Pricey
Silicone base

Low percentage of retinol despite its name

WHO WILL LIKE THIS: Anyone who wants a good anti-aging serum, Anyone new to retinol or who has very sensitive skin

PRICE: US$48 for 30 capsules and RM476 | US$84 for 60 capsules

WHERE TO BUY: Elizabeth Arden counters, Zalora, Hermo (out of stock), Ulta, Escentual, LookFantastic, HQHair
For those interested, this is the ingredient list for the Elizabeth Arden Retinol Ceramide Capsules
Ingredients: Cyclopentasiloxane, Dimethicone Crosspolymer, C12-15 Alkyl Benzoate, Bht, C18-36 Acid Triglyceride, Camellia Senensis Leaf Extract, Ceramide Np, Ceamide Ns, Cyclohexasiloxane, Dimethiconol, Ethylhexyl Cocoate, Helianthus Annuus (Sunflower) Seed Oil, Laurylmethacrylate/Glycol Dimethacrylate Crosspolymer, Lecithin, Olea Europaea (Olive) Fruit Oil, Palmitoyl Tetrapeptide-7, Palmitoyl Tripeptide-1, Persea Gratissima (Avocado) Oil, Phytosphingosine, Phytosterols, Polysorbate 20, Propylene Glycol Dicaprylate/Dicaprate, Retinol, Sorbitan Laurate, Tetrahydrodiferuloylmethane, Phenoxyethanol.
One of the earlier retinol based products I used was Sunday Riley's Luna, which is an oil-based serum. I noticed the similar results from that after using these Retinol capsules, which is how I am able to gauge its efficacy.
If you are used to using a high percentage of retinol in your products, then skip this. You will not notice much, if any results.
I know many people use Tretinoin (Retin-A) or Differin which are sold as anti-acne products. Yes I know they are very affordable. No, I have not used them. Maybe one day. Maybe never. Many retinol based products target lines and wrinkles and as I've explained, despite my advanced age, it isn't something that truly bothers me, nor is very obvious. So, I am quite happy not using anything too intensive 🙂
Have you tried this Elizabeth Arden Retinol Ceramide Capsule? Any retinol based products I should try?
There are already many in the market, and we can expect to see more coming out from the more mainstream brands soon. Not a bad thing. It's a known active ingredient that works and I don't see why we shouldn't use it (unless you can't of course) 🙂
Paris B