Three Cosmetics isn't new in the market. But I will confess that it is new to me. There is only so much attention I can pay to the numerous brands available out there, that I often miss many.
But because Three hails from Japan, I sat up and paid a little more attention. I have a bit of an affinity and soft spot for Japanese beauty brands and Japanese beauty products.
Recently, I was presented with a selection of the brand new Three Cosmetics lipsticks in their Spring/Summer 2019 collection. And if there's one thing that the Japanese can do no wrong for me, it's in their lipsticks.
I have maintained (and I'm not often wrong) that the Japanese make the best quality lipsticks in the market. They are often underrated and unremarked upon (Western brands push their marketing harder) but if you want a lipstick that is of great quality, head for the Japanese brands.
Their drawback however, is usually in the pigment. Japanese makeup styles favour a sheerer, more glossy lip, because it complements the rest of their face.
But wait till you see these beauties in the Three Daringly Demure and Daringly Distinct lipstick ranges. They will blow you away! 😀
A bit about Three
Because I'm learning about the brand as well, let me tell you a wee bit about Three 🙂 We already know it hails from Japan.
Its aesthetic is simple and minimal. It has a quiet vibe, and stepping into their stores feels like stepping into an oasis of calm. Their skincare line (which I'm keen to try – I already love their Aiming Cleansing Balm) uses natural ingredients from Japan where possible, and also organic ingredients, where they can.
Three is formulated without artificial fragrance or colouring, parabens, genetically modified ingredients and are not tested on animals.
For their makeup, Three makeup does have the vibe of most Japanese makeup brands that serve the domestic Japanese market. Their colours tend to be fairly safe, with shimmer and a glossy shine. But their makeup bases look beautiful (as most, if not all, Japanese brands do), and for Malaysia, the colour selection is quite wide, for an Asian brand. I will delve further into it one day!
Three Daringly Demure & Daringly Distinct Lipstick – Spring/Summer 2019
Because today, it is going to be all about the brand new Three Daringly Demure and Daringly Distinct lipsticks – all 18 of them! 😀 The last time I presented a review on a lipstick without face swatches, I was inundated with requests for them. Apparently, you find it helpful to see how it looks on the face, as opposed to just a line on the arm.
So I put in a little more effort, and I swatched all 18 lipsticks for you. ON MY LIPS! They were scrubbed raw at the end of the swatching session so please appreciate it 😛
The Three Daringly Demure Lipstick is a range of 9 glossy lipsticks, with colours that are more wearable on a daily basis. There are pinks, reds and neutrals that look quite safe.
The Three Daringly Distinct Lipstick is a range of 9 matte lipsticks, with bolder, more vivid colours. The shades tend more to the red end of the colour spectrum, with the odd pink shade.
The thing is, you can't quite tell them apart, unless you use them, or check their name. The packaging is the same – a deep grey matte square case, and although the textures are different, the lipsticks look similar in the tube. There really is no way to tell them apart!
I also like the slightly blunted tip of the lipstick bullet. For some reason, it seems to help me apply the colour better, without going out of line (important when the colours are so bold!) and looks good even after it's used.
Three Daringly Demure Lipstick – RM165 | ¥3,900
The Three Daringly Demure Lipsticks are the ones with the glossy texture. However, it doesn't give you a mirror-like finish, if you're expecting that. It is a glossy shine, that plumps up your lips, and makes them look pillowy and soft and pouty.
While "glossy" usually means that the colours tend to be sheer, this is where I was very pleasantly surprised.
The colours are in fact, quite bold and the lipsticks were uncharacteristically pigmented, for a Japanese brand! I was very pleasantly surprised, because I like a good, pigmented lipstick, with a nice shine. And the Three Daringly Demure Lipstick fulfills my every want. It is even fragrance-free, and I love that! All lipsticks should be free of fragrance!
The picture above shows you all 9 lipsticks laid out according to their number. You can see that there is a good mix of shades in there, with reds, pinks and neutrals well represented. (Please forgive the war-torn appearance of some of the bullets – I encountered some accidents while setting up the shoot 😛 )
I was a little concerned initially about the neutral shades. As we all know, I'm not a fan of neutral lip colours, as they have a tendency to wash me out. Well, let's just say that I've found beautiful colours that don't, and I LOVE IT! 😀
Here are the swatches of the Daringly Demure lipsticks on my arm.
You may notice the glossy texture, which isn't shiny. I know not everyone likes a shiny lip, but these have an adult shine to them that I personally find flattering. The texture is creamy and applies beautifully on lips straight from the bullet.
You may also notice that the pigment is quite strong. All swatches were made with just 1 swipe down my arm, so the colour is strong, bright and beautiful.
While the colours aren't the most unique (truthfully, how unique can a lip colour be anymore?!) they are all wearable, and look beautiful. Every single one of them! Ok, maybe except one which looked a bit odd on me.
Longevity was medium, I'd say, which is true of most glossy lipsticks. They sit on my lips without drying, and look very pretty. They clean off easily, and will fade after a meal. But that just gives you an excuse to slick on a fresh coat of colour 😀
And now for how they look when I wear them 🙂
No. 1 – To be Free – In tube and on my arm, it looked like a bright fuchsia. On my lips however, I found it to be a fuchsia, but not as bright. It wasn't as warm as I thought it might be, and in fact, looks bright and youthful on.
No. 2 Taste of Freedom – This one looks like a bright chilli red in tube and on my arm. On lips, it is quite true to the colour. A bright, chilli red that perks up the complexion.
No. 03 Freedom Feeling – This one's a more muted shade by comparison, a fairly safe, wearable pink. I expected it to look a little more electric pink, but it turned out to be a colour that you can slick on daily, without being too in your face. Funnily, I can wear pink! 😛
No. 04 – Voice of Freedom – This was the first of 2 neutral shades in the range. I must say that this turned out to be a MLBB (my lips but better) shade! It looks so natural, with just the right hint of rosy tint and warmth. Loving it! You'll be seeing me say this a lot in this post. Get used to it 😛
No. 05 – Sound of Freedom – In the swatch on my arm, I thought this looked similar to no. 04. But on lips, it turned out to be a lot more neutral and in person, practically blends into my lips. While this isn't what I normally look for in a lipstick, I can see how useful it can be, if you do a stronger eye or cheek colour and don't want to look like a drag queen 😛
No. 06 – Freedom Reigns – Ah the first shade that I didn't think suited me. In tube and on my arm, it looked like a very cool-toned purple-pink. On lips, it turned out to be a bit more purple. I don't usually go for colours like this, so I felt it jarred with my complexion.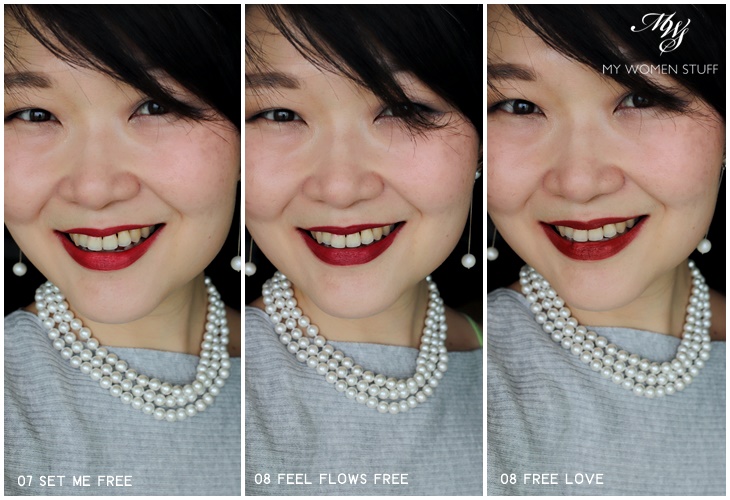 No. 7 – Set Me Free – The last 3 shades are the deepest in tone. No. 07 is a deep red with a slight rose tone. This looks markedly different from No. 2 above, as you can see. This one's deeper and bolder and has cooler tones.
No. 8 – Feel Flows Free – This is a deeper burgundy shade, with a noticeable cooler tone. The colour is deep and the glossy shine keeps it flattering.
No. 9 – Free Love – This is the deepest shade in this range. The colour has slight browned tones, to give it depth, and is, I feel, more of a true neutral red. It looks deeper in the tube than it really does on lips. It is a nice shade that I expect most will pull out for evenings and candle-lit dinners. It's lovely!
It is worth noting that I applied each colour straight from the tube, with just 1 swipe. It is very pigmented, but with a lovely glossy shine that I personally think is very flattering.
The colours are all very wearable, and I'm quite confident that anyone can find a shade to love in the Three Daringly Demure range of lipsticks. But you do have to test it on your lips, because as you can see, some of the colours look different on my arm – and we don't wear lipsticks on our arms 😛
But it gets a little more challenging in the Daringly Distinct Lipstick range. Oh no, we're not yet done! 18 lipsticks remember? We're only halfway through 😛
Three Daringly Distinct Lipstick – RM165 | ¥3,900
From the packaging, you can't tell the lipsticks apart. They look exactly the same. The difference lies in the little sticker at the bottom, and when you swatch it, the texture.
The Three Daringly Distinct lipsticks are matte, but you can't tell from looking at them in the bullet. In the bullet, they boast a soft shine. In fact, I find that they also boast a soft shine on lips, so it isn't conventionally matte.
You may notice the shine on the lipstick bullet, that looks similar to that of the Daringly Demure lipstick. The colours however, are much more vivid and bright.
And when you swatch these lipsticks, you will notice at once that they are different from the Daringly Demure lipsticks. These are bold, strongly pigmented in one swipe, with a soft satin matte texture, and they do not budge!
Goodness me, I was taken aback the first time I tested them. The Three Daringly Distinct lipsticks apply on your lips and then stay put. Even when it fades, it fades to a soft stain. I even found it challenging to remove with a waterproof makeup remover, which says a lot.
Yet, and this is very important, it isn't drying. It feels so lightweight, like nothing on your lips. Unlike most matte lipsticks, it does not dry your lips nor settle into lip lines in an unsightly manner. Unlike most creamy lipsticks, it does not bleed. It quite literally sits just exactly where you place it.
I'll be honest, I've never experienced this in any brand of lipstick before this! There is no scent, it is creamy, the pigment is insane, it isn't drying one bit, it feels so comfortable when worn, it fades to a soft stain and it doesn't budge otherwise. It's insane! 😀
Each swatch is made with just 1 swipe of the lipstick from the bullet down my arm. You will notice that it is different from the Daringly Demure lipstick, in that the colour is firstly bold and opaque, and secondly, matte.
However, it is what I'd call a soft matte. Not purely matte, so that it does not reflect any shine at all. It is matte, yet reflects a soft shine, that I find far more flattering than a matte-matte lipstick does.
And now, onto the lip swatches! These were incredibly challenging to do, because it was quite hard to remove each colour from my lips. I rubbed my lips raw, and I'll probably never do this again 😛
No. 01 – Dare 2B Different – In the bullet, it is a bright red. On my arm, it looked more rosy, but on my lips, it went back to being a bright bright red. This one is the matte version of No. 2 in the Daringly Demure range. Both are bold, bright and in your face red lipsticks. This one however, is a pain to remove!
No. 02 – Dare 2B Delicious – In the bullet, it is a red with a little more depth. On my lips, it looked deeper. A more velvety, elegant red that isn't so bright, with enough blue tones to keep teeth looking whiter and skin looking less sallow. It's a red I'd wear more of.
No. 03 – Dare 2B Divine – This one has a touch more orange in the red. Just a little touch, so I can still wear it (I usually don't wear orange-based reds well) but for some reason, on me, it looks just like No. 02, just a touch deeper and less vibrant, in a good way.
No. 04 – Dare 2B Dynamic – This is the first of 4 softer shades. There is a hint of rose in this, that makes it a shade I am more likely to wear. It is bold and bright, but less in-your-face than the earlier reds.
No. 05 – Dare 2B Darling – A pink-based red, this one's more of an everyday shade that you can wear to perk up your complexion. In tube, it looks a touch fuchsia, but on me, it was a softer pink that I found flattering. I don't usually wear pink, but this worked like a darling!
No. 06 Dare 2B Dashing – A lighter rose hue, No. 06 is similarly a wearable everyday shade, that is easy on the eye and will appeal to most who shy away from bold lip colours. It is actually a touch lighter than No. 05. You will notice that in this range, the difference in shade between the colour are quite subtle.
No. 07 – Dare 2B Decorous – I couldn't help feeling that they'd run of of ideas of descriptive words beginning with D at this point LOL! But No. 07 is the last of the more wearable shades. It is beginning to look brighter, with a touch of watermelon pink in there, that really brightens up the complexion. I think it's a very pretty colour!
No. 08 – Dare 2B Delightful – This is the first of 2 very challenging colours. No. 08 is a orange-toned, very bright red that is challenging on fair skin like mine. But on deeper skin tones, I expect that it will look much better, because the contrast isn't as great. This isn't a colour I usually pick for a lip colour in any event.
No. 09 Dare 2B Dreamy – This one's a straight bubblegum pink that again, is a colour I'd never wear. On my arm, I thought I could get away with it. but once I applied it on my lips, I knew I'd never be able to pull it off. It's just too pastel, too kawaii for someone the likes of me 😛 That said, it does have more cool tones in it than most bubblegum pinks do, so it doesn't look as garish.
Overall thoughts
I like both ranges, and I enjoyed trying them out. I like the wider range of colours available in the Daringly Demure range, and I love the creamy texture with the light, glossy finish.
On the other hand, I love the bright, vivid colours of the Daringly Distinct range, with its soft matte texture that isn't drying. I find matte lipsticks a challenge, and these surpassed all expectations.
However, the colour range is, I feel, a little more limited, bring predominantly red-based. If you don't gravitate towards bright lip colours, or red lipsticks, then you will be hard-pressed to find a colour suitable for you in the Daringly Distinct range.
The price is a little steep, I will agree. But it isn't unusual for a Japanese brand, and the quality is very impressive. I'd say it's absolutely worth checking out, especially if you're in the market for a wearable red. There are lots to pick from here!
IN A NUTSHELL

The Three Daringly Demure and Daringly Distinct lipstick ranges are a great addition to the brand. The texture is creamy and the colours are strong and pigmented. The Daringly Demure range has a wider selection of shades, while you can probably find a red to suit you in the the Daringly Distinct range. They are lightweight, not drying and very comfortable to wear. I like also that they are not scented, which makes for a very comfortable wear. The construction of the lipstick is solid, albeit simple and minimal. Absolutely worth trying at least one!

PROS:
Lightweight formula
Creamy texture
Strong pigment
Daringly Distinct range is longlasting and fades to a stain

CONS:
Pricey

WHO WILL LIKE THESE: Anyone who wants a vivid, pigmented soft matte lipstick in a good selection of red tones, Anyone who wants a creamy, glossy lipstick that is lightweight and comfortable to wear

PRICE: RM165 | ¥3,900

WHERE TO BUY: Three cosmetics stores (Pavilion, The Gardens) and online, Three stores and counters in Japan, Singapore and Thailand
Do any of these Three lipsticks interest you?
I hope you found the swatches helpful 🙂 If you have other products from Three Cosmetics to recommend, I'm all ears! I do want to try their famous Cleansing Oil and one of their foundations next. If I do, you'll know! 😉
Paris B