If you can believe it, I started writing this post about creating a "landing strip for your home" about 3 years ago, almost to the day! LOL But as with the hundreds of drafts I currently have in my folder, I didn't finish it for various reasons.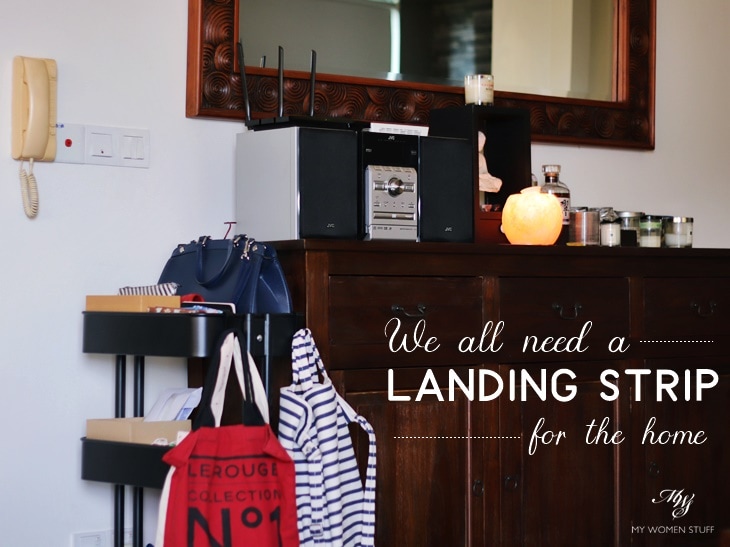 I have so many ideas for blog posts popping into my head every now and then, and I usually toss them into my drafts folder with a line or two to remind me what it's about. I have more ideas than I do time to publish them all! Some will tell you that's a good thing LOL! 😀
But this time, I'm finally going to tell you all about this little trick for keeping a tidier, more stress-free household. As you can see, I've been using it for the past 3 years! 😀
What is a "Landing Strip" for your home?
When I came up with the idea, I didn't know what to call it. So, I called it a "landing strip" because a landing strip is basically a place for planes to land i.e. a runway! Similarly, the concept therefore, is a space for your things to "land" when you get home. As it turns out, there is such a concept as the "landing strip" for your home! 😀
So what is it?
It is your first port of call to deposit your things as you enter your home. Think of it as a space where you stop by to place your keys, shoes, coat and bags as you enter your home.
The idea is simple. Instead of tossing your things willy nilly in different parts of your home and then wasting time trying to find them before you leave the house, you corral your things in one place, so it's easier to find, and it's less messy.
I used to come home each day and toss my bag, my shopping, and my mail on my dining table. Then, because I am a bit of a clutterbug, as I've self-confessed, I tend to leave them there till I can't bear it anymore, then I declutter.
Time was that I'd have no space at all on my dining table to use it for its intended purpose. Every usable surface would just be covered with paper bags, handbags and bits of mail and paper. I wasn't proud of that! Other times, I can't find a document I need, or my wallet, because I can't remember where I left it last.
So, the idea behind a "landing strip" for your home is quite simple.
This is a place where you can quickly and easily drop your things as you enter your home. This not only allows you to be able to find them easily should you need it e.g. keys, but it also allows you to control your clutter and prevent it from spreading. This way, I always know where my keys are, where my bag is, and where my mail (read: Bills) is, should I need them in a hurry.
For those with families and children, it might help to serve as a place for everyone to put their things, so everyone knows where to find them without everyone getting stressed e.g. keys in a tray in the hallway, shoes by the door etc
How do you set up a landing strip in your home?
First, I suggest that you step out of your house, with your handbag and whatever else that you usually carry when you exit your home. Then, step back in, and consciously see what you usually do first, and where you usually put your things.
For me, I have 2 separate landing strips. The first is in the hallway, near the front door. I have a narrow side table and that is where I drop my house and car keys and take off my shoes when I enter my house (I'm Asian – we never EVER wear shoes at home unless it's home slippers). There is also a little tray with some eco-bags so I can grab one easily on my way out the door in case I forget to pack one.
The second is my primary landing strip.
This is where I put my handbag, my mail and any other bits and bobs that I might pick up on the way in.
Does your landing strip have to be by your front door?
Most people recommend that you put your landing strip by your front door. This is logical, as you can drop them off and pick them up as you enter and exit.
But I think it is more important to consider the layout of your house or apartment, and what it is that you are comfortable with.
For me, I prefer not to keep my handbag by the front door. So my bags and other things are placed further inside my living area. If you have a wide area by your front door, and don't mind putting your things there, then you can do so.
For things like keys and shoes however, I do find that it makes sense to place them nearer the door, because they are usually the last things you'd pick up on your way out. It is also more likely that you drop them off first, as you enter your house.
We don't wear coats or boots here in Malaysia, but it makes the most sense to have your coat rack or coat hooks near your front door, as that's where you'd take off and put on your coats and boots as you enter and exit your home. Some people take their bags off and place them there, because they don't need it anymore till they next leave the house.
But work with whatever feels most comfortable and convenient for you. Remember, it is YOUR flow that is important, not someone else's.
My Mobile Landing Strip – The Ikea
RÅSKOG Trolley
My landing strip is mobile, which is a bit of genius move, because if it starts looking a bit messy and I have company, I can just wheel the whole thing into my room, and shut the door LOL! 😀
I use the Ikea Raskog trolley, which most of you would be familiar with because it is everywhere! For the record, this is one of my favourite items in Ikea – it's so practical and I have a billion and one uses for it! Here is one of them!
First, my rationale for having a landing strip for my handbags is quite simple. I rotate my bags as often as I can, and I don't always put one away, before I take out another. So, having a space for them is important, as I used to otherwise just put them on my dining chairs.
The top rack of the trolley usually houses my bag du jour. Because I often trot out of the house with just a wallet sometimes, I ensure there's space for me to put my wallet as well.
I also have a little box to corral my lipsticks du jour. Now, I'll be realistic. This is not a problem most people have. It is a problem that probably only I have! 😛
I tend not to carry makeup in my bags, only lipsticks. So, I used to weigh down my bags with tons of lipsticks floating about in them. Now, I empty out my lipsticks when I get home, so I know just what is there. I can then pick out the ones I want the next day.
The other racks of the trolley house the mail (bills, ugh!), eco-bags, other bags I've switched out from and are airing out before storing, other totes that I might switch to on weekends and other miscellaneous items. I've taken to carrying a simple cotton tote when I'm out and about running errands.
Not only does a cotton tote make it easier to put things in, it is also lighter and roomier. Sure, it's also very casual. But who isn't on a weekend 😛
Do note that the Raskog trolley does not come with hooks. I had some hooks from a different shelf, that quite opportunely fit the Raskog. You could probably find something similar too. I find it useful for hanging things on, like my tote bags.
How has a "Landing Strip" helped me contain my clutter?
In the 3 years since I started using a "landing strip", I've found that my propensity to clutter my space, especially on and around my dining table, has been reduced. If not eliminated, at least, it's restricted to just the area surrounding my landing strip.
Instead of me walking into my home, and then dumping my things on any convenient horizontal surface e.g. sofa, dining table; I now place my keys in the tray, and my bags directly on the trolley. Initially, it took a bit of conscious thought, but now, I do it almost without thinking.
What this does for me, is to allow for my other spaces like my dining table, as a prime example, to be clearer so I can actually use it without first sweeping a pile of stuff into a box and packing it away.
Not only does a landing strip like this corral my things, it also corrals my clutter, so I only have one key area to deal with. It also helps me find my things more easily.
Should I need my wallet at a moment's notice, I know exactly where to find it. I don't have to root through my bags, or run around the house wondering where I last put it. It's right there on my Raskog trolley.
If I want a specific lipstick, and it isn't in my usual lipstick drawer, I usually know where else to find it. The exception is my Bobbi Brown Crushed Lip Color that has mysteriously vanished into thin air 🙁
Sometimes, not all my miscellaneous shopping bags or packages fit on the trolley. If I don't have the time to go through them, I place them on the floor, near the trolley. Then, I sort through them when I have the time. Sure, it creates clutter, but at least it's contained clutter 😛
Do you have a landing strip in your home? Will you be setting up one?
I'm not saying of course, that my way is the best way to do it. It is the best solution for me, and it's served me well for 3 years. You can look up more ideas here and here or just google it for even more ideas 🙂 Share, if you already have one! I'd love to get more ideas 🙂
Paris B