You know I love my facial mists, and I'd been curious about the mists from Pixi for a while. But it wasn't until I had a few people recommend them to me, that I took a look. I added the Pixi Hydrating Milk Mist and the Pixi Vitamin Wakeup Mist to my stash while on one of my online shopping jaunts to see what the fuss was about.
You can now get Pixi Beauty at Sephora stores, but I'm hardly ever at Sephora, so I prefer to just get them online.
Pixi has a few different mists in their collection, but for a start, I decided to try 2. Just to see how I'd like them. I have to say though, that they absolutely lived up to my expectations! 🙂
Pixi Hydrating Milky Mist
Being a bit of a fiend for hydration, I naturally had to pick up the Pixi Hydrating Milky Mist. Pixi promises that this mist would be deeply hydrating, and soothe dry skin. Right up my alley!
The product has a milky appearance in the bottle, living up to its name. It claims to contain hyaluronic acid and black oat, to both hydrate and protect and rejuvenate skin.
Truthfully, I cannot quite tell how well this mist performs for me. I use it as part of my moisture sandwich routine, and I know something is working, because my skin feels hydrated. However, I am unable to pinpoint it to this mist alone.
I have however, read of many people who find that this gives their skin some additional hydration which helps their dry skin. I have also read of some who say they use this as their moisturiser to which I say good luck to you 😛
I also do not note that it is any more soothing than normal. Again, it might just be me, because I am already used to a certain level of hydration on my skin.
What I find most disconcerting (and something that most people like) is that the mist that sprays out of the nozzle is super fine. This is the finest mist I have ever encountered in a regular spray bottle (and I thought this was fine!)! It feels about as fine as that from an aerosol can!
The reason I find it disconcerting is because the super fine mist feels like nothing going on my skin. I am used to my skin feeling wet after spritzing. This one doesn't leave it sopping wet. I have to go over a few times, to get enough moisture, for me to layer a facial oil over. This means I end up using more product than I like and I'm already about halfway through this bottle.
However, if you use it to set makeup, or to refresh your skin mid-day over makeup, this one is perfect as it will not disturb your makeup at all! The slim packaging is also very portable, and the spray is very sturdy.
I think this is a nice product, and if you don't like to get your face sopping wet, then this is the one you want to get. I am however unsure if I will repurchase this, unless I snag it on sale.
INGREDIENTS: Water, Glycerin, Ethylhexyl Palmitate, Dipropylene Glycol, Cetyl Ethylhexanoate, Phenoxyethanol, Polyglyceryl-10 Oleate, Ethylhexylglycerin, PEG-60 Hydrogenated Castor Oil, Cetearyl Isononanoate, Allantoin, Ceteareth-20, Trideceth-10, Hydrolyzed Glycosaminoglycans, Hydrogenated Lecithin, Glyceryl Stearate, Ceteareth-12, Cetyl Alcohol, Stearyl Alcohol, Cetyl Palmitate, Disodium EDTA, Fragrance, Citric Acid, Benzoic Acid, Lecithin, Avena Strigosa Seed Extract

PROS: Lightweight and very fine mist, Good for hydrating skin, Will not disturb makeup, Portable

CONS: Very fine mist may result in you spraying more than you expect each time

WHO WILL LIKE THIS: Anyone who wants a fairly affordable and portable facial mist that does a good job at hydrating the skin and keeping it hydrated

PRICE: RM67 | US$15 | £18 for 80ml

WHERE TO BUY: Cult Beauty, Sephora, Pixi Beauty website, Lookfantastic, iHerb (discount with code MPW213)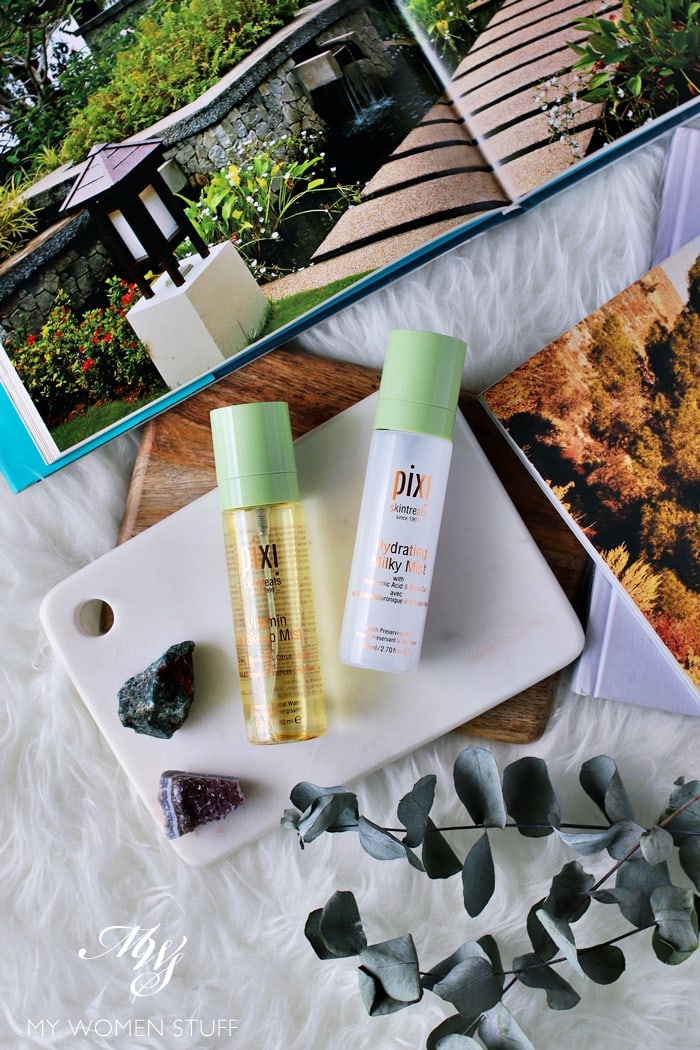 Pixi Vitamin Wakeup Mist
If it seems like I am a little ambivalent about the Pixi Hydrating Milky Mist, it is because I am 😛 Don't get me wrong. It's nice, and I like it. But it was this other mist that I truly saw results with.
I picked up the Pixi Vitamin Wakeup Mist out of curiousity – I had no idea what it was supposed to do! LOL! 😀
What Pixi says is that this is a boosting treatment toner, that gives you a revitalized complexion. But no, seriously. What does it do?!
Well, I figured that out for myself. This Pixi Vitamin Wakeup Mist gave my skin a nice even toned complexion, and a bit of a glow, under quite stressful circumstances. So, my skin looked well rested and calm, even though I wasn't! LOL 😀
I noticed the results most because I packed this with me when I had some short travel trips a few months ago. This was the only mist I had, so it was the only mist I used when layering my moisture sandwich.
The golden liquid in the bottle should be shaken up before using. While the spray is quite fine, it is nowhere as fine as that of the Pixi Hydrating Milky Mist. So, you will feel the water against your skin, and it will feel wet. It also leaves a very slight sticky feeling on the skin. I personally like that so it doesn't bother me.
I like that it is refreshing to the skin, but also hydrates quite noticeably. After about a week of just using this mist with my twice a day skincare routine, I noticed that my skin was not only behaving itself, but it was glowing.
I don't sleep very well when I'm away from home, and yet, that tiredness didn't show on my skin. I was also out and about in the heat, in the middle of the bustling city of Bangkok, and my skin remained calm for the most part. I was in dry, air-conditioned hotel rooms, and my skin did not dry out. It just felt, and looked, wonderful.
The only thing I'm not sold on is the scent. It isn't unpleasant. It has a noticeable scent of orange blossom and a hint of citrus, which is lovely and uplifting. I just don't quite like orange blossom very much 😛 It doesn't last, so it doesn't bother me too much. It's just that initial spritz.
I do note that most people aren't happy with this one, but I am! 😛 I am happy with this one, because I find it a little different from regular mists, in that I see more results than mere hydration. So, I am quite happy to repurchase this and keep it as part of my routine 🙂
INGREDIENTS: Water/Aqua/Eau, Citrus Aurantium Dulcis (Orange) Flower Water, Glycerin, Dipropylene Glycol, Butylene Glycol, Niacinamide, PEG-60 Hydrogenated Castor Oil, 1,2-Hexanediol, Caprylyl Glycol, Ethylhexylglycerin, Allantoin, Magnesium Ascorbyl Phosphate, Citric Acid, Sodium Citrate, Citrus Grandis (grapefruit) Peel Oil, Adenosine, Tropolone, Disodium EDTA, Arginine, Lavandula Angustifolia (Lavendar) Oil, Citrus Sinensis Peel Oil Expressed, Sodium Hyaluronate, Citrus Aurantifolia (Lime) Oil, Glycyrrhiza Glabra (Licorice) Root Extract, Sodium Starch Octenylsuccinate, Maltodextrin, Calcium Pantothenate, Sodium Ascorbyl Phosphate, Tocopheryl Acetate, Pryidoxine HCI, Silica.

PROS: Portable packaging, Fine mist (but you will feel water on your skin), Hydrates skin and leaves it looking and feeling refreshed with a gentle glow

CONS: Scent of orange blossom does not sit well with me

WHO WILL LIKE THIS: Anyone who wants a mist that does more than hydrate the skin

PRICE: RM67 | US$15 | £16 for 80ml

WHERE TO BUY: Cult Beauty, Sephora, Asos, Pixi Beauty website, Lookfantastic, iHerb (discount with code MPW213)
The nice thing about both these Pixi mists is that they're 80ml slim bottles, which make them portable and perfect for air travel. An added bonus is that they aren't aerosol sprays, so you will be able to get them on board to combat the dry plane air, without too much hassle! I'm looking forward to taking them on my next flight! 😀
Have you tried any Pixi facial mist? Do you have a favourite?
I noticed they've added a Rose Glow Mist to their collection, and I'm now very curious to try! One day maybe 🙂 Let me know if you have a fave I haven't tried – they have others!
Paris B