Marilyn Monroe was famously quoted as saying that what she wore to bed was just a few drops of Chanel No. 5. There and then, a legend was born. No other brand could have asked for a more fitting nor resounding endorsement.
Keeping in mind how sexy the idea of wearing JUST Chanel No. 5 to bed, I think it fitting therefore that Chanel has released their most famous perfume in a very special limited edition Chanel No. 5 red bottle.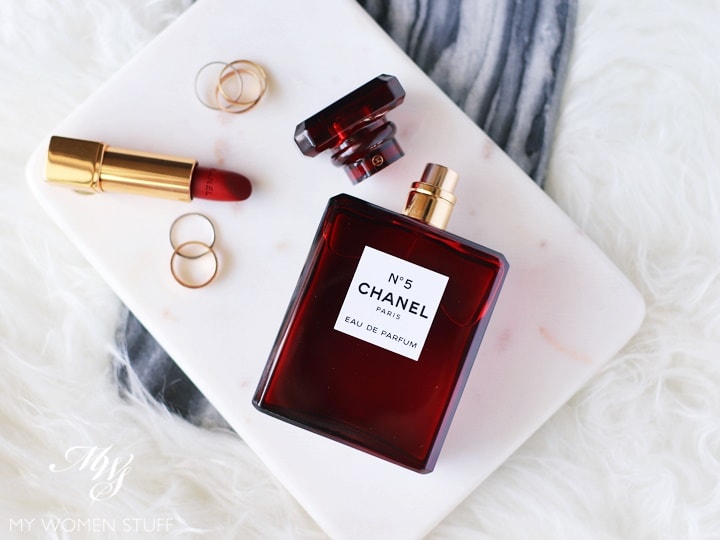 The classic lines of the original bottle are retained. The difference lies in the special deep ruby red glass bottle, with its sleek lines, and faceted stopper. The gold spray nozzle adds a festive, luxurious touch.
But do you know that I'd never properly worn this iconic perfume before this? Have you? 😀
I'd tried it on of course. Who hasn't heard of the classic No. 5?! And better yet, who doesn't want to be like Marilyn Monroe?! 😛
But back in the day when I used to test it out, I wasn't sold on the scent. This was not for want of trying, for I used to wear strong, quite heavy perfumes daily. It was later that my tastes shifted to warmer, spicier scents.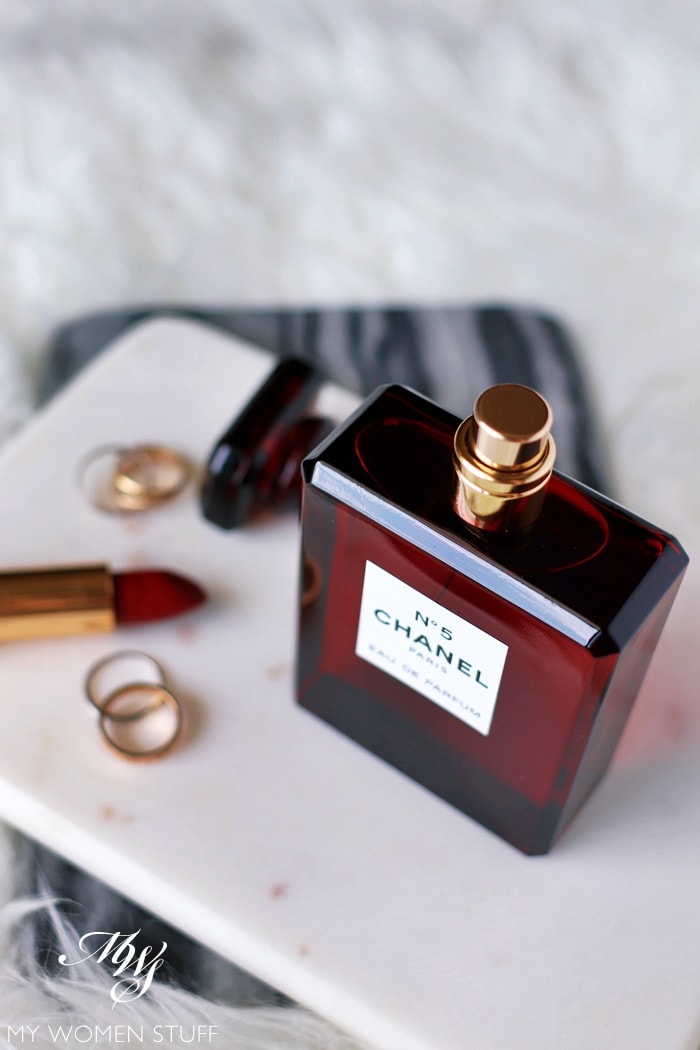 This time, I took the time to experiment and wear this Chanel No. 5 perfume. The fragrance is the same, classic scent. It is only the bottle that is different and special, made in limited quantities, only for the discerning, and those who live for a bit of drama.
Spice up your dresser with this pop of deep ruby red glass. It stands out among the clear bottles you otherwise own. It stands there, tall and proud, not caring that it looks different, but secure in the knowledge that it has your eye and you cannot look away.
While I have tested and rather enjoyed the newer Chanel no. 5 l'Eau, which smells fresher on me, and which also comes in this beautiful red packaging for Christmas 2018, this classic Chanel No. 5 eau de parfum does not quite agree with my body chemistry nor my nose.
The scent of No. 5 is decidedly floral, but lighter than I remembered it to be. On my skin, I find that opens up a little harsh, almost soapy scent, although it quickly settles to a more rounded, soft floral.
Unlike many people, Chanel No. 5 has not featured in my life nor my memories. No one I know has worn the scent – Chanel anything was quite beyond our reach – so for me, No. 5 is new to me.
Being a classic perfume, I find that it is a little more complex and a little more involved, than the clean, simple florals we have come to be accustomed to from the likes of scents like Jo Malone London. The scent shape-shifts on me.
One minute I smell a hint of roses. Another time, I smell a sweet peachy scent. A little while later, everything settles on my skin as a light powdery floral that suddenly becomes more palatable. At its base scent, I find that I can wear it more comfortably, although it feels like a warm fragrance. In hot weather, I find it too much. In an air-conditioned room, it makes me feel more comfortable. It surprises me however, that after about 2 hours, I can barely smell the perfume on me anymore except up close!
Perhaps this is intentional? Perhaps it is meant just for those privileged enough to be allowed to get up close with you. To be allowed a whisper of a scent as they lean in.
If you love the scent, or if Chanel No. 5 means something to you, then there is no better time than to snag a limited edition red bottle of this classic scent before it runs out.
As for me, I might perhaps channel the inestimable Ms. Monroe and find a use for Chanel No. 5 – in bed 😉
Do you love the classic Chanel No. 5 perfume? Is this red bottle calling your name?
I'd love to know if this perfume resonates with you – perfumes are so individual that I always enjoy hearing other people's stories and experiences! 🙂
Paris B
Chanel No. 5 Red and No. 5 l'Eau Red is available in limited quantities while stocks last

PRICE: RM679 | £130 | US$160 for 100ml (One size only)

WHERE TO BUY: Chanel beauty boutiques and counters