I recently shared my favourite brow pencil that I toted all the way back from Japan. It is one of the latest in a long line of brow pencils I've been going through over the years. Prior to that, I practically swore by the Chanel brow pencil and got my family members hooked on it too.
Then, I was told by a friend that Innisfree had a brow pencil similar to the Excel one, so I trotted off to the store to have a look. Well, I didn't know that Innisfree had so many different types of brow pencils! So, in the interest of experimenting, I took a few home with me.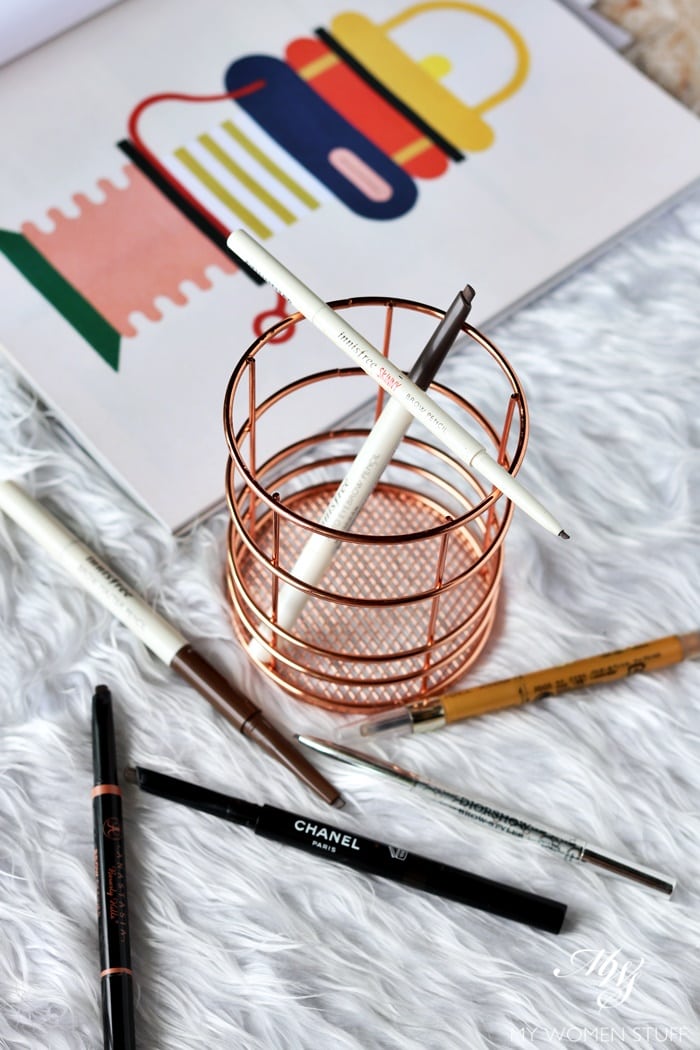 While I'm not the biggest fan of Korean makeup, I am aware that the Koreans have been setting brow trends for a few years now. So, if anyone should know their brows, they should! I also decided to splurge and grab a few different types, because I couldn't believe the prices! LOL 😀
I guess you could say I experienced negative sticker shock – I was shocked at how affordable… nay! Cheap! the brow pencils were! Do bear in mind of course, that I last splurged RM160 on one, so trust me, Innisfree is far far below that. But importantly, how much do I like (or hate) these Innisfree brow pencils? 🙂
Innisfree Brow Master Pencil
The Innisfree Brow Master Pencil is the one that looks like and functions like the Excel brow pencil. It comes in 3 parts – a pencil to draw and shape your brow, a spoolie brush to soften the look, and a sponge-tip brow powder applicator, to further fill in your brows.
There are 4 shades available, with most of us going to opt for 04 Espresso Brown. This is the deepest shade available, with a grey base that is most flattering for our skin tones. The other shades pull too red.
I used this for quite a while before I could make up my mind about it. I don't deny that I tried very much to love it, so I wouldn't have to dread the day I run out of my Excel brow pencil. But try as I might, I was not in love with it. The texture was just too waxy for my liking, and although I liked the flat pencil head it is not a favourite pencil. Still, I will use it because it isn't bad. It just isn't as good as one of the other two I'll show you below.
PROS:

The colour is dark without being too red
The pencil is tapered quite flat to allow for more precise application
The brow powder softens and fills in the brows to give the effect of a fuller brow
It's very affordable

CONS:

The pencil is too waxy so it does not adhere very well to the skin or hairs.
It takes a few tries before you get the colour to apply nicely. This could be a good thing, as it helps novices make fewer mistakes, but I otherwise found it too trying eventually. I will still use it however. It's not bad.
It is too long and it's hard to fit into a makeup pouch.
The spoolie is also too stiff and tends to brush off the colour too aggressively

PRICE: RM41.50 | US$11
Innisfree Skinny Brow Pencil
I remember when I was introduced to the Diorshow Brow Styler pencil. I was very intrigued because of the very skinny pencil. It allows for very precise and fine detailing of brows. If you have the patience 😛
While I was browsing the shelves at Innisfree, I saw the Skinny Brow Pencil, and it reminded me so much of the Dior pencil that I had to take it home to see how it fared! Well, it fares very well indeed!
The Innisfree Skinny Brow Pencil comes in a few shades, but I picked it in 04 – Espresso Brown as well. It is the same grey-based brown that I prefer for my brows. Because the pencil is so skinny, as the name implies, it allows you to be very very precise about your brow shape, and if you like to draw in the brow hairs very naturally.
I found that the Skinny Brow Pencil was softer and less waxy than the Brow Master Pencil, and it was quicker to draw in my brows. I do find it practically identical to the Diorshow Brow Styler so let's just say I'm saying "Bye Dior! You've been replaced!" 😀
PROS:

Skinny pencil allows for precise brow shaping and drawing
Smooth and easy for colour to transfer to hairs and skin
Affordable

CONS:

Pencil will finish quite quickly as it is quite soft
Spoolie is a bit rough but not as rough as the one in the Brow Master Pencil

PRICE: RM32 | US$10
Innisfree Auto Eyebrow Pencil
Last, and certainly not least, I picked up the Innisfree Auto Eyebrow Pencil purely for one reason – it was only RM14 (US$4)!!! WHAAATTT??!!
I know I don't always feature affordable brands or products, but hey, I'm as susceptible to a good deal as the next girl. When I saw how cheap this pencil was, I had to get it to see how it performed, and if I'd like it. I mean, this, coming from someone who raves about brow pencils like the Hourglass Arch Brow Pencil, the Chanel brow pencil and the Bobbi Brown brow pencil, just to name 3 more wallet-busting brands 😉
Well, would you like to know that the Innisfree Auto Eyebrow Pencil is my favourite of the three? 😀 Oh yes it is! I surprised even myself!
I picked it up in 04 Espresso Brown as well. In the tube, it has a rather more noticeable grey undertone, and this is true even on skin. I personally prefer that. It is also a more conventional width and length, with a slanted, triangular-shaped tip. I find that a more tapered, triangle shaped tip is easier to use, and draws a more defined shape while simultaneously filling in the brow. It reminds me of the shape of the Hourglass Arch Sculpting pencil.
I find that the texture is soft, so it is easy to draw your brows in quite quickly. Importantly, I liked the soft spoolie brush. It is very similar to the texture of the Excel Brow Pencil, which at once softens your brow but does not remove too much colour. I don't know why Innisfree could not use the same spoolie brush in all their pencils, because this is the best one!
I honestly have very little to complain about the Innisfree Auto Eyebrow Pencil. If anything, I know for a fact I'm willing to repurchase it, and I'm now going to be quite reluctant to pay much more for a brow pencil LOL! Sorry luxury brand peeps – you've been replaced 😛
PROS:

Super affordable
Easy to use to draw in brows
Pencil is soft without being too soft so color is easily imparted onto hair and skin
Spoolie is soft so it brushes to soften lines but does not remove too much colour

CONS:

PRICE: RM14 | US$4 (!!!)
Innisfree Brow Pencils Compared
I thought you might like to see how the Innisfree Brow Pencils look next to each other. It is notable that the primary difference between each of the brow pencils is in the style of the nib.
The Brow Master Pencil is flat and draws thinner, more precise lines. The Skinny Brow Pencil is round but with a very skinny nib that gives you a lot of control over the drawing of brows. The Auto Eyebrow Pencil has a broader, slightly triangular-oval shaped nib. This allows you to draw your brows in more quickly, with enough definition.
Of the three, my favourite is the Auto Eyebrow Pencil (happily, also the cheapest! YAY! 😀 ) followed by the Skinny Brow Pencil and then the Brow Master Pencil. My gripe with the last is due to the more waxy formula as compared to its brethren. If it was not so waxy, I'd like it better too.
Have you tried any of these Innisfree Brow Pencils?
If you haven't, I recommend trying them. The prices can't be beat so what have you got to lose? 😀
Paris B