I told you before this that you would be seeing a whole bunch of foundations pop up on my blog, and you will! There's been a spate of new foundation releases in recent times, and if there's one makeup product that is sure to grab my attention, it's a new foundation. Just like this Dior Backstage Face & Body Foundation.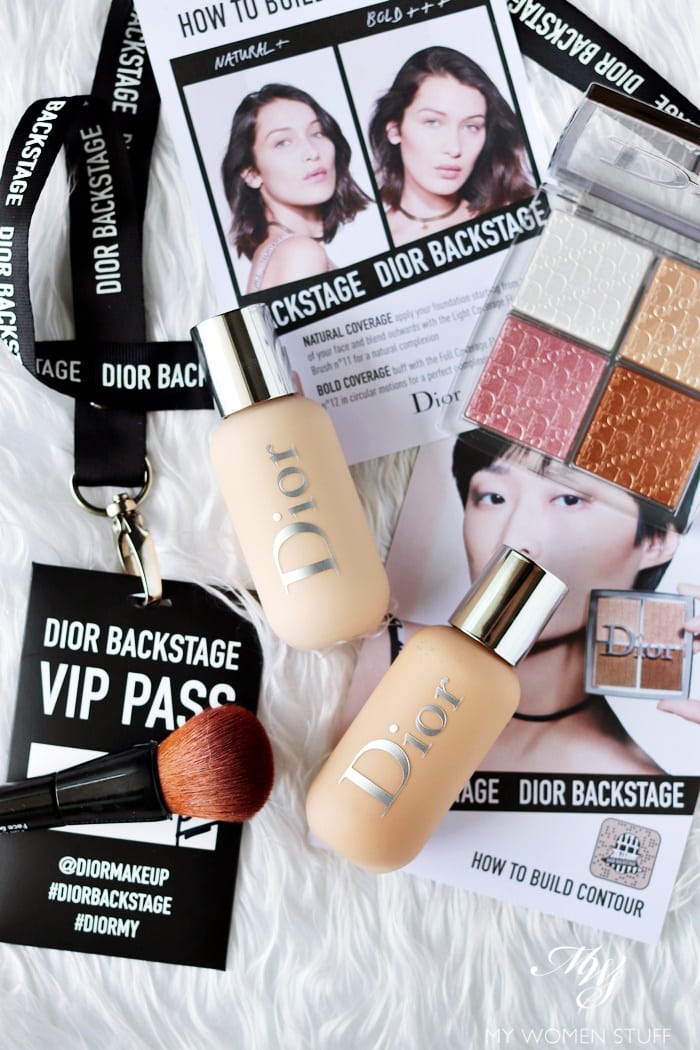 My initial impression upon seeing the new packaging, was "Meh!" I felt that it was not representative of a luxury brand like Dior. I hold to that view. The light, plastic squeeze bottles of the Face & Body Foundation and clear acrylic packaging of the other products in the Dior Backstage range of makeup is underwhelming. It almost looks and feels like toy makeup.
But the concept behind the Dior Backstage range is interesting. Basically, Dior made this range to represent what goes on backstage at Dior runway shows. Plastic squeeze bottles, because backstage makeup artists need to be quick, and plastic is light to pack and less prone to accidents. The eye, face and lip palettes come in a variety of shades and textures, to allow for easy blending and quick changes of looks backstage. As a concept, it makes sense.
But my interest was purely fixated on the Dior Backstage Face & Body Foundation. How it is different from their other foundations?
Named a Face & Body Foundation, this is one you can use on face and body (but can't all foundations be used this way?) which I imagine, is something that happens mostly backstage. In real life, I have yet to meet many people who apply foundation on their bodies. Maybe on their necks? But I don't so if you do, I'm happy to know how you'd use it 🙂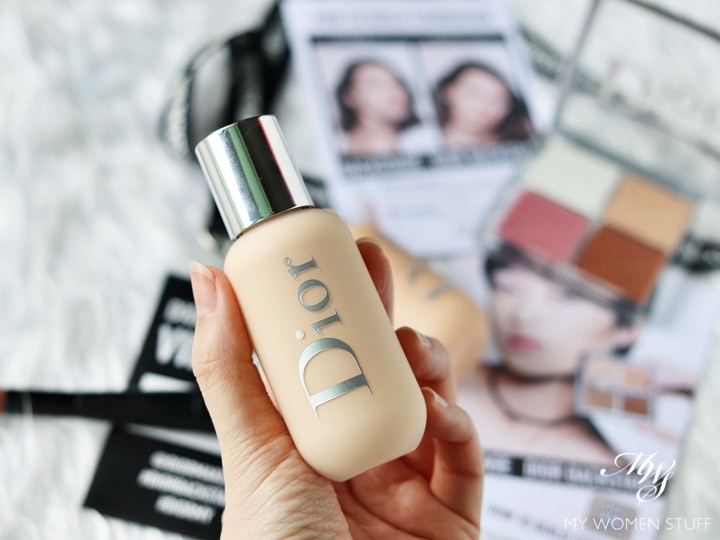 The bottle is a light, squeezable plastic that comes in a very dinky little size. I was very surprised the first time I saw it, for I never expected it to be that small and compact. What this means is that it is very portable. It slots nicely in your travel makeup pouch, and even if you drop it, it won't break and cause an unholy mess.
Texture-wise, it is a liquid-cream with buildable coverage. You can use it to apply just a thin, sheer layer, or you can build it up with more layers for more coverage. I do find however, that out of the bottle, the coverage is relatively high for what they say is a light coverage. So for me, this is primarily a medium coverage foundation. I can sheer it out, which means blemishes aren't as concealed as they should be, but yet it is opaque enough to cover redness and even out skin tone.
I find that it dries down a little more matte than I expected. It is both a good and bad thing. Good, if that's the sort of effect you like. Bad, if you prefer something more glowy. I find the Dior Backstage face & Body foundation to be a little too matte for my preference.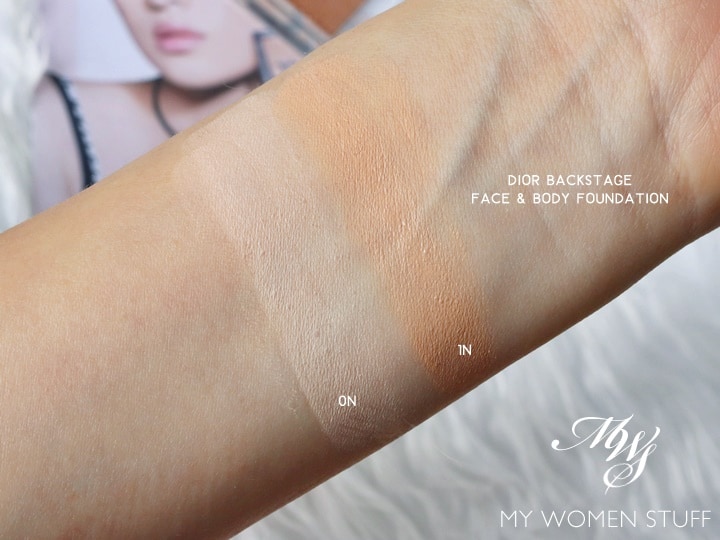 This is about 2 layers, so I can show the colour better. You can probably see that the coverage is quite high. My shade is 0N (0 Neutral). That is about as close to a size zero as I'll ever get! LOL 😀 It is for very light skintones and has a neutral base so it does not pull too pink or too yellow. By way of reference, I usually wear 010 in Dior bases.
From the official launch event, I ended up by mistake, with the shade 1N (1 Neutral) which is for fair skins with a neutral base. However, what surprised me is how warm and peachy it looks next to 0N. The shade jump between the two is quite startling.
There are 40 shades available, with each shade boasting a slight variant of neutral, warm and cool. They have even catered for olive skin tones and some half-shades for those who are between shades. It is all quite interesting, because the idea here really, is to be able to offer you the perfect match for your skin tone.
I purchased my bottle of the Dior Backstage Face & Body Foundation at the store, and we spent a little time trying to get the right shade for me. Aside from 0N, I also tested 0W (0 Warm) and 1N. Once it goes on skin, it is quite apparent which shade works, and which doesn't. For this reason therefore, I highly recommend that you do not buy this foundation sight unseen. It is preferable that you visit a Dior counter or store and get yourself properly colour-matched.
You may think that 0N is too light, but in actual fact, it is my shade. Trust me on this LOL! You can see it below in this before-after collage. For reference, I have dry skin and I'm not in the spring of youth LOL!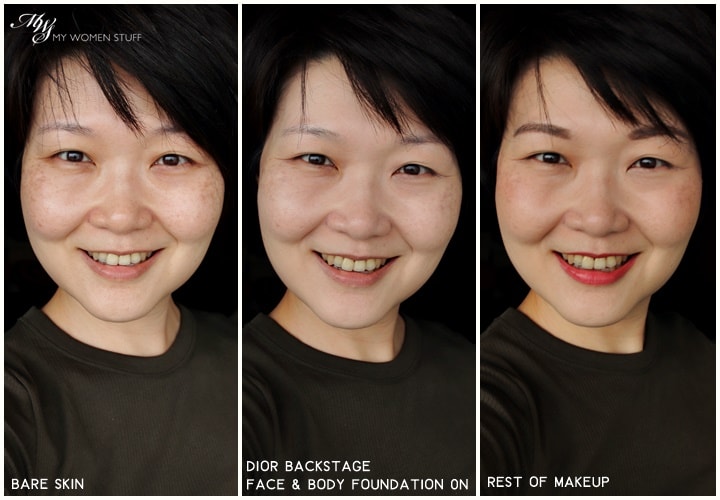 I find that a brush is the best way to apply the Dior Backstage Face & Body foundation. I use a round fluffy one like the Bobbi Brown Full Coverage Brush, and I use very little product. One little squeeze of a few drops is all I use. But I'll explain below why this is also a challenge.
You may notice that the foundation evens out my skintone quite nicely. I will need to layer it on if I want a little more coverage on blemishes. You may also notice that it mattifies my skin somewhat. I have decided that aside from showing the before-after with foundation reviews, I will also show you how it looks with the rest of my makeup on. This is because I rarely, if ever, walk out of the house with just foundation on LOL! 😀
I have not applied any other powder to set (it almost seems to set itself) and have topped up with a little concealer, brows, a bronzer, light blush and a lipstick. I think you can agree with me that once I've got my face on, the base looks much better. Because that's what it is – a base for your makeup 😛
On me, this lasts without settling too much into lines and pores. But I must say that I do use very little foundation – far less than what you will see used online. I believe this might be why, as I believe in allowing the layering of my makeup to build coverage. I'll share this revalation another day 🙂
There is however, one major problem with this Dior Backstage foundation that really, really irritates me. How messy it gets. Let me show you what I mean.
The plastic squeeze bottle squeezes out the foundation through a nozzle. It would be wonderful, if the design was not so defective. I believe that the screw-on cap does not block the hole of the nozzle, or if it does, it causes the pressure inside the bottle to build up. What happens the first time you open your bottle of Dior Backstage Face & Body Foundation, is an unholy mess!
If you think I'm being overly dramatic, seeing as I've already used my own bottle of foundation prior, let me tell you that the bottle of shade 1N is a brand new bottle that I had just removed from the box for purposes of taking these pictures. That is the mess I was faced with, and I have intentionally left it messy to show you that this is what you will get.
What this also means is that the INSIDE of the cap is a right mess, and it is nearly impossible to clean! If you are OCD about cleanliness this will drive you up the wall! I'm not that OCD, so for it to bug even me is quite something.
Strangely however, I do not see anyone mentioning this packaging flaw. I looked up a selection of online reviews to see if it might be a known issue, but no one talks about it. Is it because it's only happening to me, or are people just glossing over this? I really cannot tell. But it bugs the hell out of me! 😛
UPDATE: I've been informed by some readers that in order to avoid this mess, you should remove the cap of the foundation before shaking to mix. Be sure to cover the nozzle with your finger or risk an even bigger mess! 😛 I will note that my bottle exploded right out of the box without my having shaken it. Perhaps you can try this, once you've cleaned it and the cover up and leave it on your dresser. That however, negates its portability. Conundrum!
The second flaw I'd mention is the scent. It has a powdery scent of 'old' that it could honestly have done without. It even smells musty after a while. It does not last, but it is there.
I hear that the Dior Backstage Face & Body Foundation was used on Meghan Markle for her wedding. Not being much of a Royal nor celebrity watcher, I wasn't paying attention. But if so, then it might explain the heightened interest in this product.
Personally however, I am not terribly impressed. The matte finish isn't to my liking and the messy packaging kills me. The only thing I really like is how dinky it is.
IN A NUTSHELL

The Dior Backstage Face & Body Foundation is part of the new Dior Backstage makeup collection. It boasts 40 shades and caters for a wide variety of skintones and colours. I do find however that the deeper shades tend to pull rather more peachy than is normal. That said, the inclusion of warm, cool and olive tones are welcomed for those who often find it hard to find a proper foundation shade match. The finish is matte, and if you apply it too thickly, may settle into lines and pores. A very light layer does not. However, I do find the powdery finish isn't very flattering. The biggest minus point for me is the packaging. The minute you open the bottle, the whole nozzle and inside of the cap is a mess. It's happened to me twice thus far, and I can safely say it's a deal breaker for me. And I'm not even that OCD. I highly recommend that you test it out yourself, but in my view, there are better foundations out there – even Dior's regular foundations are better. And that's saying quite a lot.

PROS: Very portable packaging, Wide shade selection to suit most skin tones, Buildable coverage, Not as pricey as other Dior foundations, Matte finish if you like that

CONS: Packaging is very messy as the foundation tends to leak into the cap on its own even when brand new, Perfumed with a strange musty scent, Matte finish is not terribly flattering for textured or dry skin, Deeper shades may pull rather peachy and potentially oxidises

WHO WILL LIKE THIS: Anyone who likes a matte-finish foundation, Anyone who may have trouble finding a good shade match in foundation

PRICE: RM155 | US$40 for 50ml (that is a whopping amount! Most foundations are only 30ml)

WHERE TO BUY: Dior beauty boutiques, Sephora
If you're interested, here is the ingredient list for the Dior Backstage Face & Body foundation.
It is interesting to note that items in the Dior Backstage makeup collection are priced a little lower than the regular Dior products. This makes it more affordable for people to own a bit of Dior makeup. I do think however, that this is reflected in the more plain, utilitarian packaging that you either love or hate. Let's just say I'm not in love 😛 But I was a Dior-girl for a long time, and it was the first luxury makeup brand I bought into, so I guess you could say I'm just not feeling this new approach 😛
Have you tried the Dior Backstage foundation? Your thoughts?
Importantly, tell me if your bottle packaging sucks too!! 😛
Paris B