When I stumbled across the new Clinique Dramatically Different Hydrating Jelly online, I did something unprecedented for me. I contacted the local Clinique people and pretty much brazenly asked if I could have a go. There was one reason why I found it so eye-catching.
Its aesthetics.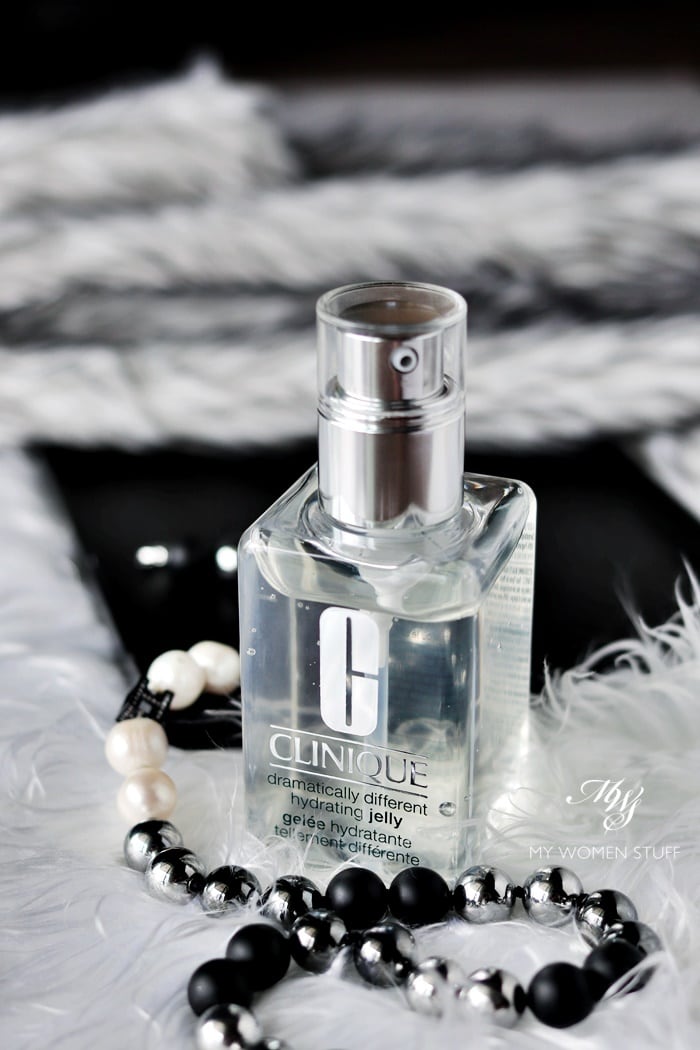 You must admit that you too would have done a double-take upon seeing this clear bottle. Most of us would be familiar with Clinique's Dramatically Different Moisturising Lotion, affectionately known as DDML. The bottle with the yellow lotion moisturiser would have accompanied many a teen on their skincare journey. That said, I didn't use it LOL! I never tried it till much much later.
And if I'm to be honest, I hated DDML. It broke me out when I thought I could not break out anymore. I tried different textures, and it was the same. Meh. Naturally therefore, when Clinique generously handed me a bottle of Dramatically Different Hydrating Jelly to try for myself, it was with a little trepidation on their part. I don't fault them for I am also known to be caustic when things don't work out 😛
Happily for both of us, I am quite quite happy with the Clinique Dramatically Different Hydrating Jelly 🙂 However, I will have a few caveats that anyone contemplating this product should bear in mind.
The Clinique Dramatically Different Hydrating Jelly is targeted at those with oily skin types, hence the gel texture. This is a true gel, not the gel-cream of Moisture Surge. The texture is very very light, and for me, unless you have very very oily skin that cannot tolerate any heavier form of moisturiser, this is really too light to use as a moisturising product.
What it is however, is a very decent hydrating serum.
The key ingredient in the Clinique Dramatically Different Hydrating Jelly is our old friend, hyaluronic acid. Hyaluronic acid is key in all moisturising products, because it is known to be a moisture magnet that can hold up to 1000 times its weight. When used in skincare, it draws and retains moisture in your skin so skin remains plumped and hydrated. The other benefit is also that it helps protect skin against pollution.
While Clinique now talks about their Dramatically Different Hydrating Jelly as an anti-pollution product, I won't really focus on that. The reason is because it's something we can't see and we won't be able to judge how it performs. If it works, great! Living in the city, I can do with pollution protection. But it isn't something I can judge for myself. What is visible however, is the hydration benefits.
Having dry skin, I use the Clinique Dramatically Different Hydrating Jelly as a hydrating serum. Just one pump, smoothed all over my skin.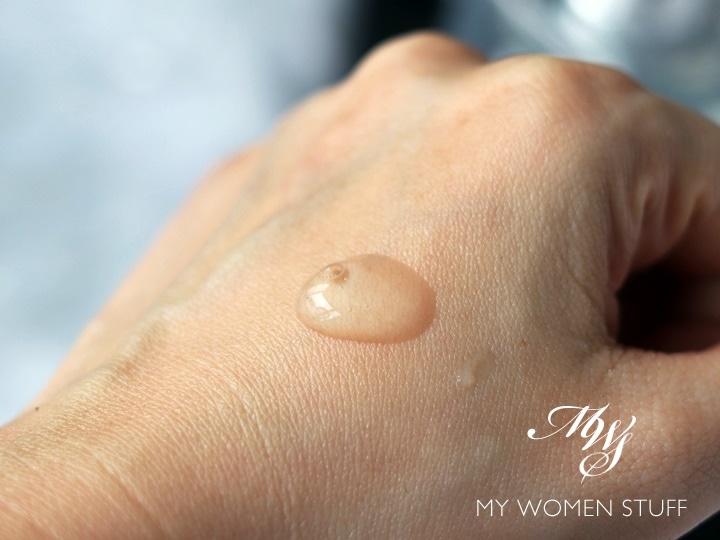 It pumps out a clear jelly, just as it looks in the bottle. For me, this is incredibly fun. Also, The pump is great, because you don't have to mess around with droppers or a liquid lotion. On contact with skin, it does become a little more runny, but nothing that you can't easily handle.
I have read of people who find this too sticky, and I don't really get it, because it does not feel remotely sticky on my skin. That said however, products that have high hyaluronic acid content do tend to be feel a little more sticky on the skin initially (see the Hada Labo lotion). The trick is in how to use it which you can read here, or if you're lazy to read, is about patting and pressing it into your skin. The pressing motion relieves the stickiness, and leaves your skin plumped with hydration.
If you think about the Clinique Dramatically Different Hydrating Jelly as a hydrating serum, it takes on far better value for money than as a moisturiser. Because it is marketed as a moisturiser, it comes in a large 125ml bottle. By any reckoning, this is good value, when most serums come in at the 50ml mark.
In terms of performance, I find it satisfactory, speaking as someone with dry skin who is perpetually on the hunt for moisture. I do use the moisture sandwich method, so this fits in quite nicely as a cushion of hydration under serums and creams. It sinks right into my skin with no reside whatsoever, and without any sticky feeling I might add. In fact, if the Hada Labo lotions tire you, this is an acceptable substitute, because there is far less work involved. I sometimes use both in my routine, but that's because I'm just kiasu like that 😛
As a hydrating serum, I think it is very decent, easy to use and excellent value. As a moisturiser however, I am not so convinced, as my personal view is that it is far too light, and due to the properties of hyaluronic acid, you should really be using this on damp skin, and with something else. Otherwise, what is it going to grab onto to deliver moisture? In this instance, I feel that understanding the product is as important as selling it to the masses, whether you be the brand marketing people, or an influencer trying to influence your followers 🙂
IN A NUTSHELL

The Clinique Dramatically Different Hydrating Jelly is a brand new very lightweight gel textured moisturiser. It might work as a moisturiser on very oily skin, but otherwise I'd posit that this is a very acceptable hydrating serum. This is due to the fact that its key ingredient is hyaluronic acid to attract moisture and retain it. Used as a hydration serum, I find it helps my dry skin retain hydration and remain hydrated through the day. I do use it only as one of my layers of skincare, not on its own. It feels comfortable, absorbs almost instantly and helps my skin stay hydrated, which for me is very important. I don't find it sticky nor greasy and the pump dispenses just the right amount per use. This is a pretty decent product, just not as moisturiser, in my view.

HOW TO USE: (short method) Cleanse -> Acid tone (optional) -> Facial Mist/Hydrating Toner -> Clinique Dramatically Different Hydrating Jelly -> Moisturiser

PROS: Affordable, Pump dispenses right amount of product, Makes a good hydration serum for layering under moisturiser, Very lightweight texture, Absorbs easily and quickly into skin, Keeps skin feeling hydrated all day without feeling sticky, Aesthetically pleasing

CONS: Too light for a moisturiser

WHO WILL LIKE THIS: Anyone with extremely oily skin who cannot tolerate lotion moisturiser, Anyone who wants a hydrating serum that is pretty affordable

PRICE: RM147 | US$28 | £31 | S$60 for 125ml

WHERE TO BUY: Clinique counters and stores and website, Sephora, Feelunique, Ulta, Asos
Here is the ingredient list for the Clinique Dramatically Different Hydrating Jelly.
Water\Aqua\Eau, Bis-Peg-18 Methyl Ether Dimethyl Silane, Butylene Glycol, Glycerin, Cucumis Sativus (Cucumber) Fruit Extract, Hypnea Musciformis (Algae) Extract, Gelidiella Acerosa Extract, Hordeum Vulgare (Barley) Extract\Extrait D'Orge, Padina Pavonica Thallus Extract, Helianthus Annuus (Sunflower) Seedcake, Sucrose, Caffeine, Sodium Hyaluronate, Hydroxyethyl Urea, Hydrolyzed Rice Extract, Sorbitol, Sodium Polyaspartate, Ppg-6-Decyltetradeceth-30, Ethylhexylglycerin, Propylene Glycol Dicaprate, Caprylyl Glycol, Trehalose, Polysorbate 80, Carbomer, Sodium Hydroxide, Hexylene Glycol, Citric Acid, Sodium Citrate, Disodium Edta, Phenoxyethanol
Dramatically Different Hydrating Jelly vs Moisture Surge Hydrating Supercharged Concentrate
Let me pre-empt this question 😛 Some of you may be wondering how this DDHJ fares as compared to the Moisture Surge Hydrating Supercharged Concentrate. Well firstly, DDHJ is marketed as a moisturiser and can thus be used on its own, while the MSHSC is a serum to be used with other products. That's your primary difference even if the MSHSC is also a moisturiser. Confused yet? 😛
Second, as a hydration serum, MSHSC is more effective for me being lighter in texture and seemingly more plumping. However, it is also pricier, costing more for less product. I detect a faint metallic scent in MSHSC which is not present in the DDHJ, that smells like nothing at all. Also, MSHSC contains colour to give it its signature peach hue. DDHJ is colourless, and I prefer that.
If I were picking a moisturiser, I'd pick the DDHJ. If I were picking a serum, I'd pick either one. But if I were on a budget I'd go with DDHJ because you'd get much much more for your buck, and a nice boost of hydration to boot!
Has the Clinique Dramatically Different Hydrating Jelly caught your eye?
I'm sure the transparent jelly in the bottle has made you pause at one time or another! Let me know if you've tried it – I think they also sell deluxe sample sized tubes or you can always ask for samples 😉
Paris B