Am I over the backpack craze yet? Nope, not by a long shot! But they aren't terribly elegant are they? Perfectly functional and convenient, but not something you can tote about easily without bumping into things or people, and looking a little gauche. This Gaston Luga Clässy is much more streamlined, but still a little bulky for everyday.
So you may have noticed that many brands are now introducing mini backpacks and not to be outdone, Swedish brand Gaston Luga introduces the Gaston Luga Clässy Mini backpack, and it's cute!
See, it's so little! haha!
I never used to be into little bags, but in recent times, I've been quite into them. I've switched out from most of my medium-sized bags to little ones. Not sure why, perhaps it's just a phase I'm going through as it suits my current lifestyle.
I bet you want to know how it compares to the regular sized Clässy and what fits in there, so let me show you 🙂
First, how does this compare to the regular sized Clässy backpack? Well, it's very significantly smaller for one, as this side-by-side photo will show you.
It's practically half the size of the regular sized one! Design-wise, it has the same design. I think Gaston Luga realised how popular their Clässy backpack was, and designed something a little more trendy and in keeping with present trends. It maintains the same sleek aesthetic and I like it.
But is it too small?
Well not really. It fits most of your daily essentials. This is basically a bag for someone who has a more casual lifestyle, and wants something hands-free. Here's a selection of items that fit into my Gaston Luga Clässy Mini backpack.
An A5 sized notebook planner and pen – Mine is the Leuchtturm 1917 weekly planner
A large, long wallet – LV Insolite (If you are familiar, you'd know it's quite a monster of a wallet)
2 pouches for keys
A foldable reusable tote – Mine is the Rume Regular sized tote
A lipstick (or a makeup pouch)
A phone (not pictured)
I have even fit my DSLR in there, with everything else, minus the planner. It all fits, and you don't even have to play bag tetris to get them all in! 😀 As you can see, the size does belie its capacity.
But wait, I see your brows crease – do I have 2 of these Gaston Luga Clässy Mini backpacks? One with a burgundy flap as in the first picture above and one with black?
Well no I don't! Gaston Luga gave the Clässy Mini backpacks a little fashion twist, by introducing interchangeable flaps! Different coloured flaps are sold separately, and you can switch up the look by changing them. It's quite cool really 😀
At back, you literally zip off one flap, and zip on another. It's really easy to set up, and the zips and connections are smooth.
I will note that for design purposes, Gaston Luga may want to consider making their zip pulls and metal logo tag a little smaller, as I feel that the current design is a little large for the size of the bag. Also, I also find that if you aren't too careful, the zip can occasionally slip a little on its own. It doesn't zip off totally, but it may become a little undone. So you may have to check on it now and again. Currently, the bag comes in all-black, and the flaps in pink, burgundy (pictured) and brown are sold separately.
The straps are adjustable in length, and are fairly comfortable. You won't carry many terribly heavy things in a mini backpack, so non-padded straps are fine. Do note however that I find that if you just one strap it has a bit of tendency to dangle instead of lying against your back. That I feel is due to how the straps are laid out. Not uncomfortable but something to note if you don't want it dangling against your side.
I will note however, that in terms of weight, the Gaston Luga Clässy Mini backpack is pretty light. This is because unlike its older sibling, the body of the bag is not made of canvas but a lighter, heavy duty nylon material. It has a drawstring and I do find the construction a little stiff, but I expect it to soften a little more with use. That said, a stiffer appearance isn't necessarily a bad thing, for the more structured shape makes the bag look better, I feel. It does however not feel terribly luxurious so that too is something to note, in view of the price.
There is also a top handle so you can carry it in your hand, which is useful when going into tight spaces, or keeping your bag close to you. The Gaston Luga Clässy Mini backpack is quite strictly a fun, casual fashion handbag, and not a workhorse as its other designs are. But you know what? Sometimes, that's OK. Sometimes, that's all we want – a fun, fashionable backpack that doesn't make us look like we're carrying the kitchen sink, yet keeps us in trend 🙂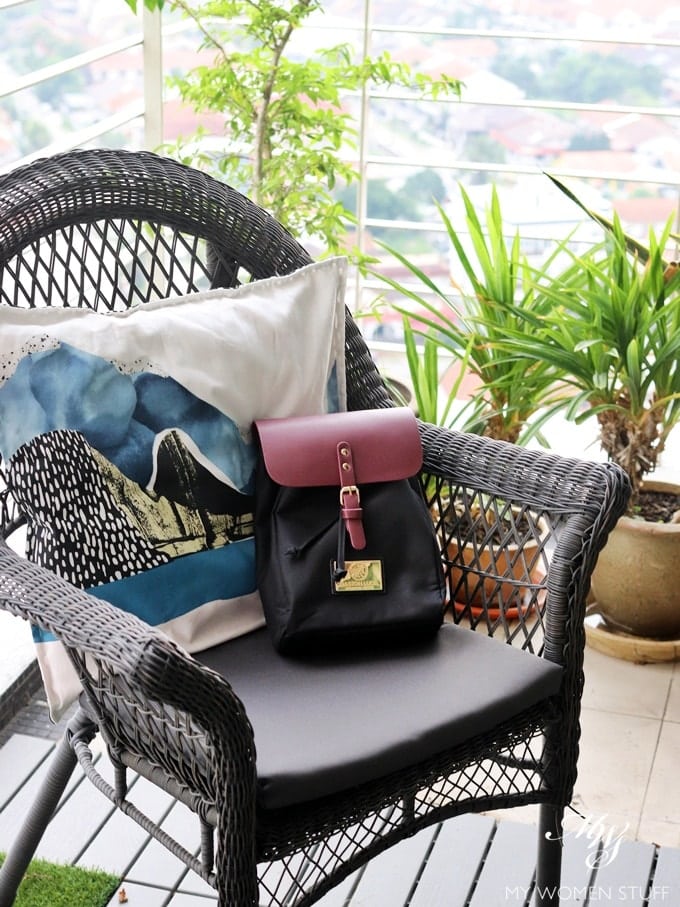 WHERE TO BUY

If you're interested in this backpack, you can buy them directly from Gaston Luga website. For those shipping outside the EU (that's especially so for those of us in Malaysia) the Swedish VAT (currently 20%) is automatically deducted from the price of the item. After that, you can use my promotion code "parisb15" for an additional 15% discount (I don't get any money from this but I'll love you for it!

). Shipping is free worldwide and you are charged in your local currency.

LIMITED OFFER: A FREE coloured flap is offered with every purchase of the Clässy Mini backpack and a free cloth tote is also gifted while stocks last!

E.g. The Gaston Luga Clässy Mini backpack retails at RM589. If you ship to Malaysia, you will pay RM400.52 (RM589 – RM117.80 20% VAT – RM70.68 15% discount code parisb15).
Do you carry mini backpacks? Can you see the point?
At one time, I'd say no and scoff at the mere idea. Now, I own two! One is this, and another is by a different brand and I have to say, they're fun and functional, and currently, quite on trend! 😀
Paris B