I have a bit of a love-hate relationship with gel cleansers. On the one hand, I love them. I love the gel texture, and how it feels so light on the skin. I hate how it dries me out.
While gel cleansers do not necessarily mean foaming cleansers, they do generally tend to foam up, and it is the ingredients used in creating such foam, that makes our skin dry out. If possible, I'd say to avoid foaming cleansers altogether. But that would be over-generalizing, because it can be helpful for oily skin types. Truthfully also, it does feel quite nice to wash your face with light airy foam.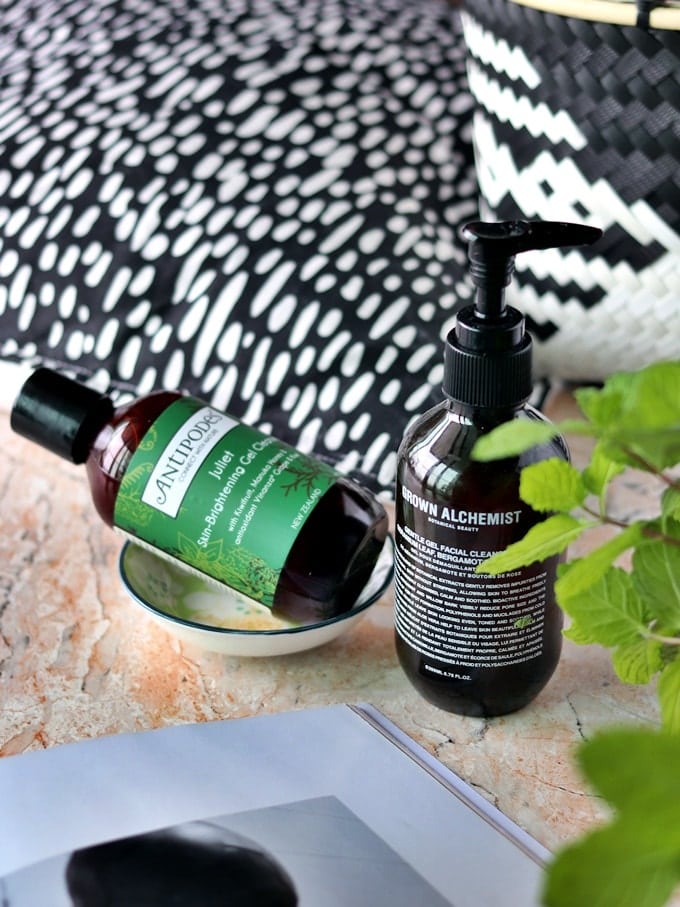 I now tend to use only cream or milk cleaners, which feel more gentle and less stripping on my drier skin. But it hasn't stopped me testing out the odd gel cleanser.
Sometimes, I am happy to find one that not only feels gentle on the skin, but does not strip the skin more than normal, and I'm happy to share it with you! If you know of more, please do share, because it is helpful to know of gel cleansers that do not strip your skin and dry you out!
Antipodes Juliet Skin-Brightening Gel Cleanser
This one was one of the first gel cleansers I'd used in many many years, that I felt comfortable enough to recommend. It is by Antipodes, one of my favourite skincare brands, and I had previously talked about it here. It still holds true.
Unlike most gel cleansers, this one does not foam up very much, but it still cleans the skin well. Importantly, it does not strip the skin nor break down the skin barrier so that it feels dried out. If you've ever had that tight pull on your facial skin as you step out of the bathroom, you'd know the feeling. That almost forced grimace, and the almost audible sigh of relief as you spritz on a mist or a toner.
I don't use this one very often anymore, because I prefer Hallelujah or Grace, but sometimes, in the evening, if I've had a particular grimy day, I like using this one as a second cleanse, after my cleansing balm. It seems to get my skin a touch cleaner, without making it dehydrated and I appreciate that!
PRICE: RM138 | US$34 | £24.99 for 200ml

WHERE TO BUY: TNS Skinlab stores and online, Antipodes website, Look Fantastic, Naturisimo
Grown Alchemist Gentle Gel Facial Cleanser – Geranium Leaf, Bergamot and Rose bud
I confess I was a little apprehensive when I decided to try the Grown Alchemist Gentle Gel Facial Cleanser. It has a very light, watery-gel texture. I caution against using too much of it, because you don't really need more to cleanse your skin better.
I find that just a tiny press of the pump will do the trick – you don't even have the press half or all the way down. In that sense, I feel that the pump fails to dispense the product properly, because anyone who presses down significantly, will find themselves using too much product.
The lather is very gentle, not like thick foam. It cleans skin quite impressively, and does not feel stripping against my skin. I do have dry skin, so I am quite sensitive to cleansers that strip my skin. This one does not.
I was using it in the morning for a while, but I've since switched it out for use as my second cleanse in the evening. When used in the morning for too many mornings in a row (say 3-4 weeks) I did notice my skin feeling a little tight. As a night second cleanse, it seems to be less of an issue.
Also, the geranium leaf and rosebud scent is quite relaxing, so it makes for a nice end to my shower, and a nice start to my evening skincare routine.
PRICE: RM140 | £31 for 200ml

WHERE TO BUY: KENS Apothecary stores, Naturisimo, Net-a-Porter
Gel Cleansers need not foam to be effective
I think the common misconception still persists, that a cleanser needs to foam in order to be effective. Nothing could be further from the truth! The truth is that the ingredients that encourage products to lather will strip the skin and that causes it dry out. In my youth, I confess I used a lot of foaming style cleansers. I didn't know any better then.
But now that you do, know that you can get good quality gel cleansers (if you feel uncomfortable using a cream or milk cleanser) that will not strip your skin of its natural oils, while cleaning it of any dirt and oil that build up on it. There is no need to suffer that post-facewash dry-skin grimace anymore! 😛
Have you tried either of the gel cleansers featured? Do you have other non-drying gel cleansers to recommend?
Do share – if I don't try them, it will at least help someone else out there who might be in the market for a gel cleanser, but who does not want to suffer skin like the sahara post-cleanse! 😀
Paris B