I was first introduced to one of my favourite skincare brands – Antipodes – through TNS Skinlabs and since then, I have implicitly trusted the selection of brands they carry or offer for me to try. Some hits, like Antipodes, some misses (never liked the Shikai haircare). So, when I was offered a chance to try another natural skincare range from New Zealand, I agreed to have a go.
This was The Herb Farm, a brand I'd never heard of before this.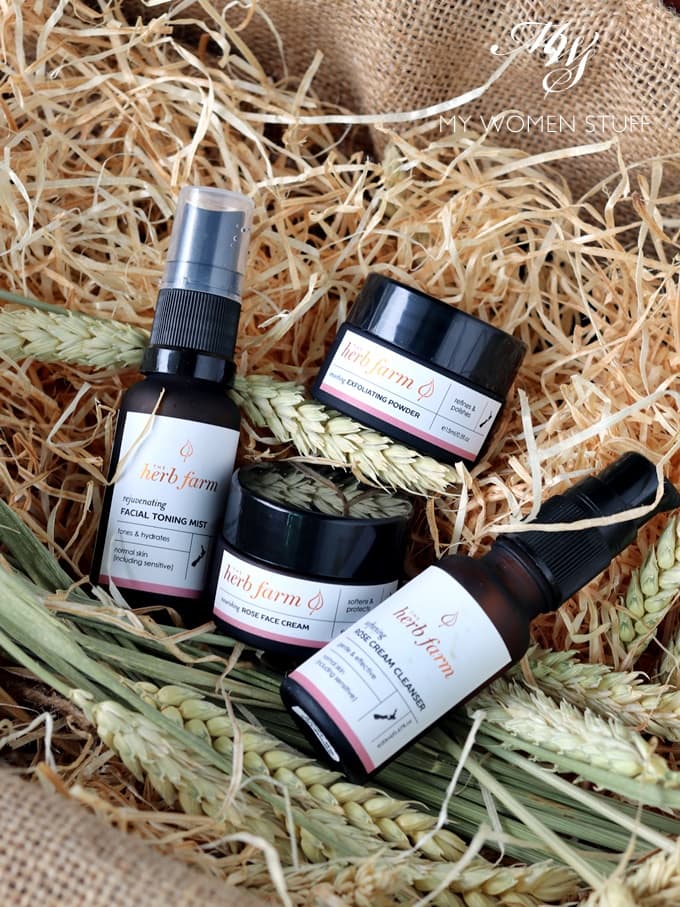 I was gifted with a set of trial-sized skincare, that is fairly affordable if you'd like to try something new, and is a good enough size to last you about a month or a little more. The set I have is The Herb Farm Normal (including sensitive skin) skincare mini set and there is another for oily-combination skin.
The Herb Farm is a family owned business in New Zealand, and their skincare range focuses on using natural ingredients, using herbs and herbal remedies. I can't deny I was quite intrigued.
I'll be running through the items individually, providing the full size prices and sizes. But do note that it is based on my experience of the trial mini sized set. The one thing I'd note is this. The mini set is very well packed, with good quality frosted glass bottles and tubs. I appreciate that attention to aesthetics and feel, and it makes me more invested in using and learning more about a brand or product. As detached as we want to be, it is undeniable that as humans, we judge using all our 5 senses, and it looks like The Herb Farm appreciates that.
The Herb Farm Softening Rose Cream Cleanser – RM159 | NZ$39.90 for 200ml
I was most excited about this because I love cream cleansers, and I am always on the lookout for something new that is of good quality. For normal or sensitive skin, or skin tending to a little dryness, I'd urge you to look at using a cream cleanser. Your skin will thank you for it.
The mini bottle comes with a pump, that I feel is too stiff. Coupled with wet hands in the morning, it isn't very pleasant to try to pump out product. The full sized bottle comes with a proper pump that looks to be better.
The product itself is a light cream that smells of roses. Not too strong to be cloying, but quite fresh. It is quite light, going on skin without feeling too creamy or heavy. I know some people don't appreciate that. It in fact, feels a little like a lotion going on. What's important is that it rinses off easily, so you don't have to faff about with cloths and such in the morning. As a makeup remover, I feel it is far too light to really take much off. So, remove your makeup first, use a cleansing balm or oil then use this.
While I think it's nice, and a good introduction to cream cleansers, it isn't a favourite cream cleanser of mine. I prefer Hallelujah from Antipodes. Perhaps, it is because that is richer and my drier skin appreciates it better. I do note that The Herb Farm has a Calendula and Marshmallow Softening Cleanser as well as an Enriching Rosehip Facial Cleanser (not carried in Malaysia yet) and I have a feeling I might prefer those as the texture is heavier and more suited to me. For those with oily skin, there is also an Energizing Gel Cleanser.
Ingredients: Aqua (Purified Water), Glycerin (Vegetable Glycerin), Prunus Dulcis (Sweet Almond) Oil, Butyrospermum Parkii (Organic Shea Butter), Rosa Canina (Organic Rosehip) Fruit Oil, Glyceryl Stearate, Sodium Stearoyl Lactylate, Simmondsia Chinensis (Jojoba) Seed Oil, Calendula Officinalis (Flower) in Prunus Dulcis (Sweet Almond) Oil, Cetearyl Alcohol, Symphytum Officinale (Comfrey Leaf) Extract, Calendula Officinalis (Flower) & Ginkgo Biloba Leaf Extracts, Daucus Carota Sativa (Carrot) Seed Oil, Citrus Aurantium Dulcis (Orange) Peel, Sodium Levulinate, Sodium Anisate, Jasminum Officinale (Jasmine Absolute) & Citrus Aurantium Amara (Bitter Orange) Essential Oils and Citric Acid
The Herb Farm Rejuvenating Facial Toning Mist – RM109 | NZ$26.90 for 100ml
For a mini size, I appreciated that it came in a nice, hefty frosted glass bottle, with a proper misting pump. First impressions are so important! This is, quite simply, a facial mist. I can't quite say much about it, except that it feels lovely, with a light scent of rose as it refreshes your skin.
I use a facial mist for numerous purposes which I've shared here. In this case, I use it after cleansing, and before applying any oils or serums on my skin. I have found that applying product on damp skin helps it absorb more quickly, and in the case of oils, more effectively. This serves its purpose. It leaves my skin satisfactorily damp. The pump did squirt out more product than I might be comfortable with, but I can't tell about the full sized one.
I note from the ingredients that it contains ginseng root extract. That is certainly interesting, as ginseng root extract is known to boost circulation. I'm not sure how much it can do in a mist however. That said, it does not smell of ginseng, just of fresh roses.
Either way, this is nice, it refreshes, hydrates and cools down my skin. Feels lovely. I think the full sized price is fair so this is one I can consider buying in a full sized bottle. There are other versions of toning mist as well, to serve different purposes – Clarifying Toning Mist, Hydrating Toning Mist and Lemon Verbena Toning Mist (last 2 not carried in Malaysia yet)
Ingredients: Purified Water (Aqua), Glycerin (Vegetable Glycerin), Centella Asiatica (Gotu Kola) Extract, Panax Ginseng Root Extract, Rosa Damascena (Rose) Absolute Oil
The Herb Farm Smoothing Exfoliating Powder – RM109 | NZ$26.90 for 50ml
This one was one of the more interesting products in The Herb Farm for me. I don't usually like faffing about with powder type exfoliators, as it can get messy. But for the sake of experimentation, I tried this one. You do need to find yourself a little spoon to scoop out product, and as you can see from the pictures, it can get messy.
What you do is to scoop a little amount of powder into the palm of your hand, add cleanser of choice (you can use your own cleanser), mix it up, and apply to the skin. While I was afraid that it might feel rough, it doesn't. It feels quite gentle on skin, and the exfoliation isn't too abrasive. When you rinse it off, your skin does look almost brighter immediately. I liked that. It feels better than those usual rough physical scrubs that you get out there, and I like that it smells natural and herbal.
Of all the products in the kit, this is the one I think I appreciated the most, because it was different, yet effective. Because this one is tailored for sensitive skin, it is really very gentle, and even sensitive skin can benefit from that odd exfoliation. I'd consider this in a full size at some point, but really, this trial sized tub can last a while. This is after all, a treatment product, and being an exfoliant, I don't recommend that it be used too often. Perhaps 1-2 times a week.
There are also another 3 other variants – Purifying Exfoliating Power, Brightening Exfoliating Powder and Kiwiseed & Zeolite Exfoliating Powder. The Brightening one isn't available in Malaysia as yet.
Ingredients: Oryza Sativa (Brown Rice) Powder, Prunus Amygdalus Dulcis (Sweet Almond) Seed Meal, Linum Usitatissimum (Golden Flax/Linseed) Meal, Pumice Powder, Zeolite Powder, Actinidia Chinensis (Kiwi) Fruit Powder, Hordeum Vulgare Leaf (Barley) Powder, Pyrus Malus (Apple) Fruit Powder
The Herb Farm Nourishing Rose Face Cream – RM119 | NZ$30.90 for 50ml
The Nourishing Rose Face Cream is a pink, fairly thick textured cream that smells of fresh roses. Pleasant. Texture wise, while it feels a little heavy when you scoop it out of the pot, it sinks beautifully into the skin. For those who have normal skin or maybe even sensitive skin, you may appreciate the texture. It envelops and soothes the skin, while giving it some hydration.
However, because I have drier skin, I found this cream to be wanting. It was fine in the day, but even then, I felt it to be a bit light. Despite the deceptive heavy texture, it feels like practically nothing on my skin. I tried using it in the evening a few times, but gave up after a few days. It was far too light for me to fully appreciate. However, the texture is lovely, it does not feel heavy with silicones, and it does feel gentle on skin. I am trying the Echinacea & Blackcurrant Radiant Face Cream, and I think I prefer that one. I'll report back soon.
Ingredients: Aqua (Purified Water), Prunus Dulcis (Sweet Almond) Oil, Glycerin (Vegetable Glycerin), Glyceryl Stearate, Sodium Stearoyl Lactylate, Oenothera Biennis (Evening Primrose) Oil, Alkanna Tinctoria Root (Alkanet) in Prunus Dulcis (Sweet Almond) Oil, Simmondsia Chinensis (Jojoba) Seed Oil, Cetearyl Alcohol, Butyrospermum Parkii (Organic Shea Butter), Sodium Levulinate, Sodium Anisate, Organic Aloe Barbadensis Leaf Powder 200x, Rosa Damascena (Rose) Absolute Oil, Citric Acid
IN A NUTSHELL

The Herb Farm Normal (Including Sensitive Skin) Skincare Mini set is a good sized deluxe trial set that allows you to properly try the key products in the range. However, I do find that it better serves someone who really does have normal or sensitive skin. Speaking for myself, as someone with drier skin, I certainly need something much heavier than the products in this kit can offer. However, it has given me a good insight into the brand, and I will certainly be interested to try some other products in the range that are more suited for my skin type, in particular their serums and face oils. Those are what I feel, truly makes or breaks a brand for me 🙂

PROS: Minis are well packaged as mini versions of the full sized products, Products are a pleasure to use on skin, Feels gentle without irritating, Good set of trial sized mini skincare to gauge the products

CONS: Locally, only 2 sets are available – Normal/Sensitive skin and Oily-combination skin so someone with drier skin like mine will find it harder to appreciate the trial sizes

WHO WILL LIKE THIS: Anyone who is interested in natural, herb based skincare

PRICE: RM139 | NZ$34.90 for the skincare minis set, individual prices as above

WHERE TO BUY: TNS Skinlab stores or online
Have you tried anything from The Herb Farm? Have you heard of them before?
I'm probably most interested to try one of the richer cream cleansers and a serum and/or facial oil from the brand. Might wait for when TNS runs a sale before I pick them up LOL! 😀 Let me know if you have tried this brand – I'm always interested in hearing your feedback!
Paris B