Often, in the midst of chasing all that is bright and shiny and new, we tend to overlook the old faithfuls. The ones that are so solid and dependable, they become almost like furniture – you find them useful, but you won't notice them till they're gone. This is how I felt about the Shiseido Rouge Rouge Lipstick.
Shiseido Rouge Rouge lipsticks were introduced a couple of years back. I believe that they replace the Perfect Rouge line, which happens to be one of my favourites.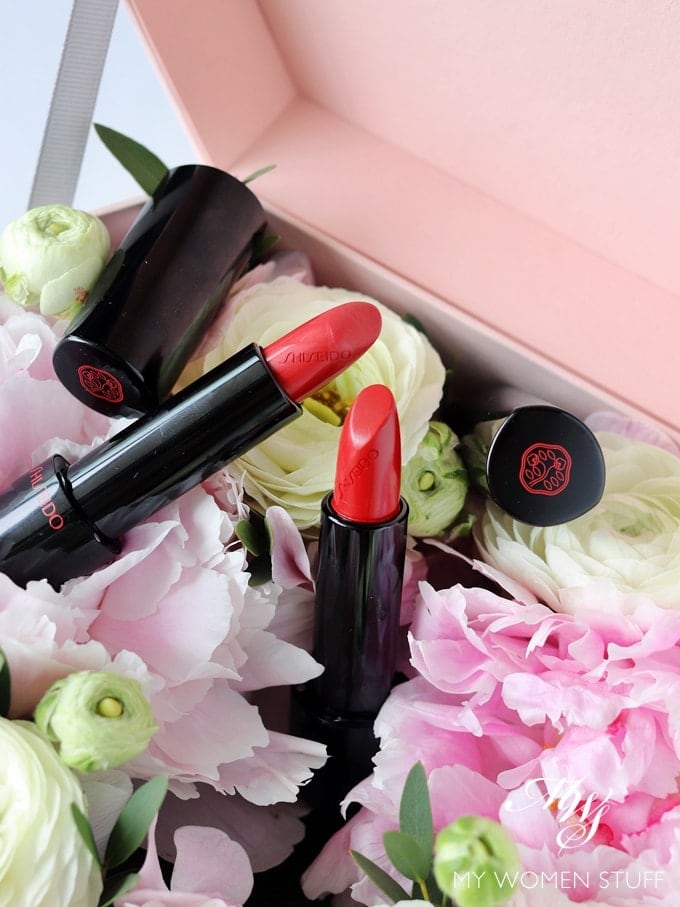 I however, did not try these till fairly recently. And when I first slicked them on my lips, it was like coming home. The quality is sublime. The texture glides on like smooth cream. The opacity was fully opaque in one swipe from the tube. There was no scent. And the reds, oh the red lipsticks!
So, even without reading through the rest of this post, you'd know that I'm a huge huge fan of the Shiseido Rouge Rouge lipstick! 😀 Damn. Spoiler! 😛
Shiseido Rouge Rouge lipsticks are supposed to be a lipstick formula that offer rich, vibrant colour with rich moisture. They come in sleek, understated black tubes, that have a lovely heft to them. The cover clicks with a strong magnet that reminds me of Giorgio Armani lipsticks. There is a quiet, understated elegance about these lipsticks.
They remind me of an exclusive club that many know of, but few are privy to. Owning one of these lipsticks is like joining this exclusive club. You enjoy its benefits, but you don't really shout about it to the world, because it just seems crass to do so. But I'm going to invite you to join me in this exclusive club, because the texture and formula is so stunning, it would be a waste not to try it!
The stars in the Shiseido Rouge Rouge lipstick range are of course, the rouge (red) lipsticks. There are presently 16 shades of varying tones of red to quite literally suit every skin tone. There are some that lean a little more pink, or that lean a little more brown. But it is otherwise, predominantly red.
And I know that many of you are still afraid of wearing red lipstick, despite my constant urging LOL! It is a lip colour that few dare to sport, because it is just deemed to be "too bright". And really, what's wrong with that, I ask you? Don't be afraid to be bold, and be bright. Quite often, you may realise that not many people notice or actually care. We are the ones limiting ourselves and holding ourselves back!
I presently have 2 shades. In photos here, I know you'd wonder why I even bother with both these shades, because they look the same. Well, in person they don't! Or at least that's what I tell myself LOL! 😀
The first is RD307 First Bite. I've been wearing this quite often, and to me, this is a very wearable red, as the shade is a little lighter in tone. There is also a shine to it. You can wear it a little more sheer (apply to lips, then blot and dab some gloss or balm over) if the colour intimidates. But otherwise, it is a wearable rosy red that I personally find very flattering.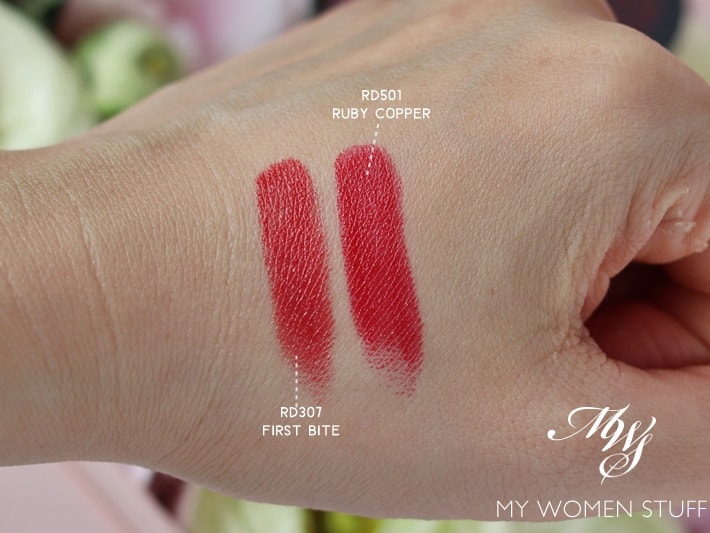 The other shade RD501 Ruby Copper is bolder. I personally find the texture more opaque in one swipe, and it is a blue-based creamy red. I personally take to wearing blue-based reds better, as I find it suits my skintone better so this colour is definitely one I gravitated to. If bold reds aren't your thing, then you might shy away from this one as it is decidedly a bold red. Beautiful, but bold.
It is always a challenge taking face shots with red lipstick, because I've found they tend to look very similar on me. But I'll show you nonetheless 😛
Ok, if you really want to be picky, RD307 First Bite has a slightly warmer tone, while RD501 Ruby Copper is most definitely cooler in tone. But really, these pictures only serve to show you that they are beautiful red lipsticks that are creamy, not drying, long lasting, and do not travel or smear. They are absolutely worth a look!
If you'd like to know the breakdown of this look here it is:
Face: Nars Natural Radiant Longwear Foundation, Nars Radiant Creamy Concealer, Dior Flash Luminizer on undereye area
Eyes: Chanel Jardins de Lumieres eyeshadow palette, Pixi Beauty Eye Define Waterline, Pixi Beauty Eye Bright Liner, Pixi Beauty Lash Line Ink
Brows: Anastasia Beverly Hills Brow Definer
Cheeks: Bobbi Brown Elvis Duran Bronzer, By Terry Glow Expert Duo Stick in Peachy Petal
IN A NUTSHELL

The Shiseido Rouge Rouge Lipsticks are very underrated in the world of creamy lipsticks. The packaging is sleek, understated and solid, with a strong magnet holding the cover shut. The shape of the lipstick bullet allows for easy and clean application. The texture is smooth, creamy and opaque in one swipe. It is not drying, yet it is not so creamy as to be very glossy. It makes lips look plumped and does not accentuate lines. It does not travel nor smear and feels like nothing on. There is, very importantly, no scent. There is absolutely nothing bad I can say about these lipsticks… except maybe it is predominantly red 😀

PROS: Lightweight texture, Very opaque in one swipe, No scent, Creamy, Does not travel or smear, Longlasting, Does not settle into lip lines nor feather, Beautiful shades of red to suit any skin tone or preference

CONS: Heavy focus on red lipstick

WHO WILL LIKE THIS: Anyone who enjoys using creamy, opaque lipsticks, Anyone who wants to find that perfect shade of red lipstick in an amazing lightweight formula

PRICE: RM115 | US$28

WHERE TO BUY: Shiseido counters, Sephora (MY), Hermo, Nordstrom, LookFantastic, Amazon
Have you tried the Shiseido Rouge Rouge lipsticks?
If you haven't already guessed from this gushing review, I love them 😀 So underrated. I almost want to keep the knowledge to myself 😛
Paris B