Back with a new installment of the MWS Beauty hors d'oeuvres! These will be short and snappy updates (I try!) of new and upcoming releases, when they're available, how much they'll cost or interesting events. It won't be very detailed, as my usual reviews are, but it will, I hope, serve its function as a quick update of interesting beauty bits for those of you who might be interested in new things.
I'll update them as and when I can, and you can find them in the side-bar of the blog. I won't be putting them in the main body, so it's not too cluttered. I hope you find them enjoyable or helpful!
A few days ago, The Body Shop launched the brand new Body Yogurt. I was very intrigued. The Body Shop was, I believe, the first, or one of the first few companies to release a product called "body butter". Today, that is synonymous with a thick body cream for dry skin.
Now, there is Body Yogurt!
The Body Shop Body Yogurt is a brand new 100% vegan range of body care products. As the name implies, it is a lightweight body lotion that they promise, absorbs in 15 seconds (!!) and provides up to 48 hours moisture to your skin.
The texture is that of a gel-cream, and is very light, non-sticky and non-greasy. It actually feels like a lightweight face cream, except for your body, and sinks right in so you feel like there's nothing on your skin. I can attest to it sinking right into your skin very quickly. Was it 15 seconds? I didn't quite time it to find out LOL! Maybe you can!
Locally, it comes in 5 flavours, complementing the different body care categories presently available at The Body Shop – British Rose, Strawberry, Moringa, Almond Milk and the limited edition scent for Summer 2018, Banana!
So, go bananas! LOL! 😀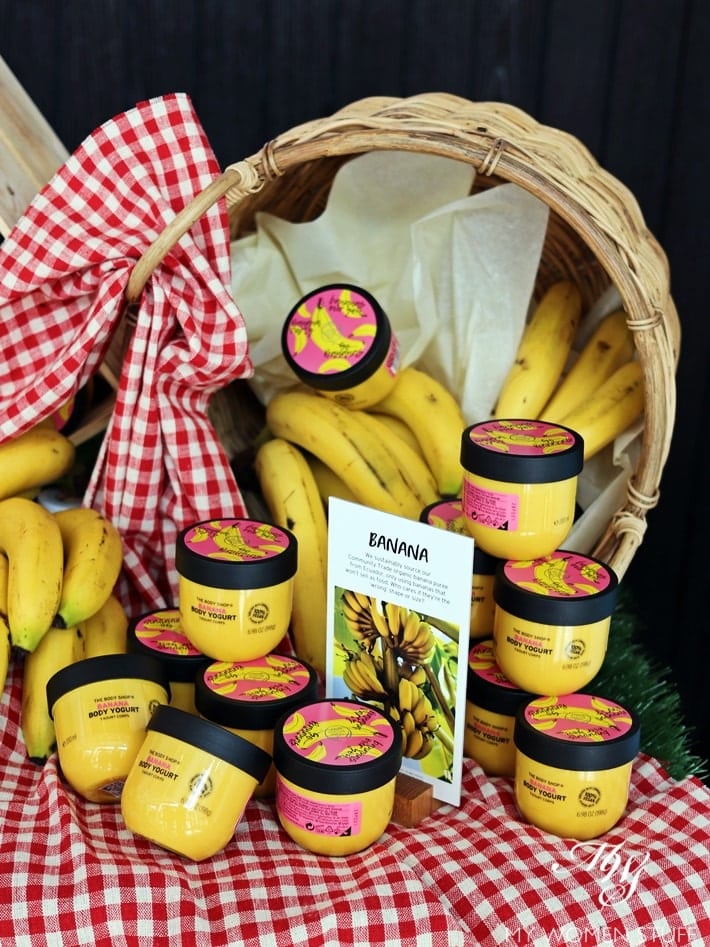 The packaging is cute. The Body Shop Body Yogurt comes in round pots, just like yogurt pots, which is really cute, and comfortable in your hand. I personally find the scents a little floral and fruity for my tastes, so my personal favourite is Almond Milk. It has the lightest scent in the range.
The Body Yogurt complements the existing Body Butter range and their body lotions. Some suggested uses are to use the Body Yogurt in the morning, as it sinks into skin so quickly, it won't mark your clothes. And then reserve your Body Butter for the night. Or, use the Body Yogurt all over, and use the Body Butter on drier areas like elbows and knees.
Either way, with the bright cheery colours, coupled with the delicious scents and wallet-friendly price-tag, I predict the Body Yogurt will be a bestseller! 🙂
Will you be picking up these Body Shop Body Yogurts any time soon?
In our hot weather, I think these are perfect. Not sticky and doesn't leave your skin feeling greasy, which is what I hate in a body lotion.
Paris B
The Body Shop Body Yogurt comes in 5 scents (Malaysia) – Strawberry, British Rose, Moringa, Almond Milk and Banana (Limited Edition)

PRICE: RM59.90 | US$15 | £8.50 for 200ml

WHERE TO BUY: The Body Shop stores and website (MY), website (USA)