Doo-doo-doo-doo *cue the theme from Twilight Zone*
Yes folks, it is deja vu time again! On Day 1 of Cushion Foundation Week 3, I featured the Shiseido Synchro Skin Glow Cushion Compact, that I professed blew me away with how nice it was to wear. Today, we are on Day 4 of Cushion Foundation Week 3, and it is another cushion from Shiseido!
This week, the cushions are a mixed bag, featuring a Japanese brand, a couple of Western brands, and featuring some Korean brands too. The categories will be kept as per previous posts, so you can refer back to them all and it'll look fairly familiar. The difference will be in the products featured. Also, I will do a round up at the end of the week, just to give closure to this week. To see all the cushion foundations I've featured, you can go here.
Day 4 of Cushion Foundation Week 3 brings us the Shiseido Synchro Skin White Cushion Compact. This was launched in 2017 I believe, and that holographic packaging was a limited edition festive packaging that was available around Christmas 2017.
Lest you jump all over the use of the word "white", know that it is something that is a staple in Japanese cosmetics. White or Whitening usually denotes something that targets discolouration like pigmentation, while Bright or Brightening usually refers to general radiance. I think sometimes, things get lost in translation as well, and personally, it doesn't bother me. But used in this context of makeup, it did puzzle me somewhat as to what they are getting at.
However, it is not unusual for many brands to have a range targeted at whitening or brightening – Diorsnow, Guerlain le Blanc, Chanel le Blanc are examples. Even Laneige derives their name from "neige" which is French for snow. Granted that brands should drop this naming convention, yet it cannot be denied that there is a market in Asia for such products that stems from something very deepseated in our psyche. Such is the reality and these lines usually encompass skincare and makeup. Now, enough preaching, onto my thoughts on this cushion! 😀
Cushion Foundation: Shiseido Synchro Skin White Cushion Compact SPF40 PA+++
This Shiseido Synchro Skin Glow Cushion Compact comes in a slim, sleek white case that is a nice counterpart to the black one. To be honest, that's where the dissimilarities end. For all intents and purposes, I find the product to be so similar to the Synchro Skin Glow Cushion Compact, as to be identical!
The slight difference is in the sun protection rating, which is SPF40 as opposed to SPF23 in the Synchro Skin Glow Cushion, and in the ingredients. Shiseido says that this product will help reduce the appearance of dark spots, freckles and dullness and help maintain a noticeably healthier, brighter complexion. It also contains Shiseido's brightening skincare complex 4MSK.
Personally to me, this is makeup. While I'd like to think that my makeup contains skincare benefits, it really is secondary to how it performs as a makeup product should. For this reason, I don't give a lot of credence to the claims to brighten skin (except cosmetically). If it does, well and good. But it's not why I'd buy this product.
Similar to the Sulwhasoo Perfecting Cushion Brightening (which is also in their brightening range), I find that the shade is a smidge lighter and brighter (pink toned) than the regular Synchro Skin Glow cushion. Just a touch. You won't really notice it if you don't wear them side by side (as I have done LOL!) Also, the same shade Neutral N1 that I wear looks a touch brighter and more pink on my skin.
It does similarly self-adjust to my skin tone, so it does not look artificial, nor does it look like I'm wearing a mask. But it is a point to note that it is a bit more brightening and a bit more glowy than the regular cushion.
For all other intents and purposes, go read the first review on the Shiseido cushion. It applies here too, with a similar lightweight feel, good coverage and longevity.
Sunscreen protection : SPF40 PA+++
While I won't crow over the SPF rating, it is significantly better than the paltry SPF23 found in the Synchro Skin Glow Cushion. As it contains titanium dioxide, which is known to give off a whitish tint, I do wonder if the higher SPF rating means there is more Titanium Dioxide, which then lends itself to the more "brightening" effect of this foundation. I can't say for certain, but it could be that too.
While most cushion foundations need a touch up during the day, as they well wear off, this Shiseido one doesn't. It just literally stays put till you remove it when you get home. So, if you're thinking of using a cushion foundation for touch ups, you might want to consider another brand, because this one just has too high coverage for that purpose.
The Packaging & Refills
Like it's sibling, the Shiseido Synchro Skin White Cushion Compact comes with the contents and case sold separately. What this means is that you can technically buy just the refill without the case, if you like, because the refill comes with a cover. Or perhaps you already have the black case, you can just clip in this refill because it fits.
The refill comes sealed and with a new sponge and is your fairly typical cushion compact case. At back, there is helpfully, a sign showing you where to push to remove the refill from the case. It pops out very easily, when you follow the instructions.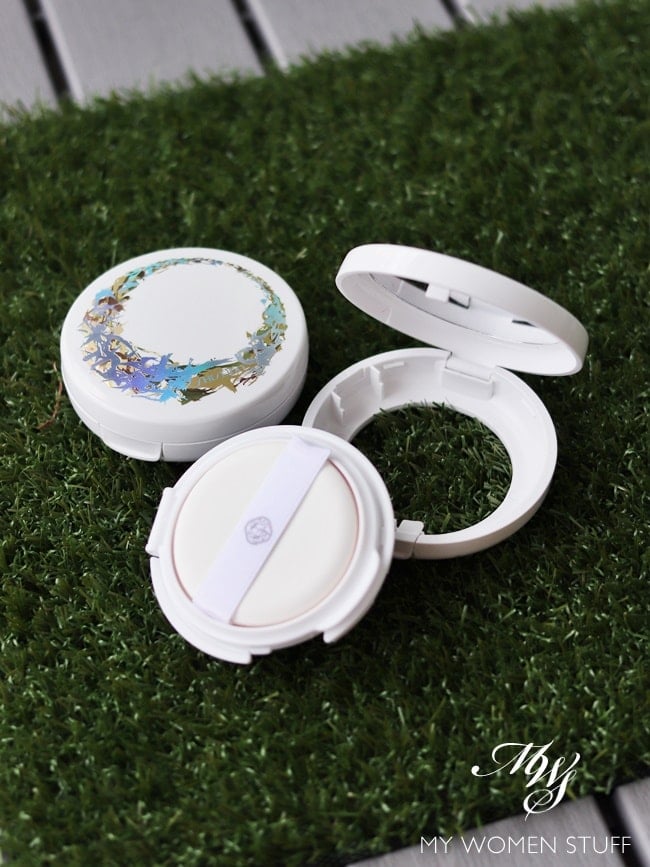 The Cushion
The cushion for the Shiseido Synchro Skin White Cushion Compact is fairly traditional, being the flat porous sponge found in the Korean brands. The cushion is dense and firm, and seems to hold the product very well. The cushion is well saturated with product, so you don't have to press very hard on it to transfer the foundation onto your sponge. In fact, as I've shared before, don't press when it's new. Just pat the surface, because you will pick up sufficient product that way. The sponge is very well saturated.
The Sponge Puff
The sponge puff is very similar to that found in the high end Korean brand cushion foundations. The Koreans know their sponge applicators and the Japanese know enough to not mess with a good thing. For best effect, use the sponge puff applicator.
The best way to use the sponge applicator is to press and roll, not pat on your skin. So, pick up product, press on skin, and roll it off. Repeat to spread the foundation all over, and to blend. It is very quick. But because the coverage of this foundation is quite heavy, you might have to find yourself blending it a little more. But it's quick and the product does not dry too quickly on the skin.
The sponge is soft with a surface density that has a nice bounce on the skin, and spreads product well and evenly. This is important, due to the coverage.
TO USE: Slip your fingers through the loop (it only accommodates 3 fingers for me so I find it a little small), dab the sponge on the surface of the cushion and then dab it on your skin, in a press and roll motion. Press on skin, and roll it off. It helps the foundation adhere better to your skin.
Texture, Coverage & Finish
Compared to the Shiseido Synchro Skin Glow Cushion Compact, I find that the coverage for this Synchro Skin White Cushion Compact seems to be a touch lighter. So, it isn't as opaque on the skin the minute you set the sponge down on it. It is however, just as lightweight and comfortable to wear. Almost like wearing nothing at all, and I don't need to set it with powder. That said, I also notice that it imparts a little more "glow" than the previous version, and has a very slightly more pinkish tint.
Let me show you the before-after pictures. I'm wearing the shade Neutral N1, which is their lightest shade, and that is the shade I take in all Shiseido foundations. I feel that the pink tint is less noticeable in this shade than it might be in deeper shades. The reason for the pink tint would be to impart the radiance to your complexion.
Coverage is pretty amazing, although a little lighter, I find. So, I can layer this a little without it looking too heavy. It just covers up skin redness and blotchiness (I've been sick in this series of photos – bleh) and evens out my skin tone, making it look brigther. Yet, it looks pretty natural. Maybe less so in this side-by-side photos, but if you saw me in person, it's all barely noticeable. My skin looks just like skin and I love that!
I'll show you another side-by-side of just the Shiseido cushion compact base, and with the rest of my makeup on.
Lighting discrepancies, but you get the picture. I did not use any concealer, and am only wearing brows, blush, some bronzing powder to warm up the complexion and lipstick. I find a touch of very light bronzing powder helps reduce any stark brightness in foundation, or if your skintone has changed since you last bought foundation. It helps make it look more natural.
Shade selection
Shade selection is quite decent, but not ideal for those with a deeper skin tone. There are 6 shades and starts from Neutral 1, 2, 3 and goes up to Golden G2, G3 and G4. I'd warrant that it may suit up to a middle deep skin tone, but no further. Also, the shades tend to have a pink tint, so if you have a very warm skin tone, this may look ashy on your skin. You would be better off using the regular Synchro Skin Glow cushion.
Scent
I cannot discern a scent so that's a good thing I guess? I think you're all sick of me complaining about scent in everything. I can't help it. My nose is sensitive! 😛
Do I like this?
Yes I do. I find it a little lighter in texture than the Synchro Skin Glow Cushion which is just as well, because you can control how much goes on your skin. In my case, I go for a light coverage, and this one is medium at best. So, I use less, and I like the slight brightening effect as well. It is nice for days when I want a quick base, or if I'm travelling because it's so portable and you don't have to fuss with liquid foundation and brushes, or have to wash your hands after using. I save on not having to use concealer, and it lasts all day for me, looking better as the day wears on. Shiseido knows their foundations – It's rare that I get a dud from them 🙂
IN A NUTSHELL

The Shiseido Synchro Skin White Cushion Compact feels like a foundation in a cushion format. The texture is very lightweight, and the shade seems to almost shift to blend with your skin. It also wears very well as the day wears on, seeming to look almost better than when you first start out. The coverage is a little lighter than the Synchro Skin Glow Cushion, but just as stunning and flawless, if that's what you look for in a foundation. There is also a slight pink tone that adds radiance, and it does make your skin look brighter. However, those with very warm skin tones will have to take note because this can sometimes result in it looking ashy on your skin. I love that I don't have to set this at all, and that it feels so lightweight and comfortable all day. Perfect base for long days, and for travel!

PROS: Lightweight texture feels featherlight on skin, Evens out skintone very naturally, High coverage that can be sheered out, Easy to use, Has a semi-matte finish on skin with a slight glow, Not drying nor oily, Portable packaging, Makes skin look more radiant, Higher sunscreen protection in this one

CONS: Refill and case are sold separately, Some people may not like the sponge for application or hygiene purposes, I don't mind, Refills are sold singularly, Easy to overdo coverage, Limited shade selection, Pink tint in the foundation may not suit all skin tones

WHO WILL LIKE THIS: Anyone who wants a high coverage cushion foundation, Anyone who wants a high coverage cushion foundation that gives a beautiful smooth and flawless finish on skin, Anyone who wants a lightweight, high coverage foundation that makes skin look brighter

PRICE: RM200 | Approx US$67 for the set of refill and case. The refill alone is RM160. Internationally, prices will vary depending on where you buy from as it is available on many different websites

WHERE TO BUY: Shiseido counters and various other websites selling Asian cosmetics or Amazon
Here is the ingredient list for the Shiseido Synchro Skin White Cushion Compact:
Water (Aqua/Eau), Cyclopentasiloxane, Titanium Dioxide, Dipropylene Glycol, Titanium Dioxide (CI77891), Ethylhexyl Methoxycinnamate, Pentaerythrityl Tetrahexylethanoate, Vinyl Dimethicone/Methicone Silsesquioxane Crosspolymer, PEG-10 Dimethicone, Glycerin, Isopropyl Myristate, Iron Oxides (CI77492), PEG-9 Polydimethylsiloxyethyl Dimethicone, Aluminium Hydroxide, Bis-Butyldimethicone Polyglyceryl 3, PEG150, Potassium Methoxysalicylate, PPG-17, Stearic Acid, Iron Oxides (CI77491), Phenoxyethanol, Disteardimonium Hectorite, Alumina, Hydrogen Dimethicone, Trisodium EDTA, Sodium Dihydroacetate, Polysilicone 2, Methylparaben, Ethylparaben, Sodium Citrate, Dimethicone, Mica, BHT, Tocopheryl Acetate, Butylene Glycol, Iron Oxides (CI77499), Dimethicone/PEG10/15 Crosspolymer, Tocopherol, Citric Acid, Fragrance (Parfum), Polymethylsilsesquioxane, Dimethicone/Vinyl Dimenthicone Crosspolymer, Talc, Polyquaternium-51, Silica, Sodium Metabisulfite, Limonene, Thymus Serpyllum Extract
Have you tried this Shiseido Synchro Skin White Cushion Compact foundation?
I can't choose between the Synchro Skin Glow Cushion or this Synchro Skin White Cushion. Both have their merits, but what is certain is that both are amazing cushion foundations, for those who want something that actually offers good coverage, is lightweight, longlasting and not drying. Ticks all the right boxes and almost shoves the Korean competition aside. Almost! 😉
Paris B
More cushion foundations can be found in this category.