Last weekend, I undertook a small home improvement project that I'd been wanting to do for a long time. Ever since I moved in, really. But it was something people kept talking me out of, every time I brought up the subject.
"It's too impractical!" "Your floor will be dirty!" "It'll be too expensive!" "How will you clean it?"
That's all the practical voices. Some externally, and to be fair, internally as well. I am a very practical person, and I certainly thought about all this. But deep down, I still wanted to do it.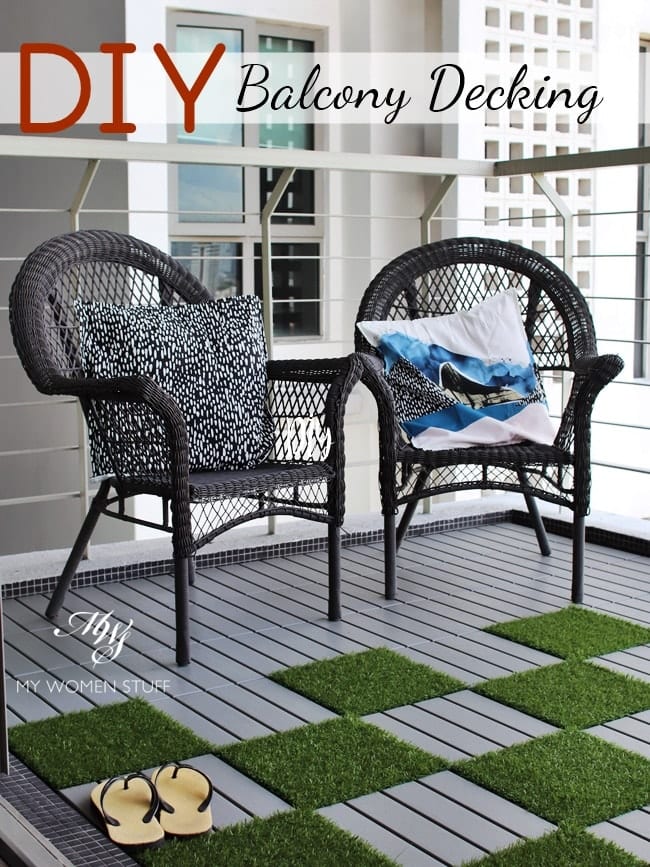 So I said "To hell with it! I'll figure it out later!" and I went ahead and laid down decking on my balcony. Much to my surprise, when I showed it off on Instagram stories, because I was so proud of myself LOL!, so many of you asked me about it, how I did it, where I got the materials etc. I decided I'd write a post about it. Incidentally, there wasn't a lot of information out there when I was doing my research, so I reckon this will be helpful 🙂
I did not want to hack my floor tiles on the balcony (I wasn't allowed to and on hind sight, it was probably a good idea not to). So, I needed decking that could sit over the existing tiles. There are many places you can look, but my research brought me to Ikea! 😀 When I got there, and poked around, I saw the ones I wanted were on sale. It was then a no-brainer 😛
These are the Ikea Runnen decking for outdoor use, and I'll tell you how I did it, and what you need to know. Best of all, you can do it yourself. I did. It's light enough that you can carry all the pieces you need home yourself, and fix it up yourself – no need to fuss around trying to get some guy to fix it up for you. When you want something done properly, just do it yourself! 🙂
Before you even begin, there are some things you have to think about and work out first.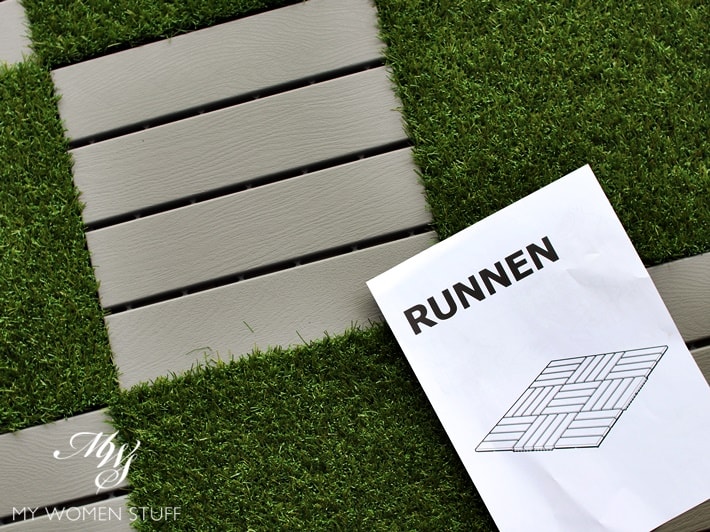 The Ikea Runnen decking are interlocking tiles, and are meant to be laid on a flat, solid surface. So, don't think about laying this on grass or earth in your garden. It can buckle and break or trip you up. This should be laid over your existing tile or cement floors.
Measure the area you want to install the decking on, taking a length and breadth measurement using centimeters (cm). Each piece of Ikea Runnen decking tile is 30x30cm. You then want to divide your length and breadth by 30 to figure out how many pieces of decking tile you will need, and then divide that by 9 to figure out how many packs you need. Each pack of Ikea Runnen decking comes in a set of 9 pieces. Don't bother measuring by area – you will be installing the tile by pieces, so you need to know how many pieces you will need. I was lucky, the tiles on my balcony were already 30x30cm tiles, so I just had to count the pieces.
In your measurements, allow for extra space around the edges. Once you interlock the tiles, the combined size will be slightly larger, as there is a slight gap between them (it is part of the design). So, if you are working with a fixed width, like a balcony, round down the number of tiles you need, not up. You can add decorative stones around the edges to fill in the gaps if you like. The exception will be if you're using the Ikea Runnen decking with wood, which you may be able to cut to fit. I chose not to opt for that, even though I like wood, which I will explain below.
Choose the right decking for your area. My original idea was to get the brown wood stained ones. Those are wood pieces. However, I saw online, that when exposed to the elements, they fade and peel quickly. My balcony is exposed to the sun and rain, and here in the tropics, we get some crazy sun and rain. I didn't want to risk my decking looking horrible after just a few months. So I scrapped the idea. Also, I was worried that the brown stain might run after the rain, and stain the tiles underneath, which would make it a nightmare to clean later. However, if you have an enclosed patio or lanai balcony then I think the wood will give a nice tropical touch to the area. It turned out for me that not using the wood design was a good choice, as I found the wood decking design too fussy. It is laid out in a 3-finger parquet design. I opted then for the grey plastic decking. It comes in light and dark grey, and I picked the light grey. You can lay them in a checkerboard pattern, or in straight lines, as I did, for a more visually pleasing appearance. The Ikea Runnen now also comes with artificial grass, so you can go for a faux grass balcony if you like!
Lay out your pattern before clipping in the tiles. This way, you can be sure you don't make a mistake and have to unclip and redo as you go.
Ok, so now we've gotten that out of the way, how easy is it to install?
Well, very easy really. I'd read that you need a plastic hammer or some implement to knock the tiles together so they interlock. Well, you don't. Not if you do it my way 🙂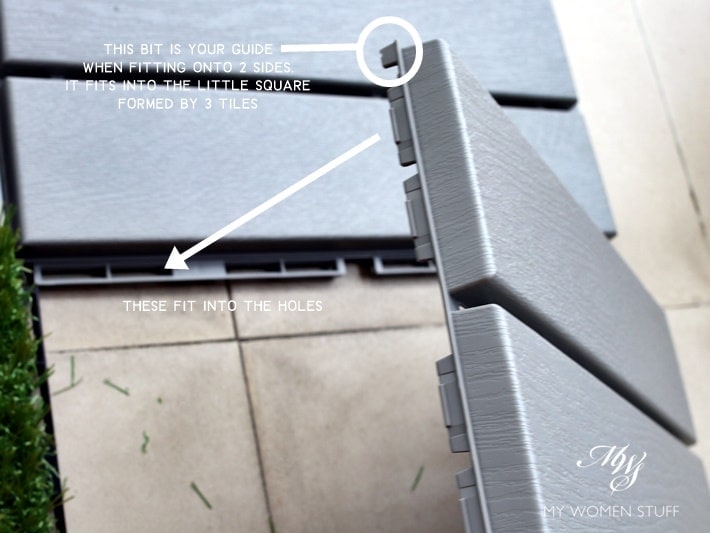 This is what the Ikea Runnen decking looks like. This is the light grey plastic one, and I did not take before-after photos of my balcony, not anticipating the great interest, but you can have a rough idea of what it looked like before in the photo 😛
The Ikea Runnen decking will have 2 smooth edges, and 2 edges with the bits to clip the other tile into. The clips will line up perfectly into the holes of the other piece. Always ensure that the smooth edges are on top and on your left.
What I found is that the Runnen tiles of the same make will clip together more easily. It was a little harder to clip the grey to the artificial grass, not because the holes don't line up, but because of the extra padding of grass at the top. So, it will take a little time, if you're mixing materials.
The best way to work is to kneel. Then, when you line up the clips with the holes, use the heel of your palm to smartly press on where you know the clips to be. Lean the weight of your body into it, and it will clip together quite satisfyingly. If it doesn't, you'd know that they didn't line up properly. After a while, you'll get the hang of it 🙂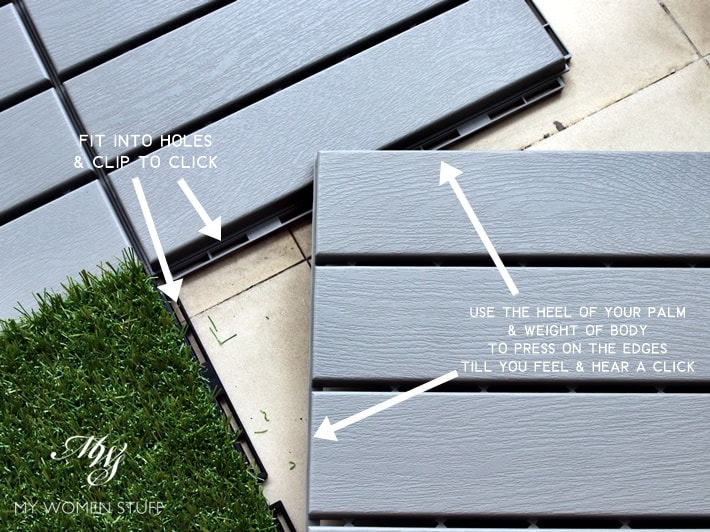 Once I got them all in place, to be very sure that they are all clipped together, take a walk along the edges of where the seams meet. The bits that you miss will click into place, with the weight of your body. Yes, the heel of my palm did hurt at the end of the day, but that was because I used it to hit it into place. I worked out much later, that it was easier to just let the weight of your body do the heavy work 🙂
It is quite easy to care for. Just wipe it over with a cloth or mop, and I like how it feels when I step on it. For some reason, it makes my balcony less dusty than it used to be. There are some major infrastructure construction works going on around me, and I usually have a very dusty balcony that I don't really want to go out on. Now, I feel much better and more comfortable going out there.
The Runnen tiles may be plastic, but they are sturdy, and feel comfortable. I don't feel any uncomfortable clicking noises when I walk on them (there will naturally be a little noise, it is laid over existing tile after all) but it otherwise feels comfortable. I laid it out so it looks like long planks, but you can mix them up to suit your design.
The Ikea Runnen artificial grass decking is new, and I tested it out at Ikea before buying it. It feels soft to walk on, not scratchy or pokey underfoot at all. It does feel like quite high quality astroturf, and although it may look cheesy, I liked how the green broke up the grey tile in my design. I laid a checkerboard design right outside my door, so I'd always have a bit of green to look out on. I also did not lay decking all over my balcony, as I have a little plant section that can get wet and dirty when I work with my plants.
Chair is the Ikea LÄCKÖ armchair and cushions are the Ikea VINTER 2017 cushion covers on sale
Still, I have to say that I am very happy with my little DIY job 🙂 It took me about 1.5-2 hours to get it all done but that was because I had to bumble along the way, trying to figure things out that you don't have to, because I've already told you what to do! 😛
It's a lovely little nook that I can now sit on to enjoy the evening breeze, drink in hand, while I browse online, or read. Best of all, my feet don't feel dirty and dusty, and I love the tactile feel of (fake) grass under my feet 😀
Granted, this is still new. If I remember, I'll try to update in a year's time how I feel about it, and how it holds up to our tropical sun and rain. It has been quite hot lately, but I'm happy to report that there has been no buckling of the plastic yet. It is very sturdy, but light plastic. Maybe over a few years, it might get brittle. I would expect it. But I'll enjoy it for now – sometimes, you just have to live in the now, and to hell with what comes tomorrow. Sometimes 🙂
Is this a project you have been thinking of attempting too? Have you done something similar, or perhaps have ideas on how to upkeep it?
I just wipe it down every other day so far. As I said, it seems to be surprisingly less dusty than my tiled floor used to be. How odd. Not that I'm complaining of course! LOL 😀 Do let me know if you found this useful, or if you have any other questions that I did not cover. I'm happy to help based on what little I know! 😀
Paris B
Ikea Runnen Decking (brown wood, light and dark grey) comes in a pack of 9 tiles and presently retail at RM99 | US$19.99 per pack. They are on sale at Ikea Malaysia at RM79 per pack until April 2018 (subject to change – check in store) The Ikea Runnen artifical grass decking is new and retails at RM155 | US$34.99 per pack of 9 pieces.