Day 2 of the Cushion Foundation Week 3! If you missed the earlier featured cushions, find them all here.
This week, the cushions are a mixed bag, featuring a Japanese brand, a couple of Western brands, and featuring some Korean brands too. The categories will be kept as per previous posts, so you can refer back to them all and it'll look fairly familiar. The difference will be in the products featured. Also, I will do a round up at the end of the week, just to give closure to this week.
Cushion Foundation Week 3 Day 2 features one of the newest brands to the cushion foundation game – French brand, Clarins. Honestly, yes I was surprised they went there, although not too surprised. It is a growing trend that doesn't seem to be dying, and it pays to jump on board and strike while the iron is hot!
I will say this. I had experience with Clarins foundations back when they were first around, and I found them quite good. I had tried their Everlasting Foundation in particular, which is a longlasting foundation. Considering that this is the Clarins Everlasting Cushion Foundation, my guess is that it is part of this family.
Cushion Foundation: Clarins Everlasting Cushion Foundation SPF50 PA+++
This Clarins Everlasting Cushion Foundation is made in Korea, because I guess that's where the expertise lies. For this reason, the feel and design of the compact is very similar to other Korean brands of cushion compact foundations. It comes in a white case and by sight, has an Amore-Pacific vibe about its packaging. This is supposed to be a long-wearing and hydrating foundation, so I will test it along those lines.
It goes on skin quite light, but it feels rather tacky. It actually remains tacky and looks shiny (perhaps glowy?), which is something I don't favour. So, I dust on some powder to remove some of that shine and tacky feel. It definitely feels heavier on my skin, with relatively high coverage. I'd peg it at medium, buildable to high coverage.
I hesitate to agree that it is hydrating, although it is quite longlasting on my skin (I don't wear a primer, and I have dry skin in general) It isn't drying, but I do find that as the day wears on, it has a tendency to settle a little into my pores. Not terribly noticeable, but in comparison to other similar products I've used, noticeable. For this reason, this is one I'd use, but not one I'd favour. But if you don't have access to Korean brands like Hera or Sulwhasoo or Shiseido, then this one isn't bad, when compared to other Western brand cushion foundations. It certainly beats off Dior or Chanel by a mile in terms of ease of use, coverage, longevity and how it looks on skin. I prefer the finish compared to Clinique, that I liked before this.
Sunscreen protection : SPF50 PA+++
The SPF 50 PA+++ rating is a big plus, but not unexpected, as it is made in Korea after all. I still won't use a cushion foundation in place of sunscreen, but if you are truly the lazy sort, then I suppose this is better than nothing.
Like the Shiseido, I hesitate to use this one for touch-ups as I would other cushion foundations, as I find that the coverage is too high so it can potentially look thick. I'd use this as you would your regular foundation. If you are the sort who needs a touch up as the day goes on, then this will work. But if you are like me and just wear one foundation from morning till evening, then you won't need to carry this one around.
Packaging & Refills
The Clarins Everlasting Cushion Foundation comes with one case and one refill. Unlike Korean brands, you do not get a spare refill, which I feel reduces the value somewhat. I read that you can buy the refill separately, but I don't see it on the Clarins website, so I cannot verify that. Perhaps if you know, let us know. Packaging-wise, it is your regular white compact with a clip-in refill.
The case is like a donut with a cover, so you clip the refill into place and it fits nicely without any rattling. I find that the cover clips and stays shut and it is otherwise just a well-constructed compact.
The Cushion
The cushion for the Clarins Everlasting Cushion Foundation is fairly traditional, being the flat porous sponge that we have seen from the start. The cushion is dense and firm, and seems to hold the product well. I find it unsurprising as it is made in Korea after all. I do find that the cushion, while well saturated, isn't over saturated. I do have to press down a little with the puff to pick up product.
The Sponge Puff
The sponge puff is very similar to the ones you get in Korean brands. No surprises there again, and again, it is a well made item. For best effect, use the sponge to apply your cushion foundation.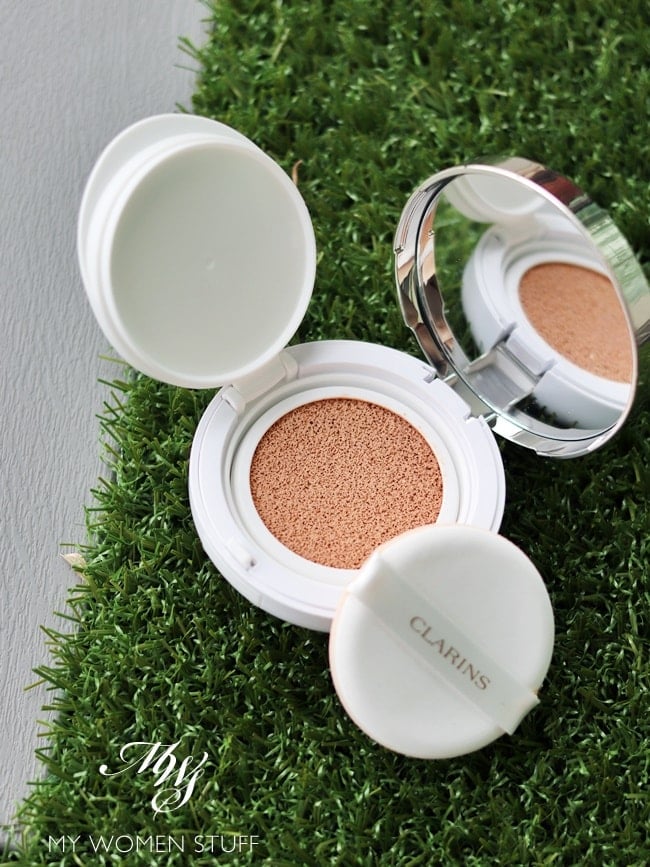 TO USE: Slip your fingers through the loop (it only accommodates 3 fingers for me so I find it a little small), dab the sponge on the surface of the cushion (you can see this is just 1 dab) and then dab it on your skin, in a press and roll motion. Press on skin, and roll it off. It helps the foundation adhere better to your skin.
I find that the density of the puff surface is such that it doesn't absorb the product too quickly, and the texture of the product is such that I can cover about 1/3 to 1/2 of my face with just 1 dab of cushion foundation. I then go over the areas where I want better coverage. This actually makes application faster and more even than with multiple dabs of product.
Texture, Coverage & Finish
In terms of texture, I find it a little heavier than I expected. Yet, it was similar to what I was expecting i.e. Clarins foundations. From experience, they had a tendency to be a little heavier on my skin. That said, I haven't tried most of the newer versions so I won't vouch for them.
That said, it isn't uncomfortable. The coverage is quite high, medium at least, and buildable where you need it. However, do be careful layering it on, for if you layer too much on, there is a possibility that it might look a little flat. Granted, the glow in the finish will balance it out, but that's only if you are comfortable with a very glowy (almost greasy) texture. I personally will use a little powder to tone it down.
However, I can get away without wearing concealer. The coverage is high enough. Not high enough to cover it all, but enough that your skin pretty much looks evened out and almost flawless. However, this does give off quite a strong foundation vibe, like the Shiseido Cushion. So, it isn't the very light finish you may be used to in other brands. This is a foundation, make no mistake!
In these before-after pictures, I'm wearing the Clarins Everlasting Cushion Foundation in shade Beige #107
Coverage is pretty good, if you notice. I received the shade Beige #107 which I wasn't sure if it would be suitable, as it looked dark in the cushion. But on skin, I think it works. There is a noticeable brightening of the complexion and a more even colour over all. Pigmentation appears to be concealed as well (not 100% but comfortably so). I think you might also notice how there is a sheen to the skin. The glow in the product isn't so noticeable in the photo, but in person, it has a tendency to look a little greasy.
Here is after I have put on some powder and some colour.
I applied a little Hourglass Ambient Lighting Powder, did my brows, put on a blush and a bright lip. No eye makeup in this one because it was a weekend and I was lazy LOL! You may notice that the "glow" is tempered. I did not add on any concealer. There was no need.
It isn't thick in terms of coverage and texture. But if you pile it on, it can feel and look that way. I actually applied a fairly thin layer of product over my skin. I do not favour heavy foundations so a light hand is the way to go for me.
Shade selection
There are 5 shades available locally but based on online swatches, it only goes till about medium-deep skin tones and not much further. It looks like cushion foundations are still catered for those with a lighter skin tone. Not unsurprising in Asian brands, but surprising in a Western brand, where diversity in skin tone is more apparent.
Scent
Yes, there is a slight scent that smells like Clarins foundations. It isn't too strong, but it is there and will dissipate. If you're sensitive to fragrance in skin products then be wary.
Do I like this?
I'm on the fence. While the shade was a good match, and the coverage was pretty decent, I am not sold on the tacky texture on my skin. Yes, it is easily solved by using a little powder. But then that adds a little more coverage that I might not otherwise favour. All that said, I will say that this is truly a foundation in compact cushion form, just like the Shiseido from Day 1. So that makes it a very handy, portable way to carry around a base product e.g. when travelling, or if you have to do your face in the middle of the day. Those who prefer a lighter base may find this one too heavy. So really, it will come down to your preferences.
IN A NUTSHELL

Clarins Everlasting Cushion Foundation SPF50 PA+++ is quite impressive for a Western brand cushion foundation. It feels like they put their liquid foundation into a handy cushion compact, and that makes it quite handy for toting around. It will appeal more to those who prefer medium coverage bases, as I find the coverage quite high. I do find that it feels a little tacky and heavy on the skin, the former of which can be solved by dabbing a little powder over. As it settles, it does look very impressive. But I also find that it has a slight settling into my pores. Not too much, but noticeable if you look hard enough. This isn't too bad, as far as cushion foundations go, and among the ones I've tried from the Western brands, one of the more impressive yet.

PROS: Lightweight texture feels featherlight on skin, Evens out skintone very naturally, Low to medium coverage depending on how much you use, Easy to use, Has a semi-matte finish on skin with a glow that is not too shiny, Not drying nor oily, High sunscreen protection, Portable packaging, Comes with a refill which makes it value for money, Colour of sponge puff doesn't make it look so grubby quickly

CONS: Pricey, No extra refills included, Scented, Feels a little tacky on skin

WHO WILL LIKE THIS: Anyone who wants a higher coverage cushion foundation

PRICE: RM160 | US$44 | £31 for the case and refill. No extra refills included.

WHERE TO BUY: Clarins counters and spas, Nordstrom, Adore Beauty (AU), Harrods, Neiman Marcus
If you're interested in what's in there, here's the ingredient list for the Clarins Everlasting Cushion Foundation
Aqua/Water/Eau, Cyclopentasiloxane, Phenyl Trimethicone, Cyclohexasiloxane, Titanium Dioxide, Butylene Glycol, Dipentaerythrityl Hexa C5-9 Acid Esters, Triethylhexanoin, Cetyl Peg/Ppg-10/1 Dimethicone, Glycerin, Phenylbenzimidazole Sulfonic Acid, Dimethicone, Niacinamide, Tromethamine, 1,2-Hexanediol, Sorbitan Sesquioleate, Stearic Acid, Dimethicone/Peg-10/15 Crosspolymer, Nylon-12, Peg-30 Dipolyhydroxystearate, Sodium Chloride, Zinc Stearate, Aluminum Hydroxide, Distearyldimonium Chloride, Parfum/Fra- Grance, Tocopheryl Acetate, Bis-Vinyl Dimethicone/Dimethicone Copolymer, Disteardimonium Hectorite, Triethoxycaprylylsilane , Adenosine, Palmitoyl Proline, Triethoxysilylethyl Polydimethylsiloxyethyl Hexyl Dimethicone, Chenopodium Quinoa Seed Extract, Magnesium Palmitoyl Glutamate, Sodium Palmitoyl Sarcosinate, Ceramide 3, Palmitic Acid, Hydrogenated Lecithin, Lapsana Communis Flower/Leaf/Stem Extract, Dipropylene Glycol, Gly- Cereth-20, Camellia Sinensis Leaf Extract, Peg-10 Rapeseed Sterol, Glyceryl Stearate, Sodium Benzoate, Phenoxyethanol +/- May Contain/Peut Contenir: Mica, Silica, Ci 77891/Titanium Dioxide, Ci 77491/ Ci 77492/Ci 77499/Iron Oxides.
Are you interested in this Clarins Everlasting Cushion Foundation?
I must say that it is definitely handy to have on hand when you don't want to fuss about with liquid foundations. A few pats, and you're done and ready to go. But there is a price to pay for convenience of course because it works out more expensive than using a regular liquid foundation. I guess portability comes at a price! 🙂
Paris B
More cushion foundations can be found in this category.