Day 3 of the Cushion Foundation Week 3! If you missed the earlier featured cushions, find them all here.
This week, the cushions are a mixed bag, featuring a Japanese brand, a couple of Western brands, and featuring some Korean brands too. The categories will be kept as per previous posts, so you can refer back to them all and it'll look fairly familiar. The difference will be in the products featured. Also, I will do a round up at the end of the week, just to give closure to this week.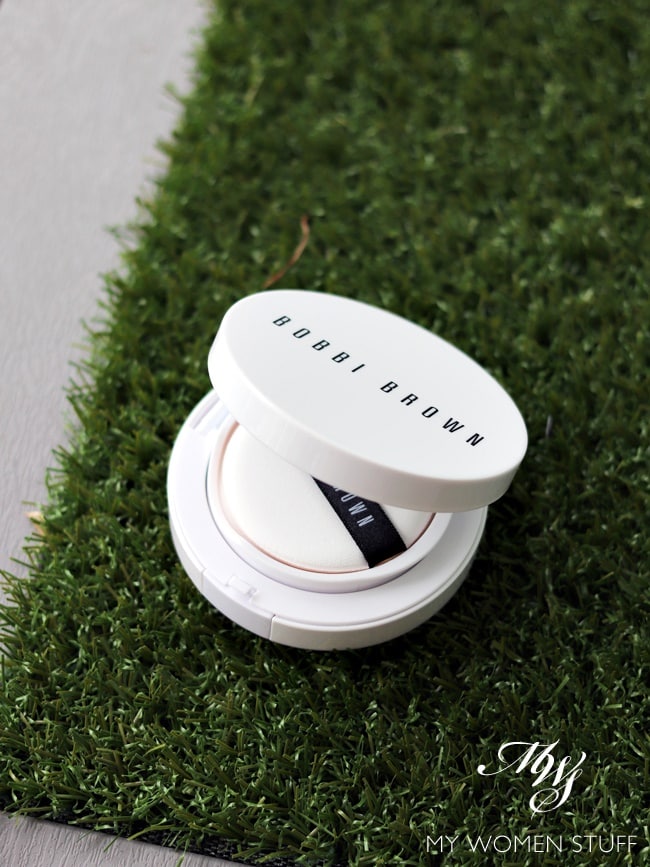 Cushion Foundation Week 3 Day 3 brings a sense of deja vu. Did I not already feature the Bobbi Brown Skin Foundation Cushion Compact prior to this? Yes I did. If you remember, the packaging is a sleek black case. This time, Bobbi Brown has released something different as part of their Extra Glow collection, in a sleek white case.
This is the Bobbi Brown Skin Radiant Glow Cushion Compact SPF50 that comes in just 1 shade – Rosy Glow. The purpose of this rosy-pink tinted product is to diffuse harsh light, and infuse complexion with a youthful, soft luminosity – why don't you decide if it does 😛
Cushion Foundation: Bobbi Brown Skin Radiant Glow Cushion Compact SPF50
This one technically isn't a cushion foundation. Bobbi Brown doesn't market it that way, and that is a good thing. However, they are also fairly vague about what this really is, which complicates matters.
The Bobbi Brown Skin Radiant Glow Cushion Compact is to me, rather like a CC base, targeted at colour and complexion correcting, not exactly at adding any colour to the skin. It comes in only 1 shade – Rosy Glow, a pink tint cream. From what I can tell, this appears to be sold only in the Asian market for now.
Usually, pink tinted creams are targeted at brightening the complexion and helping it look more radiant. This helps those with a sallow skin tone, as it makes your skin look a little brighter. However, I'd personally go for the Bobbi Brown Illuminating Moisture Balm in Pink Glow for this purpose. That one is easier to understand, does everything it says on the box, and feels more comfortable on skin.
I find this one a little tacky, and the single shade isn't suitable for everyone. If your skin is too deep, it may look ashy going on. If your skin tone is too warm, it may look too odd, having a pinkish tone on your face, and a warm tone elsewhere. Above all, I feel this to be most unnecessary. If I needed a colour corrector, Bobbi Brown makes a CC Cream that already serves this purpose. ml for ml, it makes better sense using one of the liquid products than to use this cushion.
Sunscreen protection : SPF50 PA+++
The SPF 50 rating is a plus of course, if you use a cushion foundation in place of sunscreen (and you should not!), but if you are truly the lazy sort, then I suppose this is better than nothing.
Packaging & Refills
The Bobbi Brown Skin Radiant Glow Cushion Compact comes with one case and one refill, each are sold separately. Unlike Korean brands, you do not get a spare refill, which I feel reduces the value somewhat.
The case is different from other brands of cushion compacts, in that Bobbi Brown uses a coffee pod style of compact.
The cover of the cushion is attached to the main case, while the product is in a pod, rather like a Nespresso coffee pod. You pop in the capsule when you are done and each capsule comes sealed.
The Cushion
The cushion is different from the norm, in that it does not come saturated. This is similar to what Bobbi Brown did for their cushion foundation. Instead, the sponge sits on a well of product, with only the slightest amount of product peeking through. It will saturate, as you use it, but you will have to press on the cushion to get the product onto your sponge. This, they say is to prevent it drying out more quickly (which is a common lament amongst cushion foundation users) and maybe it works. But it still looks a little odd.
The Sponge Puff
The sponge puff is a good, dense sponge, that picks up product easily and applies it easily on skin as well.
TO USE: Slip your fingers through the loop (it only accommodates 3 fingers for me so I find it a little small), dab the sponge on the surface of the cushion (you can see this is just 1 dab) and then dab it on your skin, in a press and roll motion. Press on skin, and roll it off. It helps the product adhere better to your skin.
Texture, Coverage & Finish
The texture is fairly light, and the pink tint will go on your skin leaving it very bright. It will settle in a little, but if I find it a little too bright (I wear quite light foundations generally), I can't imagine how others will find it. This one is definitely more tailored for those with a light-fair skintone, and maybe even targeted primarily at customers in China, Japan and Korea, the latter of which I've learnt took very well to the BB Cushion Foundation.
In these before-after pictures, I'm wearing the Bobbi Brown Skin Radiant Glow Cushion Compact in shade Rosy Glow.
On left is me in my sick, bare skinned glory. On right, is with a layer of the Bobbi Brown Skin Radiant Glow Cushion Compact in Rosy Glow. You may notice that it has noticeably brightened my skin tone, but offers little to no coverage. However, the sallow and dull parts of my skin, especially around my eyes look a little brighter.
I then applied a layer of the Bobbi Brown Skin Foundation Cushion Compact in Porcelain over Rosy Glow.
There is a little more coverage, and a more natural tint to my skin (not so pink) I guess it works. I just cannot see the point of it, because it is more finicky to use the cushion than it will be to use an illuminating primer or colour correcting cream all over.
Shade selection
There is just 1 shade – Rosy Glow. I'm not sure if they'll be releasing others in this range. Perhaps they might, like they did with the Illuminating Moisture Balm. That said, my observation is that this appears to be available only in Asian markets for now, so I'm not sure about availability elsewhere.
Scent
Yes, there is a slight scent but it isn't too strong, and will dissipate. If you're sensitive to fragrance in skin products then be wary.
Do I like this?
I'm not sure what this is. Granted, it isn't a cushion foundation, so maybe it didn't have a place in this week's round up. If you are of a fair skin tone, and have sallowness then maybe this will help infuse your complexion with some radiance. I wouldn't use it on its own however. You can use it under your foundation, or as Bobbi Brown suggests, over foundation, perhaps to add a little glow where you might want it. For me, I find it too finicky and too hard to get my head around why I'd need this.
IN A NUTSHELL

The Bobbi Brown Skin Radiant Glow Cushion Compact SPF50 in Rosy Glow is less of a cushion foundation, and more of a cushion colour corrector. It comes in only 1 shade, Rosy Glow, a pink tinted cream. It adds radiance to skin complexion and brightens up the skin. The compact is totally different from regular cushion foundations, in that the refill is a capsule that you pop into the case. You cannot buy the refill without a case, as there is no cover. Sneaky! If you think of this as a colour corrector, it does serve its purpose to add some radiance to your skin tone. But otherwise, it is a rather confusing product.

PROS: Pink tint adds radiance to sallow skin tones, Brightens skin complexion, Not heavy on skin

CONS: Pricey, No extra refills included, Little coverage, Refills do not come with a cover, Texture is heavier than most cushion products

WHO WILL LIKE THIS: Anyone who wants a convenient colour correcter in a compact form

PRICE: RM190 for the case and refill. Case is RM40, refills are RM150 each sold separately

WHERE TO BUY: Bobbi Brown counters and stores – Does not appear to be available outside of Asia at time of writing
I don't have the ingredient list for this right now, but will update if I get hold of it in future.
Does this Bobbi Brown Skin Radiant Glow Cushion Compact intrigue you?
It took me a while to get my head around it. Once I accepted that it was not a foundation, I was fine with it as a product that adds radiance to your skin. But really, for the price and the value, I'd just get the Extra Illuminating Moisture Balm in Pink Glow. That one has WINNER! written all over it!
Paris B
More cushion foundations can be found in this category.