I'm going to preface this by saying that I'm not sure if/when the L'Oreal Pure Clay Cleansers are/will be available here in Malaysia. I was told they've been sighted at KLIA, but I could be mistaken. So, if you know, let us all know!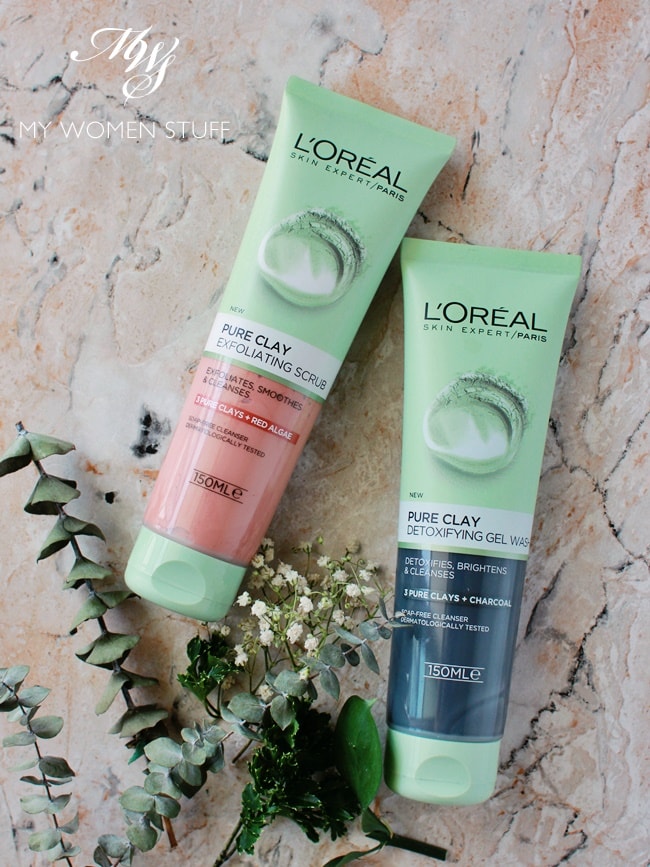 I got these through a friend in Australia, where these, as well as the popular L'Oreal Pure Clay masks are sold. I'll talk about the masks another day. I just wanted to share my thoughts on the cleansers, because I'd never used a clay cleanser before, and because I thought they were pretty decent for the price! Provided of course, your skin can tolerate them 🙂
L'Oreal Pure Clay Detoxifying Gel Wash
This Pure Clay Detoxifying Gel Wash, I found intriguing, because it was black. This claims to detoxify, brighten and cleanse your skin, which is pretty much de rigeur for most facial cleansers. I find the texture of this one a little runny, so when you try to squeeze it out of the tube, you actually end up with a lot of it. You only really need very little each time.
When you add some water, it turns a dark gray, but doesn't froth up the way most foaming cleansers will. I was a little hesitant to try this the first time I got it, because I was afraid it would be too drying. I have normal-dry skin, and I have not used a foaming cleanser in a long time, and I only use clay masks sparingly. So, I was worried this might be a marriage of both, and therefore dry my skin out terribly.
I was therefore surprised to note that it was not too drying. After rinsing off, my skin does feel smoother and it does look a tad brighter (all clean skin does – don't be fooled). It doesn't feel tight and dry immediately, although it will if you leave it too long before going on with the rest of your skincare.
I think if you have oilier skin, then this might appeal better to you, because it does seem to really clean your skin. I feel like all my pores have been given a thorough wash LOL! 😀 It's decent and kind of fun. You can leave it on a little while in the shower as well, for a quick mask, before rinsing off.
What I don't like however, is the scent. It is perfumed, and I dislike it a lot. I feel this to be a runnier version of the mask, and to be honest, I can't quite tell the difference, except the mask will dry on your skin and this won't. But otherwise, this is decent. Not something I use daily (maybe once every fortnight) but pretty decent nonetheless.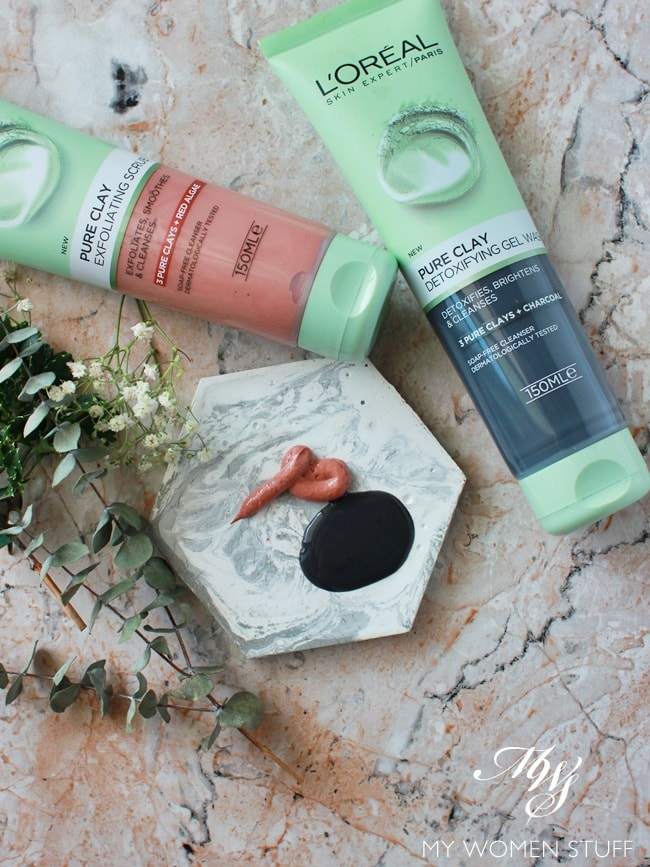 L'Oreal Pure Clay Exfoliating Scrub
This is the red one, and it is less of a cleanser and more of a physical scrub. Like foaming cleansers, I have not used physical scrubs in a long long time, preferring to use a chemical exfoliator. However, I got this out of interest, just to see what it was like.
Again, it isn't bad. It is thicker than the Detoxifying Cleanser, as you can see in the picture above. It contains rather fine grains that exfoliate your skin as you massage it over your face, and while I did not find it very abrasive, I suggest that you use a gentle approach.
Again also, I found that this was not too drying on my skin, and it did leave my skin feeling quite smooth and clean. It does not lather up and rinses off easily. Similarly, you can leave it on a little while in the shower as a quick mask, before washing off. And again, I find it to be rather similar to the mask in the same category.
As a facial scrub goes, I think this to be decent if you enjoy using facial scrubs, want something affordable and not too abrasive.
IN A NUTSHELL

The L'Oreal Pure Clay Detoxifying Gel Wash and Exfoliating Scrub are part of the Pure Clay range of products that contain clay. I was not sure what to expect, but I found that the cleansers did not dry my skin out, and that the scrub was not too abrasive. I however don't think they should be used daily unless you have very oily skin. The Exfoliating Scrub is a weekly thing not daily. They also work best in the shower, as it can be messy. Decent for the price, and great for those on a budget. I looked online and I find the name of the product can differ from country to country. How odd!

PROS: Affordable, Leaves skin feeling clean and smooth, Not too drying even for dry skin like mine (don't use too often)

CONS: Not yet available locally, Can be drying if you don't use hydrating products, Can be messy, Fragranced

WHO WILL LIKE THIS: Anyone who has oilier skin, Anyone who wants a decent budget facial cleanser and scrub

PRICE: AU$14.99 | US$6.99 | £5.99 – Often goes on sale

WHERE TO BUY: Pharmacies in Australia, UK, USA e.g. Walgreens, Ulta, Priceline, Boots
For those interested, here are the ingredient lists for the Pure Clay Exfoliating Scrub and the Detoxifying Gel Wash.
Have you tried these L'Oreal Pure Clay cleansers? Do they interest you?
I do use them, but not often as they can be stripping otherwise. For me, I do find them less stripping than most foaming cleansers. I think it's because the foaming ingredient is less. It's not bad, so take heart. There are affordable and decent budget face cleansers to be had! 😉
Paris B