I came across mention of a "splash mask" online not very long ago. Someone I knew swore by how wonderful it was. When I checked recently, said someone was onto another skincare trend. So I don't know really! Korean skincare routines have thrown up many different routines and products that do not necessarily work for me, so I have tended to not pay a lot of attention.
But one day, when I was browsing Sephora, I made an odd Sephora purchase – the Blithe Patting Water Pack, or Blithe Splash Mask, whichever you want to call it. The former is the formal name. The latter is what everyone calls it.
The reason I picked is up is purely due to curiosity. It was a pretty expensive purchase on a whim, but I was curious. How does it work and do you really just literally splash it on?!
There are 3 different types, I believe, but I bought the Blithe Splash Mask – Energy Yellow Citrus & Honey version, which is supposed to be for toning up and revitalizing the skin. Goodness knows, I could do with some of that! But how did I fare with it?
First, let's figure out what exactly is a Blithe Splash mask. Blithe is the brand of course. I think they popularized it. Or maybe not. I'm not sure 😛 A "Splash Mask" is a product that you quite literally, splash onto your face, and it promises to give you the benefits of doing a mask. Except it takes you 15 seconds or so instead of 15 minutes.
Now, you tell me that that does not intrigue you!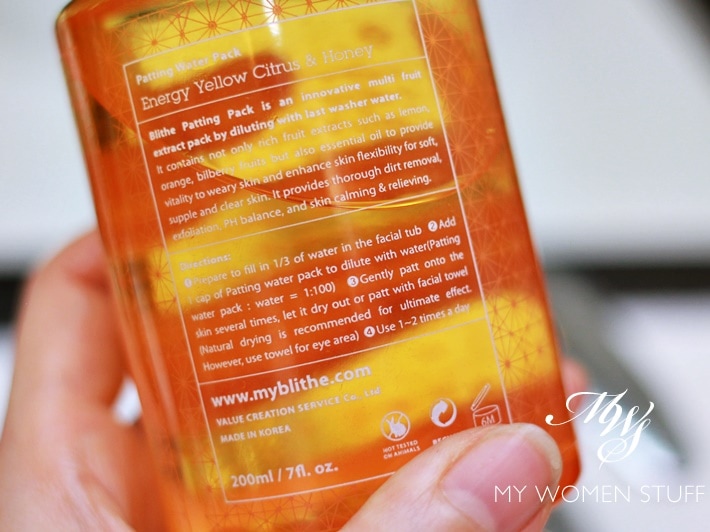 The directions however, had me wanting to put this down almost immediately. It calls for you to dilute the product in a sink (or bowl) of water. Then, splash and pat this dilution onto your skin until you've used up the water (about 30-60 seconds), then pat dry.
You must be kidding me.
I knew I'd have no patience for this in the morning, and I did not want to wet my whole bathroom with all the splashing. So, as I wash my face in the shower, I opted to try this in the shower. I used a basin of water at first. But you know what? It's quite a hassle.
Eventually, I looked up options online, and I found that you can pour about half a capful into your palm, splash (pat) it against your skin, and then continue to splash (pat) water for about a minute. This was doable for me.
This Blithe Splash Mask promises to revitalize skin, and to give you glowing skin like that post-facial, except it takes you seconds in the shower. It is also supposed to contain lactic acid (which I have found beneficial in my skincare) which is a milder form of chemical exfoliant, to reveal smoother, brighter skin and soften lines.
Truth to tell, I could not see any results using this product.
The only thing I really noticed, was that after I used this, it would leave a residue on my skin, that I wasn't much a fan of. I used this after double cleansing, and while it does not make my skin feel dry, it did not noticeably plump it up, nor make it look any better than it does post-cleanse.
The only thing I could say for sure, is that my skin felt a little bit hydrated, and smooth. Not hydrated enough for me to skip my skincare routine, but hydrated enough so I could get out of the shower, change and dry my hair before putting on my skincare.
I personally saw no benefits in using this product at all. It is messy and unnecessarily complicated, I feel. When I pour the product into my palm, getting it onto your face is a whole different matter altogether. About 70% of the product runs down my arms, and maybe 10% gets on my face, as I quickly pat it. Then, it's gone.
Are you supposed to hold it in one palm, while you pat with your free hand? Or do you cup your hands and "splash" it on your face? Because the original directions call for it to be diluted, when I use it neat, I live in fear of it burning my face off and have no intention to stand there patting it in. I want it on my face, and then rinsed with water as quickly as I can. I actually find it quite stressful LOL! 😀
The bottle comes with a stopper, that makes it portable. However, I threw mine away eventually, because it's really hard to fiddle around with this in the shower or with wet hands. Perhaps, if you follow the instructions and wash your face at your sink, you'd face less of an issue with it.
As a fan of cream masks, I find its claims of delivering the same results as a mask inaccurate. I see better results from using a 15 minute cream mask (or even sheet mask) than using this Blithe Splash Mask. What purpose I do think it might serve, is if you are a fan of the 7-skin technique, or want to try it. This is basically the Korean 7-skin technique in a bottle. It is light enough that you can layer it, and it isn't thick so it doesn't leave you feeling uncomfortable. I'm not personally a fan of either, so I'll skip this.
That said however, there are lots of people who love it, so it is a case of woman's trash is another woman's treasure. I don't know. I can't seem to be able to get behind these gimmicky skincare and techniques! 😛
IN A NUTSHELL

The Blithe Patting Water Pack or Blithe Splash Mask is a liquid product that you dilute in water and splash-pat onto your skin repeatedly. You can also use about half a capful neat, patted onto your skin, followed by lots of water. I personally saw no change in my skin, nor did I derive any benefits. It just felt unnecessarily complicated and gimmicky for me. I also did not enjoy the residue on my skin. Not something I'd buy again in a hurry.

PROS: Not drying

CONS: Complicated, Messy, The stopper is tight and hard to remove with wet hands, Packaging needs improvement e.g. a stopper with a hole, No discernible results for me, Pricey

WHO WILL LIKE THIS: Anyone who is a fan of the Korean 7-skin technique

PRICE: RM159 | US$45 for 200ml

WHERE TO BUY: Sephora stores and online, Selfridges, Cult Beauty
For those interested, this is the ingredient list for the Blithe Splash Mask Energy Yellow Citrus & Honey:
Water, Lactic Acid, Vaccinium Myrtillus Fruit Extract, Saccharum Officinarum (Sugar Cane) Extract, Citrus Aurantium Dulcis (Orange) Fruit Extract, Citrus Limon (Lemon) Fruit Extract, Acer Saccharum (Sugar Maple) Extract, Panthenol, PPG-26-Buteth-26, PEG-40 Hydrogenated castor oil, 1,2-Hexanediol, Sodium Lactate, Camellia Sinensis Leaf Extract, Gardenia Florida Fruit Extract, Lavandula Angustifolia (Lavender) Oil, Carthamus Tinctorius (Safflower) Flower Extract, Dextrin, Melaleuca Alternifolia (Tea Tree) Leaf Oil, Salicylic Acid.
I have since read that you can pour a little product onto a cotton pad, and apply to your skin as you would a toner, without having to rinse off. That makes a lot more sense to me, except I then wonder about it being likened to a mask, and I question the actual need to dilute as per its directions. I'd personally liken this product more to a hydrating acid toner, than a mask. I feel the mask element is a little misleading because it doesn't quite deliver an instant result as a mask will. Personally, if I wanted to do a mask, I'd just do a mask. A sheet mask does not take very long. Short-cuts are never worth your while.
Have you tried this Blithe Splash Mask or any splash mask?
Am I using this wrongly? Do you want to convince me I need to give this another chance? (I gave it about 5 months before I felt confident enough to write this LOL! 😀 ) Or maybe you have a technique to share?
Paris B