This post is written in collaboration with and kindly sponsored by Caliata.com
About a month ago, I introduced you to Caliata.com, an online beauty store based in Malaysia. What made Caliata stand out from other websites I've come across, was their brand selection (and the fact that their founder is very passionate about skincare and beauty herself). As I scanned the range of brands and products they carried, I found my excitement mounting. Here, finally, was a local online store that carried beauty, especially skincare, brands and products I like or have been curious about, but could only get online from overseas!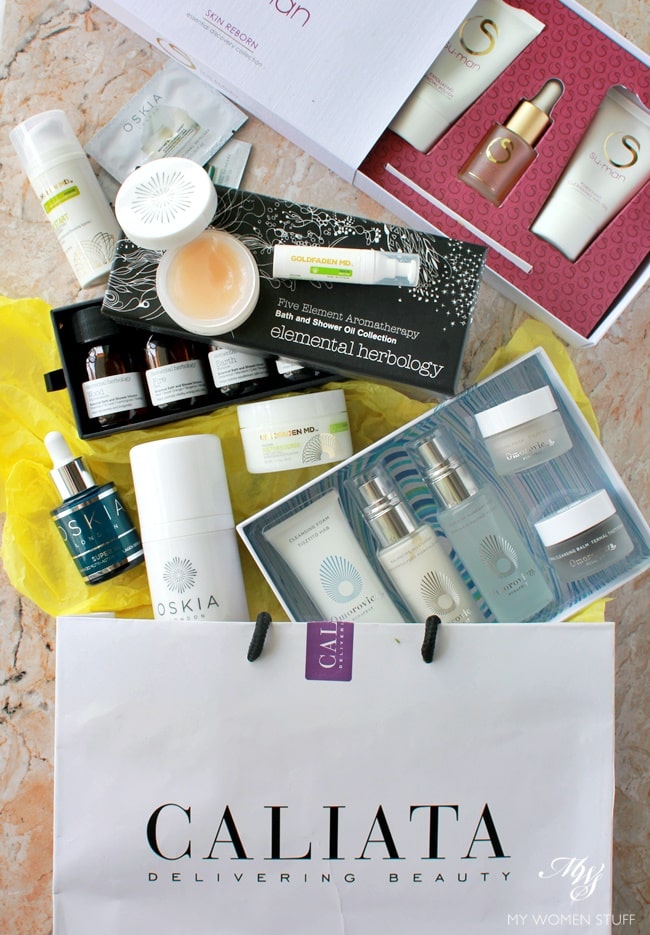 As a beauty and skincare buff, I'd tried, or am familiar with most of the brands carried by Caliata. They are primarily niche or cult brands, that aren't necessarily easily available on mainstream websites, or stores. For some of them, if you haven't been keeping your finger on the cult skincare pulse, you may not be familiar with the products or brands at all. So, I thought I'd share with you a sampling of 5 of these niche and cult skincare brands that stand out on Caliata. If you have tried any of them, I'd love to hear your thoughts too, because I may have sampled, but not tried them all! 🙂
Oskia Skincare
Oskia skincare hails from London, and has intrigued me for a while because it keeps popping up in the recommendations of well-respected bloggers. Oskia is a fairly new brand, launched only in 2009, but already cementing itself quite firmly in the skincare routines of many. Their focus is on nutritional skincare, using vitamins, minerals, proteins & omegas to improve cellular activity and efficiency. The result therefore is beautifully healthy & glowing complexion, which is what we all want really, don't we? 🙂
Think of Oskia then, as that nutritional supplement that you pop in the morning, except it's meant for your skin. Their key ingredient that makes them special is the use of MSM (Methyl Sulphonyl Methane) which is a natural form of sulphur compound that is found in every living thing. Traditionally used to improve the flexibility of joints, it also helps to build collagen (which helps you get firmer skin) among a host of other benefits. Naturally therefore, Oskia is a brand I've been keeping my eye on.
The first product I tried is the famed Oskia Renaissance Cleansing Gel (RM195/100ml). While I am in the minority as I don't love it unconditionally, I do enjoy using it, and am almost through with my bottle. I just like that it takes off light makeup easily so I can do a one-step in the shower on lazy nights, and I use a face flannel anyway, so the residue does not bother me as much.
I recently also tested a sample of the Oskia Renaissance Mask (RM365/50ml), and that one I love from just 2 uses! It perks my skin up the next morning after use, and smells of Turkish Delight LOL! I like how it feels on my skin, and how my skin looks rested, and even toned, almost even brighter. It is supposed to help exfoliate your skin as well, but it isn't abrasive. Just very very lovely to use. I'm hoarding my sample till I'm done, and then I'll pick up the full sized tub 🙂
I'm waiting for the Oskia Perfect Cleanser (RM215/125ml) to arrive in the mail, and I'm keen to have a go at the Oskia Super 16 : Anti-Aging Super Serum and the Restoration Oil. Oskia is a brand I am very curious about, and one I'm very happy to see is available for purchase locally. Oskia is currently available exclusively at Caliata in South East Asia, and one I'm definitely going to be trying more from.
Su-Man Skincare
I'd come across Su-Man Skincare over the years, almost as long as I've been blogging! Su-Man is a reknowned facialist who went on to create her own skincare brand. I wasn't too familiar with her skincare until the opportunity arose to sample it recently, but I'd always come across huge raves for her facial skills, which are legendary in skincare circles. Su-Man hails from Taiwan, although she is based in London, and combines her Eastern heritage with Western skincare philosophies. I'd not yet tried most of her skincare, but I have since sampled some of them in the Su-Man Essential Discovery Collection (RM285).
The Velvet Skin Brightening Serum was the product from the sample pack that stood out for me. It comes as a clear pink gel in the bottle, that you must shake up to mix until it turns opaque. I cannot attest to its skin brightening properties, but what I can tell you is that this product makes an AMAZING primer! I don't usually use a primer, but I noticed when I tested this serum, that it gives your skin a lovely velvety texture, but contains no silicones. When I wear my makeup over this, it stays put beautifully. I wasn't too big a fan of either the Purifying Cleansing Gel Oil or the Exfoliating Facial Polish due to the scent and texture that did not sit well with me, but I hear the Facial Glow Rejuvenating Mask is a winner. Su-Man Skincare is also currently exclusive to Caliata.
Omorovicza Skincare
Omorovicza skincare hails from Budapest, Hungary, and is a luxury brand that is primarily found in high-end spas. Locally, it is currently found only at Caliata. It uses the mineral rich thermal waters of Budapest in their products, which are targeted at more mature skin types. Thermal water baths are rich in minerals, and are known to have curative properties and these baths and spas in Hungary are traditionally visited for healing.
Being a luxury brand, the products are on the pricey side, so I always appreciate that there is a discovery kit to try the different products within a range, to see if you might enjoy it. The Omorovicza Discovery Kit (limited edition) (RM440) comes with their signature Queen of Hungary Mist and Thermal Cleansing Balm, along with the Deep Cleansing Mask, Cleansing Foam and Balancing Moisturiser.
I have used both the Queen of Hungary Mist and Thermal Cleansing Balm before this. The Queen of Hungary Mist in particular, comes very highly raved. I love the luxurious glass bottle, the lovely fine mist, and how the water does seem to almost perceptibly soften my skin. However, I am not as keen on the scent. The Thermal Cleansing Balm isn't my favourite, but that's the good thing about getting a sample size – you get to figure it out for yourself it you'd like it before spluging on a full sized tub as I did before LOL! I've tested the Balancing Moisturiser for a few nights, just to sample it, and I do rather like it. It leaves my skin feeling soft and lovely so that is one I'd probably pay a little more attention to.
Omorovicza is a brand that emphasizes on anti-aging skincare, so I'd say targets more matured skin. It might explain why their products feel rather heavier on the skin. For my drier skin, it feels lovely, but I can imagine that it might feel too heavy for oilier skins. Still, this is a brand I'm happy to have local access to because it is expensive, and takes more than a little leap of faith to trust to the post! 😛
Elemental Herbology
Elemental Herbology is a brand I have come across often. It is a natural skincare brand using extracts from plants that hails from the UK. What makes this brand interesting to me, is their brand philosophy, which is based on the equilibrium of the five elements, as practiced in Traditional Chinese Medicine (TCM). Like Oskia, Elemantal Herbology is a lifestyle brand, that seeks to not only address your skincare concerns, but to also help you achieve some sort of equilibrium in your lifestyle – your food, environment etc. They seek to enhance your skin from an inside-out approach, and approaches skincare from the Five Elements – wood, fire, metal, earth, and water.
What interests me most from this brand are its serums, because I tend to zero straight in to serums when looking at a new brand. The Bio-Cellular Matrix Serum (RM265/50ml) and the Cell Nourish Serum (RM265/50ml) in particular catch my eye. But what also caught my eye is the fact that Elemental Herbology also does bath and body care products!
If there is one category of beauty I love, it is bath and body. My weakness is always for body washes and body oils, and Elemental Herbology carries body washes, and more interestingly, shower oils! Oh glory be! I am a sucker for shower oils! Currently, it is carried as a gift set on Caliata, but I hope to see the full sizes there one day because we don't get enough shower oils locally! They smell lovely, with the earthy, natural scent of botanicals, and does channel an earthy, natural TCM vibe. Bath products are notoriously expensive to buy online due to the weight, so a local shipping option is always welcome.
Goldfaden MD
Goldfaden MD is a brand that like Elemental Herbology, I have come across often on many blogs I follow. As the name implies, this is a brand created by a doctor, Dr. Goldfaden who is a practising dermatologist. The products are designed to deliver effective, physician strength results, in your home, without harsh ingredients.
As I'm not familiar with the brand, as perhaps is true of many of you as well, the Radiant Skin Renewal Starter Kit (RM335) would be the best place to start, I suppose. It contains a sample size of the Doctor's Scrub, which is a physical exfoliating scrub that can feel a little abrasive, so I'd advise a light hand and gentle approach. It does leave skin feeling lovely, smooth and soft.
It also contains a sample size of the Pure Start Detoxifying Cleanser (RM159/150ml), which is a gel cleanser that is not drying on skin at all, and one that I could see myself using in a full sized bottle. This one is lovely, at first impressions. The third sample sized item in the trial kit is the Vital Boost moisturiser (RM310/50ml), which targets uneven skin tone and offers a chance to brighten the skin. It does feel comfortable and hydrating on my skin, again, just based on first impressions. I cannot attest to any brightening, because that takes time, but early impressions are promising. Goldfaden MD too is exclusively carried in Malaysia by Caliata.
SPECIAL OFFER

If you are interested to try any products from the 5 brands featured here, Caliata is offering a generous 20% discount with the code MWS20 valid until 10 December 2017. Offer is valid on caliata.com. I am not affiliated, and do not get any commission from your using this promotional code.
Are you intrigued by any of the featured brands or have you tried any of them and have a recommendation?
If you have tried a product, or have a recommendation, do share! I am always curious about trying new products or new brands and I am always open to suggestions 🙂
Paris B