I pride myself on being all adult and rational, and not falling for rainbows and glitter and only just went and did just that! For some reason, when I first came across Leahlani Skincare on Instagram (where all lemmings are born), I was drawn to it. Was it the pretty pastel packaging? Or perhaps the quirky names of products like "Siren Serum" or "Mermaid Mask"? Or perhaps the lovely, relaxed vibe the brand gave off. I could almost feel the warm, balmy Hawaiian breeze against my skin.
But I ran into a snag. It was very expensive to have it shipped to me here in Malaysia from Hawaii. So I heaved a regretful sigh, and resigned myself to admiring it from afar. Until one day, the brand popped up on one of my favourite etailers, and I hauled!
One of the first items I added to my cart was the famed Leahlani Mermaid Mask. Like unicorns, mermaids were enjoying their day in the sun for a spell, but it seems more shortlived. Unicorns are still going strong aren't they? 😛
Leahlani Skincare is a natural skincare brand, with a holistic slant. The owner, Leah, wanted to create a skincare range that was not only good for the skin, but that people would enjoy using. Each item in the Leahlani Skincare range is a sensorial delight. The colours are different from what you'd see in most skincare, ranging from deep green in the Mermaid Mask, to the warm pink of the Bless Balm, and to the golden champagne liquid of Siren Serum. The glass packaging is luxurious and the scents are intoxicating, soothing and delicious. This is a brand I am definitely looking to delve further into, but I'll kick off with the Leahlani Mermaid Mask.
The Leahlani Mermaid Mask is truly a cult product. So cult that I have not really seen it outside of most skincare-centric blogs or Instagram accounts. It is out there, yet not out there. A bit of an open secret.
What it is, is what Leahlani says is a "superfood for your skin" that feeds your skin to reveal a radiant and vibrant complexion, as it purifies and renews your skin. The deep green colour comes from organic chlorella and spirulina, 2 ingredients you rarely hear outside of healthfood stores or green juices. But like a green juice, these superfood ingredients feed your skin.
What it is supposed to do is to purify and renew the skin by boosting circulation, fight breakouts, and boost skin moisture. What really seals the deal for me, isn't the strange pond-scum green, nor the idea of slathering superfoods on your skin. It was the honey.
The primary component of the Leahlani Mermaid Mask is raw honey, and I personally swear by honey for all the benefits that this mask claims to have. Honey is well documented to be a natural antiseptic, and has antibacterial properties, as well as boosting moisture. Thus far, my experience with honey in skincare has been from Manuka Honey, which I ingest as well as apply to my skin. So, that was what interested me most about the Leahlani Mermaid Mask.
Here's a very important point to note.

When you first receive your Leahlani Mermaid Mask, you will notice a dry crusty layer, and crumbly texture to the product. What you need to do is to take a clean spatula or teaspoon (if you don't have a spatula), plunge it deep down into the jar till it hits the bottom, and then stir. It will feel thick and it will be hard to move, but persist. Stir it like you're one of MacBeth's witches LOL! 😛 Very quickly, you will notice how the product will combine, and turn into a thick, viscous, texture, that looks shiny. When you no longer see lumps, stop. Your Leahlani Mermaid Mask is now ready to be used. This texture will remain, and it will not return to its dry, crumbly texture again.
You can see my jar above. It has been a while, but it retains its semi-liquid texture. If you don't use it for a while, you may notice that the top layer will harden a little. But it's fine. Just scoop it up with a spatula or your clean fingers, and spread it on your skin. The bottom layer will be easier to spread.
I do find that when you first remove the product from the jar, it is quite thick and hard to spread on the skin. But the warmth of your skin will help it melt and soften a little, and then it is easier to handle. Leahlani suggests that you warm it up a little between your fingers before applying to the skin. I sometimes apply it onto damp skin.
When you spread it on your skin, it will look like that swatch on your left. It looks thick, with a slightly glossy sheen from the honey, and what I'd call pond-scum green LOL! I'm not very romantic. To me, it isn't emerald. More like verdigris 😛
But what's interesting is after you've left it on your skin for a little while, it looks like the swatch on your right above. It seems to almost dry up (without really drying up) and dissolve against your skin.
You can leave it on for 5-15 minutes as Leahlani recommends, but I have left it on for up to an hour. After an hour, a lot of the product seems to have gone. I'm not sure where it goes to though. It does smell quite sweet, with a natural honey scent, and almost seems to be edible.
As I've noted, the product will warm up on contact with your skin. So, be prepared for it to slip. For this reason, I do not recommend using too much product. A thin layer is sufficient, there's no real need to pack it on thick, so you resemble Aquaman. Just a thin layer will do, because it can otherwise be wasted.
Do note as well, that if it does slip, it a) tastes pretty good, sweet like the honey that it is and b) it can sting your eyes something awful! 😛
It does not dry or harden on the skin, and it rinses off quite easily. I notice that when you start rinsing it from your skin (it will make a mess of your bathroom sink so I suggest you do this just before you shower) there is a slight grainy feel, that almost feels like an exfoliation of your skin. I believe that it is this, that leads to the smooth feel of your skin after washing off the product.
I do notice an almost immediate brightening of the skin (which I attribute to exfoliation and a general cleansing, nothing magical) and a boost to moisture. Skin feels softer, smooth and with a general moisture boost.
But as much as I enjoy using this, and the fun factor I derive, I hesitate to call this one magical, or to be head over heels for it, as many are. It is a good product, I do not deny. But I'd go back to my Antipodes Aura Manuka Honey mask, if I were forced to choose between the two. The reason being that I feel this Leahlani Mermaid Mask, with its exfoliating properties, less suitable to be used daily (if I wanted), too messy to use and less portable. The Leahlani Mermaid Mask is one you'd use at home, maybe once or twice a week. It is fun. Being organic and natural, you'd want to use it up in a short time so it does not go bad. The Antipodes Aura mask is one you'd be able to use daily if you wanted, as it does not exfoliate, it is portable and treats spots (which I don't notice with the Leahlani Mermaid Mask) and you can leave it on overnight if you'd like without creating an unholy mess.
I hesitate to say I'd repurchase the Leahlani Mermaid Mask for these reasons. It's a fun product, and one I'd use up. It does what it's supposed to – brighten, add moisture and soften skin. But I'm not sold down the river, I'm afraid. Maybe it just feels a little too gimmicky for me right now, albeit an effective, fun, gimmick.
IN A NUTSHELL

The Leahlani Mermaid Mask is a mask with a raw honey base, blended with spirulina and chlorella as its primary ingredients. If you are sensitive to marine products, you may want to be a little careful as it also contains algae. This gives it its distinctive deep green colour. When you first receive it, be sure to use a spatula or spoon and mix it up properly, so it turns into a thick, goopy liquid texture. Do not apply too much to the skin, as the warmth of the skin can cause the product to slip. It does taste quite good, but it can sting the eyes. It does not harden on the skin, but after 15-40 minutes, you can rinse it off quite easily. I find it to quite gently exfoliate the skin, as I feel little grains under my fingertips. It does almost immediately brighten the skin, and leaves it feeling soft, smooth and with a boost of moisture. Due to its exfoliating texture, I do not use it more than twice a week. It is a fun product, that does what it says on the tin. But after the rainbows and glitter blow away, I do feel like it can be a little more trouble than it's worth, for quite basic results.

PROS: Fun to use, Skin looks immediately brighter after use, Skin feels softer and more plumped with moisture after use, Does not dry the skin, Fun to use

CONS: Not portable, Can be hard to spread on skin initially, If you use too much, it can slip into your eyes and sting, Messy

WHO WILL LIKE THIS: Anyone who wants a fun, effective mask, Anyone who uses natural and organic skincare and wants something a little different

PRICE: US$32 | RM175 | £34.00 for 50ml

WHERE TO BUY: Leahlani Skincare, Cult Beauty (International), Caliata (MY)
Here is the ingredient list for the Leahlani Mermaid Mask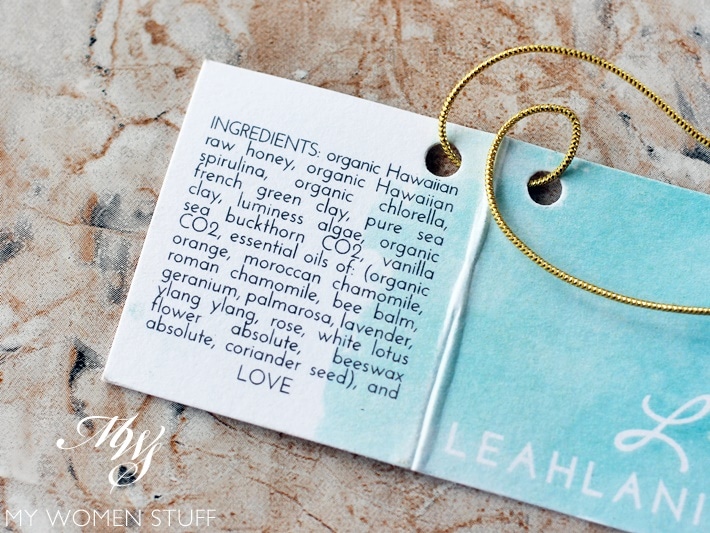 A point of note about where to buy. I bought mine from Cult Beauty. I later met with Caliata and found out that they were going to bring in the brand. For those of us in Malaysia, Caliata now carries Leahlani Skincare. Due to the nature of the ingredients used in this brand (natural) I'd prefer to purchase this locally. I am unaffiliated with Caliata for this, but I say so because this brand comes from Hawaii, and it is shipped here directly, and then onto the customer. By contrast, purchasing from Cult Beauty means that it is first shipped from Hawaii to London, and then onto the customer here. Carbon footprint aside, I have a real concern about natural products degrading in transit from heat or motion. I have less of a concern with synthetic ingredients. For this reason, and this reason only, I'd buy my Leahlani skincare locally 🙂
Have you tried this cult favourite Leahlani Mermaid Mask?
I know lots of people are very taken by it. I was one of them who got suckered in thanks to the hype. I'm happy to report that the hype is real. I'm just a little more real too LOL! 😉
Paris B