Jo Malone fans, I think you'd be adding their Christmas edition fragrance, Green Almond & Redcurrant, to your collection. Not because you love the scent (which you may) but because of the packaging! Jo Malone has set themselves a Crazy, Colourful Christmas theme, and the bottle of Green Almond & Redcurrant cologne, and its attendant complementary home scents reflect this.
Have you seen a more colourful rendition of a cologne bottle from the brand? I sure haven't! Although keeping its regular square bottle shape, and domed cap, the bottle is spray-painted a soft, matte, pastel pink, and the label is picked out in contrasting green font.
When I was asked to pick out spray paint colours to customize my box during the Christmas press day, I said "Hey, let's go with the pink and green! After all, it's what Jo Malone has picked out!" LOL 😀
I have received more than a few queries as to how a Green Almond might smell, or if this is a nice fragrance. Well, remember always, that I never "review" fragrances, I only tell you my perception of them. So, here's my thoughts on the new and limited edition Jo Malone Green Almond & Redcurrant cologne 🙂
If you're wondering why I tied a stylized bow around the bottle, I did not. It comes this way. The black and white striped bow deliberately blocks the label of the bottle. I was told that this was intentional. Jo Malone wanted it to be a surprise. As if to say "I can't believe it's a Jo Malone cologne!" You can remove it of course, if you'd rather your recipient was not surprised *spoilsport* 😛
There are also special Christmas edition boxes, one of which you see here, a black and white striped affair, and another one that is much more colourful.
But how does a green almond smell? Well, to my mind, a little green LOL! 😀 The first spray immediately makes you think "Green!" There is a sharpish zing of freshness, with an almost citrus note, that brings to mind fresh cut greens, and a tartness of berries, represented by the redcurrant.
Give it a few minutes, and it warms up on my skin, to release a distinct nutty scent. I was afraid it would have the musky smell of almonds (I am not a fan of almonds. Not at all. No almond desserts for me – gag!) but it does not. It smells of crushed nuts.
A little bit more, and it takes on a sweetness of vanilla custard, an almost gourmand scent. There is just enough of the sharpness of green and currant to take away the more cloying parts of a vanilla custard, so I could wear it. Not comfortably I might add, as I am averse to gourmand fragrances.
But here's where Jo Malone colognes shine, because I was shown by one of the sales people at Jo Malone (Hi Khai of JM Pavilion – lovely young man, who knew just what I'd go for!) that if I layered this Green Almond & Redcurrant over my personal favourite, 154, the warmth and spiciness of 154 adds depth and spice and takes away the sweetness that bothers me. It then becomes a lovely fragrance that I enjoy.
The Jo Malone Green Almond & Redcurrant does not make me think of Christmas rightaway, unlike Orange Bitters from last year. But it does make me think of warm kitchens and the delicious smells of baking wafting through the air. If I wear it on its own, and I let it settle after about 2-3 hours, I have a more palatable scent of a hint of sweetness, and a touch of floral that hits my nose, as I turn my head, or it catches me at the most unexpected moments. Green Almond & Redcurrant isn't what I'd call a personal favourite. But I can make it work, in small doses. I think this will suit someone who likes a gourmand scented or sweet fragrance. But you must be able to handle the initial spicy zing, that I love, but many can't wait for it to go away.
And if you wish you could get hold of Bitter Orange from last year instead, well, they've brought it back!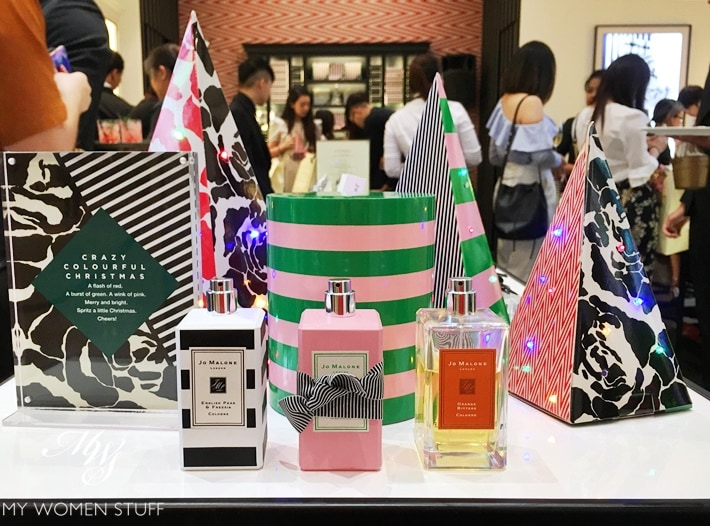 For this Christmas you can get the Orange Bitters and they have redressed one of their customer favourites, English Pear & Freesia, in special black and white packaging. I think overseas, you might get this packaging also in Pomegranate Noir as I saw on Selfridges.
The Jo Malone Green Almond & Redcurrant cologne comes in only one size – 100ml and retails at RM540 | US$140. There is also a very large ceramic candle in the same scent for your home, that you can see in the picture above, the pink and green striped ceramic jar. It's HUGE! LOL! 😀
If the Green Almond & Redcurrant cologne isn't quite your thing, then take heart, there are a ton of gift sets on offer, a selection of which was previewed on Press Day. The Jo Malone advent calendar was however, already sold out, despite its hefty pricetag, and if you did get yourself one, I'd love to know what you thought of it!
Christmas is also when Jo Malone sells their Pine & Eucalyptus home scents in the form of candles, diffusers and room sprays. This is only released at Christmas, and I'm told is very popular. It has the spicy, green scent of pine, but tempered a little with eucalyptus. That said however, I personally have found that I can't handle the scent of too much pine, as it makes me nauseous 😛 So no pine home scents for me!
My personal pick, especially for the Jo Malone newbie, is always the miniature Cologne Collection. You will get 5 bottles of 9ml colognes, that allow you to explore the world of Jo Malone and to play around with fragrance layering, that Jo Malone specializes in. It was the way I introduced myself to the brand, and I always recommend it! It isn't cheap of course, but what's important is the variety. Besides, it can last quite a long while. Mine have 😀
And if you're popping by the store for a gift, whether for yourself or for a lucky person, make sure you get your complimentary hand massage. It's a great way to experience fragrance layering or to discover some new fragrance combinations too 🙂
Did you like the Jo Malone Green Almond & Redcurrant cologne? Did you check out anything from Jo Malone Christmas?
Perfumes are always such tricky things, especially to gift. I've learned the hard way to not go down that route ever again! But home scents however, are safer, or body washes. Or maybe buy the set of candles, break them up and gift them to 4 or 5 people LOL! That's gifting sorted! 😛
Paris B