Hello peeps! I'm back with my nose to the blogging grindstone, and as happens as this time of year, we are going to be inundated with Christmas selections! So, whether you like it or not, you're going to read about them, so better now than never eh?
I swear Christmas releases are launched earlier and earlier every year. Soon, we'll literally see Christmas in July! (I'm old-fashioned. Most people call the year-end collections the "Holidays collections" but I call them the Christmas collections) I'll kick off with Dior – because I must confess, I am quite enamoured with this year's collection!
I have been quite critical of Dior collections of late, and if I'm to be honest, Dior was starting to get predictable. We expect a gold eyeshadow palette, and we expect to be inundated with sparkly golden offerings and red accents. It's what Dior has been doing every year for many years. but this year, I have to say, that the Dior Precious Rocks Christmas 2017 collection really perked me up.
I have a small selection from the collection to show you, and I'll break them down briefly for you below. There is one (maybe two) item in the collection that I am very taken with, that I think is absolutely worth checking out. I'll tell you which it is (although you can hazard a guess and tell me later if you guessed right! 😉 )
Dior 5 Couleurs Precious Rocks Eyeshadow – Emerald and Ruby (Limited Edition) – RM265 | US$63
There are 2 eyeshadow palettes in the Dior Precious Rocks collection, both of which are limited edition. In keeping with the theme, they come in festive green and red, and are aptly named Emerald and Ruby.
I believe these are the new formulations that were released this year, and they come with a geometric design on the surface. I find the texture is a little soft, so the design will wear off with use.
In each palette, there are light shades and a dark shade for contrast, with a metallic colour set right in the middle, rather like that of a precious stone. I do find that the texture of the eyeshadows swatch easily, whether with fingers or a brush, and impart a lovely iridescent shimmer colour on skin. It isn't overly glittery, although there is overt shimmer, that does keep it interesting. The metallic shade of course is bright and shiny.
If you prefer an eyeshadow formula that is strongly pigmented, then I'll hazard a guess that these will not be what you are looking for. The texture does tend to be a little light. You can build them up, and they will look stronger over a base, of course. I prefer textures like these, as I find them easier to work with. I can wear them sheer or I can pile them on. They blend easily and are generally quite forgiving.
I do find however, that I'd have preferred if the Ruby palette had a deeper brown or burgundy colour, for greater contrast. That said however, Ruby is not my preferred palette, because I do not generally wear shades like this on my eyes often. I do feel however, that on deeper skin tones, the brown and burgundy might even have trouble showing up well. I could be wrong however. It could just well be that I am not skilled in using it and therefore can't work well with it. If you like reds and burgundy shades on your eyes, then this is one palette you can look out for.
My personal favourite however, is Emerald. I love how the deep green provides a sharp contrast to the other shades in the palette, that allows for a beautifully bejewelled smokey eye look. Even if you don't want to go down that route, the deep green offers a lovely contrasting shadow that immediately glams up your look. The metallic green pops beautifully, when layered over the dark green, and all the colours sit well together. I have not been wearing green eyeshadow for a while, but this palette reminded me of how much I enjoy wearing green on my eyes.
I will admit however, that while they are very pretty to look at, and a lovely surprise for a Christmas collection from Dior, they aren't terribly unique. If you don't have a red or green eyeshadow palette however, then these are worth looking at, if you like the formula.
Diorific Precious Rocks Golden Glow Loose Powder (Limited Edition) – RM280 | US$59
I loved the look of this powder. I believe there may be a golden pressed powder available overseas, but what we get is the Golden Glow Loose Powder, which again, makes a nice change from the golden compacts we have been subjected to in the past few years.
The tub comes with a beautiful pale gold cover and a lovely plush puff. The sticker that covers the holes of the sifter bears a golden CD logo, which if you peel off, reveals an embossed logo instead. So, you don't lose the branding – I like little thoughtful touches like this from the luxury brands. It does truly make a difference.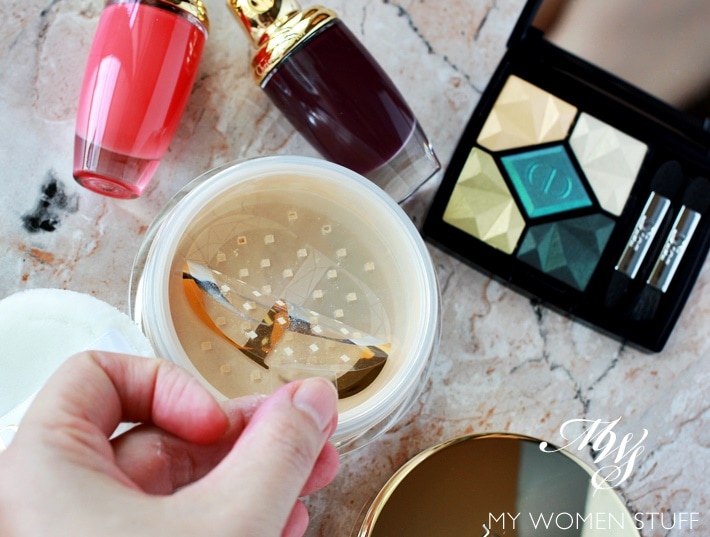 This loose powder however, is quite shiny and leaves noticeable sparkles on your skin. While I think it will be pretty in dim lighting, it is not something you want to pat all over your face and then walk into the sunlight, because you will sparkle like a Christmas ornament.
Instead, be discreet. Use the puff or a large fluffy brush and dust this loose powder on the tops of your cheeks, as a discreet highlight, or along your shoulders and decolletage, for a touch of golden shimmer. This is a festive powder, not an everyday powder, so truth to tell, you will get quite little wear out of it. Nice to have, I think, but for most of us, not as practical as it could be. Still, when has the holiday season been anything about being practical eh? 😛
Diorshow Bold Brow Gold – RM97 | US$27
I have to admit I was very curious about the Diorshow Bold Brow, because it is a GOLD brow mascara! Tell me that did not interest you too!
It looks like molten gold when you pull the wand from the tube, and the little brush makes it easy for you to brush it on your brows, which I did.
However, I sadly have to report that I did not notice anything on my brows bar a little sparkle. I guess I'm not the very exciting sort, who has flash parties to go to, so a product like this does go a little over my head. What I do think you need, to get a bolder effect with this gold brow mascara, is to have a) thicker brows and b) patience to brush it on. As an alternative use, I suppose I could brush it through my hair for some golden accents? 😀
Dior Addict Ultra Gloss (Limited Edition) Gold Essence and Ruby Essence – RM115 | US$30
There are 2 glosses in the collection, of which I have Ruby Essence, that you see above. I have always held the view that Dior Addict glosses are among the best in the business, and this does not disappoint. The brush applicator distributes and spreads colour well and smoothly, and the formula is shiny, thick but not sticky nor goopy. It does not feel like you've slathered vaseline all over your lips, and that is a good thing!
I do however find the colour a little more brown than I like (Ruby brings to mind something redder) and it is rather metallic, which from a personal viewpoint, does not sit as well with me as it should. It being part of a Christmas collection, I'm not surprised, but it is not a colour I'd pick for myself.
Diorific Matte Fluid Lip & Cheek Velvet Colour – Intensity and Desire (Limited Edition) – RM155 | US$38
I believe that these Diorific Matte Fluid Lip & Cheek Velvet Colour things appeared last Christmas and Dior has brought them back this year with more colours. Personally, I'm not a big fan of matte lipstick, much less multi-tasking lip and cheek products, so it is not surprising that these did not sit well with me.
I have two shades – Intensity and Desire. Intensity is a deep purple that is very bold and very dark. You can try to wear a lighter shade on lips, but I find that the formula is rather patchy, and the applicator too stiff to spread the product smoothly on lips. While I revel in wearing bold, bright lipstick, I find that very deep plum and purple shades do not work as well with my complexion. This one is a straight deep purple, and only favours the bold.
I also think that in our weather where it's bright and sunny most of the time, wearing a dark, gothic lipstick just doesn't go very well. This suits winter weather, when the sun disappears at about 4pm and it's dark outside save for the lights from the stores or houses.
For us therefore, Desire, which comes across as a neon coral, is a much better colour to wear. On me, Desire wears very brightly, and less patchy than Intensity. I do wonder if it might be because the colour is lighter and therefore the unevenness is less obvious. But I do find the texture feels a little more comfortable, and more liquid. So maybe it is a formula issue, not a perception issue.
Desire really brightens up the complexion, and works beautifully with the Emerald eyeshadow palette. It is tropical and fun and flattering, which is what makeup should be – flattering! Oh, but do be warned that they may stain.
Diorblush Precious Rocks 864 (Limited Edition) – RM189 | US$45
And this brings me to my favourite item in the whole Dior Precious Rocks collection – the Diorblush Precious Rocks.
I'll confess that when I first saw the blush, I brushed it off as just another peach blush. If you look a little closely at the blush, you may notice some shiny glitter on the surface. Take heart, it is mere overspray that brushes off easily.
Once you get the overspray off, the blush truly comes into its own. The Precious Rocks blush is a matte peach blush with a hint of pink, that I love not only for its texture, but because it is so flattering when worn. I truly believe that this is a colour that most people can wear, because it is peachy enough to cater to warm skintones, while having just enough pink to cater to cool skintones.
The texture is truly sublime. It is probably no secret that I am a big fan of Dior blushes, and I own a fair number in various shades. This however, feels a little different. It feels velvety to the touch, and my brush picks up products so easily. It also blends beautifully into the skin, and, unlike the eyeshadows, quite pigmented. So, I recommend starting out with a light hand, and then build up colour for intensity, because it can be easy to overdo. I am very impressed with this blush and more so with the colour (it is more peachy than in looks in my photo) and I highly recommend that you check this one out.
IN A NUTSHELL

The Dior Precious Rocks Christmas collection 2017 is a slight departure from Dior's usual gold and red sparkly Christmas offerings. The Ruby and Emerald eyeshadow palettes add a lovely pop of colour and interest to the collection, and the peach Precious Rocks blush is definitely one to consider getting. There are more items available than what I have featured but are flying off the shelves quite quickly, so if you're interested, then I'd suggest you hurry to your closest counter to have a look. My personal picks from this collection are the Diorblush Precious Rocks, and perhaps, the Emerald eyeshadow.

PROS: The eyeshadows are a fresh departure from the usual Dior offerings, The Diorblush Precious Rocks is very flattering on most skin tones and is matte but blends smoothly into the skin, The Gold Glow Loose Powder is very fine and leaves a nice shimmer on skin

CONS: Limited edition, Some people may consider the eyeshadow too sheer, The Diorific Matte Fluid Lip & Cheek Velvet Colour apply rather unevenly on lips, The Gold Glow Loose Powder is too sparkly to use all over the face, the gold brow mascara does not show up at all

WHO WILL LIKE THIS: Anyone who wants a subtle but impactful red or green toned eyeshadow palette, Anyone who wants a matte peach blush

PRICE: As above

WHERE TO BUY: Dior counters and beauty boutiques, Escentual, Selfridges, Nordstrom, Saks Fifth Avenue
Here's a couple of looks I did, just for an idea of how I might wear the items in this collection (and to show you how pretty the Precious Rocks blush is).
On left is the Emerald eyeshadow paired with the Precious Rocks blush and Desire Diorific Matte Fluid. I think you will agree that this is a look that is both fresh and vibrant, and makes me look perky and refreshed. I love that flush of peach-pink from the Precious Rocks blush. Emerald is really quite lovely on my eyes, but because of my hooded eyes, you can't see as much of it. But it's a lovely smokey look that I enjoyed wearing, and it reminded me that I should wear more colours because they are FUN! 😀
On right, is the eyeshadow in Ruby, together with the Diorblush in Precious Rocks and the Intensity Diorific Matte Fluid. I think you can see what I mean by the patchy colour of the Matte Lip Fluid on lips. I had to put on quite a lot, in order to blend it out properly, and you have to be careful especially around the edges. I find red shadow makes me look more tired, which I think is emphasized here, and for some reason, the colour does not go with the blush. I feel it needs a more neutral toned blush. And naturally, I'd not wear a deep purple lip with this look. This was just to show you what the lip colours looked like 😀
Did anything from the Dior Precious Rocks collection catch your fancy?
Did you guess which was my pick from the collection? What did you get? Do share! 😀
Paris B