I recently found out that the price of my favourite sunscreen has gone up again. This troubles me and my wallet, because sunscreen is something I don't skimp on in terms of use, and something I run through quite quickly. Often, when I make this lament, I'm requested to try something cheaper. Often, one brand that pops up quite frequently, is Senka. Incidentally, Senka is one of the drugstore brands under the Shiseido umbrella.
One day, when I was at a Watson's store, I noticed that Senka products were on sale. They had a few different types of sunscreen on offer, but I noticed one called the Senka Mineral UV Essence SPF50+ PA++++.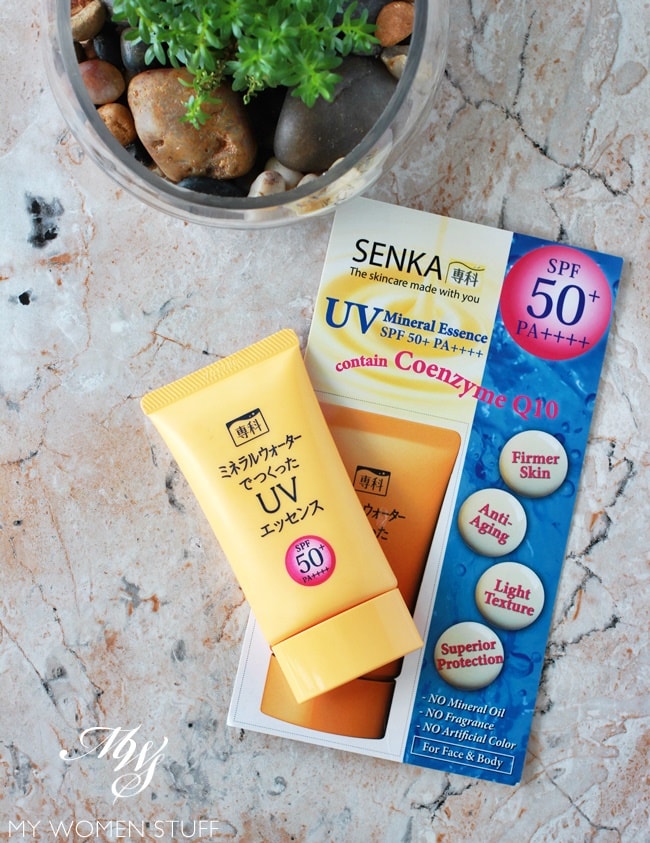 I included the packaging in this shot so you know what it looks like. I find that pharmacy brands tend to have different packaging or more simplistic packaging, and that can sometimes make it harder to identify a product. This is more so when the tube itself is very plain, with everything on it written in Japanese. Without the backing card, I'd have no idea what it says!
The real reason I picked up the Senka Mineral UV Essence sunscreen is because it boasts high UVA and UVB protection, while promising a light texture and more importantly, only set me back a mere RM20 (US$5). I. KID. YOU. NOT! OK, it was on sale. But it regularly retails for RM39.90 (under US$10) for 50g. Hey, it was worth an experiment! 😀
After using it for a while, and before I sat down to pen my thoughts, I did a quick search online. Much to my surprise, this Senka Mineral UV Essence sunscreen is very highly raved. Leaving aside those who got comped, there was still a sizeable part of the Asian Beauty skincare community who loved this sunscreen.
Ok, here's the rub. I don't.
It isn't the texture. I quite like the texture, which is heavier and more creamy. My drier skin likes it because it sits on my skin very comfortably. In a dry or cold environment, you may like it as well, as it will feel more comfortable. If you live in the tropics and have oily skin, don't pick this one. You will use too little, and it will not do its job properly.
You see, as I repeat ad nauseum, you need to wear enough sunscreen. Enough means a liberal amount to cover every bit of exposed skin on your face (and body). In my case, I apply one finger's length (I use my 3rd finger which is the longest) to each part of my face. I am liberal with my use. I believe it's the only thing keeping my sunspots at bay.
If you have oily skin and pick this one, you will wear very little, because it will feel uncomfortable. You then aren't using enough, and may as well not bother.
Texture-wise therefore, I am happy with this. It has a lotion-cream texture and feels comfortable (on drier skin). My makeup sits well over, and there is no white cast (the composition is why as you'll see below).
Why I don't quite like this Senka Mineral UV Essence sunscreen however, is because it didn't seem to protect my skin as well as I was hoping it would. I was a little misled by its name on the pack. You see, it says on the pack "Mineral UV Essence" or "UV Mineral Essence" however you read it. "Mineral" here, I thought to mean, meant it contained mineral UV blockers. I did a quick scan of the ingredient list in store, but I was in a hurry (and it was just RM20 – which brings me to my post yesterday) and couldn't tell off hand if there were any. So I thought I'd go home and do my research there.
This is the ingredient list for the Senka Mineral UV Essence sunscreen.
I was correct in my initial view. There are no mineral UV blockers, usually Titanium Dioxide or Zinc Oxide. It is these that tend to give the white cast associated with sunscreen, which is why this one does not have a cast.
Instead, what this is, is a sunscreen with chemical UV filters and UV absorbers (Avobenzone – Butyl Ethoxydibenzoylmethane, Octinoxate – Ethylhexyl methoxycinnamate, Polysilicone-15, Octocrylene, Bis-ethylhexyloxyphenol methoxyphenyl triazine, Diethylamino Hydroxybenzoyl Hexyl Benzoate). This makes this a chemical based sunscreen. Not that I have anything against that, I was just curious why the use of the word "mineral" if there were no mineral UV blockers in there.
I later found out on a search online, that "mineral" here referred to "mineral WATER from Mount Fuji". You know what? I don't give a flying fish where the damn water came from! I just wish it said "Mineral WATER" on the pack! I felt it to be rather misleading in this regard. Perhaps the Japanese words say so? I don't know, since I can't read Japanese and only have the English words on the pack to go by.
And when I realised that this was a chemical sunscreen, I understood why I did not like it. You see, my skin does not play well with purely chemical based sunscreen. I have learned over the years, that to be effective on my skin (which seems to react quite quickly to UV and sun exposure by developing pigment spots and heating up) sunscreens I use must also contain zinc oxide, titanium dioxide or a combination of both. These are what are popularly known as "physical blockers" because they are literally ground up minerals that sit on the surface of your skin to block UV rays from reaching your skin. They are also known as "mineral sunscreens" if they have a high concentration of zinc oxide or titanium dioxide or both.
For me, a purely chemical based sunscreen does not protect my skin sufficiently from the damaging UV rays. I did notice new sun spots appear, which distressed me greatly, because I already face an uphill challenge dealing with what I already have. So, I've stopped using this sunscreen. I'll use it on my body. But it's not going anywhere near my face ever again.
I'm not saying here that this is a bad product. From a formulation point of view, I think it is decent. There is a good selection of UV filters in there to filter both UVA and UVB rays and if your skin can tolerate chemicals then it's fine. The formula is comfortable on skin and it does not leave a white cast. But I have a nagging feeling that it does not protect your skin as well as the significantly more expensive Shiseido Perfect UV Protector (which contains both Zinc Oxide and Titanium Dioxide aside some chemical filters) does and will. For this reason, this is no substitute for me.
IN A NUTSHELL

The Senka Mineral UV Essence SPF50+ PA++++ Sunscreen is a very affordable sunscreen. However, despite the misleading name, it contains no physical mineral UV blockers and is a purely chemical sunscreen. The word "mineral" refers to "mineral water". The formula is a lotion-cream that can feel heavy on oily skin so will suit drier skin or those living in a cold and drier climate better. For me, this does not work well enough to protect my skin. I developed new sun spots and I feel that the chemical filters are insufficient. However I am no expert, so you'll have to judge for yourself.

PROS: Very affordable, Feels comfortable on drier skin

CONS: Did not protect my skin well enough from UV rays, My skin heats up even though I wear a significant amount of product, and I developed new sun spots, Can feel heavy on oily skins

WHO WILL LIKE THIS: Anyone who is comfortable using a chemical filter sunscreen, Anyone who is comfortable with a heavier textured cream

PRICE: RM39.90 for 50g (often goes on sale)

WHERE TO BUY: Watson's stores
I also noticed after leaving a dollop on my skin for a while, that it breaks down a little, similar to this one by The Body Shop. Incidentally, I also hated that one 😛
Have you tried this Senka Mineral UV Essence sunscreen?
I hate to say this, but barring a major reformulation, I doubt I'd ever stray from the Shiseido Perfect UV Protector sunscreen. What's important for me is that it's easy for me to replenish. There's no use my buying something that might be good, but which is unavailable locally. It doesn't stop me shopping around, but I'm staying away from purely chemical filter sunscreens from now on. Now tell me. Are you a fan of this one? It's really cheap! 😀
Paris B