One of the buzzier Holiday collection products to have hit social media was the Charlotte Tilbury Instant Eye Palette. Actually, that's not quite right. I came across it entirely by chance from a Cult Beauty email, and I liked what I saw. So I put myself on the pre-sale list and when the time came, picked it up. Then, it sort of exploded on the internet LOL!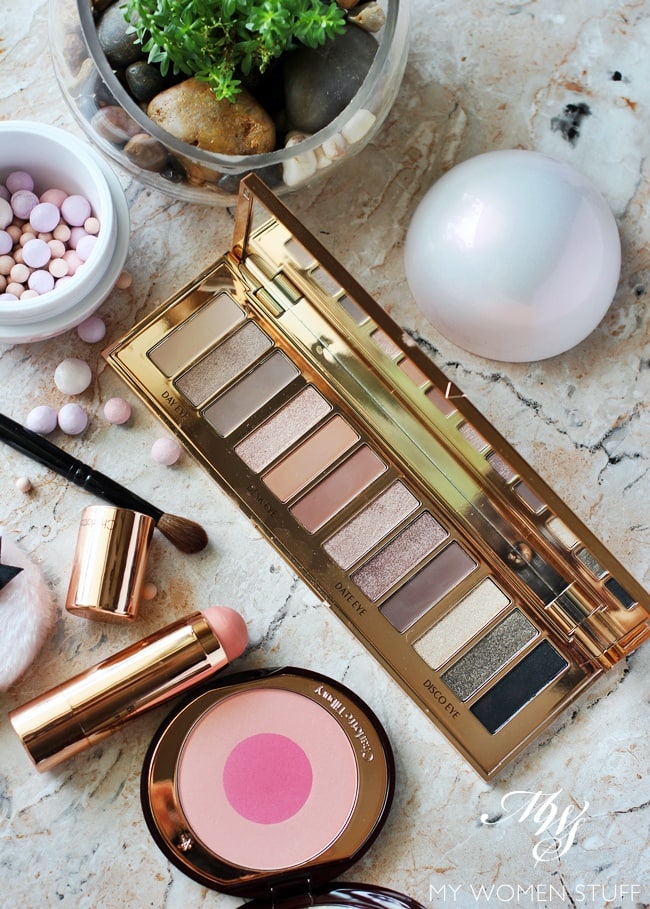 I don't own any Charlotte Tilbury eyeshadow, so I thought it was a decent deal. 12 eye colours in one handy palette. Deal right? Well, relatively speaking of course 😀
If this palette looks familiar, then know that you aren't alone. Most people have likened this to the famed Urban Decay Naked palette, and if you are thinking that, you aren't far from the mark. I personally feel it is a mesh between the UD Naked 1 and Naked 2 palettes, due to the presence of cooler tones in this one. But that's really where the similarity ends. I had Naked 1 (which I lost) and I have Naked 2, so I can tell you that the colours may look similar to the naked eye (hur hur!) but aren't the same at all. So, if you're wondering, no, this is nothing like the UD Naked palettes whether in terms of colours or performance. The similarity ends at the fact that this is an eyeshadow palette with neutral colours.
Now that we've gotten that out of the way, is this a palette you'd want to blow your holiday collection budget on?
Truthfully, I'm not crazy about it. Many reviews have since surfaced online on this palette, and many of them are happy with it. Whether it is because they were comped, or whether they just genuinely liked it is hard to say, but I find that there is a large percentage of people who bought this, who felt let down.
I am one of them.
The packaging is elegant. I forgot to show you the cover, but you can google it. It is a metallic rose-gold, similar to that of the other CT products, and like other CT products, feels a little flimsy. I really should learn from experience, but I never seem to!
The case is really just metallic paint over plastic, but really, were you actually expecting metal?! Aside from the weight issue, it is also costly. Some people were ranting about how it was flimsy. I didn't think so. It's not as luxe in feel as I was expecting, but it wasn't something that would fall apart the moment you look at it. The case closes with magnets, that keeps it shut, and it feels sturdy enough overall. I won't carry this around, not because it's flimsy, but because it's unwieldy. Like the Naked palette, this is set out in a long format, and that just makes it hard to pack into any makeup bag.
The shadows are separated into "looks" to make it easier to pair your colours, and take the guesswork out of early mornings. Each set consists of a base colour, shimmer colour and a stronger enhance colour for depth.
I find the colours fairly neutral across the palette, except for the Desk Eye, which I find a little warm. It looks a bit redder in my pictures than it does in real life, but it is noticeably warmer than the other shades. The idea of the Charlotte Tilbury Instant Eye Palette is to have a palette of colours and textures for the eyes that take you from day to night.
I will not be showing you how it looks when I wear it, because it's too complicated for me. But here are the swatches on my arm, made with fingers. I will have to tell you that brushes pick up and deposit colour more easily.
Day Eye: There are 3 colours. You just can't see the first at all because it melds right into my skin LOL! This is meant to be for day or weekend use, when you want the "no makeup" look. The base shade is a pale cream that disappears into my skin. The shimmer shade is a pale matte beige that does not look too garish on skin, just a creamy iridescence, and the enhance shade is a matte light taupe that is cooler than in the picture. I find that this one is rather disappointing. It does look like you have nothing on. Perhaps if you have very fair skin, it might show a little. But just barely, and just with a hint of a shine. Good if that's the look you want to go for. You can of course use one of the other deeper shades to blend in for more intensity.
Desk Eye: This has 2 matte shades and is therefore better suited for the working environment. The shades look reddish in my photo but they are more brown in person but with a noticeable warm cast. The shimmer shade is creamy and applies beautifully to the skin. The 2 matte shades are drier and need a little work. They also can apply a little patchy. The brush you use helps as well. Use one that can pick up colour more easily.
Date Eye: This combination is targeted at wanting to impress, and has 2 shimmer shades. The colours are more impressive, simply because the shimmer shades are impressive. They apply creamy and smoothly and you get it in one swipe. The enhance shade is a matte dark brown that ties in the shimmer colours. It can be as intense or as light as you prefer.
Disco Eye: Does anyone still say "disco" anymore? LOL! This one has 2 shimmer shades as well, with the middle shade being a beautiful, unique colour. In pan it looks like a boring grey. But on skin, it has a khaki tone, with golden shimmer. It is beautiful! The black is a matte that feels very dry and hard. With a brush, the colour does apply better.
I feel therefore that this Charlotte Tilbury Instant Eye palette is only half as impressive as I expected it to be. Half the palette – Day and Desk Eye – are rather unimpressive. The other half – Date and Disco Eye – are more impressive.
Half the textures – the shimmer half – are impressive. They apply like cream and have a beautiful iridescence without spilling chunky glitter all over your face. The other half – the matte shades – are hard, dry and need some work to get the colour to show, especially in the light shades.
I don't regret buying this, because I know I can get it to work. It is a style I am comfortable with. But if you are used to stronger colours and more creamy textures in eyeshadow (if you use UD Naked for example) I will tell you to save your money. You can do better elsewhere.
IN A NUTSHELL

The Charlotte Tilbury Instant Eye Palette is a release for the Holiday collection. It is a long eyeshadow palette with 12 shades, separated by look to enable you to create 4 different looks. I find the colours, textures and formula a mixed bag. The matte colours are unimpressive. The shimmer ones are lovely. The light shades are disappointingly light and barely show up on skin. The deeper shades show up better. Half the palette is more impressive than the other half. So, I'd buy this if you see it go on half price. But to pay full price, I'd look elsewhere for another more impressive item to spend your money on.

PROS: Shimmer textures are lovely and creamy without being glittery, Deeper colours look better on skin

CONS: Matte textures are dry and hard with lower colour pay-off, Lighter colours do not show up well on skin, Expensive, Lightweight packaging, Not portable

WHO WILL LIKE THIS: Anyone who likes neutral coloured eyeshadows and can work with drier matte textures

PRICE: £60 | US$75

WHERE TO BUY: Cult Beauty, Charlotte Tilbury website, Net-a-Porter, Selfridges, Nordstrom
Did you by any chance pick this palette up during the pre-sale or perhaps now since it's gone on sale?
I have to admit the brand got to me haha! 😀 I can't say however that I have been blown away by many of the items I've tried yet. Thus far, the blush is nice. So is the Beach Stick thingy. But the popular lipsticks and now this eyeshadow palette has left me feeling wanting. How about you? Any CT faves I should try? There is an all in one face palette I saw online – The Instant Look in a Palette Smokey Eye Beauty that looks promising. But if it's permanent, I'll hold off till I see swatches. Trying to learn my lesson here 😛
Paris B