A little while ago, I came across news of a new concealer from Bobbi Brown. It got me a little excited, because I have a thing for concealers (as much as I have a thing for all makeup really LOL!) and I really really wanted to know if it might live up to my favouritest ever concealer.
I do realise I often do myself a disservice by comparing every new concealer I come across to my favourite concealer, but I can't help it. I'm a) human and b) biased LOL!
This new concealer is the Bobbi Brown Instant Full Cover Concealer. I first got to try it in my box of goodies as an Elle Malaysia guest judge for their beauty awards, and I later received a lovely press kit, with a lovely silk eye mask, that you see above. I still haven't quite gotten the hang of wearing an eye mask to sleep – tips? Don't say just put it over my eyes 😛
The thing you see, is that when I first got hold of it, there was no accompanying literature, so I tried it out without expectation. But I really wanted to know if it might live up to my secret expectation to supersede my holy grail concealer.
I have to say that sadly, it falls short in many regards, not least of which I'll share with you here.
The Bobbi Brown Instant Full Cover Concealer, as the name implies, promises you full coverage, and if the press and promotional blurb is to be believed, is formulated for the undereye area, so you can fake 8 hours sleep even though you've just had 5. Stop browsing Instagram before bed! It's a black hole! 😛
It promises high pigment, high coverage, and a brightening effect to flatter your under eye area. Now, this brings even higher expectations, for a product that goes on the under eye area should be light and not accentuate fine lines that we are wont to have in that delicate part of our facial skin.
Here's where I ran into the first problem – the Applicator.
While the applicator is a sponge tipped applicator, it is not angled. It is just a round-tipped sponge applicator, with no real estate space for the concealer to grab onto. This raises a few problems, because you cannot easily swipe it on, so you dot it on. I also find the applicator a little hard, so there it isn't very comfortable to use, and it does not grab enough product.
The second problem I ran into is the more important one – the formula. Part of the reason the concealer itself does not stick so well to the rounded applicator is because it is thick and dry. This concerned me, because a formula like that goes on skin tends to cake up.
I was sort of right. When it goes on the skin, the Bobbi Brown Instant Full Cover Concealer is first fairly creamy (if you can get enough on – you need a few dots, or persevere and swipe) but it is thick and dry and dries quickly on your skin. So, you have to work quickly to blend. However, it feels sticky and tacky, and doesn't seem to quite dry down. Yes, I realise it's quite oxymoronic, but that's how it feels.
I first used my fingers to blend, and it didn't work very well. I then tried using a damp sponge, which helped a little, but is a little too much work. I also tried using a brush, which I found hard to work with, because of the thick formula. The brush was sort of just moving it around my skin.
Which brings me to my third complaint – it isn't full coverage at all. I know what full coverage is. If you want a really good full coverage concealer, the Make Up For Ever Full Cover concealer is pretty amazing. I recently tried it again, and was blown away.
This Bobbi Brown Instant Full Cover Concealer is, for me, just medium coverage at best. If I have very prominent dark circles (thanks insomnia!) the shadow shows through. If I try to use it on my pigmentation, the shadow shows through. What it does seem to help with is blemishes. If you have spots, this one seems to help cover and neutralize redness.
My shade is Warm Ivory, which is a light, slightly warm toned neutral colour. The swatch is as above, made using the applicator (which have I reminded you, is pretty shit – and I say this politely) On right, if you can see it, is a blended out swatch. Now, if it is full coverage, you will see a patch on my skin, but you can't because it blends into my skin. It's confusing and frustrating.
For the under eye area, which Bobbi Brown targets this concealer at, I'm afraid for me, this is a no go. The thick, dry, tacky formula tends to sink into any fine lines you may have. Also, because of the light coverage, it doesn't do very much for any dark under eye circles. Does it brighten? Yes, a little. Pick a shade that's a touch lighter than your skintone – just a touch. But for coverage, there is none. Don't bother.
I have not felt so frustrated with a concealer in a long time. I had high hopes for this, primarily because I'm usually quite happy with Bobbi Brown base products. They have a good basic range, with lots of shades from light to dark, and the base makeup have, for the most part, worked very well for me. This one, I feel is a dud.
To make it better, I suggest first changing the applicator. This one is crap. Perhaps then it might help the product adhere better, and apply better to the skin and perhaps then, we might pick up enough product to apply for higher coverage, as promised. I'd also lighten the formula and make it more creamy and less tacky. Perhaps then, it might live up to my holy grail. Till then, it's back to the drawing board, Bobbi Brown!
IN A NUTSHELL

The Bobbi Brown Instant Full Cover promises to hide evidence of lack of sleep and dark circles, with a high coverage, highly pigmented formula. However, I find this promise to fall short. The applicator is disappointing, as it does not pick up and deposit sufficient product each time, the formula feels tacky, dry and thick, and it sheers out when blended on skin. For this reason, I do not find it to be high coverage at all. It does seem to work better for concealing blemishes and redness. But for shadows or under eye dark circles, it falls short and sinks into fine lines. Deal breaker for me.

PROS: Small compact packaging, Covers redness, 15 shades from light to dark

CONS: Pricey, Applicator is not serviceable as it does not pick up enough product nor allow it to be spread on skin, The formula feels thick and tacky but dry and heavy, Sinks into fine lines, Low coverage for shadows and dark circles

WHO WILL LIKE THIS: I'm not sure

PRICE: RM136 | US$30

WHERE TO BUY: Bobbi Brown counters and stores, Sephora (US), Nordstrom, Selfridges
I saw this video on the Bobbi Brown website, and I thought to share, because I wanted you to see how they use it, but more importantly, I wanted to draw your attention to minute 0:17.
Notice how the skin on the under eye area drags as he stripes the concealer on the skin. This is because the formula is thick, and the applicator does not pick up enough product for it to slide onto the skin. Purely the fault of the applicator in my view, and I'd recommend they change the damn thing 😛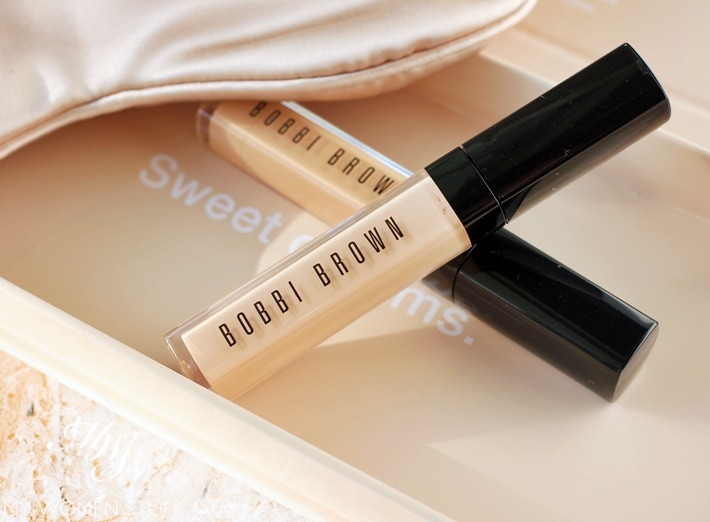 I have another tube in the shade Warm Natural, which is too dark for me and it is unused. So, if you'd like to try this for yourself to see if you'd like it or if I'm right, mention it in a comment below (Malaysia only sorry) 🙂 If more than one, I'll do a random pick. It should suit someone with a medium or tanned skintone better.
Have you tried this new Bobbi Brown concealer? Do you have a favourite concealer?
I do, as you well know because I wax lyrical about it so often LOL! But what's yours? 😀
Paris B