PB SAYS: Clarins Beauty opened their first retail kiosk in the WORLD right here in Malaysia, at IOI City Mall, Putrajaya. Yay Clarins Malaysia! I was unable to attend, but despatched my guest writer, Lyn, to cover the event and to experience an Open Spa. Here's her account of what is a Clarins Open Spa – the thing that intrigued me most of all.
I was extended an invitation to the official launch of Clarins Beauty's first retail kiosk in IOI City Mall, Putrajaya early this month. The kiosk, on the Ground floor, occupies approximately 600 square feet and the space is quite well utilised. Not only does it have shelves displaying the full range of products, it even has two vanity tables, a waiting area with a fairly comfortable sofa, a consultation desk, and a gift wrapping station right at the checkout counter.
Besides offering skincare and body care, it is interesting to note that Clarins makeup has made a come back as well! They've been away for a few years, so it's nice to have their cosmetics line back in the country. I'm quite happy that we have a pretty retail space to shop in, especially if you live around the area, and they also offer little makeup touch ups, and a sample wall where you can pick your own product samples. Also, I must mention the Travel Zone shelf where you can choose 4 travel sized products at RM130 which comes with a cute little pouch – quite a good deal and a good way to try a selection of products.
In the middle of the kiosk lies the Clarins Open Spa, a fairly new concept featuring 30 minute treatments ranging from facials to massages, catering to both men and women. This is the ideal quick getaway for busy people, and allows for a quick pick me up in the middle of the day, or in the middle of your shopping (Ideal for the coming festive shopping period!). Let me tell you a little about my experience there.
Clarins Open Spa
The selection of treatments, all of which cost RM88 for 30 minutes are as follows:-
Bye Dry Skin – for hydration
Youth Express – for firmer facial features
SOS Detox – for radiance
Eye Must – for smoother, younger-looking eyes
Men's Skin Fit – for vitality and tone,
Say 'No' To Tension – for easing tight muscles
SOS V-Shape – for refined, lifted facial contours
All about Brightening – for restoring a brighter glow
I was given a complimentary treatment at the Clarins Open Spa that I redeemed a few days ago. After a short consultation with the beautician, I decided to go for the Youth Express treatment because it seemed to be quite a well-rounded treatment.
I was ushered into the small Open Spa space and the blinds were already drawn. I was initially worried about how "open" the Open Spa would be because it is mostly surrounded by glass and lacked privacy if not for the blinds. The large reclining chair right smack in the middle of the cramped room was comfortable. But I must admit the noise from the surrounding mall was rather distracting and I couldn't truly relax in that environment. I have suggested to the beautician to install some sound absorbing panels to try to reduce the noise.
The facial treatment involved cleansing, exfoliating and a mask with a pretty good albeit short scalp and shoulder massage thrown in. I was quite pleased with the results as my skin looked a little brighter and generally felt better. I used to go for 90 minute facials at Clarins quite regularly, so I am already a fan and customer of their products and treatments. This quick Open Spa session felt a little rushed so I couldn't fully immerse in the experience and enjoy it as much as I'd like.
Overall, I would recommend the treatment if you're pressed for time and want something quick. I am torn about going back again because I honestly prefer a more quiet and relaxing ambience for my facials or massages.
Here are more pictures of the kiosk.
The full selection of Clarins skincare available for purchase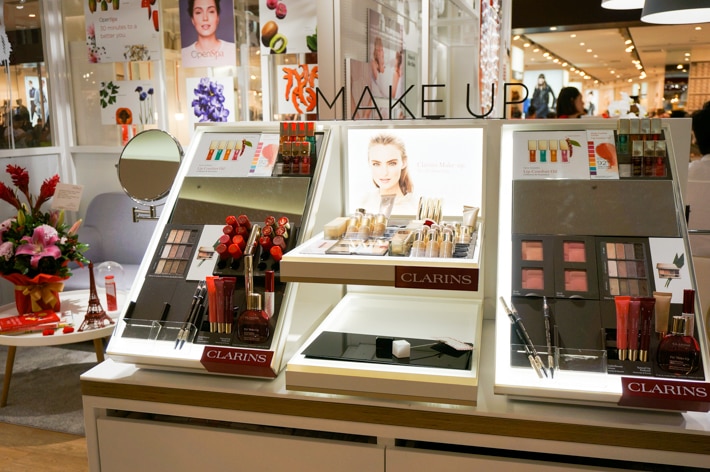 The selection of Clarins makeup
Customer waiting area
Clarins retail kiosks can be found at:
IOI City Mall Putrajaya (in front of H&M)
Lot G-K4, Ground Floor
Tel: 03-89499929
Sunway Velocity Mall
G61A & G80, Ground Floor
Tel: 03-92866885
PB SAYS: Thank you Lyn, for sharing your experience at the Clarins Open Spa and of the retail kiosk at IOI City Mall. As both the kiosks are in inconveniently located malls for me, I will likely not visit either for a while. I too am a fan of quiet, long, relaxing facials, so the Open Spa concept doesn't sound like something I might enjoy. That said however, what I am most happy to note is the return of the Clarins makeup. I'd been anticipating it for a while, as I do feel their makeup is underrated. Good quality stuff there!
Has anyone visited either of the Clarins retail kiosks yet? Does the Open Spa concept intrigue you?
Guest writer: Lyn (edited & commented on by Paris B)