This post is kindly sponsored by Caliata.com
When people speak to me and ask about the products I use in my skincare routine, and I oblige with a list, I am often answered with a quizzical look. Brands like Oskia, Omorovicza and Emma Hardie rarely feature in everyday conversation. I may get a flicker of recognition when I mention REN Skincare, but often it is also followed by "Oh you really like REN don't you?" LOL Good girl, you read my blog!
Ah, the perils and pitfalls of enjoying beauty brands that are often termed as "cult" and hard to access. This is more so here in Malaysia, where most of these brands (aside from REN) aren't easily available locally. When asked, I always share where I buy mine – online, from overseas. And I'm then told "Oh, but I don't know if my package will get lost, and I have a customs horror story to share" and most people leave it at that.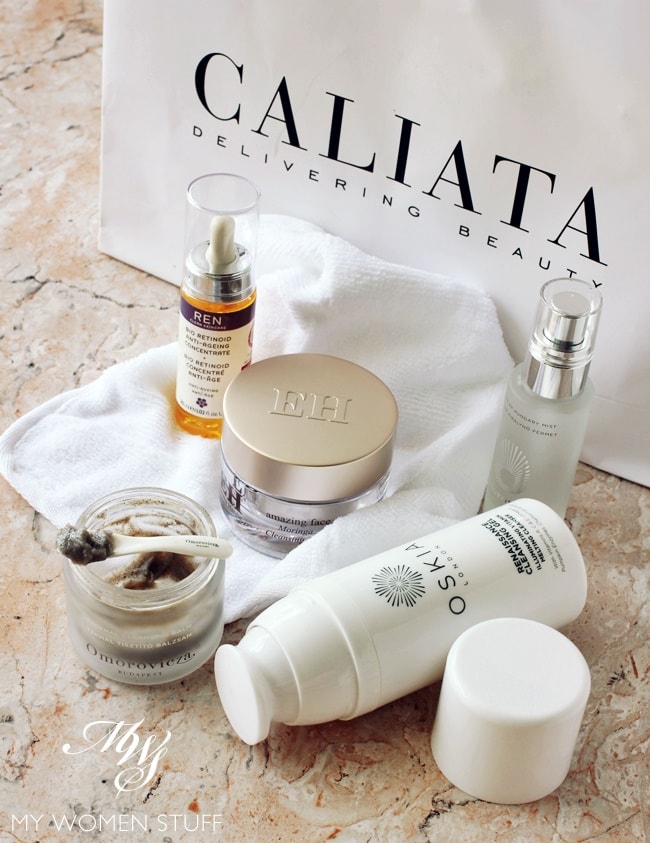 So, when Caliata.com, a new beauty online store based in Malaysia met with me and talked me through their approach and the brands they carry, I liked what I saw. Here was a chance for beauty buffs in Malaysia to get their hands on some cult beauty brands and products, quickly and conveniently. (And they've even kindly shared a discount code with all of you! 🙂 )
Caliata is currently based in Kuala Lumpur, and is an online store. Their focus is on carrying brands and products that may be termed "cult" or even "niche". The owner and founder of the brand, Marina is a huge skincare buff herself, and a consumer of such cult brands and products. We spent a happy few hours talking about all the different brands we'd tried, the arduous wait for them to arrive in the post, and the niggling fear that your package may be detained by local customs and imposed with taxes.
To get around this and to make these cult brands accessible to Malaysians, Marina established Caliata, so Malaysians now have easier access to these cult beauty buys without having to go through the hassle of buying online from overseas. The upside also, is that shipping within Malaysia is fairly quick (Caliata offers free shipping above a certain amount purchased, express next day shipping for a fee, and even same day delivery within the Klang Valley!) Caliata is an authorized stockist of the brands they carry, so authenticity is assured – something I value highly in an online store.
I will have to point out however, that most of these cult brands do originally come with a hefty price tag to start with, so prices are on the luxury side. Depending on the brand, some are priced quite closely to the prices I buy at from overseas websites (factoring in the exchange rate) while some are more expensive. You will still have to do a little research.
I am personally familiar with Emma Hardie, having used some of their products before this in particular the cleansing balm and face oil. I have also tried the popular Omorovicza Thermal Cleansing Balm, and was introduced to the famed Oskia Renaissance Cleansing Gel by Caliata, and most of you will know that I've been a long time fan of the REN Skincare brand. The other brands are as new to me as they may be to most of you, and I'm informed that there will be more new cult brands joining in time to come.
If you're wondering where to start, from brands I've tried over time, I'd suggest the Emma Hardie Cleansing Balm and the Oskia Renaissance Cleansing Gel, and if your pockets are deep, the Darphin 8 Flower Nectar oil. I bought and tried the Emma Hardie and Darphin oil some time back, and I find that the prices for these, based on my comparison with the online stores I usually shop at, are close, after taking into account the exchange rate. The price for REN products is the same as what you'd get at other local distributors.
I welcome Caliata as a local alternative from which to purchase niche or cult beauty brands, and it's nice to know that we have this option to source locally, brands that we may have only read about, or heard of before this. Also, if you are prone to being targeted by local customs, then know that you have a local alternative now that takes the headache away for you! I am watching them with interest, as there are a few more niche and cult brands I'm interested in, that I'm hoping they'll carry here! 😀
To welcome you to Caliata, they have kindly offered MWS readers a flat 15% discount off any purchase from the website.

Discount code: MWS15 is valid at Caliata.com from today until 15 October 2017 (I do not receive any commission – you get the discount 🙂 )
Is there a cult brand or product carried by Caliata that you've been interested to try?
I'm actually pleased to see Emma Hardie available, and that the cleansing balm is at a fairly reasonable price, comparing to buying from overseas. I'd suggest the discovery kit however. It's good value! 🙂
Paris B