When facial oils step out of the shadows of niche skincare brands, into the glare of mainstream department store brands, you know they are a legitimate skincare category to be reckoned with. Quite a few department store brands now boast a bottle or two of a facial oil.
Chanel now enters the fray with the Chanel Huile de Jasmine revitalizing facial oil with jasmine extract, raising the stakes somewhat. The Chanel Huile de Jasmine (Jasmine Oil) has just been made available at counters, but I've been experimenting with it for almost 2 months now.
I haven't come across a lot of buzz about this, which I found surprising. Doesn't the internet usually go a little crazy over everything new that looks imminently pretty and instagrammable? 😛 I think it's because of the price point, and the rather exclusive availability – only at Chanel boutiques, not all counters.
Cynicism aside, I was very interested to have a go at it because you know how I feel about facial oils right? I love them! There's always space in my stash for one more 😀
I have to say though, that the packaging of the Chanel Huile de Jasmine is pretty much, on point. The minimalist bottle looks just like the one Chanel uses for their les exclusifs perfumes. The clear glass and sturdy black cap with the white label just screams luxury.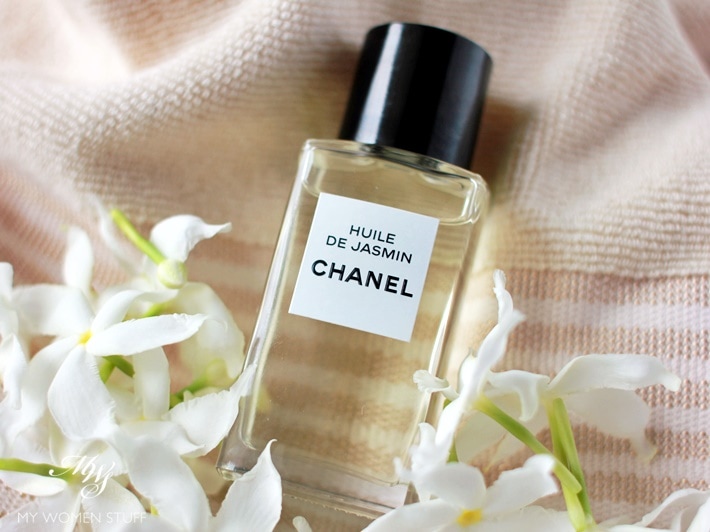 Chanel says that this is a luxurious facial oil that is intended to revitalize skin, and it is a modern release of a jasmine oil formulated by Mademoiselle Coco Chanel 90 years ago, in 1927. Incidentally, it is with the jasmine oil that Chanel started their skincare line, 90 years ago.
It is a blended oil, and does contain other ingredients aside from oil, so it isn't quite as pure as other facial oils I use. I find the texture resembles a dry oil – an oil that does not feel oily on the skin, but feels "dry". I can understand why this is so, because from speaking to many people, I've realised that most people prefer that sort of non-oily oil texture, especially in our hot, humid, tropical weather.
I personally prefer a texture that has a heavier, oilier feel, so texturally, I wasn't so enamoured with this Huile de Jasmine. However, I will say that if you have oilier skin or combination skin, you will appreciate the texture, for it doesn't make your skin feel oilier or heavier than it already does.
I used it the same way I use my facial oils – on dampened skin, as a "serum" – between my toner and moisturiser. There are different schools of thought when it comes to when to apply moisturiser. I treat my moisturiser as a "seal" so it goes on last. Some people claim that oil is heavier and therefore should go last. Subscribe to whichever school of thought you prefer. It's your skin! Or better yet, blend your oil into your moisturiser and take all the guesswork out of the equation LOL! 😀
I found that the Chanel Huile de Jasmine absorbs very quickly into my drier skin, without leaving any greasy feeling. For this reason, I can even use it in the day if I wanted to. Because it is a very light textured oil, I found that I needed to use more product each time. In the evening, I'd use up to 5 drops, while in the mornings, I can use up to 3 drops quite comfortably. If you have oilier skin, use a little less.
When I use more, and massage it into my skin, I find that it does help make my skin feel more moisturised, and comfortable. It doesn't give me more of a glow than any other product, but it does not do anything untoward to my skin. It feels very comfortable, and like most facial oils, seems to rebalance my skin, so it doesn't get too dry, nor too oily.
However, I do have a problem with the packaging.
The Chanel Huile de Jasmine is not dispensed by way of a dropper system, as with most facial oils I use. Neither is it a pump. There is a stopper with a hole, that allows you to shake out a few drops of oil into your palm. However, I find that this is an ineffective way to dispense the product. It is not easy to get the oil out of the bottle, and it can be frustrating. The first few times, before I got the technique right, I could hardly get anything out of the bottle.
The other thing I'm not so crazy about is the inclusion of fragrance, and also the scent of jasmine oil. This is purely because I am not a fan of the scent of jasmine, which is fairly strong. It is a fresh scent of freshly plucked jasmine flowers, so if you love the scent of jasmine, you will be head over heels in love with this.
If you apply the oil to your body or hair, (which you can, if you're feeling lush) the scent of jasmine can linger. Perfect, if you love the scent. For me however, I prefer a more earthy scent, even with my facial oils, so I'm not too sold on it.
If you're new to using facial oil and want to know how else you can use it, try some of my tips here. You can also add a drop into foundation, which I love to do. If you have drier skin like I do, try it. It's truly a game changer!
IN A NUTSHELL

The Chanel Huile de Jasmine Jasmine Facial Oil is a new facial oil by Chanel. The packaging is very minimalist and true to the luxury status of the brand. The oil is a blended oil, with a very lightweight texture that absorbs easily into the skin. It would sit well on those with oily skin or who live where it's hot and humid as I do. For drier skin types, you may find that you need more to feel comfortable, as I do. The scent of jasmine is quite strong, so you must love the scent to fully appreciate the product. As with most facial oils, I do find that it boosts my skin moisture, and softens my skin. It is also lightweight enough to be blended into foundation. I am however, not a fan of the delivery system, as I feel it would work better with a dropper.

PROS: Luxurious packaging, Very lightweight texture, Absorbs easily and quickly into the skin, Boosts skin moisture, Does not leave an oily or greasy feeling on skin, Rebalances and softens the skin

CONS: Pricey, Not as pure an oil as some might prefer, Strong jasmine perfume scent may not appeal to everyone, Not easy to dispense the oil from the bottle

WHO WILL LIKE THIS: Anyone who loves the scent of jasmine, Anyone who wants a lightweight, non oily oil that absorbs easily and quickly into the skin

PRICE: RM550 | US$120 | £97 for 50ml

WHERE TO BUY: In Malaysia at Chanel standalone beauty boutiques only, Chanel.com and selected Chanel boutiques in other parts of the world
Here is the ingredient list of the Chanel Huile de Jasmine facial oil.
Did this facial oil intrigue you? Are you a fan of Jasmine scents?
Personally I'm not a fan of floral or jasmine scents. That said, the scent does not linger on my skin and it isn't too strong or cloying, so I can still enjoy using the product. Chanel is keeping this one very exclusive, so you'd have to check at their boutique, not your regular counter! Intrigued? 😀
Paris B