You know, I used to think that "sensitive skin" was a condition, much like "eczema". It wasn't until I started paying closer attention to my skin, that I realised that it wasn't so much a skin condition, as it was a condition your skin is in. There is difference between the two.
The former is a condition your skin is predisposed to, while the latter could affect your skin at any time. When I started paying closer attention to my skin, I noticed that my skin would occasionally go, as I like to say, a little bonkers. It could be due to anything – hormones, environment, stress and occasionally, a skincare product or routine that did not agree with me.
Times like this, I have a little back-up routine to calm my skin down, and soothe any irritation. And one product that features is the REN Evercalm Ultra Comforting Rescue Mask (REN Evercalm Rescue Mask for short).
This is a product by REN Skincare, one of the brands I am particularly partial to, and was just launched not too long ago. I was fortunate (or maybe not) that not long after I attended the product launch, my skin threw a hissy fit. As it does. Sigh… But what better time then, to put this REN Evercalm Rescue Mask to the test! 😀 Silver linings and all that 😛
The REN Evercalm Rescue Mask is targeted at sensitive skin. This is skin that is irritated, red, blotchy, sunburnt, stressed… you get the idea. Sensitive skin isn't so much a genetic condition as it is a condition that we may inadvertently cause or put our skin through. If you go out in the sun a lot for long hours, the redness, dryness and blotchiness makes your skin feel sensitive, even though you may not have skin prone to sensitivity.
What the REN Evercalm Rescue Mask promises, is to soothe skin in as quickly as 10 minutes, by calming skin. This, it does, by using a white mushroom extract, which blocks irritation and combats inflammation. It also helps reduce the irritation and replenish moisture. All that is great in theory, but does it work in practice?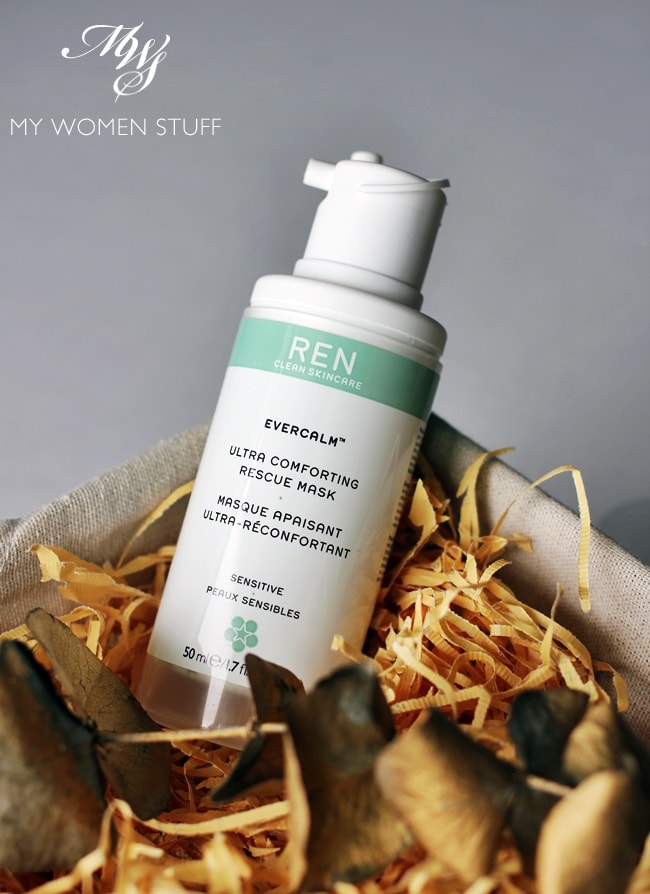 As much as I'm reluctant to admit, the REN Evercalm Rescue Mask does live up to its claims.
Not long after I got hold of the mask, my skin went through a rough patch. Quite literally. It was blotchy, irritated and flaky in patches. I wasn't sure was it was attributed to at that point, although it might have been due to over-exfoliation on my part, and a product that was unsuitable for my skin.
I have a back-up skincare routine when this happens, that involves stripping down my skincare to the bare minimum, and slathering my face with facial oils. But for some reason, it wasn't helping very much. This then was the best time to put the REN Evercalm Rescue Mask to the test! Let's see if it did calm and soothe skin in 10 minutes.
The mask is a fairly thick, creamy mask, that pumps out a pale green. You are advised to apply a generous amount on your skin, and I do. The thick creamy mask is easy to spread and feels lovely and lush on the skin. There is a fragrance, that smells very natural, albeit rather floral.
After about 10-15 minutes, I do notice that the mask will have thinned out somewhat on your skin. It is easy to rinse off, which is always a good thing.
The immediate thing I noticed, was how calm my skin looked. No blotchiness, no redness and the flaky patches appeared less flaky. I follow up with a spritz of facial mist and then a facial oil, which is what I do after I use a mask.
I used it a few days in a row, until my skin appeared to be back to its normal self. Very recently, I found myself exposed to the sun for long hours, where the skin on the back of my neck had turned red and irritated. I do tend to forget to apply sunscreen there – oops! 😛 When I got home, the first thing I did was to slap on some of this REN Evercalm Rescue Mask on the back of my neck, left it on a while, about half an hour, and then washed it off. It went a long way towards calming the angry redness, and to prevent my skin from getting irritated further.
For me therefore, the REN Evercalm Rescue Mask is as its name implies, a rescue for your irritated skin. If you don't experience any skin irritation, then I'm afraid you will see no discernible benefit from using this product. So, as I tell people who ask, this is a product that helps you when you have a problem. If you do not have a problem, you will not appreciate it. But if you do, then this is something that makes your skin go "Ahh…. what a relief!" 🙂
I have read that this REN Evercalm Rescue Mask is also recommended for those with eczema or rosacea, or skin that is easily irritated. Not having skin conditions like that, I am unable to say if it'll be helpful for that purpose. But if you get the occasional irritation, or if you find that your skin needs the occasional reminder to calm down, then this is one you can consider, as a weekly treatment.
IN A NUTSHELL

The REN Evercalm Ultra-Comforting Rescue Mask is a cream mask targeted at calming and soothing sensitive and irritated skin. I find that it works best when my skin has a problem i.e. irritated which can manifest in many forms – redness, uneven skin tone, flaky skin, rashes, bumpy skin etc. When faced with that, a generous application of this mask calms my skin and soothes and restores it to its previous self. It is therefore more of a treatment product, than a prevention product, in my view.

PROS: Lovely creamy texture feels lush and comforting on skin, Airless pump packaging keeps product fresher for longer, Calms and soothes irritated skin very effectively and helps keep it soothed and hydrated

CONS: Rather pricey if you don't use it often, If you don't have irritated or sensitive skin you may not notice anything different

WHO WILL LIKE THIS: Anyone who has irritated or sensitive skin that needs calming and soothing, Anyone whose skin has been irritated whether by environment, products or over-zealous skincare

PRICE: RM179 | £28 | US$38 for 50ml

WHERE TO BUY: KENS Apothecary stores and online, Space NK, Cult Beauty, Sephora
For those interested, here is the ingredient list for the REN Evercalm Rescue Mask.
REN Skincare prides itself on formulating its products without ingredients they deem harmful, which is what you see in the NO symbol on their packaging. But do note that this product does contain alcohol which some people may not be able to tolerate. I also found it interesting that it contains lactobacillus ferment, which is a probiotic. I don't often see this used in topical skincare (or maybe I don't pay that close attention 😛 )
One more thing I like about REN Skincare is their packaging. From the first day I was introduced to the brand, I'd been captivated by their attention to detail in their packaging. Their pump bottles boast an airless pump system, and for some products, the product is contained within a plastic bag system within the outer wall packaging.
If you look at the gap between the label, you will see what I mean. The product is not filled directly into the bottle, but into a bag. As you use the product, it will be squeezed out of the bag, which reduces product wastage, and ensures that you get out almost every last drop. It's a great system, and I've used up products over the years, just to have the satisfaction of seeing this empty bag within the bottle LOL 😀
Have you tried this REN Evercalm Rescue Mask?
I'll tell you how I deal with the occasional bouts of skin sensitivity I get soon. As much as I like to say I don't have sensitive skin (which I don't) I do go through bouts of sensitivity, and it's always handy to have products on hand to combat that! We all do, you know. You just may not notice it if you don't pay close enough attention 😉
Paris B