Kiehl's Malaysia responds. Summary and personal observations are in this post. Additional update at end of this post. Final update as at 20 June 2017 – go here
UPDATE: I realised, while writing this post in June 2017, that the Kiehl's Pure Vitality cream was impossible to source online. This was interesting, as I noticed that it had launched with a huge bang early in 2017 (January 2017) where members of the media were taken on a press trip to New Zealand, due to the manuka honey contained in the product. The local launch, I later saw, was just as impressive (I was not invited and did not know about this cream till it was available). It has been less than 6 months since the product was heralded as a brand new approach to skin health, and it has since been very quietly pulled, with very little attention drawn to it. I got curious and decided to do some research. I elaborate on it further at the end with some official statements from the brand. My review stands, based on my experience with it. But I recommend you read all the way to the end.
UPDATE 2019: As at July 2019, Kiehl's has brought back the Pure Vitality Skin Renewing Cream. I have not tested the new version but I don't think it's very different, based on the description. My opinion on it remains as below.
I hadn't paid a lot of attention to Kiehl's skincare for a while. For a time, it seemed like nothing very interesting was happening. Then, I noticed that there was a new yellow tub of cream in town, that contained Manuka Honey, and I was all abuzz with excitement.
I love manuka honey in my skincare! Primarily because they work well for my skin, and usually smell delicious. I love the sourish-sweet smell of manuka honey too!
I happened to fortunately be gifted with a tub of Kiehl's Pure Vitality Skin Renewing Cream very early in the year, and I promptly put it into circulation. I was playing around with manuka honey cream at this time, and I wanted to see how a more conventional brand would fare.
Kiehl's Pure Vitality Skin Renewing Cream – one for the millennials?
An interesting thing about the Kiehl's Pure Vitality Skin Renewing Cream is that it is a 99.6% natural formula and contains red ginseng root and manuka honey, as its key ingredients. The red ginseng root from Korea is supposed to revitalise the skin cells and accelerate skin renewal, while manuka honey is known to fortify the skin barrier and boost skin moisture and health. This cream therefore, is one that revitalizes your skin, and helps it look and feel smoother, stronger and more radiant. Nice promises, wot? 😀
This this isn't one of those creams you can pigeon-hole into a category, I'd peg this to be a cream for everyone irrespective of age or skin type. However, due to its texture, those with oily or oily-combination skin types will not appreciate it as much.
It's ironic, as I've read critiques on how this launch by Kiehl's is aimed at the Millennial market, who doesn't appreciate traditional anti-aging approaches, and prefers something more natural that give a healthy glow. I'm by no stretch of imagination, a Millennial (I could have had a Millennial child if I had wanted LOL! 😀 ) but I appreciate this new approach to skincare! 😛 Young at heart – what can I say?! 😀
Almost balmy texture comforts normal-dry skin
I say ironic, because the younger crowd will likely be saddled with oilier skin and therefore be less appreciative of the texture of this cream, which borders on being a balm. The texture is rather thick, although not in a balmy way. It is on its way to being a balm, without quite getting there.
For this reason, I find that less is more. The best way to use it, is to scoop out just a little, warm it up between the palms of both hands, and then apply to your skin. The cream is a pale yellow, and although the texture is a little thick, it absorbs easily and well without leaving any residue.
For me, with normal-dry skin, I prefer this best used in the day as I don't find it sufficient for night use. I do prefer something a little heavier and richer for night use. Initially, I was a little leery of using this in the day, but I soon found that the texture lends itself best for me used that way. Once it absorbs into my skin (apply on damp skin to help it absorb more quickly) it leaves no greasy feeling behind so it doesn't mess with any makeup that goes on thereafter.
For those who don't have drier skin, you can use this both day and night. Use a little less in the day, if you feel that it's too heavy for day use, and use a little more at night.
Skin feels more revitalized and has a boost
What I like about this cream is not only how nice it feels, but how it does gives my skin that bit of a boost. It does boost radiance over time and with regular use, and it does make my skin feel smoother and even a little firmer. You notice things like firmer skin once you get older and the ol' collagen starts giving way LOL! 😀
I used this straight for a month plus in the day, and sometimes at night (slightly more applied over an oil or blended with an oil) and I loved it. I experienced no problems with it whatsoever.
I then abandoned it for a month while I ventured off to use something else, before coming back to this recently for day use. It reminded me again that I really do like this, my skin likes it, and it's one of those that I'd happily repurchase when I run out, which I inevitably will – but it will last a while due to the texture.
If there's one thing I'm not so crazy about however, is the scent.
The scent isn't unpleasant, as it smells like a creme brulee LOL! It has the heavy sweetness of honey and a touch of vanilla, which gives it a bit of a gourmand flavour.
I'm not big on sweets, so I'm not crazy about how it smells. To me, there is also a metallic edge that plays havoc with my sense of smell. I steel myself because I love how it feels on my skin and I love the balm-but-not-quite texture. I love that it does not have a silicone feel, and that it absorbs into my skin without any residue. I guess I can overlook the smell – just.
IN A NUTSHELL

The Kiehl's Pure Vitality Skin Renewing Cream is currently a standalone cream, which boasts 99.6% natural ingredients. The key ingredients are red ginseng root and manuka honey, and this cream promises to boost skin vitality and radiance. The texture is a little thick, almost like a balm or a thick honey, but warms up and spreads easily on skin and absorbs quickly without leaving any residue. For drier skin, it may be less suitable for evening use where you may need something richer, but you can combine this with a facial oil if you prefer. I prefer using this one in the day time, where a little goes a long way. With regular use, my skin does feel a little firmer and looks and feels a little smoother and better. There is a slightly sweet, gourmand scent with a metallic edge that doesn't sit well with my nose, but I otherwise can overlook it, because I do think this is a very good product.

UPDATE: Please read my continuing update with Kiehl's about the availability and otherwise of this cream, detailed below. If you'd like to use a cream with Manuka Honey, I suggest the Antipodes Manuka Honey cream. Very nice even without the big brand hype.

PROS:
Thicker texture that absorbs easily into skin without leaving any uncomfortable residue
With regular use, skin feels firmer and looks more radiant
Boosts moisture so skin is not dehydrated
Feels comfortable even in the day under makeup

CONS:
Pricey
Not everyone will appreciate the thicker texture of the cream
Scent is a little sweet and gourmand

WHO WILL LIKE THIS: Anyone who has a normal to dry skin texture, Anyone who wants a simple cream that works on smoothening fine lines by boosting skin texture and moisture levels and boosts skin radiance

PRICE: RM254 | £49 | US$60 for 50ml

WHERE TO BUY: Kiehl's stores and online, Nordstrom (although it seems to be out of stock everywhere online! I'm puzzled!)
Here is the ingredient list, which was on a little label under the tub, that was incredibly hard to photograph!
Ingredients: Aqua/Water, Propanediol, Glycerin, Dicaprylyl Ether, Udecane, Glyceryl Stearate, Laurel Lysine, Hydrogenated Lecithin, Tridecane, Cetearyl Alcohol, Chenopodium Quinoa Seed Extract, Butyrospermum Parkii (Shea) Butter, Mel (Honey) Extract, Mica, Panax Ginseng Root Extract, Cera Alba (Beeswax), Tocopherol, Sclerotium Gum, Xanthan Gum, Cedrus Atlantica Bark Oil, Salicylic Acid, Potassium Sorbate, Leuconostoc (Radish) Root Ferment Filtrate, Glycein Soja (Soybean) Oil, Caning Odonata Flower Oil, Vanilla Plantifolia Fruit Extract, Adenosine, Bulnesia Sarmiento Wood Oil, Citrus Uranium Dulcis (Orange) Peel Oil, Citric Acid, Pelargonium Graveolens Flower Oil, Limonene, Benzyl Benzoate, Farnesol, Linalool, Helianthus Annus (Sunflower) Seed Oil.
I do have one thing to note. After a bit of buzz early in the year, I have not been able to find a single online retailer (not even the official Kiehl's website!) having any of this cream in stock. In fact, this cream doesn't even seem to exist in their line up!
If I'm not sitting here, cradling this golden jar protectively in my hand (which makes it a challenge to type), I'd even think I had imagined this all. Does anyone know if this was a limited edition item or if it has been discontinued? I'm so puzzled!
UPDATE! Kiehl's Pure Vitality Cream is DISCONTINUED FOR REASONS OF QUALITY!
I was puzzled by the fact that this cream seemed to have disappeared off the face of the earth just less than 6 months after its launch, when I was looking for it online. I remember the huge press launch and junket, and seeing how the local media and social media people were feted. Needless to say, everyone loved this cream. I can see why, because I love it too.
If a product is out of stock, it usually states so on the website, not disappear altogether, as if it never existed. So I reached out to the local PR for Kiehl's and also Kiehl's on Twitter. I was asked to send a DM, and this is the reply.
This is the update as at 6 June 2017
To be fair, they did not say it was discontinued, just that it was temporarily suspended. But if you look at all the official Kiehl's websites, Pure Vitality Cream does not exist, as a product. Now, I must say that this incident has left me with a rather sour taste in my mouth.
While I appreciate that Kiehl's has addressed the issue by withdrawing the item from sale, I also note that just a week ago, in late May 2017, this very same cream was just launched by Kiehl's Indonesia (Instagram) and feted by their social media influencers. So, when was the decision to pull the product from circulation made? Are the social media influencers on Instagram, who enjoyed the press junkets, and who feted this cream, going to post a retraction and explanation? I think not!
I have asked what the "minor discomfort" is, and am awaiting a response, which I'll update once I get it. I have also reached out to the local Kiehl's Malaysia representative to get their response to this issue.
What I'm a little more concerned about is this – what happened to those who had bought this cream and used it up, or who are still using this cream. While this "minor discomfort" may not affect them, was it fair for Kiehl's to not say anything to these customers, or gauge their reaction to the cream? Without knowing what sort of "minor discomfort" this is, I can't comment, as I personally did and do still love it.
But will I use it, knowing what I now know? I don't know. I'm torn, as I love the cream. But what if it affects my skin after this, since I do not know what side effects I should be expecting? Do I toss it? What? I have also reached out to Kiehl's to ask if it is safe to continue using.
In a way, I feel quite troubled by this. I appreciate that Kiehl's has dealt quickly with the issue (launching and then pulling a product within less than 6 months is quick) but I do not appreciate the stealthy undercover way they have done so, hoping no one noticed. There is nothing online about this situation. I looked and looked. There are only posts of people who enjoyed using this cream. There are posts by social media influencers and beauty editors waxing lyrical about how this cream gave skin a beautiful glow (but we know how influencers work) In my view, something is rotten in the state of Denmark and I'm afraid my perception of the brand is rather coloured now. I will have to treat all future products from this brand with caution – who knows, they could pull that brand new hyped product off the shelves in the next 3 months!
UPDATE: 7 June 2017
I still have not had any replies to my emails to Kiehl's Malaysia, or to my queries on their Instagram account. I have noticed that Kiehl's Indonesia has, as of last night, removed all references to the Pure Vitality Cream from their Instagram account, and I'm informed that they have advised customers to stop using the product and that the product has been withdrawn from the market. Kiehl's MY isn't responding to me as yet.
However I did receive a reply from Kiehl's NYC to my Twitter DM.
The official word from Kiehl's NYC therefore, is to STOP USING THE PURE VITALITY CREAM. That's what they advise. I do have a follow up question that you can see above, as to whether they will be issuing an official statement and having a product recall. I'll update when I receive a response.
I'm conflicted. On the one hand, this cream has worked well for my skin. Perhaps the batch I received was fine. I would like to continue using it. On the other hand, knowing what I now know, I shouldn't. Either way, I must say the way this has been handled doesn't sit well with me.
UPDATE: 8 June 2017
Still no news from Kiehl's Malaysia via email (Day 3 now), and my questions on DM via Instagram, and Instagram comments have gone ignored (@myKiehls has since posted new photos and replied to other comments but not acknowledged mine). There has been no response to my Twitter queries to Kiehl's NYC either. I am following up on those.
But what's been heartening, is that some concerned people have picked up on this issue in other countries, and checked with their local Kiehl's for the official word.
Kiehl's Indonesia has been most responsive so far. The official word is as I have set out in the 2 updates above, but written in Bahasa Indonesia. However, when pressed by influential bloggers Kae, Deszell and Puchh, they have similarly advised to stop use of the product, however, it is only notified in private, not in public. They aren't able to make a formal statement without advice from global headquarters, which is understandable in a global company, but which also reflects, I feel, on the rather lackadaisical attitude of Kiehl's HQ in this matter. Kae, Deszell and Puchh have also taken the initiative to update their followers about this situation, as most are unaware they should stop using the cream.
Similarly, a Twitter friend in Australia, Samstillreading, has contacted Kiehl's Australia, to be told that the product is no longer available, and to use a different moisturiser instead, without explanation.
Due to the advice I received, which I shared above, that consumers are recommended to stop using the cream, implies something far worse than a mere discontinuation of product. If you own this, I will urge you to try to get a refund or exchange at your local Kiehl's store. There is no word on refunds just yet, just as there is no word on an official statement, but in countries like Australia, where consumer law is strong and enforced, I believe you would be able to press the matter through.
A reader in Mexico, Efrain, has similarly followed up with Kiehl's Mexico, and been told the same things I, and everyone was. That the product is discontinued due to quality issues. He is awaiting a response to his question as to whether there will be a formal statement, and whether refunds will be given.
I will update as it develops, or as and when I receive a formal response. But as it stands, having read comments from a few people who privately messaged me, to inform that they have full tubs, or that they bought this cream for their friends or family, and what were they going to do about it now? It made me mad. I maintain that, if the quality of a product is so compromised that it is to be taken off the shelves and distribution stopped worldwide, and further, that advice is given to stop using whatever you now own, a responsible company should issue a formal statement, and initiate a product recall and offer refunds or exchanges. To remain silent, and to only address the matter in private, as and when raised with them, is a poor way of handling matters and puts the company in a bad light.
UPDATE #2 : 8 June 2017
A reader who bought a tub of the Pure Vitality cream in Kuala Lumpur earlier this year, took it to a store in Sydney after learning of this, and the recommendation from Kiehl's NYC to stop using the cream. Incidentally, this is the same advice dished out by Kiehl's Indonesia, to those who asked. I attach a screencap of her recount of what was told to her, as written in her comment to my Instagram post.
I'd note that what was told to her in store i.e. that the product is very good and that the sales person is still using it, is at total odds to what's been advised to me directly by Kiehl's. I have communicated this to Kiehl's NYC via Twitter for their comment and will publish an update if I receive a response.
As it stands, this person is out of pocket, for a cream that may or may not irritate her skin, which is recommended to not be used at this point in time. I don't think that's very fair, do you?
UPDATE: 9 June 2017 – Kiehl's Indonesia makes a stand
Late last night, I was informed by Indonesian blogger Kae (@kaepratiwi on Instagram) of an interesting update in this Kiehl's Pure Vitality saga over in Indonesia. What happened was that an Indonesian news site detik.com had picked up on the news rumbling through the Indonesian beauty community, and had decided to approach Kiehl's Indonesia for a statement, and thereafter, to run a story.
Here is a link to the story on detik.com (It is in Bahasa Indonesia, but you can translate it for the gist)
In summary, detik.com was able to get an official statement from Melanie Masriel, the Head of Communications of Kiehl's Indonesia, who confirmed that the Pure Vitality Cream was withdrawn from global distribution in May 2017 (this is not very long before I posted my review on 5 June 2017). There was no reason given for the withdrawal of the product, but it was done to ensure their consumers have the highest and quality standards, and due to the ingredients in the product. Kiehl's is investigating it.
But what was more important, than this statement, is what follows.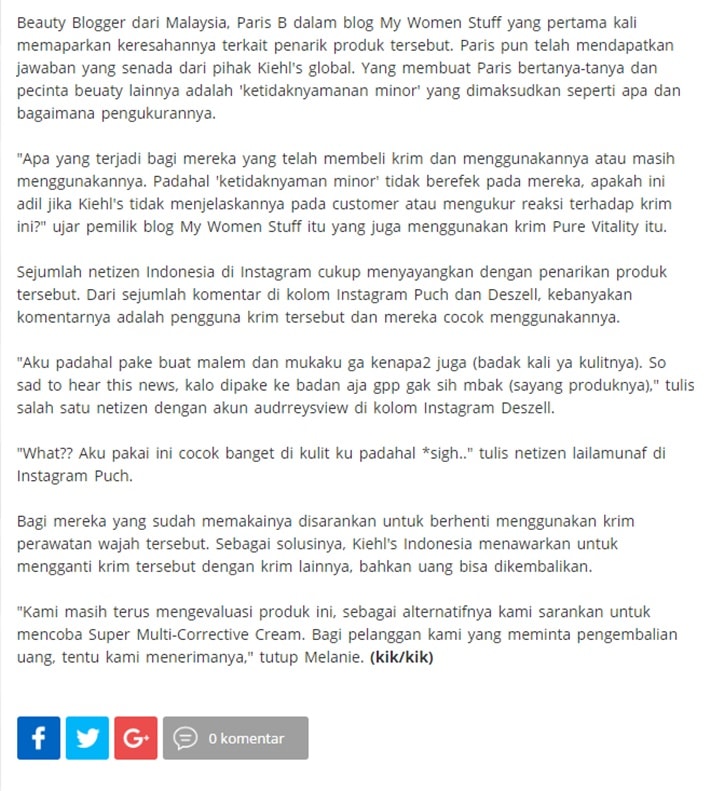 At the end of the article, Kiehl's Indonesia has offered a solution to its customers, to either EXCHANGE their Pure Vitality Cream with a different cream (Super Multi-Corrective Cream is recommended) OR TO GET A REFUND for their purchases. Please note this, and let your friends in Indonesia know, if they are using this product or if you think they are using this product.
I believe that this is as close to a formal statement as we can get from the company in Indonesia, and I appreciate the speed at which Kiehl's Indonesia has responded in this matter, and the manner in which they have stepped up to address the situation. In this instance, I believe that this is the right thing to do, in light of their advice to stop using the product. Consumers who have bought the cream should not be out of pocket, as it is through no fault of their own that they are recommended to stop its use (even if it works for them).
In this regard, I do have the Indonesian beauty influencers Kae (@kaepratiwi), Deszell (@deszell) and Puchh (@puchh) to thank, for raising this issue and for striving to get answers locally. I later found out that both Deszell and Puchh were at the Pure Vitality launch event, and had both earlier endorsed the product. But they still took the initiative to step up, when it mattered, to update their public of the current situation, once they knew about it. It is what, I believe, prompted the company to take the action they did in Indonesia, and as responsible influencers, I firmly believe they did the right thing by their followers.
I am, as of now, still awaiting news from Kiehl's Malaysia. Perhaps I'll get it some time this century. But I will try to contact others and see if I can get a response. Kiehl's on Twitter has gone silent. This was my last communication, which was seen by them (Twitter allows you to see if a person has seen your DM, shown by the blue tick). I will not communicate with them further due to their reticence. But I will merely leave it here in contrast to the response by their Indonesian counterpart.
If I receive any further updates today, I will update further.
FINAL UPDATE: 9 JUNE 2017
Finally, we have a response from Malaysia!
I was contacted by phone by Jean Loh, Communications Director for L'Oreal Malaysia, just a short white ago. She has confirmed that the Pure Vitality Cream has been withdrawn globally due to quality concerns about the ingredients in the cream, and as a matter of caution, consumers should stop use of the cream. This is in line with with the advice given to me on Twitter by @kiehls.
Further, anyone who has purchased the cream in Malaysia may take it back to any Kiehl's store for a REFUND, whether or not you reacted to it. I'm told that your customer details and purchase history will be in the system, so no receipt is necessary. This is in line with their satisfaction guaranteed commitment, terms of which have been waived for this instance of the Pure Vitality Cream.
It is unfortunate that we have had to wait this long for a local response, and I had raised my concerns about the lack of communication which could have avoided a lot of problems; but at this moment, this is as satisfactory as it can be. I will post an official response once I receive it.
Thank you everyone for bearing with me as we hunted down the response, and for your patience. If you are someone affected by this, or know someone affected by this or who owns this or may be using this cream, please take your jar back to any Kiehl's store for a full refund. For now, I will treat this saga as being at an end 🙂
ADDITIONAL UPDATE: 11 June 2017
On the issue of updates, here's a report from a reader who went to check at the Kiehl's MY store for a refund. You need to have an account with them, or at least the person buying it needs to have a customer record.
While I understand the rationale, it begs the question of recourse for those who do not have a customer record, or received it as a gift. Not everyone signs up with a record. I do not at some places. From my understanding, if you are going to offer a refund, take it in regardless of where it's bought. What does that matter? What matters is that a potentially irritating product, that is no longer sold, is removed from circulation. Offer an exchange, in those circumstances that a person has no customer record. Do something. Not do nothing.
Incidentally, someone has reported to me a response from Kiehl's NYC that says essentially, that if a customer currently has this product and are enjoying it, they can "CONTINUE TO USE IT". For the record, this is in direct conflict with what I was told on Twitter, as you can see above. I am not comfortable with the direction it's going, or with the conflicting responses over a span of just 5 days. This is not right.
UPDATE: 13 June 2017
I communicated with @kiehls on Twitter about this confusion whether to continue using the cream, and here is their response.
As I have informed them, this current stand that you may use the cream if it is fine with you, but stop if it isn't, contradicts their earlier stand given to me on 7 June 2017, a week ago. In the earlier reply, you can see above, they say this, and I quote:-
"As we are investigating the issue, we recommend that you stop using the product and we look forward to the opportunity to find another Kiehl's formula for you."
It was a recommendation to stop, pending investigation of the issue. a week later, they now deem that it's safe to use, if you don't react to the product. I understand this is now the official line fed to anyone who asks. It appears the global team has got its act together, but it contradicts earlier advice and for that, I am uncomfortable.
I was contacted by someone in Taiwan, who noticed the same thing I did (products had disappeared) after she purchased her item in Kiehl's Taiwan on 23 May 2017. I understand this the products were discontinued in May 2017. She contacted Kiehl's Taiwan, and has been given the official line – the products were discontinued due to raw material problems, and you may use it if it's ok by you, but to stop if it causes discomfort. This is after she had pursued the matter with a phone call, and after reading this post.
FINAL FINAL UPDATE! 20 June 2017
I've been contacted again by L'Oreal Malaysia by phone, and also Kiehl's USA via Twitter, to clarify that if you are comfortable and happy using the cream, you may continue to do so. They claim the earlier advice was a miscommunication.
L'Oreal Malaysia has also confirmed that refunds are possible if you have a receipt or a customer account that shows you purchased the product at the store. However, if you do not e.g. if you received it as a gift, you may take it back to the store and exchange it with a similar product.
I maintain I have no desire to flog this dead horse. I will let you draw your own conclusions and make your own decisions. I have made mine. I personally do not believe it was a miscommunication, in view of their use of the words "pending investigation" which implies that there is a recognition the product may be flawed, whether or not you react to it. But I'll let this matter rest now.
That rotten smell in Denmark? It's still there.
————–
I'd like to stress that I am by no means bashing the brand. I appreciate how quickly they responded to what appears to be customer reactions to their product. But I don't appreciate how it's been hushed up, and I was asked to communicate privately by DM (Direct Message) instead of them addressing it publicly as a reply to my public Twitter question. This approach makes me sad, as I do have a soft spot for the Kiehl's brand and their products, and I've had a long relationship with them over the years. It does make me question if the product was released too quickly without sufficient testing, and if this is something that's happening more often with brands, due to the need to push out new products all the time. I'll address that in a separate post LOL!
Paris B