I unearthed this one day from my stash, and I'd been playing around with it for the past few months. I'm not even sure where or when I got it (because I have a mini-Sephora like that LOL!) but it's one of those products that are raved all up and down the internet, and you know me. If it's a highly raved skincare item, I'm all over it!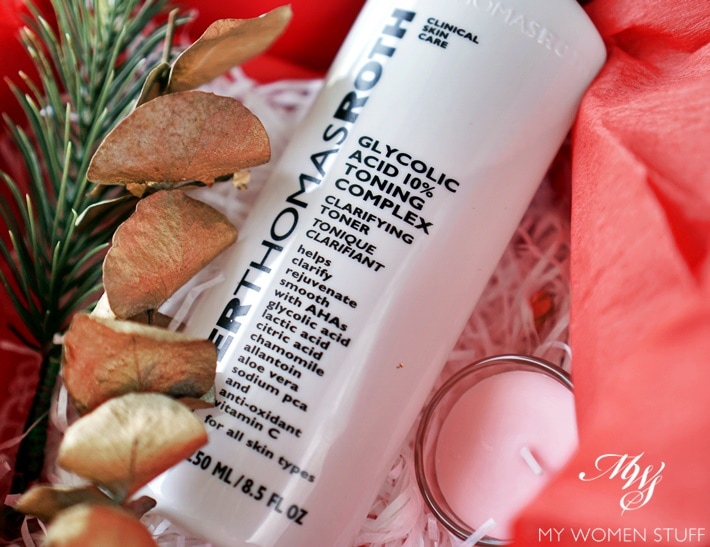 This is the Peter Thomas Roth Glycolic Acid 10% Toning Complex (I'll call it the Peter Thomas Roth Glycolic Acid Toner) and what it is, is a toner. A clarifying toner, they call it. But it is also what is popularly known as an acid toner.
Toners like these contain acids (duh! Usually AHA or BHA) that help to chemically exfoliate skin. Ever since I learnt how good they are for my skin, I've used them for a few years now. It really does help, and I don't even really use a physical exfoliator or scrub anymore.
But this. This is very popular, and I can see why. 10% Glycolic Acid baby! 😀
Did your face scrunch up at that? LOL! 😀 Well, if it didn't it should. This is why I say so.
10% Glycolic Acid is high. If you are new to using acids on your skin, you DO NOT want to start with this one or it WILL feel like your face is falling off. If your skin is sensitive to glycolic acid, you too, do not want to use this.
The Peter Thomas Roth Glycolic Acid Toner therefore, best suits someone who's been using acids for a while, and whose skin is used to acids, and can tolerate it. By way of example, if you find Pixi Glow Tonic stings your skin or turns your skin red, you want to stay away from this Peter Thomas Roth Glycolic Acid Toner. Pixi Glow Tonic only contains 5% glycolic acid. But if you've used up a bottle or two of Glow Tonic and feel like your skin needs something more, then this would be something you can graduate to.
During my initial use, I didn't like it. I found that it stung my skin and that it was drying. So drying in fact, that my skin felt parched after use. So, I kept it away. It was about then that I got hold of Biologique Recherche Lotion P50 so I promptly forgot about this one.
Well, guess who's just run out of Lotion P50 😛 Used up the very last drop last week and when I was looking around for something else to use, I stumbled back onto the Peter Thomas Roth Glycolic Acid Toner. This time, although it still does sting my skin a little (I actually don't mind it, because it means that my skin isn't too desensitized to acids 😛 ) it felt fine for the most part.
This time, although I experience the stinging, I no longer experience the drying effects. Because of the high glycolic acid content, it is recommended to use this only in the evening, as AHA can cause your skin to be sensitive to the sun and UV rays. But you are also suggested to wear a good sunscreen in the day (but we already do, don't we? 😛 )
I sometimes cheat and use it in the morning as well. But not often. I have to find something lighter to use in the morning, or go back to my Lotion P50.
I use this very simply, by pouring out some onto a cotton pad (You don't need very much, just a few drops will do) and then wiping it all over my face, neck and decolletage. Then, I follow up with the rest of my skincare.
I do find that it keeps my skin clear and spot free, and when I was clearing up my skin recently, I was using this. It's chock-full of AHAs – glycolic acid and lactic acid that help to chemically exfoliate the skin to reveal newer, smoother skin. If you use acid toners, then this is something you'd want to keep in mind for the future, but I will warn you that it is strong!
UPDATE MAY 2017: I find this a little too harsh to use daily. I'd suggest this for 2-3 times a week use instead, as my skin was starting to feel raw after about a month of constant use. I'm sucking up and going back to Lotion P50!
IN A NUTSHELL

The Peter Thomas Roth Glycolic Acid Toner is an exfoliating or clarifying toner that contains AHA to chemically exfoliate the skin. The 10% Glycolic Acid content is quite strong, so it is suggested that you only use this in the evening, with a good sunblock in the day time. I also suggest that those who are new to using acid toners stay clear of it as it is not a starter product. This is strong and if your skin is very sensitive or sensitive to glycolic acid, it can react most alarmingly. Think of this as your step up from a basic AHA lotion or toner. But I like how it keeps my skin clear and my pores clog-free and my skin smoother. Well deserving of its raves.

PROS: High glycolic acid concentration for those who need it, Large bottle can last a while, Keeps skin clear and smooth, Helps unclog pores, No scent

CONS: Very strong so will not work for everyone, Can feel drying if not careful – be sure to follow up with something hydrating, Pricey up front but it comes in a large bottle

WHO WILL LIKE THIS: Anyone who is used to using an acid toner or AHA on their skin

PRICE: RM220 | US$40 for 250ml

WHERE TO BUY: Sephora stores and online, Ulta, Cult Beauty
Here's the ingredient list:-
WATER/AQUA/EAU, GLYCOLIC ACID, METHYL GLUCETH-20, PROPYLENE GLYCOL, ALCOHOL, LACTIC ACID, HAMAMELIS VIRGINIANA (WITCH HAZEL) EXTRACT, CHAMOMILE RECUTITA FLOWER (CHAMOMILE) EXTRACT, ALOE BARBADENSIS (ALOE VERA), SODIUM BORATE, SODIUM PCA, POLYSORBATE 20, ALLANTOIN, ASCORBYL PHOSPHATE, PHOSPHOLIPIDS, CITRIC ACID, CAPRYLYL GLYCOL, ETHYLHEXYLGLYCERIN.
I know I'm going to get this question, so I'll answer it here.
How does PTR Glycolic Acid Toner compare to Pixi Glow Tonic and Biologique Recherche Lotion P50?
This is much stronger than Pixi Glow Tonic (5% Glycolic acid), so I suggest that you start off with a lower concentration before upping it to this one. If Pixi works for you, there's no need to change unless you feel that you need something stronger for your skin. Also, read this post about why you may not want to use an acid toner so often.
I was using Lotion P50W which has about 9% glycolic acid. I felt nothing on my skin. No stinging. That said, this was probably because I was using Pixi Glow Tonic and Alpha H Liquid Gold before. Regular Lotion P50 is said to have about 12% glycolic acid concentration. I do feel a bit of a sting with that one. So, if you're a Lotion P50 user, then your skin will likely take to the Peter Thomas Roth Glycolic Acid Toner. I think that my skin, after its exposure to 1 bottle of Lotion P50W had gotten used to the higher concentration, which is why this one worked for me better the second time around compared to the first.
However, I hesitate to name this as a replacement to Lotion P50 because I find the Lotion P50 formula more elegant. Yes, it smells a little (I'm ok with that) but it feels better on my skin. More hydrating, more comfortable. By contrast, the Peter Thomas Roth Glycolic Acid Toner feels a little more chemical. There is no scent (which is good if you dislike the Lotion P50 scent) but I feel like it's a tad more harsh.
This is not in the same category as Alpha H Liquid Gold, which is more of an overnight treatment mask, so it doesn't compare. I wouldn't use this Peter Thomas Roth Glycolic Acid Toner alone. Dries me up!
Have you tried this glycolic acid toner? Anything else from Peter Thomas Roth worth trying?
I've only tried one other skincare product from this brand I think – the gel mask. Not terribly wow-ed. This one however, is impressive. But strong. So tread carefully! 🙂
Paris B