I don't generally have sensitive or easily irritated skin, but sometimes, I do silly things to my skin that results in my skin throwing a fit. This usually results in bumpy, dry and flaky skin for me. What I've learned to do then, is to take it easy.
I went through one such episode recently, and unearthed from my stash the Melvita Apiscoma UHT Soothing Cream, a product I fell in love with and knew I just had to tell you about it!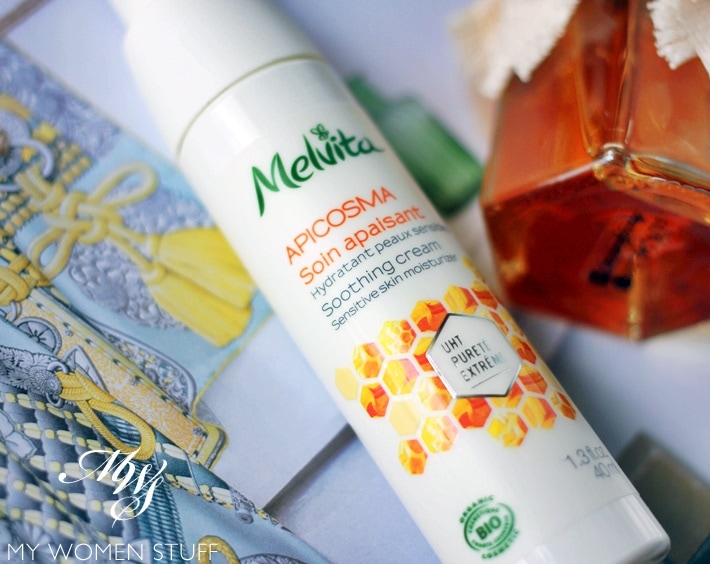 Melvita is a brand you may be familiar with. It's a French brand of certified organic skincare, with its roots in honey and the bee. My favourite product from them has been the Floral Water Mist, which is lovely, soothing and hydrating, and I also liked their Nectar Supreme La Creme moisturiser.
While the Nectar Supreme La Creme is a good cream, I do think it serve a better purpose for those with more matured skin (and slightly deeper pockets). This Apiscoma UHT Soothing Cream however, is suitable for most, and especially, those with sensitive skin or those undergoing a bout of sensitivity – it happens! 🙂
I find the texture of the Apiscoma UHT Soothing Cream a little thick, but it has a lovely, non-greasy nor tacky texture, that sinks beautifully into the skin. For this reason, I believe that this is suitable for any skin type. In the day, I use one pump (I have normal-dry skin) and in the evenings, I use 1.5 pumps. If you have oily skin, just use a little less. It is easy to spread on skin.
The slim bottle has a twist-to-lock pump, and the pump is fairly easy to control to determine the amount you need.
What the UHT stands for in the name, is pretty much as you see on the side of milk cartons – Ultra Heat Treated. The formula is treated, just like milk, to ensure a longer shelf-life and to ensure the contents do not spoil. The product is packaged within an airless pump, that is hermetically sealed, to ensure no air gets in, to affect the contents.
The formula includes a patented 3-honey complex (acacia, orange blossom and thyme honeys), shea butter and sunflower oil. What you get therefore, is beautifully lush cream, that feels like velvet on skin and does an amazing job at soothing and calming irritated skin. In just 2-3 days, I found my skin responding, the flakiness went away, the roughness smoothed itself out, and although I no longer have the problem, this is now my new favourite moisturiser for both day and night! It seems to help my normal-dry skin normalize, so I don't actually need a heavy moisturiser at all. This seals in all the lovely goodness of my serums and lotions, and my skin feels amazing.
It doesn't feel greasy, nor does it oil up, so it sits well to protect my skin during the day. During the night, I use a little more, and it's the same – non-greasy nor oily, and is sufficiently moisturising for me to wake up with soothed, smoothed skin.
However, it is not all rainbows and light. There is one thing that bugs me about this cream, enough for me to maybe not use it too often. That's the scent.
The scent is all natural, but I find the creamy floral scent unpleasant. If you are fine with floral scented products, then it will sit well with you. For me, I find the underlying creaminess too gourmand for my tastes, and that puts me off. It's not to say that it's bad, scent is so personal. For this reason, I will use this cream to the last drop, but I will hesitate to repurchase unless I experience another skin flare-up, in which case, this will be my SOS skin soother!
IN A NUTSHELL

The Melvita Apiscoma UHT Soothing Cream is a moisturiser targeted at soothing sensitive and irritated skin. The formula is flash sterilized the same way that milk is, for longer shelf-life and efficacy. The cream, although a little thick, absorbs very easily into the skin without any greasy, oily or tacky feeling. It is very comfortable and it did an excellent job at soothing my sensitive skin, hydrating it to remove flakiness, smoothing out bumpy skin and soothing dry patches of skin. It is beautiful and effective. The only thing that doesn't sit well with me is the scent, which is natural, but too floral and gourmand for my preference.

PROS: Soothes and calms skin very quickly, Hydrates and moisturises skin to heal and treat sensitive and irritated skin, Treats flaky and dry skin, Makes bumpy, dry and flaky skin smooth and comfortable

CONS: Scent is too gourmand for my preference

WHO WILL LIKE THIS: Anyone with sensitive or irritated skin that needs soothing and hydrating

PRICE: RM195 | €29.90 | £30 for 40ml

WHERE TO BUY: Melvita stores and online, Naturisimo
For those interested, here is the ingredient list for the Melvita Apiscoma UHT Soothing Cream.
Have you tried this Apiscoma Soothing Cream? Do you have any Melvita favourites?
Despite the scent, I do love this a lot, simply because I couldn't believe how quickly it helps my irritated skin heal. This works incredibly well – almost as good or better than Tatcha Indigo cream that I love, but at a smaller pricetag! That said, I guess I should really stop irritating my skin in the first place LOL! 😀
Paris B