Over the weekend, I decided to brave the deep dark recesses of my storeroom to clear and reorganize the mess. It had gotten so bad in there, that I could not open my cupboard doors, and it was while trying to put away my luggage bag, that something in me snapped. So, I took it into my head to start clearing it out.
And one of the things I found I had bags and bags of were, paper bags. My name is Paris B and I'm a paper bag hoarder!
I'm quite sure I'm not alone in this Paper bag Situation.
You know how it is right? It's always so nice to receive something in a fancy paper bag, and then you carefully fold them away, telling yourself it'll come in handy one day.
Then, one day you open the door to your storeroom, and you can't move, because those bags breed and you now have paper bags of all shapes and sizes spilling out of every shelf, tripping you up, and falling on your head as you try to get them in order.
What do you do? Are you a paper bag hoarder?
You know, I remember my Mom would pick out the nice paper bags that you often used to get from department stores at festive periods. Remember those? It was always so interesting to see the varied designs the stores would come up with. Metrojaya used to do really pretty ones, as did Parkson. But I don't think they do them anymore – or at least I don't pay attention.
But Mom used to fold them up nicely and store them away in a cupboard, on the basis they'd come in useful one day. That one day never came apparently, because the last time she cleared out the cupboard, she tossed out everything. Every last paper bag so carefully kept over the years! And you know, these bags don't really degenerate – they look good, and continue looking good, as long as you keep them nicely. And they look so pretty that you don't want actually USE them LOL! 😀
I seem to have inherited that problem LOL! 😀 In my case, the rapid breeding is partly due to the gifts from events I attend. Yes, it's incredibly fancy to carry a branded paper bag around, but it's when I get home that I think to myself – what am I keeping these for?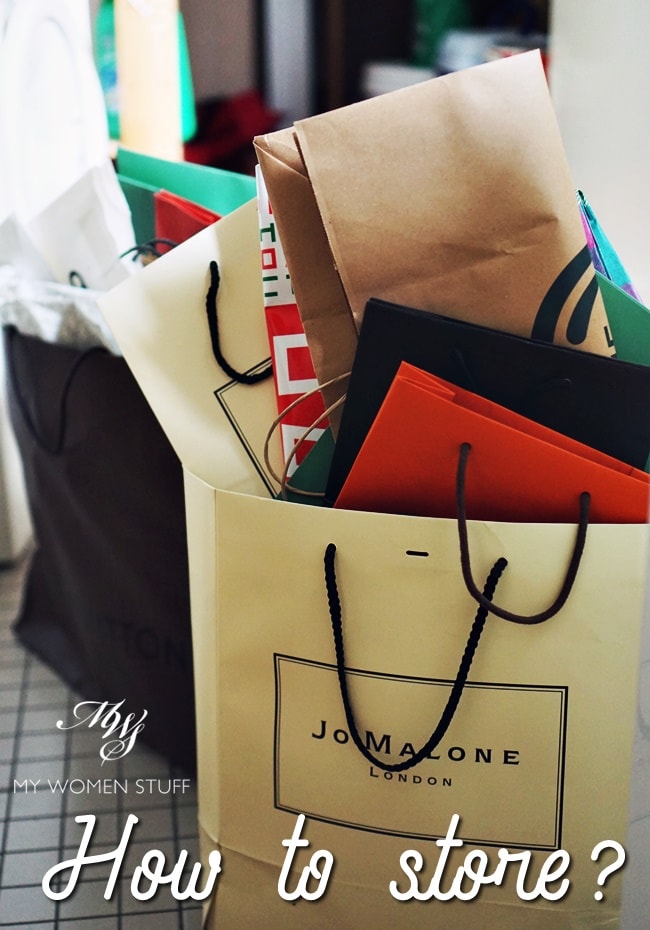 I could, I suppose, use them as I would an eco-bag, except paper bags are harder to tote around, as opposed to a foldable eco-bag that fits in your handbag. I've heard and read of people who sell their fancy paper bags as well. Genuine paper bags bearing the logo or name of a luxury designer brand usually do well, I'm told. I don't go there, because I believe that for the most part, they are bought by counterfeiters to scam an unsuspecting buyer into believing their goods are real. I've even read about original receipts being sold, for this purpose but that's a story for another day. Suffice to say, I take a strong stand against the counterfeiting industry and I refuse to aid them in any way.
What I usually do is to use paper bags if I'm gifting or handing over stuff to people. The sturdy thick paper and flat base also makes it useful for carrying or transporting things, and it is actually quite compact, due to its shape. I also find that it can carry quite a lot, depending on the quality of the bag, so it's useful for when I need to be toting heavier items around.
I usually separate out the smaller bags to hold gifts. I do often have to warn the recipient that the contents may not reflect the name on the bag LOL! 😀 But a pretty ribbon on a paper bag makes for pretty gifting without having to fuss with wrapping paper (and I pass my paper bag problem to someone else! YAY! 😀 )
What I did most recently, was to only retain a small percentage of the paper bags I have. I kept the more sturdy ones and tossed out the flimsy paper ones, or any damaged ones. I separated them out by size, folded them flat and stored them in a larger bag, for when I need to get hold of them (which may be never LOL!) I threw most of them out, with a heavy heart but who knows, someone else could have picked them up. I left them by the paper recycling bin, and they had disappeared the last time I checked LOL! I guess someone else has a paper bag problem too 😀
When I mentioned this on my Instagram Stories, a friend replied to tell me that she uses her paper bags as makeshift paper bins, because they are sturdy, and they stand up nicely. Once they are full, you tie them up and toss it out. I thought that was very clever! So I'm going to do that too.
I could of course, refuse paper bags where I can, and I often do, if I'm just picking up small items. This is more so in Sephora cos I find their bags really flimsy and tear easily so I usually refuse them. But sometimes, it's easier to accept the paper bag, because it makes it easier to carry a bulky item, or because it helps protect the item better; and I think I'd be churlish to go to an event and tell the hosts that I'm refusing their gift bags but taking the gifts – I just think it's a little rude.
Are you a paper bag hoarder? What do you do with your paper bags?
I am quite sure I'm not alone in this predicament, so do share what you do with your paper bags. I'm sure there are some clever ideas out there that we can all benefit from! Share! 😀
Paris B