Now that we all have our skincare in place, brands are coming up with boosters. These are usually products, like serums, that perform a specific function – to give your skin that boost it needs, based on what you need.
Bobbi Brown launched 6 of these targeted solutions, depending on what your skin needs. I know it feels like we were just talking about Bobbi Brown yesterday, but that was a bit of an impromptu post haha!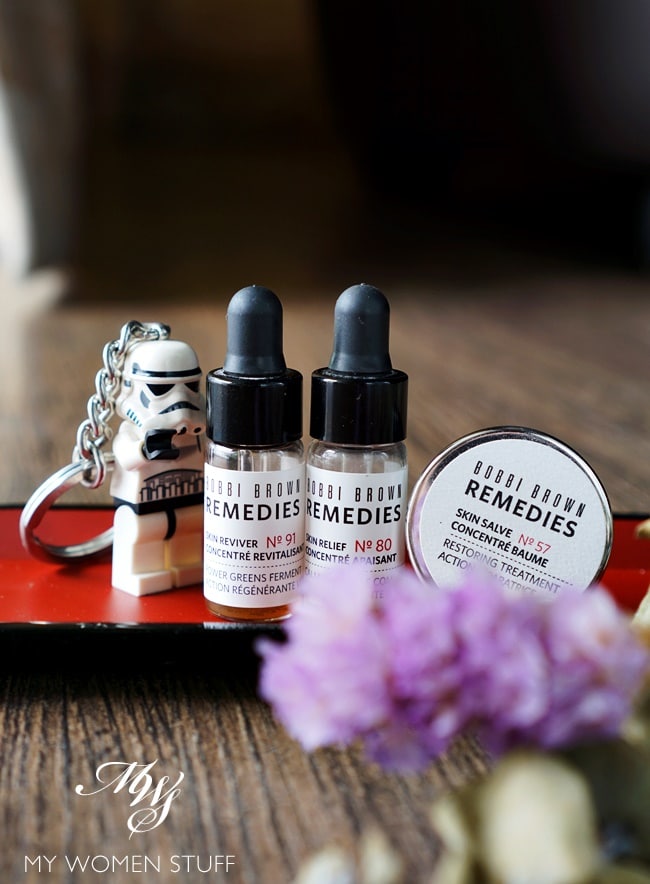 The Bobbi Brown Remedies come in 6 versions, to target 6 different skin problems you may face. They are:-
Skin Clarifier No. 75 – to target pores and blemishes, to balance oil and to unclog and clarify pores
Skin Reviver No. 91 – for dull, tired skin, to energize skin and protect from environmental aggressors
Skin Moisture Solution No. 86 – for dry, parched skin to help increase skin moisture factor
Skin Fortifier No. 93 – for loss of elasticity, to help repair skin barrier
Skin Relief No. 80 – for redness and irritated skin, to calm and quiet your irritated skin
Skin Salve No. 57 – for chapped and cracked skin, to protect and provide a barrier to help skin heal
A few months ago, I was sent a limited edition Bobbi Brown Remedies Recovery Rescue Kit mini set with 3 little samples, so I could have a go at them, to see what I thought. These mini sets are available for sale for a limited time in stores, so ask if they still have them, if you're interested. As for me, here's what I thought, after I'm almost finished with these – figured I better get going, before I had nothing left to photograph! LOL! 😀
If you're wondering how these work, think of these serums as boosters. If you have a problem, these serums will help address your problem. However, I ran into a little problem when I was first using them.
You see, I had no problem! LOL!
In the Remedies Recovery Rescue Kit was mini versions of the Skin Salve No. 57, Skin Relief No. 80 and Skin Reviver No. 91.
I used them on their own, as a serum as follows:-
Cleansing -> Acid Toner -> Lotion/Hydrating Toner -> Bobbi Brown Remedies -> Moisturiser
The directions do call for them to be used on clean skin, after cleansing. But because I use an acid toner, I didn't feel that it made sense to use after that, as it would mean I'd effectively be wiping it off. So, I use it after. Don't follow what I do, if it doesn't make sense to you, or if you feel following the directions is more important 😛
For me initially, I used it a few times, but wasn't sure what I should see. I had no redness to calm, and my skin wasn't feeling or looking tired. I was rather stumped, I cannot deny.
However, I was quite happy (initially) with the Skin alve No 57 balm, because it is a thick balm, that really effectively soothed some flaky, chapped skin on my nose. I thought it was quite decent at this. But I also thought it felt like I was applying petroleum jelly on my skin. It was thick and feels a little like wax going on. Hunting down the ingredient list online, I was a little disappointed. Here it is.
Ingredients for Skin Salve No 57 : Petrolatum, Beeswax/Cera Alba/ Cire d'Abeille, Hydrogenated Polyisobutene, Caprylic/Capric Triglyceride, Caprylic/Capric/Myristic/Stearic Triglyceride, Parfum, Daucus Carota Satica (Carrot) Root Extract, Centella Asiatica (Hydrocotyl) Extract, Butyrospermum Parkii (Shea Butter), Choleterol, Ceramide NG, Tocopheryl Acetate, Stearyl Glycyrrhetinate, Octyldodecanol, Linoleic Acid, Lecithin, Tetrahexyldecyl Ascorbate, Simethicone, Limonene, Benzyl Salicylate, Chromium Oxide Greens (CI 77288), Iron Oxides (CI 77492, CI 77492, CI 77499)
The first item on the list is Petrolatum, which is basically petroleum jelly. The second is Beeswax. It explains the texture, but I'm afraid to say, it lowered this product in my estimation, because it is expensive. Although it can last a long time, so can Petroleum Jelly. I'd be more willing to get behind this, if it was made of better quality base ingredients.
As for the other 2 items, Skin Relief No. 80 is for calming redness, and Skin Reviver No. 91 was to revive tired skin. I wasn't sure how they were reacting. It was not until my skin ran into trouble, that I could give them a try!
I had spent a day out in the sun one day, quite unwittingly, and it left my skin feeling rather irritated for the next few days. In those few days, I have to say that the Skin Relief No. 80 seemed to help reduce the redness I saw on my skin. It made it feel more comfortable.
Ingredients for Skin Relief No 80 – Calming Algae Complex: Water, Algae Extract, Butylene Glycol, Ascophyllum Nodosum Extract, Salicornia Herbacea Extract, Asparagopsis Armata Extract, Laminaria Digitata Extract, Lactoperoxidase, Glucose Oxidase, Caprylic/Capric Triglyceride, Sorbitol, Caprylyl Glycol, Glucose, Sodium Hyaluronate, Xanthan Gum, Citric Acid, Disodium EDTA, Phenoxyethanol
As for the Skin Reviver No. 91, I put it to the test when I had to go for a short trip. Having to wake early in the morning for a flight, rushing around, putting your best face on for work, and then collapsing into bed after a long day, is not really my idea of fun. I brought the Skin Reviver along with me for a boost to REALLY tired skin that night, and what d'ya know, my skin actually LOOKED more rested the next day. I still felt tired, but at least I LOOKED better.
Ingredients for Skin Reviver No 91 – Power Greens Ferment: Water, Butylene Glycol, Propanediol, Algae Extract, Brassica Oleracea Gemmifera (Brussels Sprouts) Extract, Brassica Oleracea Acephala (Kale) Leaf Extract, Vaccinium Angustifolium (Bluberry) Fruit Extract, Spinacia Oleracea (Spinach) Leaf Extract, Echinacea Purpurea (Coneflower) Extract, Sapindus Mukorossi Fruit Extract, Chlorella Vulgaris Extract, Glycerin, Caesalpina Spinosa Gum, Caprylyl Glycol, Yeast Extract/Faex/Extrait de Levure, Sodium Hyaluronate, Ethylbisiminomethylguaiacol Manganese Chloride, Hexylene Glycol, Potassium Sorbate, Citric Acid, Disodium EDTA, Phenoxyethanol
My conclusion therefore, is that the Bobbi Brown Remedies booster serums work best if you have a problem that needs addressing. If you don't have that problem, then it won't do anything for you, and you may feel like you're not seeing any results. Your skin probably doesn't need it, that's why!
I can imagine that the Skin Clarifier (for oily, clogged and blemish prone skin) and Skin Moisture Solution (for dry, dehydrated skin) will probably be the most practical for everyday use, as most of us will have one or the other of these problems. The others are, I feel more targeted and more temporary problems, which may not need a solution in a bottle as large as they one they currently sell. So, to be honest, I have mixed feelings about this – it's good, but only if you have the problem you want solved.
IN A NUTSHELL

Try these, if you have a problem that the Bobbi Brown Remedies booster serums can help with. These are serums that are very targeted for a specific purpose and it is best that you work out your problem, before identifying which serum you need. I find that they work only if you have a problem that specific serum addresses. Otherwise, you won't notice much of a difference. The Skin Salve No. 57 I have mixed feelings about due to its ingredients.

PROS: Works if you have a specific problem that the serums target

CONS: Pricey, No visible results if you don't have the problem the specific serum addresses, the ingredients in the Salve aren't commensurate with the price

WHO WILL LIKE THIS: Anyone with a specific problem targeted by any of the serums in the Remedies range

PRICE: RM178 | US$45 for 14ml

WHERE TO BUY: Bobbi Brown counters and stores, Bobbi Brown online, Nordstrom, Selfridges, Adore Beauty
Do these Bobbi Brown Remedies serums interest you? Have you tested them?
I'm curious to know if you have tried them and have a view on them. I have mixed feelings as you can probably tell LOL! 😀
Paris B