I'd never heard of EX1 Cosmetics. Ever. I think it was one of those brands that's been popularized through social media (particularly Instagram) and it was one of those that slipped through my radar (I'm not really on the ball despite what you might think LOL!) I only really looked at it, because my friend Romana used to rave about their foundation. I was curious. Naturally!
When the opportunity arose, I decided to get myself a bottle, to see what the hype was about. It's not very expensive, which is always a good thing and aids experimentation 🙂
I still don't know much about the brand, but I've since learned that the EX1 Invisiwear Liquid Foundation is very popular and gets a lot of raves, because it is designed for those with yellow or olive undertones. Not having very significantly yellow or olive undertones myself, it was something I honestly can't grasp but I know I count myself among the lucky ones when it comes to foundation. I can usually find a shade in most brands.
So EX1 Invisiwear Liquid Foundation – is it worth having a go at it sight unseen? 🙂
Short answer, yes it absolutely is!
I didn't know what to expect from this, because as I said, I didn't know much about it. The pricetag was small enough that I was willing to take a chance, despite not being able to see it in person. It's always a challenge buying foundation sight unseen!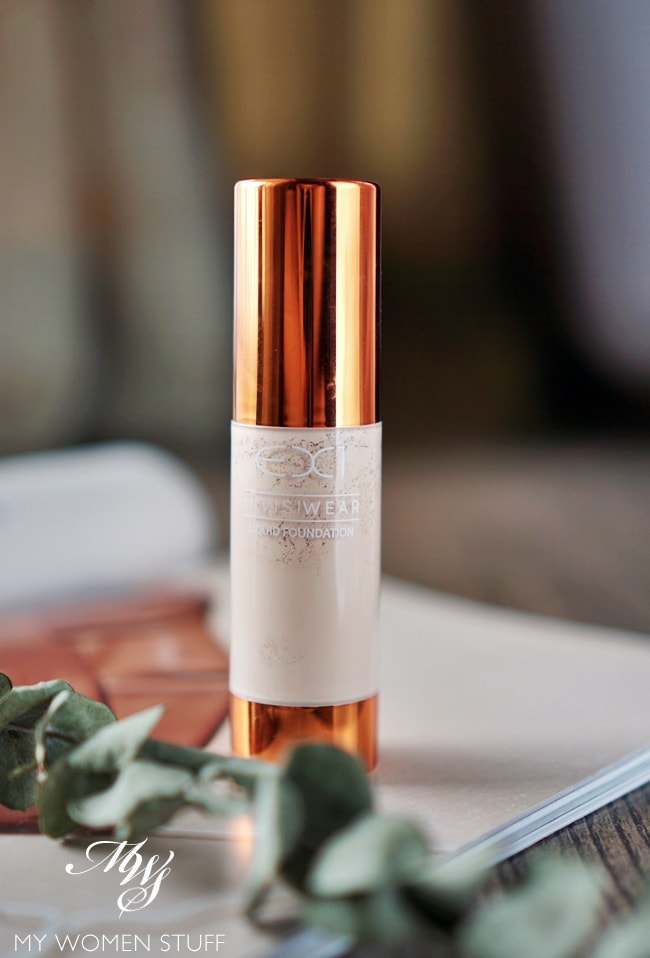 First thing I rather liked is the packaging. It's handy and portable, coming in a plastic bottle with a well designed pump. The metallic orange cap and bottom cover is very eye catching. However, as you can see, the formula is a little liquid, so it does tend to settle after a few uses, and then the bottle looks a little… for the want of a better word, used. Nothing wrong with it however, just some settlement going on.
Before you use, it's best to shake it up (as you would most liquid foundation) to ensure that the formula mixes back up and you get something that's usable. I do find that it pumps out a little liquid. Not a problem for me.
I use the 5-line foundation method and blend with a brush and here's the best part. It blends beautifully without streaks, and the coverage is absolutely wonderful! I was very surprised when I first tried it because I wasn't sure what to expect. But what I really loved was how it seemed almost to adjust (slightly) to match my skintone, and then give me beautiful coverage, but without feeling heavy or looking cakey. I do apply a thin layer of powder to set and then, it lasts all day on me, and then some!
I particularly like how it looks after it's settled into my skin, and then it just looks like me. Just better. SO MUCH BETTER! 😛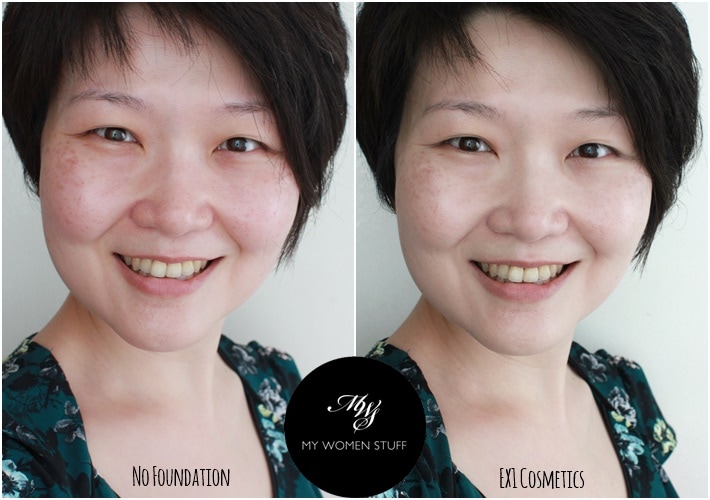 Here's me on a not so good day. For some reason, my skin was very red. I think it was a very warm day, and it just affected my skin. But look what happens after I put on the EX1 Invisiwear Liquid Foundation. Hello normal looking skin! I couldn't believe it myself, so I had to share this, even if it's not the most flattering photo I own! 😛 I think the yellow tones help in this situation, to camouflage and neutralize the redness.
The coverage is actually quite good, although very few products can cover my pigmentation, so you do still see a shadow of it on my cheeks. I'm actually fine with it 🙂 Concealer usually evens it out further, if I want. But what I like is that I don't need more concealer on the under-eye area, and you can see how natural everything looks. Smooth and glowy.
Oh and yes, this is glowy. Not in a shiny "I'm doing my best impression of a frying pan" sort of way, but in a "Oh look, I have great skin" kind of way. It's very flattering, and I was quite literally using this foundation for weeks on end just because I love it so (which explains the dearth of foundation reviews recently – no excuse to use another 😛 )
Never having seen it before, I took a chance with shade 1.0 (which is the lightest shade) and while it does have a rather pale appearance in the swatch you'll see below, it settles down to a more neutral shade on my skin.
In terms of shade, it is quite close to the Shiseido Synchroskin Long Lasting Foundation but it is more glowy. I do find that when it settles, the Shiseido is a tiny bit deeper. Bobbi Brown's Skin Foundation is more yellow. Bobbi Brown makes a lot of good quality warm and yellow toned foundation, so I don't think the market has been left out. What EX1 offers is a more wallet-friendly pricetag. Just so you know, all the shades above, although quite varied in tone, wear well when I actually wear it on my face. It's how they adjust to my skin.
I must say that I'm very happy I took a chance with this cult favourite. You can't get it here in Malaysia (as far as I know) except through resellers who I have no experience with, and who I honestly, just don't trust. You can however, easily buy it from various reputable online websites that ship here and internationally so I'd recommend you go down that route. It's worth a shot – I like it a lot and I think you might too! 😀
UPDATE: After a few months, I found the formula started to separate in the bottle. When I used it I had to shake it up first, and even then, it would pump out with a lot of liquid and have an odd mousse texture. It did sit well with me, and for that, I'd hesitate to recommend this further, unless you use it often.
IN A NUTSHELL

The EX1 Invisiwear Liquid Foundation is an affordable brand of foundations that are supposed to be made for yellow and olive skin tones. I like the texture, which isn't drying nor does it turn oily on my skin, and I also like the medium-high coverage that does not look or feel heavy and cakey on the skin. I think this brand will work very well for Asian skintones which can sometimes be tricky to find a proper colour match, especially in the more affordable range of foundations. The formula lasts on my skin all day, and looks amazing as the day wears on, with a healthy glow to it. If you can get it, try it. I'm quite sure you'd like it too!

PROS: Lightweight texture, Good coverage, Does not dry out skin, Not cakey nor heavy, Long-lasting with a nice glow all day, Comfortable to wear, Does not turn oily on me, Eye catching packaging

CONS: Hard to find a colour match if you don't have access to test it before buying, Can settle in the bottle and separate

WHO WILL LIKE THIS: Anyone who wants an affordable foundation for yellow or olive based skintones

PRICE: £12.50 (approx RM70 or so as of today) for 30ml

WHERE TO BUY: Physical store finder here (London), Asos (ships to MY for free)
Here's the ingredient list for the EX1 Invisiwear Liquid Foundation, which is conveniently printed on the bottle.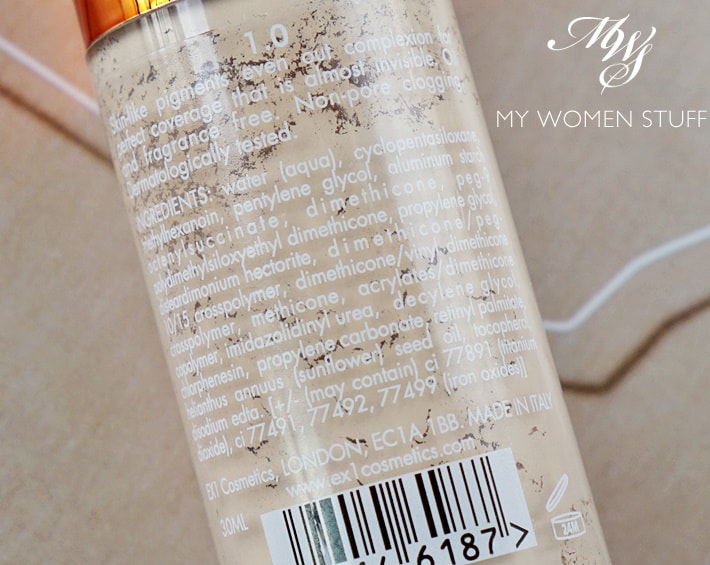 Have you tried this EX1 liquid foundation? Do you like it or does this intrigue you?
I think they made their name from this foundation and there are other products now in the range – concealer and a blush, if I'm not mistaken. I'm wondering if I should try those? If you have, please let me know if they're worth having a go 😀 Wish I could test them out in person, but heck, I'll have to go all the way to London just to look at it and I think the plane ticket doesn't justify it HAHA! 😀
Paris B