In my most recent MWS Companion newsletter (find out more about that here) I shared something that I'd been putting into practice for a few months, but didn't want to talk too much about publicly. In essence, I shared with newsletter readers on the list, that I was cutting back on my spending.
What is gratifying is that quite a few of you wrote back to me to share that you too are doing the same, for various reasons of your own (and we also shared some good ol' ranting about the current state of affairs globally haha!). Also, I'd noticed this trend amongst some other readers on the blog and on other platforms whenever the subject arises.
For me, I was and always have been quite careful with my spending. I'm actually quite paranoid about saving. When my savings dip below a certain level, I panic LOL! 😀 But those who know me, and who have been with me a while know that I enjoy my luxuries. It all comes with savings, hard work and making allowances (and sacrifices) for things you want.
But in the past few months, I'd actually consciously cut back my spending even further. A large part of it had to do with the fact that I'd been spending quite liberally for the few years prior and when I tracked my spending, I was a little taken aback that I'd spent so much, especially online. I'd also built up a huge arsenal of beauty products (let's just talk about beauty here eh? 😉 ) Realistically, I wanted to use them and get through them. So, I've been curbing the urge to buy new things and shopping in my rather extensive (and expensive!) stash. But do I deprive myself of the odd shopping or spending spree? Ah, that's what we're going to talk about here.
You do realise that you can actually still do some decent shopping, without spending as much money as you think you would? It all comes down to spending carefully, wisely and shopping smart. Here are some tips I have for those who want to save, even as the urge to splurge hits and it's what I put into practice 🙂
Shop online sales and offers
Oh yes, online shopping is one of the first things I curbed. It's so dangerous to go to your favourite online store because there'll always be something you want, or something to tempt you, and because you don't actually hand over cash, it's easy to go overboard. But the upside of online shopping are the sales. Quite often, I've found myself finding and snapping up some item I've wanted before, at a lower price, because it's gone on sale. This normally happens when I shop at sites like Uniqlo which does sales and offers on certain items weekly. I also wait for deals to happen for festive periods e.g. Chinese New Year, Easter, Black Friday, Christmas, Boxing day, Thanksgiving etc. We're such a global economy these days that it pays to keep an eye on the festive periods happening in various parts of the world, because the online stores based in that part of the world will likely have a sale or special discount going on! 😉
I tend to shop for my online beauty at UK based websites e.g. SpaceNK, Cult Beauty, Naturisimo, Bath and Unwind etc and they are all quite good at having sales or special offers or exclusive deals at different times of the year. Sometimes, if you stay away long enough, you get "We Miss You" discount codes 😀 How's that as incentive to stay away from shopping eh? 😀
For fashion, Zalora, Asos, Net-a-Porter, the Outnet, and Shopbop do special discounts off and on that are always worth waiting for, especially if it's a big ticket item. If I'm eyeing a particular item, I usually browse around to get the best price before buying (it's faster and less tiring than walking around malls). When I wanted a pair of running shoes last year, I found a pair online that was on 40% sale and I used a discount code for an even better deal than I would have gotten in store. Naturally, waiting means delayed gratification and you may not get the exact item you want. In my case, instead of a neutral pair of blue shoes, I ended up with a fluorescent pink and lime pair that you can spot from a mile away; but in those situations, I just tell myself it's not meant to be, and move on. It's just THINGS after all 🙂
Use cash back sites to get rebates
There are some websites that offer you cashback if you buy through them – ebates and shopback are 2 I know of. I've used Shopback before. It was ok. You don't actually get back very much money and you do have to wait for months sometimes, to get your rebates back. But if you do a lot of online shopping, it's worth looking for a reputable service and signing up with them. A little rebate is better than no rebate at all! But do your homework.
Save your vouchers and gift cards
Locally, some department stores have loyalty cards that entitle you to cash vouchers upon spending a certain sum within a period of time. If you find yourself shopping at those department stores often, then it's worth signing up for these cards to get the cash vouchers that you can later use to off-set against your purchases. Sephora will give you a discount on your next purchase upon accumulating a certain number of points.
I used to be a member of Aeon (previously Jusco) and Isetan up till about 2 years ago, because I found myself doing my shopping there a lot for various items. It helped that both these department stores had a supermarket that I used to frequent. When I found that I no longer shopped at those department stores very much anymore, I didn't renew my cards. Yes, I miss getting the vouchers, but it also meant I wasn't spending as much money as I used to LOL! 😀 It's a bit of a chicken and egg story.
If you really want to buy something, be thick-skinned and ask family and friends for gift cards. If you want something from Sephora, for birthdays or congratulatory gifts, ask for gift cards from the store. Once you pool them together, you may find that you can splurge on something nice, without actually spending money (you'd already spent before this but that's a different story! LOL)
Shop at Outlet stores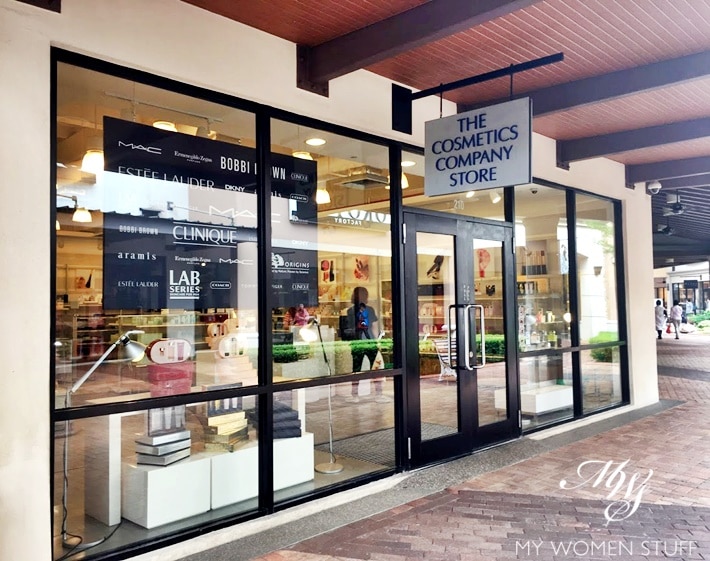 If you live near an outlet store, it can be quite a gold mine. I was down at the Johor Premium Outlets not long ago (the next nearest will be at Genting Highlands soon I'm told!) where there is a pretty decent mix of designers and brands available. For beauty buffs, you have to visit the Cosmetics Company Outlet (owned by Estee Lauder) and the one owned by L'Oreal (I can't remember the name – help?) and another that sells fragrances. In there, you will be able to find some beauty products at good discounts. Sometimes, even limited edition items that are "sold out" at the stores or counters can be found there, and at a nice discount!
I picked up a few of my favourite Bobbi Brown Long Wear Cream Eyeshadow sticks while I was there, which I was very happy about. They were about 30% off in store. But I saw quite a lot of limited edition MAC products as well for collectors who don't mind waiting. At the L'Oreal store, I spotted some Urban Decay going for cheap as well as limited edition Shu Uemura products. Even brushes! I also picked up a swimsuit for just RM70 which I was very happy about. It will be hit or miss naturally, depending on stock availability, but if you have access to the outlets or are visiting an area where there is one, it's worth stopping by and taking a look because you can buy more for less. Or just pay less for more 😉
Wait for good sales with bigger discounts
This is less so for higher end beauty products, but mostly for fashion. Fashion as we know, is quite temporary. So often, when there is a sale, that's the best time to pick up the dress, shirt, bag, shoes etc that you'd been eyeing before. When I shop at Uniqlo (where I can never leave without buying SOMETHING) my policy is not to buy anything at full price, unless I desperately want it. It's rare that I do, because I got burnt once. I bought a skirt that I loved at full price (granted, it wasn't that expensive since it's Uniqlo after all) and 2 weeks later, it was on 20% off. What the…!?! These days, I just hedge my bets and wait for a new collection to pass, and for it to go on offer before I consider buying. Often also, I'm found by the bargain bins, rooting through past collections, hoping to score a deal or two. Often I have 🙂
For budget beauty at the pharmacy though, it can sometimes be quite an excellent deal if the pharmacies do a special offer. Not very long ago, Guardian Pharmacy did a storewide 30% discount on ALL makeup. Sometimes, there are Buy 2 Free 1 offers in store. It's always worth waiting for deals like these, especially if it's for products you'd buy anyway e.g. shampoo, shower gel etc. Why spend more? 🙂
Are you cutting back on shopping or spending on e.g. beauty products? Do you have more money saving tips to share?
I don't believe in no-buys or low-buys or shopping bans, because like a diet, you'd just bounce back worse than before. I don't make wishlists either. I just try to be a little more aware of my spending habits and I have to say that in the past 6 months or so that I've put it in practice, I've been quite good. I do still buy things I want, and I don't deprive or starve myself. I just shop a little smarter and less impulsively. It might surprise you just how much you can save, even while you splurge 😉
Paris B