It's always nice to find something affordable, that actually works well, and for the most part, I've found that Japanese brand, Hada Labo tends to deliver on both counts. There are many new products from them, and while this one isn't new, the Hada Labo Premium Hydrating Lotion is one that merits consideration.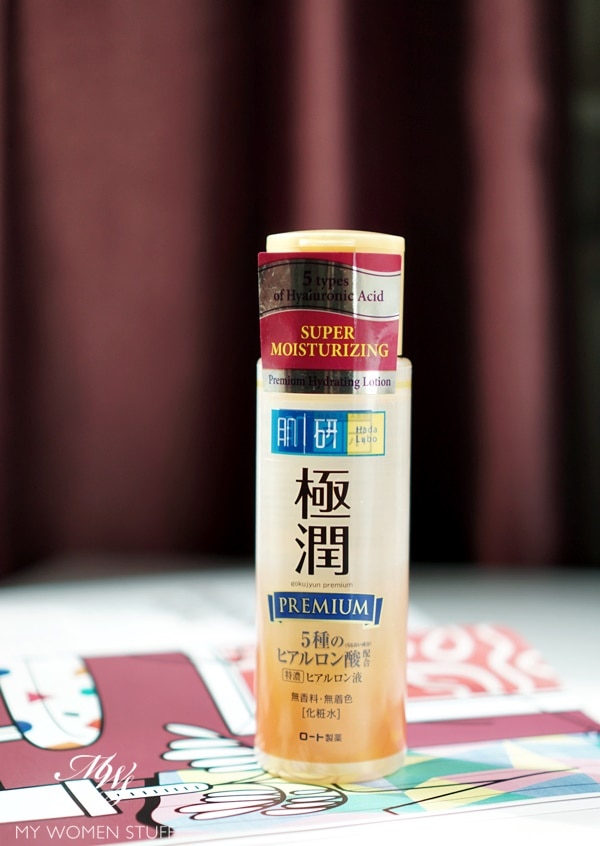 Well, locally, it's known as the Hada Labo Premium Hydrating Lotion. If the Japanese name is taken into consideration, as it is internationally, then it is known as the Hada Labo Gokyjyun Premium Lotion. Both refer to the same thing.
If you're unfamiliar with Hada Labo, it's an affordable Japanese pharmacy/drugstore brand that specialises in hydration, and does a very good job at it. I've featured numerous Hada Labo products over the years (look up Hada Labo) and barring the odd item, they have mostly been good experiences. Thus far, it's probably the only Japanese brand I still keep in my skincare routine (sunscreen notwithstanding).
I previewed the original Hada Labo Hydrating Lotion when they first launched here in Malaysia back in 2010 and I went through a few bottles. Family and friends still use it, I know, because it just delivers. But I felt like I needed something more. And that's where this Premium Hydrating Lotion comes in.
Hada Labo Premium Hydrating Lotion – a premium upgrade!
The Hada Labo Premium Hydrating Lotion is similar to the regular Super Hyaluronic Acid Moisturizing Lotion in function. What it does, is help hydrate skin and keep it hydrated. What makes it different is that it is more intensive.
It boasts 5 different types of hyaluronic acid of different molecular weights, to moisturise skin from its surface and down through its layers. This is what makes it premium, and in my view, better.
However, my caveat is that this Premium Hydrating Lotion will likely appeal more to those who have drier skin, or more matured skin. If you have oily-combination skin, you will prefer the regular white version as it feels lighter on skin.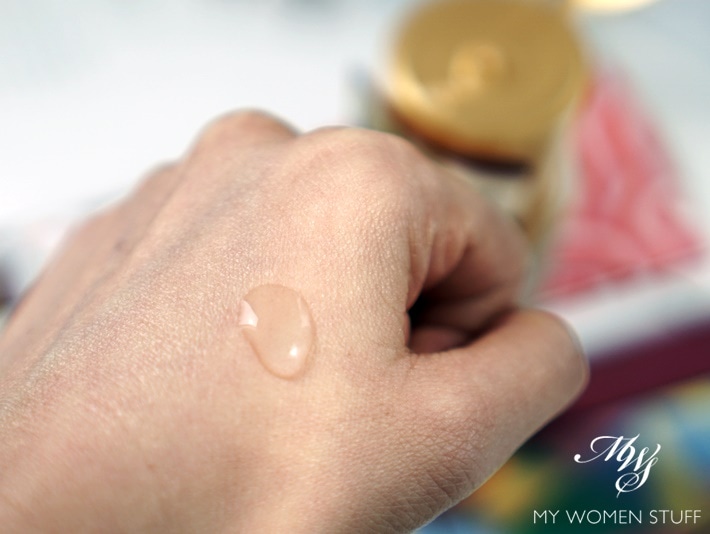 Texture may suit drier skin or drier climates better than the original version
The texture is thicker, compared to the regular hydrating lotion. If you notice, the normal lotion (in the white bottle) gets a little thicker towards the end of the bottle. This one has that sort of thicker texture right form the beginning. It is still liquid, just a little more viscous. I've read references to it being more gel-like. I disagree, but then I wonder if it might be to do with weather. Here in Malaysia, it's liquid, just more viscous.
I've also read comments about this being sticky. I personally don't feel it to be. I actually find that it isn't as sticky as I remember the regular lotion being. With the regular lotion, you are recommended to pat it on skin, until it absorbs.
While you can do the same with this Premium Hydrating Lotion, I don't. I just apply it all over my face, lightly pat it a few times if I feel like it, and then continue with the rest of my skincare. It doesn't seem to make a difference, and it doesn't feel uncomfortable.
I do note that I only use about 2-3 drops at most. It spreads very easily on skin and for me, absorbs quickly. I don't really wait for it to absorb before continuing with my routine, however.
RELATED READING: Do you know the best way to use hyaluronic acid lotions like this? READ HERE
Infuses skin with immediate hydration for better looking skin
What I do notice however, is that you don't need even a week to notice the difference it makes to your skin. The difference is almost immediate! Your skin will and does feel much more plumped and hydrated, and products you apply after that absorb better. I layer different products, so this matters to me. Even if you don't, you will notice that your moisturiser will absorb better and work more effectively.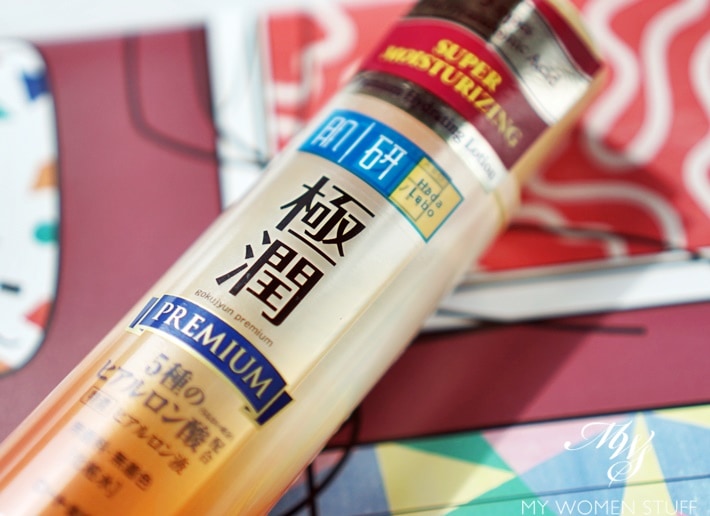 I'm very big on hydration in my skincare routine, and this Premium Hydrating Lotion challenges all other brands I've used, that perform a similar result.
It really is a product that I think is absolutely worth the money, and because it's sold at the pharmacy, it isn't even very expensive (especially when it goes on sale!)
How to use:

Cleanse -> Acid Toner -> Face mist (optional) -> Hada Labo Premium Hydrating Lotion -> Serum -> Moisturiser
The other thing I like is that there is no fragrance. The other hydrating lotions/essences I use have a fragrance that may not sit well with some people.
All in all, I'd say that if your skin is feeling a little more parched than normal, or if you feel like your skincare isn't cutting it lately, try adding this Premium Hydrating Lotion to your routine. You might find it quite a game-changer!
IN A NUTSHELL

The Hada Labo Premium Hydrating Lotion is a hydrating toner or lotion that is thicker and more intensive than the regular one in the white bottle. This one will work better for those who have dry or dehydrated skin, or more matured skin, that needs more cocooning. The texture is a little more viscous, and I find you don't have to actually pat it on as it absorbs quite easily. A little goes a long way, and I use about 2-3 drops only each time. The result you get almost immediately, is plumped, moisturised skin that feels comfortable, hydrated and healthy. It also helps other skincare products absorb better. All in all, a very affordable and good product that is absolutely worth trying.

PROS: Affordable, Hydrates skin very effectively, Not sticky (opinions may differ as to what 'sticky' means), Absorbs quickly, Plumps up skin and gives it good hydration, A little goes a long way

CONS: None

WHO WILL LIKE THIS: Anyone who wants an affordable and effective hydrating toner/lotion, Anyone with very dehydrated skin

WILL I REPURCHASE: Absolutely yes!

PRICE: RM63.50 (but often goes on sale) for 170ml | US$14-17 depending on where you buy it

WHERE TO BUY: Guardian pharmacy, Watson's or most major pharmacies that carry Hada Labo, Outside of Asia try Amazon or ebay or any Asian supermarket or website
For those interested, here is the ingredient list for the Hada Labo Premium Hydrating Lotion.
Gosh, it has been a while since I found a product that has absolutely nothing bad I can say about it! LOL! Well done, Hada Labo 😀
Hada Labo Premium Hydrating Lotion vs Hada Labo Hydrating Essence
You may wonder how this differs from the Hada Labo Hydrating Essence which I also love, or if you need both.
The simple answer is that you need both.
The Hydrating Essence will be applied AFTER the Premium Hydrating Lotion. The Essence is more of a serum than a lotion.
In Japanese/Asian skincare there's a subtle difference between an essence and a lotion. So think of the lotion as a prep, and the essence/serum as the more intensive product. You won't necessarily need both but if your skin is really parched, it'll benefit from a double whammy of moisture 🙂
RELATED READING: If your skin is very parched here's one tip that will change the way you apply your skincare READ HERE
Have you tried this Premium Hydrating Lotion? Do you use any other Hada Labo products?
I must say that I have a new-found interest in the brand. I overlooked them for a while, because they kept coming up with new products and I was so confused as to what they were for! Now, I'm going to take a look. I'm also thinking of trying their Retinol cream – I didn't appreciate it 7 years back, maybe I'll appreciate it better now haha! 😀
Paris B