I think some of you remember me going a little overboard when the Dior Addict lipsticks were reformulated, where I basically bashed their brains out LOL! I stand by every single word I say till today. New Dior Addicts suck. Old Dior Addicts were lipsticks I finished and could never give up and everyone I recommended them to loved them.
Then I found out that Dior was reformulating their Rouge Dior lipstick range, and I died a little inside.
I love Rouge Dior! It's the perfect "grown-up" lipstick, with its beautiful packaging, and opaque, pigmented colour with a lightweight formula. The new Rouge Dior Couture Color lipstick range comes in a satin and matte formula. I received one from each range many many months ago, and as you can probably tell, they're worn down. Oops! 😛 I'm trying to be better at featuring new releases as they arrive, but since these are permanent, you can still find them – no stress! 😉
It was not without a whole lot of trepidation that I put the new Rouge Dior to the test. We're talking about some of my favourite lipsticks here – if they had messed with Rouge Dior, I'd probably leave the brand forever! (so drama LOL! 😀 )
Happily therefore, for me (not the brand, who doesn't quite care if I'm alive or dead) the new Rouge Dior Couture Color will remain on my "To Recommend" list 😀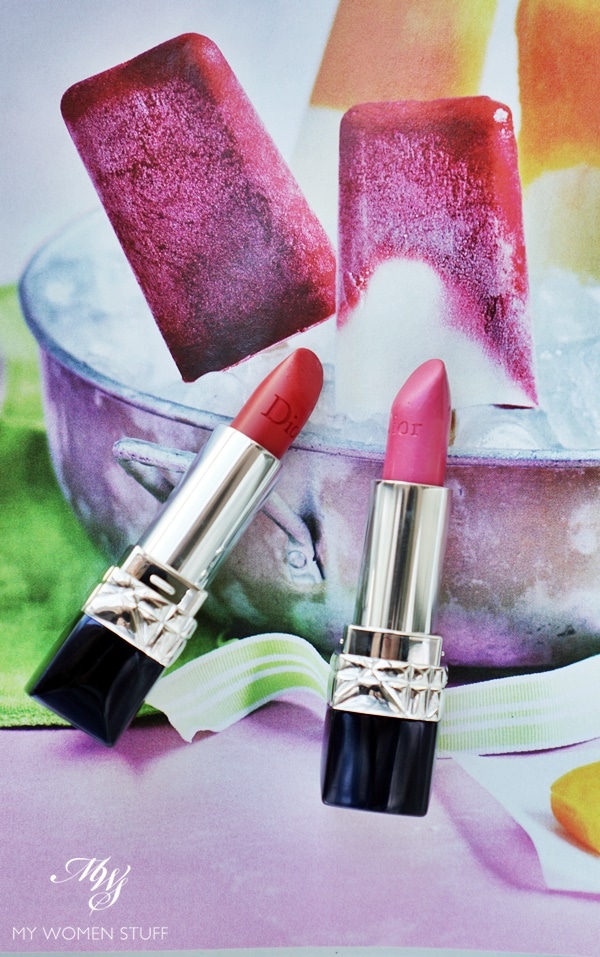 The colours I own are 047 Miss (Rouge Dior satin formula) and the very iconic 999 Matte formula. It might interest you to know that for Dior, 999 is their signature red that Dior says is a universally flattering red lipstick. Now, we all know that that claim is often inflated, but in this case, it is quite accurate.
Rouge Dior 999 Matte is a matte, opaque and pigmented red in a fairly neutral tone. Not too warm, not too cool. It isn't too bright either, but it is an unmistakeable red that is at once sultry, a stand-out and full of promise. Matte formula usually scare the bejesus out of me, as I don't play well with that sort of formula. My lips rarely look very good in a flat matte and I like a little shine, even if that's not considered to be very on-trend at this point in time.
The Rouge Dior Matte lipstick formula is forgiving, as it isn't too drying nor too flat on lips. While it does not boast of any shine, it doesn't look flat. The colour goes on opaque with just 1 swipe of the lipstick from the bullet, without tugging on my lips, which I love, and it is long lasting too! Little touch up is necessary for me, and it does not dry my lips out as the day wears on. That's so important for me too! I hate it when I start off the day with pretty lips and by mid-day, I have a wrinkled prune where my lips should be, complete with ugly lines. Ugh! Happily I don't have a problem with this.
Swatches of new Rouge Dior lipstick – 999 Matte, and 047 Miss
The regular Rouge Dior formula has a little more slip and the satin formula is a little more sheer. It still is pigmented, and it isn't as sheer as the Addict formula.
Rouge Dior 047 Miss is one of their signature shades from the pink range, being a bright pink that I initially sneered at. I can't wear pinks like this! I tell myself. Yet, for the sake of experimentation I did, and you know what? Miss has been promoted to a permanent place in my regular lipstick pouch! It is a bright pink but not too bright as to bring to mind a party-girl. It brightens up the face, especially if you don't wear a lot of bright eye makeup (like me) so it's a nice way to bring colour to your face.
The colour glides on quite easily on lips and while there seems to be a bit of iridescence about it, there is no shimmer. The slight glossy colour does add a little more dimension to my lips, and this is a formula I enjoy wearing.
The Rouge Dior Extreme Matte range (which houses 999) has a more opaque, pigmented colour range, with a few fun colours thrown in, like a deep blue, purple, and grey. The Rouge Dior range has a safer range of colours, ranging from pinks to reds. If you are adventurous, you can layer them to create different shades and colours, and to create an ombre lip, if that's something you'd like.
Because I'm not very adventurous with my makeup, here's how both the colours look on me.
That 999 red really pops doesn't it?! I love it 😀 And if you're in the market for a red lipstick, what with Chinese New Year being around the corner and all that, you know where to go! 😉
IN A NUTSHELL

The new reformulated Rouge Dior Couture Color lipsticks were a surprise hit for me (surprise, because I loved the old Rouge Dior but hated the other recent reformulations of other Dior products) so I'm happy to keep them on my "To Recommend" list. The colours are flattering, with a wide range of shades to suit all skin tones, there is no scent, and the deep blue packaging with its metallic cannage print accents is classy and elegant. The Matte selection boasts a full coverage, strongly pigmented colour that isn't drying but very long lasting. The regular range has a satin shine but with good pigment and a lovely formula on lips. If these fit the criteria of lipstick you like, then Rouge Dior is absolutely worth looking at!

PROS: Wide colour selection, Not drying, Pigmented colour, No scent, Longlasting, Opaque colour, Easy to apply and does not tug on lips, Lightweight formula, Elegant packaging

CONS: A little pricey but nothing much else

WHO WILL LIKE THIS: Anyone who enjoys opaque, pigmented lipsticks

PRICE: RM125 | US$35

WHERE TO BUY: Dior counters and beauty boutiques, Sephora, Dior.com, Nordstrom
Have you tried the new Rouge Dior or even the old Rouge Dior?
I'd always been a fan of this formula (Dior could do no wrong for me once upon a time!) and I said so here as far back as 2009! So, I guess Peter Philips, you can surprise me yet! LOL! 😀
Paris B