We follow on from Part 1 of the Brush Collective (where I showed you my preferred brushes for face makeup) and head to the brushes I use for eye makeup. This is rather lengthy, as there is a lot for me to show you! Not because I'm showing off, but because I use different types of brushes for different applications and there are different brushes in each category.
I was never good at applying eye makeup. I actually started out using my fingers (which I still use in a pinch especially with cream eyeshadow sticks). Over the years however, with a lot of experimentation, I'd worked out the type of brushes I liked to use for a specific purpose, simply to make my life easier. I'm no professional makeup artist and I'm not even very good at doing eye makeup, so if you're just like me, then these suggestions may help you get that one step closer to better looking eyeshadow application 🙂
I work with 3-4 TYPES of makeup brushes when working with powder eyeshadow. Note, it's about the TYPE of makeup brush I use, not the brand. I'll tell you which types work best for me, and for what purpose I use them. Generally, I use the same types every single time I do my eye makeup, no matter how simple or elaborate (and honestly, I can barely do simple, much less elaborate!)
I usually apply eyeshadow in this order – base colour, crease/deeper colour, blending colour, lower lid (optional) and my brushes reflect this very simple look that I work with.
Makeup Brushes for Eye Makeup – Applying Base Colour
To apply base colour, I usually opt for a medium-sized flat, dense paddle brush.
Top-Bottom: Zoeva #234 Luxe Smokey Shader Brush, Hakuhodo J004G, MAC 239, Wayne Goss Brush #18
I always struggled with putting down colour until I came across the MAC 239 brush. It's about the only full sized brush I own from MAC, and also the only MAC item I can safely say I hold in very high esteem. It's a white goat-hair brush that is very dense yet soft, and picks up colour, while depositing it very easily on the lid.
TIP: To achieve more pigmented colour, with similar types of brushes, use the brush to DAB on colour, instead of swiping it on.
Ever since I learned how wonderful that MAC 239 brush was, I'd only used similar designs for putting on lid colour – a flat, medium-sized, dense, paddle shaped brush with a rounded tip.
With that background, you can probably understand why I picked the Hakuhodo J004G, Zoeva #234 Luxe Smokey Shader Brush and why I enjoy using the Wayne Goss #18 brush.
The Hakuhodo and Zoeva are closest in shape to the MAC 239 but do not enjoy the same density. So, these brushes, while they work well, don't deposit colour as well as the MAC one does. The Zoeva is in fact, a better "dupe" than the more expensive Hakuhodo one, which has a little more give and allows for easier blending.
The Wayne Goss #18 brush is a little more different and the type of hair used in the brush makes it a little stiffer although it isn't as dense. However, I do like using the Wayne Goss #18 to work with less pigmented eyeshadow colours, because the stiffer hairs picks up colours so much more easily and blending it on the skin is a breeze.
Makeup Brushes for Eye Makeup – Applying Crease Colour
Left-Right: Smashbox #15 Brush , Make Up For Ever #216 Eye Blender, Tony & Tina Crease Brush (discontinued)
I don't have a noticeable crease, but I sometimes put a deeper colour along my lash line and in the outer corners of my eye lids for definition. I struggled with this for the longest time, as no brush seemed to do the trick for me, to allow for seamless blending.
That was until I used the Tony & Tina Crease Brush (discontinued) and later the Smashbox #15 brush. The ultimate Holy Grail brush for this purpose however, is the Make Up For Ever #216 Eye Blender brush.
The little head and dense, yet soft and pliable bristles allow me to deposit colour just where I want it to go, and to blend it out beautifully and seamlessly.
For this purpose of depositing a deeper eyeshadow colour, I go for a brush that is round, small (I have small eyes and little lid space) and dense. I use the other 2 brushes of similar shape, when my MUFE #216 is drying. Otherwise, it's MUFE #216 all the way! Trust me, if you've ever struggled with applying deeper eyeshadow colours or a crease colour, get the MUFE #216! I said as much in my earlier review.
Makeup Brushes for Eye Makeup – Blending
The third brush I pick up is for blending. To get your eyeshadow to look natural, and not like you've just plastered it on with a trowel, you have to blend out the edges so it looks seamless. For this purpose, I usually pick up a light, neutral shade and use it to blend out the edges. I also apply a light highlighting shade close to my brow bone using this brush.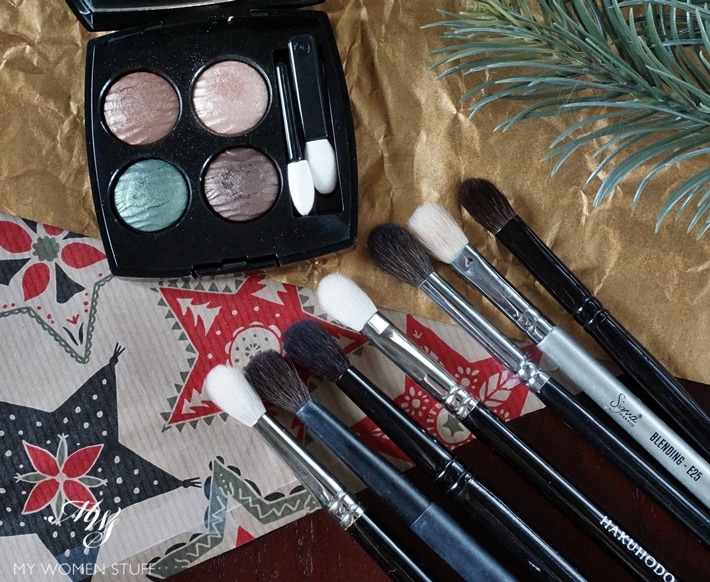 Left-Right: Hakuhodo J142, NARS #42, MAC 224SE, Hakuhodo J5523, Zoeva #228 Crease, Sigma E25, Wayne Goss #06
For this purpose, I go for a fluffy, soft brush. The longer bristles usually allow for greater flex and these sort of brushes aren't usually very dense, so you can use it to blend out colour without disturbing your original colours.
Brushes like these serve a dual purpose, for you can also use them to deposit base colour, if you want a lighter, sheerer deposit of lid colour. Sometimes, when I only want to use 1 shade for eyeshadow, I use this brush to pick up a neutral medium-deep brown or taupe and just brush is straight on skin, and blend out the edges. Line, and you're good to go 🙂
I first learned how to use a brush like this with the MAC 224SE that I purchased from a Holiday set many years ago. the SE means it's a special edition brush that is sold in the travel sets and although usually of lesser quality, this one has lasted me many years. Maybe they were better made back in the day 😛
Since then, I've accumulated similar types of brushes to serve a similar purpose. The Hakuhodo J142 is super soft, and makes for sublime blending. The Hakuhodo J5523 is more dense and actually serves a better function to lay down a light wash of colour, as well as to blend. For some reason, I must really like this J5523 brush, for I have multiples of them. I'm not even sure why I keep buying the same ones, but I always do! Sigh… Still, that means I don't have to wash it that often 😛
The Wayne Goss #18 also serves the dual purpose well, being both effective at blending and at laying down light washes of colour. It's super soft and absolutely a dream to use!
I find the NARS #42 and the Zoeva #228 a little more scratchy. But if I make a mistake and have a harsher line than I like, then these buff them out better. While the Zoeva #228 states that it's for the crease, I've never found these sort of brushes useful for applying crease colour for me, as they are a little too large and fluffy for my small eyes. So, I prefer to use them for blending, and it works better that way for me.
You may notice that I prefer using natural hair brushes in this category, and you'd be correct. I find that natural hair brushes pick up colour better, and depending on the hair used (I go for squirrel or goat) is soft and non scratchy on skin. However, the Make Up For Ever brushes are synthetic, and the #216 is very good so that's an exception to the general rule 🙂
Makeup Brushes for Eye Makeup – Applying Lower Lid Colour
Sometimes, I get ambitious, and draw a line of neutral colour on my lower lid. This actually brightens up the eyes, if you use a light, neutral, shimmery shade. Or, maybe you want to emphasise, by using a deeper shade. But the effect will always be soft.
Left-Right: Tom Ford #14, Hakuhodo B533, Zoeva #230 Luxe Pencil, Wayne Goss #20
These brushes are shaped like pencils and are also known as the pencil brush. Brushes like these are useful for putting colour in the crease very precisely, or for drawing colour along lash lines. I have tried these for crease colour, but it's a little more defined than I like. Remember, I'm not very good at applying eyeshadow, so I do very basic looks, nothing very precise. I don't even profess to be very good at using colour, only enough to make me look decent.
So, what I use these pencil brushes for, are to draw lines on the lower lid. My favourite brush for this purpose is the Hakuhodo B533 which has just the right amount of flex, density and give. I could never ever put colour on my lower lash line till I bought this brush, and it's been a cinch thereafter!
The brush that comes second is the Wayne Goss #20 brush which is also very good, albeit less dense than the Hakuhodo B533. However, it is very soft, yet picks up colour very easily, and I can deposit it as thickly or as thinly as I like. I usually use these brushes to deposit some medium or light shimmery shade along my lower lash line, to add definition and to cover up tiredness. A light shimmery champagne shade does wonders to hide redness and to brighten up the eyes! 😀
The Tom Ford #14 and Zoeva #230 work well as well. Soft, deposits colour nicely, but somehow, I find them less precise than the Hakuhodo and Wayne Goss. They do however, work nicely if you want to use them for the crease, as the lack of precision means you don't have to deal with very precise errors (speaking as one who isn't very good at applying shadow of course. If you are a pro, this doesn't apply to you 😛 )
How many brushes do you use to do your eye makeup? Do you use any of these or do you have favourite eye brushes I should take a look at?
It seems like it'll take me forever to do my eye makeup but it doesn't! Before I start, I pick out a palette, then I pick up 3 brushes – base, crease, blend. Then, I just use each brush for its purpose, before deciding on whether I'd like to put colour on my lower lid. Because all my brushes look the same, I can use them interchangeably, although I have my preferences of course for when I want a particular, more flawless look that I know a specific brush will achieve. Otherwise, I just grab whatever is on hand 🙂
Paris B