If you've been around long enough, or have contacted me about eye care, you'd have heard the ugly truth directly from me – I'm terribly terribly lax about eye care. I make no secret of it because it's the truth. I just am really bad about using eye serums and creams and stuff. Yeah, I still call myself a beauty blogger LOL! But at least I'm honest about it!
So, while the La Mer The Lifting Eye Serum has been out since early this year, I took a while to get to it, because I was just so crap about using it. Incidentally however, it was because I was so sporadic about its use that I actually noticed something.
The Lifting Eye Serum works!
I know you hate me saying this especially because it's by La Mer and therefore means it comes with a price tag that rivals the price of gold per gram 😛 But I did find that it did what it promised. However, before you say "Ok, that's it. I'm going to throw a good percentage of my paycheck at this little bottle!" there are a few caveats and conditions you have to bear in mind.
The primary caveat being age. So, let me be honest. If you are nowhere near your 40's, save your money. This isn't a preventative product. At least not to me. It just does what it says it does – lift.
The reason I say that The Lifting Eye Serum works is this – it firmed and lifted my droopy lids.
Perhaps I thought I was invincible and immune to aging (pish!) but due to a combination of age, laxity of skin elasticity and simple genetics (thanks Mom and Grandma!), I noticed that my eyelids were starting to droop. I'd always had typical Chinese eyes before this, small and without a lot of lid space. But in recent years as I entered my 40's I noticed a certain heavy-liddedness about it. It isn't terribly apparent, but noticeable to me, whenever I did my eye makeup.
It didn't bother me a lot, but that's when I noticed that during my sporadic uses of the Lifting Eye Serum, I'd lose that heavy-lidded look, and my eyes looked a little more 'lifted'.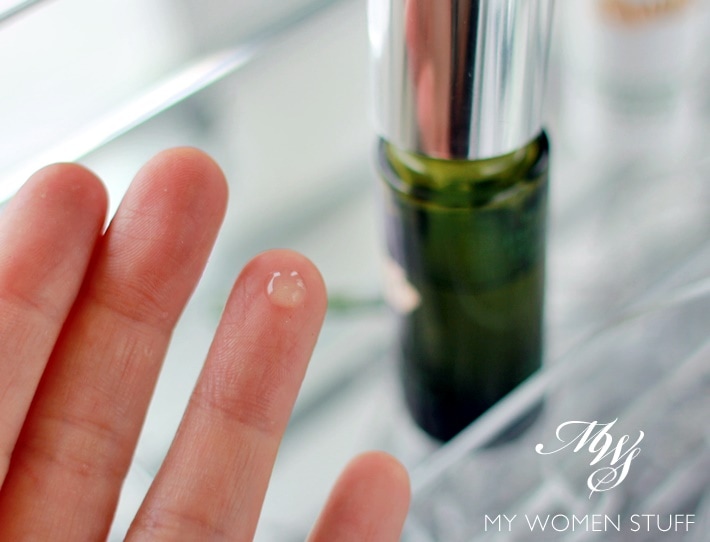 The La Mer The Lifting Eye Serum is a very lightweight product that comes in a dropper bottle. While it is an expensive little bottle, you only really need 1 little drop each time. What you see in the picture is just how much you need. One teeny little drop. So one bottle can and will last you over a year with regular use.
It's very viscous, so you just rub it gently between your ring fingers of both hands, and apply to your eye area. There is an eye massager tool type thing that comes with it, that you can see in the first picture up top. The metal ball bit is heavy and cool against the skin and very nice to roll around the eyes, but the plastic handle is incongruously light and feels cheap. I felt La Mer could have done better.
But I'm a lazy bugger remember? So 99% of the time, I don't use the applicator tool thingy. I just use my fingers, apply the product around my eyes and go on my merry way.
It's lightweight enough that it doesn't mess with eye makeup in the day, although it's really meant to be a serum. And we know all about serums – they are usually followed up by something else. So, you are really supposed to use this Lifting Eye Serum first, and then layer on your eye cream, whether it be from La Mer or another brand.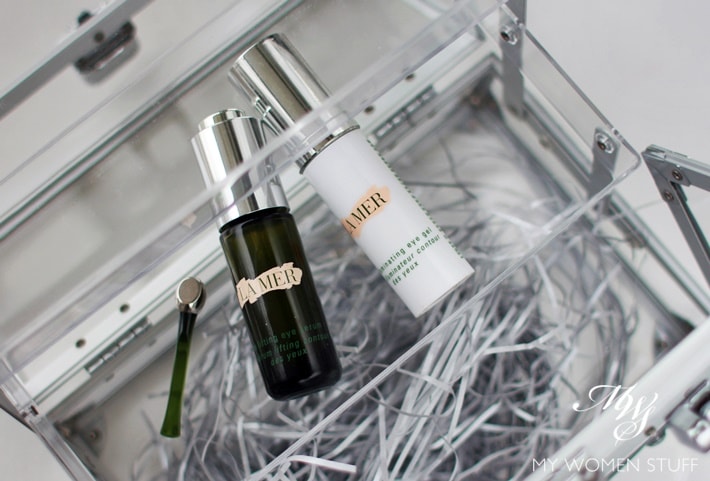 Hello, I'm lazy remember? So I don't. Just remembering to use the eye serum was achievement enough for me 😛 Yet, what I notice is this.
When I use The Lifting Eye Serum for about a week or so straight, day and night, I notice a "lift" in my eye area. I lose that heavy lidded look (not that sexy, despite what romantic novels tell you) and I look a little more alert. But here's the kicker – once I forget, and stop using it, it comes back after a while.
So, just remember that this isn't a surgical procedure. You will not get a lasting effect, if you aren't hardworking and diligent, because what this product does is really, tighten your skin a little, on the surface that gives the illusion of a lift. Let's not kid ourselves – this is a topical product. Everything topical is pretty much temporary in efficacy.
Also, I'd be kind and say, don't believe what you read online. You DO NOT get an immediate lifting effect the next time you look in the mirror. I notice improvements only after about a week at best. Maybe those who notice immediate results have REALLY saggy lids, I don't know. But no, it's not instantaneous.
I like how it keeps my eye area feeling hydrated and comfortable, and how it gives me that little lift in the eye area. I use it on its own, because 1 eye care product is about all I can manage to be perfectly honest, and it seems fine. It's definitely better than not using anything at all.
But if you don't have heavy, droppy lids, you will likely not see any results at all. Which is why I say, leave this till you start seeing the droop, because that's what it's really targeted to do – give your lids that lift. If nothing droops, there's nothing to lift 😛
And that's why I say that this isn't a preventative product. For me, this is one of those "treatment" products – you have a problem, it treats it. La Mer says it offers to increase skin "density" over time. If that's true, great. But I won't hold my breath, to be honest. If you have deep pockets, sure, use it. But if you don't see any results, it's probably because everything's still perky and firm. Wait till you're in your 40's. We'll talk then LOL! 😀
IN A NUTSHELL

The La Mer The Lifting Eye Serum is a very lightweight product that comes in a dropper bottle. You only need 1 little drop each time, which means one bottle goes a very long way. Like regular serums, this boasts a higher concentration of product and the famed Miracle Broth, to hydrate the eye area, as well as helping lift the skin around the eyes. I noticed that if you use it regularly, there is a noticeable lift to droppy lids. I personally have developed droopy lids, which is the only reason I noticed the effect. However, if you stop using it, the effects wear off. It's not botox. You can layer another eye cream over, or use it on its own as I do. I'd personally say that this one is primarily for those who have a problem with droopy lids. If you don't, skip it. You won't notice any effects at all.

PROS: Offers droopy eyelids a little lift, Hydrates the skin, Very lightweight texture, Comfortable, A very little product goes a long way

CONS: Pricey, Applicator has a cheap plastic handle, Effects last so long as you're diligent about use

WHO WILL LIKE THIS: Anyone who has noticeably heavy or droopy eyelids

PRICE: RM880 | US$240 for 15ml

WHERE TO BUY: La Mer counters or online at Neiman Marcus, Nordstrom, Net-a-Porter
For those interested, here's the ingredient list for the Lifting Eye Serum.
Declustered Water (-)\Aqua\Eau De-structuree (-), Declustered Water (+)\Aqua\Eau De-structuree (+), Propanediol, Glycerin, Algae (Seaweed) Extract, Prunus Amygdalus Dulcis (Sweet Almond) Seed Extract, Sesamum Indicum (sesame) seed oil, Medicago Sativa (Alfalfa) Seed powder, Helianthus Annuus (Sunflower) Seedcake, Prunus Amygdalus Dulcis (Sweet Almond) Seed Meal, Eucalyptus Globulus (Eucalyptus) Leaf Oil, Sodium Gluconate, Copper Gluconate, Calcium Gluconate, Magnesium Gluconate, Zinc Gluconate, Tocopherym Succinate, Niacin, Sesamum Indicum (sesame) seed powder, Sucrose, Pyrus Malus (Apple) Fruit extract, Citrullus Vulgaris (Watermelon) Fruit extract, Porphyridium Cruentum Extract, Lens Esculenta (Lentil) Fruit Extract, Laminaria Digitata Extract, Sacchararomyces Lysate Extract, Ascophyllum Nodosum Extract, Plankton Extract, Helicrysum Arenarium (Everlasting) Extract, Citrus Aurantifolia (Lime) Peel Extract, Tourmaline, Sigesbeckia Orientalis (St. John's Wort) Extract, Asparagopsis Armata Extract, Acetyl Hexapeptide-8, Caffeine, Pullulan, Trehalose, Sodium Lactate, Sorbitol, Sodium PCA, Styrene/VP Copolymer, Hydroxypropyl Methylcellulose, Sodium Hyaluronate, Hexylene Glycol, Butylene Glycol, Vinyl Dimethicone/Methicone Silsesquioxane Crosspolymer, Alcohol Denat, Xanthan Gum, Isododecane, Fragrance (Parfum), Ethylhexylglycerin, Caprylyl Glycol, Trimethylsiloxysilicate, Disodium EDTA, Phenoxyethanol, Green 5 (CI 61570), Blue 1 (CI 42090) <ILN42209>
Now here's a long shot but has anyone tried this eye serum? Or any eye serum for that matter?
I still use it, when I remember. I'm good about the rest of my face, crap about my eyes. So much for windows to my soul. Maybe I'm just hiding them windows behind droopy curtains LOL! 😀 But in a way, this reminds me that I can't keep age nor genetics at bay. Want to see how you'll age? Look at your Mom! Thankfully, Mom's kept fairly well LOL! 😀
Paris B