Someone once told me that perfumes were the easiest things to write about. You just had to show off a few pictures, copy what the press release says about scent notes, and say when it was available and voila! You have a blog post.
I however beg to differ, for I'm one of those who'd much rather experience a product before sharing my thoughts about it with the world. So, perfumes, like skincare and makeup takes time, because I like to immerse myself in it and then tell people about it.
It's just as well I waited, for my thoughts on the Terry de Gunzburg Thé Glacé Aqua Parfum scent has changed from day to day, as I'm sure it will for you. Incidentally, "Thé Glacé" translates from French to "Iced Tea" and there is no name more apt than for this refreshing fragrance 🙂
Initially, I wasn't taken by the Thé Glacé Aqua Parfum scent. It is strongly evocative of a pot of English tea served with a slice of lemon in white bone china by a silent liveried butler, as you perch on a chair, daintily nibbling at scones or cookies. Imagine if you will, that first whiff of steaming hot tea that hits your nose when you pick up your cup – a hint of black tea, tempered with the sharp citrus of lemon (verbena), two of the top notes of Thé Glacé Aqua Parfum.
I'm not a tea drinker so I wasn't quite sold on smelling like a tea caddy. But what I realised was that Thé Glacé Aqua Parfum is a wonderful fragrance to wear on a very hot day, because the crisp citrus top notes actually makes you feel refreshed. Just like a sip of iced tea, as the name implies.
Citrus scents are notoriously shortlived, so underpinning the sharp, refreshing citrus notes are a warm white blossom and lavender note, drying down to a slightly musky but clean base note. Thé Glacé Aqua Parfum is a very refreshing scent, and I only started appreciating it when the weather turned hot and sultry.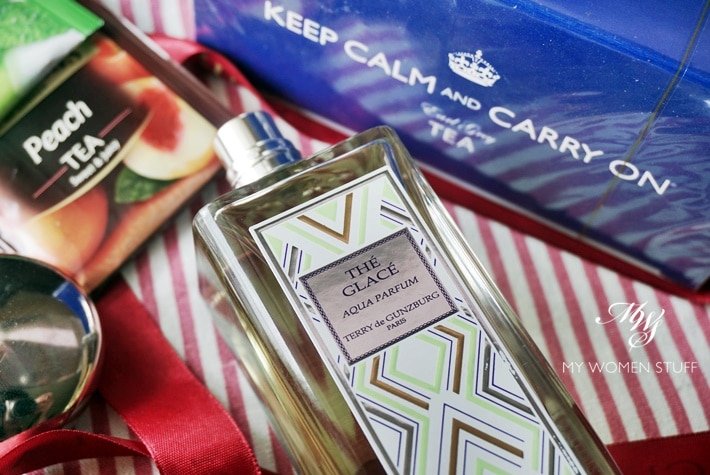 The crisp notes with the floral heart that was not overwhelming made me smell fresh, and quickly found its way into my perfume wardrobe. Thé Glacé Aqua Parfum is a scent I spray on in the morning, to keep me smelling clean all day, because that's what it smells like – like you just stepped out of a refreshing shower, and makes you feel like you've just gulped down a glass of iced tea. It is a scent I use on the weekends, or when I just want to feel good about myself. It's a chill sort of scent that is nice to wear, so you smell good, without making people around you faint from heavy florals or musk.
The best part? It can be worn by both men and women. On men, I find that the base notes warm up more quickly, and I get a slightly heavier musky note, tempered by the light citrus. On women, I find that the floral notes come through first, and that the musk doesn't always overwhelm. It's very interesting how fragrances can react to body chemistry and I love it! 😀
With most light and citrus scents, I do find that the scent dissipates more quickly than I like. However, while I lose that crisp top note after a spell, I like that that's when the floral heart blooms to carry the scent on in a slightly different incarnation. A floral that does not overwhelm with sweetness nor a powdery scent. It is a clean smelling citrus-floral perfume that I've enjoyed using, and that I think will appeal to many, especially for those of us who live where it's warm and for whom a cool glass of iced tea is always welcome! 🙂
Have you tried the Terry de Gunzburg Thé Glacé Aqua Parfum?
If the name looks familiar, it's because Terry de Gunzburg is the lady behind luxury makeup brand By Terry. Do you think this scent will tickle your olfactory senses? 🙂
Paris B
PRICE: RM595 | US$170 | £107 for 100ml Eau de Parfum

AVAILABILITY: KENS Apothecary stores (BSC and BVII), Barneys New York, Selfridges