It's easy to get caught up in the lure of all that's new and wonderful when you're immersed in the world of beauty. As bloggers, it happens all the time because that's what we're often fed – the new. So, when a long time reader, pondsandleaves, steered me not-so-gently in the direction of something not so new, I thought it was a good idea to see how good it was.
The product in question was a foundation – the Estee Lauder Futurist Aqua Brilliance Makeup foundation. For some reason, this one had slipped right under my foundation radar (yes, I have a foundation radar – it's one makeup item I tend to gravitate towards) and I was very intrigued!
What the Estee Lauder Futurist Aqua Brilliance Makeup foundation claims is a luminous and hydrated visage, with medium to full coverage. I will attest to the coverage. I don't usually wear high coverage foundation, so it took me a while to get used to this one. As it turns out though, I think it's a brilliant foundation and deserves a little more hype! Come on, give it up for the future! 😛
Often, high coverage foundation tends to feel a little heavier on the skin. It's normal, because rarely do you get a perfect product that gives you both coverage AND hydration AND luminosity. Something has to give. But Estee Lauder made a brave stab at delivering on almost all 3 counts.
I do find that the texture of the Futurist Aqua Brilliance foundation is a little heavier than what I usually go for. So, I counter that by using less than what I'd normally use. Half a pump as opposed to a full pump of product. This gives me a lighter result. If I wanted to do a full coverage base, then I use a full pump. Sometimes, I blend it with a bit of serum or moisturiser to thin out the texture.
What I like is that despite the creamier texture, this doesn't slip and slide nor does it melt off my skin. I do think however, that this one is more suited for someone with skin that is drier, because those with oilier skin might find this a bit heavy. It spreads easily, and for me, feels light and comfortable on skin.
I often use this when I'm in a hurry, because the coverage is such that I can use it in place of my concealer, thus saving me one extra step! The foundation offers some light reflecting qualities, so it gently illuminates the skin and makes it look smooth and even-toned. However, it isn't what is commonly termed as "dewy" (read: shiny) nor is it matte (read: flat).
Here's how it looks in my usual unretouched before-after photos.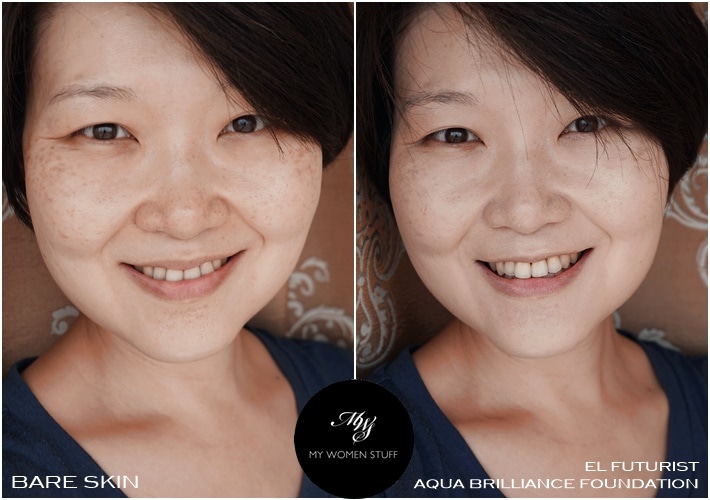 The shade I use is 1C1 Cool Bone, which is a bit of a quibble for me because I have a notorious difficulty in finding a true shade match in Estee Lauder foundations. Very rarely do I get it right, which bugs the hell out of me! LOL! You can see the full makeup look using this foundation on this post.
Cool Bone seems OK for me this time, although I did dither between 1C1 Cool Bone or 1C0 Cool Porcelain, and there's no Cool Ivory but I think that could be my perfect shade. There are warmer shades for those who have a warmer skin tone as compared to mine. But I think that despite the slight shift in tone, you may notice that the coverage is quite high in the after photo. It softens and blurs the imperfections on skin and feels comfortable when worn. I think that's very important.
I do set with some powder, as I do with all liquid foundation, and it lasts me for practically the whole day. As a product with little hype, I do think it deserves more attention, because it's a good product. You just have to find your shade.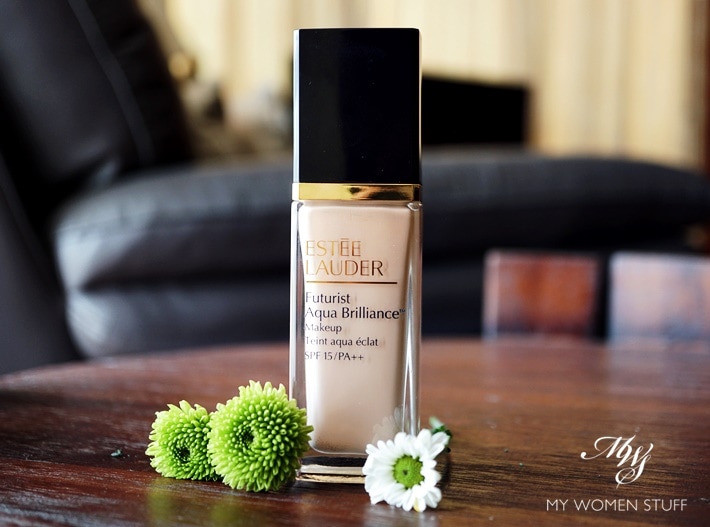 IN A NUTSHELL

The Estee Lauder Futurist Aqua Brilliance Makeup foundation is a medium to full coverage foundation that does not feel heavy on skin. It also does not dry out my skin and feels comfortable on drier skin. Due to the texture, I'd peg this one for one more suitable for those who have drier skin or who wants a foundation that offers high coverage, and feels hydrating on skin, without looking too matte. You can thin it out by using a drop of serum or moisturiser blended in, and using less than a pump of product. The biggest problem I feel, will be to find a shade match. It is otherwise, deserving of more attention than it gets.

Note: I noticed this was only available in Asia and not worldwide. I'm not sure why. I don't list low SPF as a con because if you're relying on makeup for your sun protection, you deserve to burn 😛

PROS: Lightweight creamy texture, Does not dry out skin, Not too matte in texture, High coverage foundation, Nice for those with drier skin types

CONS: Shade selection can be tricky without seeing it in person, Pricey, Asia only

WHO WILL LIKE THIS: Anyone who wants high coverage foundation that does not dry out the skin, Anyone who does not want a foundation that's too matte

PRICE: RM185 for 30ml

AVAILABILITY: Estee Lauder counters (Asia) and online
If you're interested in what's in there, here's the ingredient list.
I know the Estee Lauder Double Wear foundation gets a lot of love from many people due to its high coverage and longevity. I've always had a bit of trouble with Double Wear because my shade isn't available in Malaysia and when I tried it before, I found it a wee bit drying. For me therefore, this Futurist Aqua Brilliance is a happy compromise – light shades, high coverage yet comfortably moisturising on skin with a gentle luminosity.
Have you tried this Futurist Aqua Brilliance foundation? Had you heard of it before?
If not for you readers who nudge me over and over to try things you love, I'd probably not have come across half of what's out there! So, thank you pondsandleaves, you were right. This is a lovely foundation! 🙂 Now, who else has tried it and agree/disagree?
Paris B