Some people say I write too much. Ok, sorry so here's the short version about the Clarins Lip Oil (see, I even shortened the name from the full version of Clarins Instant Light Lip Comfort Oil).
I don't know if this is makeup or skincare and there's no blooming colour. But it's nice. Kinda. Fin.
Now, if your attention isn't wont to waver, here's the full version.
Clains introduced their Instant Light Lip Comfort Oil (which I'll just call the Clarins Lip Oil for brevity) some time late last year as part of a limited edition collection. It turned out that it was so popular that Clarins has now made it permanent! So, if you're a fan then rejoice! If you were upset for not being able to try it when it first launched, rejoice! 😀
But what on earth is this?!
Good question.
There are a few brands out there that currently do lip oils – Hourglass comes to mind but I haven't tried theirs and now Clarins. While this has been kind of positioned as a makeup item, I have to say that it falls into the grey area between makeup and skincare.
When I first received this from the brand, I thought it was just another lip gloss. You see, it looks like a lip gloss, and it comes in 3 shades, of which the one here is Raspberry, a translucent berry red in packaging that resembles a lip gloss.
It even has a fat sponge tip applicator that is stained pink by the product. Naturally, I thought it was a lip gloss with skin caring benefits, so I expected it to impart some colour on the lips.
Naturally therefore, I was very disappointed when I realised that on lips, there is no colour. For me, and anyone else with pigmented lips, it just goes on clear, so your lips look glossy and luscious, but there is no colour. If you swatch it on a plain background, the Clarins Lip Oil in Raspberry will give a hint of pink but don't be deluded – it'll go on clear.
The texture isn't oily, but more like an oily goop (for want of a better word). It is thick and will sit on your lips like a layer of glossy jelly. It isn't uncomfortable, if you're used to wearing goopy lip glosses, and over time, it will eventually absorb into the skin. It will also disappear quite quickly if you drink and eat.
That's when I did a little more research about this, to realise that it is more of a lip care product. The way that facial oils are now more accepted for use in facial skincare, lip oils are to lip balm what facial oils are to face creams. It is an alternative lip care product.
And as a lip care product, I have to say then that I quite like it.
I'm pretty crap at caring for my lips. My only concession to lip care is to apply some Lucas Papaw Ointment on my lips before bed. I am fortunate to not have peeling or dry lips, which is probably why I am a slacker.
I tested this Clarins Lip Oil as a night treatment, and while it works, I'm not sure about using it at night, because it does have a sweet Raspberry scent that I'd rather not be in there. The other 2 shades are Honey and Red Berry (I hear Red Berry imparts a little more colour) which may smell as sweet, I'm not sure.
I took it on board a long distance flight as well, in place of a lip balm and I must say that it kept flaky lips at bay so my lips were kept smooth and hydrated all throughout the flight, in the dry cabin air. Thumbs up!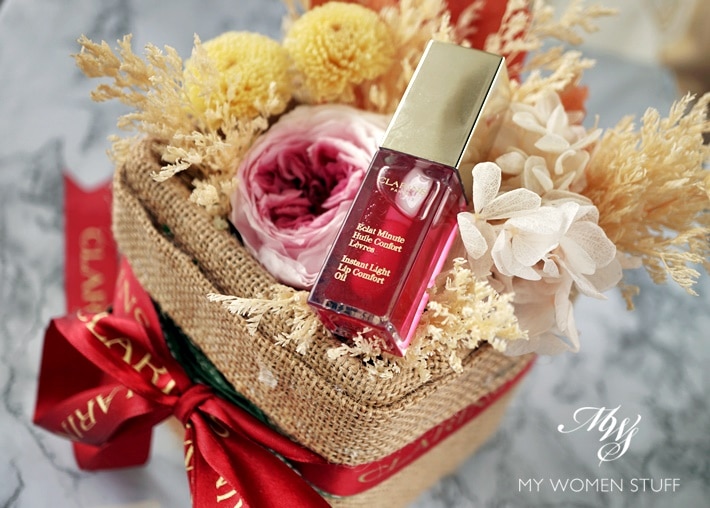 All that said, I use it most as a makeup-lip care hybrid product.
I use it in the day, as a lip gloss, thanks to it's lovely shine and gloss that stays glossy for an impressively long time. I also use it over lipstick, to add some shine. The applicator is gigantic and does dispense more product than necessary, but I do find that swiping it a little along the side of the tube, as you pull it out does help.
Also, I find that because it has that goopy, jelly texture, it is quite easy to smooth on over your lips, and because it's pretty much transparent, you don't even need to be looking in a mirror. The shine will kind of "fade" after an hour or so, but the lip care benefits remain because I don't top up. Then again, I don't wear lip balm on a regular basis (I have a theory about it building dependency, but that's my personal scepticism) so if you do, then you may find yourself running through this more quickly than you like.
Because I don't use it that much, nor reapply that often, I like keeping this in my daily bag. If I want to freshen up my lip colour, I dab some on, and it gives me a nice shine and hides faded lip colour. Little tricks you know, to freshen up your makeup 😉
But is it makeup or is it skincare? I honestly cannot tell. But it's comfortable, it nourishes the lips, it gives them a lovely shine that complements a no-makeup look and it's portable.
IN A NUTSHELL

I don't know if the Clarins Lip Oil is makeup or skincare so it's difficult to judge. As makeup, I think it fails in terms of imparting colour because it's pretty much transparent, albeit gives lips a lovely glossy finish. The applicator however, is too big and bulky for this purpose. Judged as skincare, I like how it nourishes my lips and keeps them feeling comfortable even in dry airplane air or in a low humidity climate. I apply it once and don't reapply, but it stays comfortable even after the shine is gone. I am however not a fan of the sweet scent, and the deceptive colour that doesn't translate onto lips. I'm conflicted. I hope you aren't.

PROS: Shiny glossy texture, Lips feels nourished and comfortable, Useful in dry air to keep lips from chapping, Useful to refresh faded lip colour

CONS: Sweet scent and taste isn't something I enjoy, No colour on lips, Shine will fade quite quickly, Very dry lips may need topping up often, Applicator is too big and bulky and picks up too much product

WHO WILL LIKE THIS: Anyone who has tried a lip oil product, Anyone who uses lip balm often, Anyone who wants a lip care product that is shiny like a lip gloss

PRICE: RM99 | £19 | US$25 for 6.5ml

AVAILABILITY: Clarins counters and spa boutiques, Clarins website, Escentual, Nordstrom, Sephora
Did you try this Clarins Lip Oil when it was first released? Is it something you might like?
I remember it created waves when it was first released, and people were going crazy trying to get their hands on it, when stocks ran out! Haha… To be honest, it slipped under my radar then, coz I thought it was lipgloss. Now I know better! 🙂
Paris B
*TL;DR – Too Long; Didn't Read, for anyone who had to look it up like I did. Can't keep up with these young 'uns!